Our award-winning hand tools deserve just as much recognition as power tools. After all, hand tools form the staple of the electrical, plumbing, mechanical, and automotive trades. Power tools can't do everything! This year, our award-winning hand tools prove to be more ergonomic, offer additional features and functions, and solve some unique problems. Here are your winners for the PTIA 2019 Hand Tools Awards category.
Winner – Bolt Cutters
Milwaukee Adaptable Bolt Cutters w/ POWERMOVE Extendable Arms (48-22-4114)
What they said: 
When it comes to bolt cutters, the durability of the jaws and bolts are everything to the user. Today's solutions have blades that commonly wear or pit, impairing cut performance. Their pivot bolts also have a tendency to loosen and fall out resulting in premature tool failure. To address these needs, we designed new bolt cutters with forged steel blades that are custom heat-treated for maximum durability and feature a bolt lock that keeps the fasteners tight so the user can stay productive.
What we say: 
Milwaukee targets several common issues with bolt cutters on their newest design. It's all about leverage, though, and our team really appreciated the adjustable handle lengths. Keep the Adaptable Bolt Cutter in its most compact form on those easier tasks and take advantage of the PowerMove handles to give you more leverage on thicker or harder material.
Price: $49.99
For more information, click here.
---
Winner – Chalk Lines
Milwaukee 48-22-3982 Bold & Precision Line Chalk Reels
What they said: 
Most current chalk reels lack the durability that's expected on the job site. Milwaukee saw countless broken chalk reels on job sites—most with broken gears and ripped lines. Users repeatedly replace them, leading to an immense amount of downtime and cost. Chalk reels are so widely used on the job site that they shouldn't be looked at as a disposable tool. Through a never-before-seen gear system and proprietary clutch, Milwaukee set out to completely change user-expectation for chalk reels, giving them the long-lasting durability needed to tackle all of their projects.
What we say: 
Aside from a reinforced housing, the big deal surrounding Milwaukee Chalk Reels is the planetary gear system. This design distributes the force across multiple gear surfaces. Less stress on the gears means longer life for the tool. Finally, Milwaukee developed and integrated a StripGuard Clutch to protect the gears from stripping in the event of a snag. It also helps if you reel it in too fast and don't quite stop when the hook catches. The end result is a long-lasting chalk line that no longer needs to be considered a quick consumable tool. And for those of you irritated by the original hook, Milwaukee has updated it to be more accurate when anchoring the chalk line to a nail.
Price: $11.99
For more information, click here.
---
Winner – Clamps
Rockler Clamp-It Clips
What they said: 
Rockler Clamp-It Clips slip over the top edges of any two panels, holding them at a 90° angle while you drive the nails or screws. Lining up panels at a 90° angle while you drive nails or screws can be an exercise in frustration. Pieces tend to shift around, and your fingers are often too close to the business end of the nailer for comfort. That's where the Rockler Clamp-It Clips provide a welcome helping hand. They slip over the top corner of any two panels, holding them in perfect alignment while you drive the nails, screws or apply clamping pressure.
What we say: 
Rockler Clamp-It Clips quite literally "clamp down" on a common source of frustration by simply holding material at 90°. Just slip the clamp over the corner of your material and you're no longer wishing you had a third or fourth hand. We love that, on Day 1, it's as useful to master woodworkers as it is to a DIYer.
Price: $9.99
For more information, click here.
---
Winner – Conduit Bender
Milwaukee Conduit Benders (48-22-4070/48-22-4071)
What they said: 
Milwaukee Conduit Benders feature high contrast markings for the best visibility allowing users to easily and accurately make bends. A reinforced hook and pedal provide added durability while a secure double-bolted handle won't loosen. These Conduit Benders feature the most bending references and a wear-resistant reference chart for easier use. Milwaukee conduit benders will be available in ½" EMT, ¾" EMT, and 1" EMT Heavy Duty Iron models and ½" EMT and ¾" EMT Lightweight Aluminum models.
What we say: 
If you've ever seen the results of an electrical installation by a Pro who takes a lot of pride in his or her work, it can be as beautiful as any piece of art hanging in a museum. Creating a precise series of conduit bends takes talent and a quality tool. Milwaukee's Aluminum Conduit Benders help on the quality side by reinforcing their hook and pedal while double-bolting the handle to ensure it doesn't loosen up on you. You'll go to the job knowing that the tool is ready every time.
Price: 48-22-4070: $39.99 48-22-4071: $49.99
For more information, click here.
---
Winner – Crimping
Klein Tools 2005N Forged Crimper with Wire Stripper/Cutter
What they said: 
Multi-purpose tools have grown in demand as professionals look for ways to lighten their tool bags and get the job done with greater efficiency. Klein Tools' new Forged Crimper with Wire Stripper/Cutter (Cat. No. 2005N) combines the most commonly used wire stripping sizes with a dedicated crimper and two cutters. When completing an electrical rewiring job or installation, professionals can rely on the 2005N to complete the day's tasks by cutting and stripping essential wires and crimping terminals as needed.
This new job site essential crimps 10-22 AWG insulated and non-insulated terminals and connectors and strips 10-18 AWG stranded wire. Its two sets of cutting knives include a knife/anvil at the tip and a shear cutter below the rivet, offering versatile cutting options designed for use on 10-22 AWG wires. The shear cutter can also be used to cut copper wire. Additional features include textured grips for enhanced dexterity and integrated hang holes for easy, all-day carrying.
The 2005N is manufactured in the United States and made of forged steel for added durability. Its innovative, multi-purpose functionality increases efficiency across all job sites.
What we say: 
Klein reverses traditional thinking with their new Forged Crimper with Wire Stripper/Cutter. Normally, you see heavy-duty wire strippers add on a crimper below the rivet if they include one. Klein starts with the crimper and a hardened wire cutter above the rivet. This puts it them in a position that's easier to cut and crimp in tight spaces while providing the most leverage. Since wire ends are easier to access and don't need as much leverage as cutting, this is a design that really makes a lot of sense.
Price: $51.02
For more information, click here.
---
Winner – Cutting
Crescent Wiss Next Generation Aviation Snips
What they said: 
Crescent Wiss has taken the Aviation Snip to the next level with the advanced Next Generation Aviation Snips. The precision-cast molybdenum blades have CNC-ground serrations which allow for more uniform serrations that provide a cleaner cut every time. They feature extended pivot bolt life due to the superior free-float design. The spring-action handles also allow for fast, effortless feed.
The all-new latch design provides ergonomic single-handed operation for left or right-handed users. New extended non-slip handle grips give users better control while cutting. Crescent Wiss Next Generation aviation snips will cut over 8 miles of steel and feature up to 10 times longer cut life over traditional Aviation Snips. Continuous improvement means never being satisfied. That's why these new Next Generation snips last 60% longer and require 20% less force to cut on average compared to our snips from just five years ago. And that's why Crescent Wiss is the undisputed leading brand of snips for sheet metal professionals.
What we say: 
There's a lot to love in the design of Crescent Wiss' Aviation snips and we're honed in on two areas in particular: hand force and cutting durability. Repeated action with your hand causes fatigue and a 20% reduction in the amount of force these snips require is significant for day-in and day-out use. On the durability side, you're looking at better than 8 miles of cutting and 500,000 cut cycles without failure. It's enough to cover more than 700 new home HVAC installs. We're confident you won't need to replace them for a long, long time.
Price: $29.01
For more information, click here.
---
Winner – Hammers
Husky Titanium Framing Hammer
What they said: 
The 13 oz. Titanium Framing hammer features a magnetic nail starter that can help you drive nails into areas that can't be reached by hand. The 13 oz. Framing hammer has a Titanium head and a hickory handle.
Lightweight and balanced titanium head reduces arm fatigue
Titanium delivers 10 times greater dampening of recoil than steel
Head has a waffle face to help prevent nail slitting
Magnetic nail starter helps drive nails into areas that can't be reached by hand
Durable and long-lasting hickory handle
Unique dimples design of hickory handle to avoid sweaty hand and non-slip
Backed by a Lifetime Warranty. If your Husky product ever fails, bring it back and we will replace it for free.
What we say: 
Every head in the room perked up when we put Husky's new Titanium Framing Hammer up for a vote. $60 for a titanium framing hammer? Did they mean $160? Nope, you really can get it at a price that's sure to have them flying off the shelves. And just in case you're a little skeptical, it comes with a lifetime warranty. If it fails, just take it back to Home Depot—it's that easy.
This hammer will also be available as a California framing hammer with an 18″ handle.
Price: $60
For more information, click here.
---
Winner – Pocket Knives
Milwaukee FASTBACK 5-in-1 Folding Knife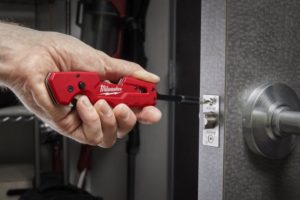 What they said: 
When Milwaukee Tool introduced its first FASTBACK knife, it redefined cutting on the job site. Now, the company has expanded its leadership in cutting solutions once again by introducing the next generation of FASTBACK knives. The new knives come fully equipped with features users know and trust from the previous lines and incorporate new improvements to provide users with a trusted, everyday carry. Created to increase productivity and offer unmatched durability, the new FASTBACK knives have numerous enhanced features. All FASTBACK knives will continue to have the popular press-and-flip design for fast, one-handed opening and tool-free blade changes, and will now include an upgraded, more durable wire belt clip to reduce pocket-tearing and a lanyard hole for easy tethering.
FASTBACK 5-in-1 Folding Knife
Press-and-flip opening mechanism
Stainless steel, partially serrated blade
Multi-functionality
Folding ¼" bit holder
Reversible Phillips and flathead bit
Bottle opener
Durable wire belt clip
What we say: 
Milwaukee has their Fastback lineup really dialed in as far as the basic design goes. It's easy to use and priced for value. Now, they're focusing on where the line can improve and expand. The Fastback 5-in-1 gets the wire clip and lanyard hole upgrades along with a 1/4″ bit holder and a double-sided bit to reduce the temptation to use the flat of your blade as a makeshift screwdriver. Toss in a partially serrated blade for its versatility and a bottle opener for the end of the day, and you have the next must-have addition to the Fastback lineup.
Price: $14.99-$29.99
For more information, click here.
---
Winner – Specialty Knives
Milwaukee 48-22-1924 Lineman's Hawkbill Knife w/ STICKWORK 3in1 Ring
What they said: 
The new Lineman's Hawkbill Knife with STICKWORK 3in1 Ring has a stainless steel blade that is optimized to stay sharper longer. This new addition to Milwaukee knives is ideal for stripping cable. Equipped with the new STICKWORK 3in1 Ring, the knife is also compatible with both shotgun and universal style hot sticks while easily hanging for storage. The oversized ergonomic handle is designed for comfortable use with gloves, and a molded sheath makes it easy to carry and store.
What we say: 
Milwaukee has had a lot of success with their knife lineup, and they have another multi-year winner in their Lineman's Hawkbill Knife. The Milwaukee StickWork design sets this one apart. It functions as an appendage to let linemen attach the knife to shotgun and universal hot sticks, giving them the reach they need to do the job safely.
Price: $27.99
For more information, click here.
---
Winner – Utility Knives
Milwaukee FASTBACK Folding Utility Knives
What they said: 
When Milwaukee Tool introduced its first FASTBACK Knife, it redefined cutting on the job site. Now, the company has expanded its leadership in cutting solutions once again by introducing the next generation of FASTBACK Knives. The new knives come fully equipped with features users know and trust from the previous lines and incorporate new improvements to provide users with a trusted, everyday carry.
The Utility Knives have been enhanced with improved, durable wire belt clips for reduced pocket-tearing and lanyard holes for easy tethering. The quick-change function has been moved to the back and a metal extension has been added to prevent accidental blade removal. All FASTBACK utility knives come equipped with a blade holder designed for scoring.
What we say: 
Milwaukee's Fastback Utility Knives continue to evolve into even better designs. Like the rest of the Fastback lineup, the new generation of utility knives gets a more durable clip and a tether hole. After listening to user feedback, Milwaukee also shifted the quick-change to the back of the knife and designed an extension to keep the blade from coming out accidentally. These may seem like relatively minor changes, but they make the experience of using them better.
Price: $8.99-$14.99
For more information, click here.
Finalist
OLFA MXP Die-cast Aluminum Utility Knife
---
Winner – Landscaping
Bond Manufacturing STANLEY FATMAX Polyfusion Hot Water Hose
What they said: 
The STANLEY FATMAX Polyfusion Hot Water Hose is a lightweight professional-grade hose for commercial and hot water use. The industrial-grade construction stays flexible in all weather conditions. The thick hose walls are built with innovative technology to withstand hot water up to 180°F and operates at 500 PSI burst strength, which is more than double the pressure of the average hose. It offers a heavy-duty non-rubber construction with Polyfusion Technology that makes this hose durable enough to handle all types of commercial applications such as, restaurant washdowns, janitorial needs, draining water heaters and work on a farm, ranch or nursery.
• Ideal for hot water applications up to 180°F
• Polyfusion Technology combines Polyurethane and PVC, making the hose easy to maneuver around trees, bushes and other obstacles
• AntiKink Technology won't kink under pressure and has zero memory.
• 500 PSI burst strength
• Crush-proof, forged aluminum, titanium-coated coupling serve as an external shield for resistance to abrasion and corrosion
What we say: 
The Stanley FatMax Polyfusion Hot Water Hose is all about heavy-duty strength that thrives in environments where other hoses fail quickly. The big deal is its ability to handle water temperatures up to 180°F with a 500 PSI rating. Whether you're draining water heaters or working with hot water in industrial settings, this kink-free, easy-to-maneuver, tough-as-nails hose is the one you want.
Price: $63.76
For more information, click here.
---
Winner – Levels
Milwaukee REDSTICK Concrete Levels
What they said: 
The new REDSTICK Concrete Levels take a 3-tool operation down to one by allowing users to screed, smooth, and level with the same tool. A magnesium base features a 2" wide working surface with a rounded edge for smoothing and an angled edge optimized for screeding and striking. Once the job is done, the level can be easily wiped clean no matter how big the mess.
What we say: 
Milwaukee packs a lot of innovation into their Redstick Concrete Levels and each one of them adds to the overall function and user experience. First off, we love the level/screed combo aspect. It's a design that makes complete sense considering Milwaukee solved the issue of cleaning it.
Sharpsite vials are much easier to see than standard ones – something that's helpful since you're not as close to eye level as you are with doors and windows. Adding gradients is critical as well. Not all concrete jobs need to be flat and many have a specific grade they have to match. Finally, they're designed to work in the tough concrete environment. The levels' magnesium backbones resist even the smallest amount of bending while the vials are housed in high-impact acrylic.
Price: $99.99
For more information, click here.
Finalist
Kapro Tools 773 Stud Layout Level
---
Winner – Marking
Milwaukee INKZALL Jobsite Markers
What they said: 
INKZALL Jobsite Markers feature clog resistant tips and the ability to write through dusty, wet or oily surfaces. The durable marker tips are designed for writing on rough surfaces such as OSB, cinder block and concrete and the ink dries quickly to reduce smearing markings, without drying out quickly when the cap is left off. For added user convenience, the INKZALL markers have a built-in hard hat clip for easy storage and access. INKZALL markers confirm to Milwaukee's commitment to best-in-class durability and their relentless mission to provide innovative solutions to the end-user.
What we say: 
Writing or marking on job site materials with an ordinary felt tip marker is a great way to spend a lot of money replacing felt tip markers. Milwaukee Inkzall markers are specifically designed to deal with the materials and mess that we often have to deal with without giving up after just one use. With a variety of colors to choose from, you're running out of excuses not to have them in your toolbox.
Price: $0.97
For more information, click here.
---
Winner – Laser Distance Measures
CRAFTSMAN CMHT77639 165ft Laser Distance Measure
What they said: 
This Craftsman LDM can measure up to 165ft with accuracy rated at +/- 1/16″ at 30ft. It features a color LCD screen and is powered by an internal/rechargeable Li-ion battery. It can switch between metric and English values, as well as take area and volume measurements in seconds.
What we say: 
Craftsman is entering the laser distance measure field with an impressive resume at a great price. It boasts 165′ range with 1/16″ accuracy—the same that we expect from our Pro-level LDMs. It also has a rechargeable lithium-ion battery to keep you from going through AAAs like candy. Its super-simple interface makes it easy for Pros and DIYers alike. They wrap all of that up with a price that's under $70.
Price: $69.98
For more information, click here.
---
Winner – Tape Measures
Milwaukee STUD Tape Measures
What they said: 
The next generation of Milwaukee's popular STUD tape measures now delivers best-in-class standout, reaching up to 14′. With EXO360 Blade Technology, these tape measures feature the longest-lasting blade that is both rip and wear-resistant. This technology is combined with a fully reinforced frame and impact-resistant overmold, making STUD the most durable tape measure in the industry. These tapes will come complete with a Finger Stop and double-sided printing. Now also available in Magnetic.
What we say: 
In a super-tight vote for the tape measure award, Milwaukee comes away with a win for their update to the Stud lineup. They've improved on the Hulk-like durability of the blade and its EXO360 design and gave it a standout capable of reaching 14′. They're still packing it in one of the most durable housings we've seen and will have Milwaukee's Finger Stop brake system as well as the double-sided printing we like. Try one for yourself and see how much longer it lasts compared to your regular tape measures.
Price: $22.99 – 39.99
For more information, click here.
Finalist
Apex Tool Group LLC L1125B Crescent Lufkin Shockforce Nite Eye Tape Measure
---
Winner – Nut Drivers
LENOX LXHT60904 6-in-1 High Leverage Nut Driver

What they said: 
The Lenox 6-in-1 Nut Driver offers the versatility of 6 tools in one compact, interchangeable design letting users work efficiently and effectively with fewer tools. The Double-Ended Drivers offer compact, in-handle socket storage provides easy access to 3 double-ended sockets. The Hex Bolster with Max Leverage Bar allows for maximum torque with a bar or a wrench. It also features optimized grip zones, heavy texture mid-zone for maximum torque, and low texture base zones for speed and precision. It features a slip-resistant, ergonomic grip for control, torque, and comfort.
What we say: 
Multi-size nut drivers aren't new, but we really like what Lenox is doing with their 6-in-1 version. It starts with a comfortable handle design and adds the double-ended nesting drivers you need to make it work. The magic is on the shaft itself. A hex-shaped section lets you use a wrench to apply extra torque when you need it. But a wrench can slip and Lenox takes things a step further with a hole to run a bar through that's even more stable.
Price: $16.98
For more information, click here.
---
Winner – Pliers
Proferred Internal/External Snap Ring Pliers with Quick Switch Tips (T22001)
What they said: 
Retaining or snap ring pliers often come in either internal or external styles to match the type of ring being used. The Proferred Retaining Snap Ring Pliers feature a unique design that allows the user to easily complete both internal & external operations with the tabbed switch. These snap ring pliers with quick switch tips, stored in the spring-loaded, cushioned grip handles, remove the need for carrying around multiple pairs of pliers. The rotation lock makes it easy to change the tips without tools. Tip sizes include: set double-end straight tips: 1.2mm & 1.8mm, and set 90º tips: 1.2mm & 1.8mm.
What we say: 
The genius of Proferred's Snap Ring Pliers is the ability to switch between internal rings and external rings without reaching for separate tools. Just flip the tab switch to move between the two. Additional tip sizes store at the top of the handles and don't require any tools to change. You can replace an entire set of snap ring pliers with just this one and the price is easy on your wallet.
Price: $14.99
For more information, click here.
---
Winner – Pry Bars
Rizer Hammer Attachment
What they said: 
Rizer Hammer Helper is a Hammer attachment that reduces the effort to extract fasteners by over 50% in many cases. There is no other tool on the market that resembles it. The Rizer has been field-tested as well as engineered supporting claims that it is capable of reducing the strength required to pull a nail (and many other fasteners) by half.
Holds the smallest (like roofing nails) to framing nails in place – no more throbbing fingers from Hammer misses!!!
Raises productivity by reducing the time it takes to extract fasteners, as well as strength allowing more workers to perform their job faster and safer!
The Rizer is a Green (environmentally friendly) tool as it promotes the use of reclaimed lumber.
An "Adapted tool" as it aids in one-handed operation, very beneficial In "Occupational Therapy" helping the physically challenged, for example; Veterans that have lost usage of a hand or arm can learn to accomplish with one hand what they used to do with two.
Store in or on a metal toolbox, attaches itself to tool belt plate, fits in any pocket… always accessible and installs in seconds!
What we say: 
The Rizer Hammer Helper is an attachment that slips onto your hammer or prybar, changing the angle of leverage and making it easier to pry. By adjusting the height, the nail comes out straighter instead of at an increasing angle that requires more effort.
Secondly, it acts as a magnetic nail starter separate from your hammer to allow for precise placement while keeping your fingers out of the way. It also functions as a bottle opener. After all, the project isn't truly done until you have a cold beverage in hand while you admire your handiwork!
Price: $12.99
For more information, click here.
---
Winner – Ratchets
Milwaukee Ratchet & Socket Sets
What they said: 
Milwaukee Tool has once again delivered innovation to a core category of tools aimed at the professional trades with the introduction of new Ratchet & Socket Sets engineered for better access in tight spaces and maximum strength. Each of the new sets features a slim profile 90-tooth 4º ratchet and wrench-compatible sockets uniquely designed with four parallel flats to deter rolling.
The new ratchets also have a slim profile and flush directional lever which allows them to conveniently access the most hard-to-reach applications. All Ratchet & Socket Sets are constructed with an all-chrome finish making them easier to clean and giving them a sleeker look. Because socket sizes can often be hard to see, labels are engraved on two of the flats to enable easier identification and readability from multiple angles. All are available in both SAE and metric. For added convenience, each kit comes in a carrying case for ultimate portability. All sets also include accessories such as 3" and 6" extensions so users have everything they need to get the job done.
What we say: 
Milwaukee upgrades the standard ratchet by moving from a 72-tooth to a 90-tooth design. That gives you a shorter arc swing, but it's access that sets these apart. Milwaukee uses a slim handle and keeps the directional level flush with the ratchet head to give just a little more access into tight spaces. When it comes to engine work, that makes a difference.
Price: $69.99 – $179.99
For more information, click here.
---
Winner – Screwdrivers
LENOX LXHT60905 LENOX 2 PC Demolition Screwdriver Set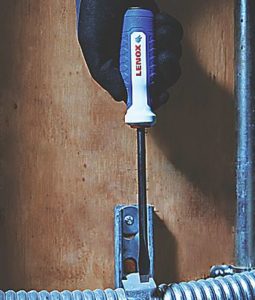 What they said: 
Lenox Demolition Screwdrivers offer strength, durability, and reliability, built to withstand the rigors of demolition work while ensuring the drive performance you require in a screwdriver. Diamond Tip provides gripping to reduce fastener cam-out while improving torque and life, an S2 Steel Bar provides durability and bend resistance, a Solid Steel Core and Metal Strike Cap allow for heavy impact in demolition work. It also features optimized grip zones and a heavily textured mid-zone to provide maximum torque. Low texture base zones provide speed and precision. Finally, it features tip ID for quick identification in a tool bag.
What we say: 
Lenox does everything right with the design of their demolition screwdrivers. At their core, they're screwdrivers, and their Diamond Tips to a great job of gripping the fastener head better than standard designs. The handle features a comfortable design that's easy on your hands even when you're not wearing gloves.
From there, the solid cores and metal caps provide the durability Pros need on demolition screwdrivers to pound away without breaking the handles and destroying the driver.
Price: $9.98
For more information, click here.
---
Winner – Multi-bit Screwdrivers
Proferred Ratcheting 19-in-1 Interchangeable Bit Screwdriver Set (T29004)
What they said: 
The Proferred Ratcheting 19-in-1 Interchangeable Bit Screwdriver is made of cellulose acetate, with a steel internal gear and 25 teeth to provide the highest level of performance. The ergonomically designed, TPV cushion handle makes it suitable for different hand grips and provides slip resistance to chemical, oil and most solvents. The ratchet permits high-speed action with grip adjustments and can be combined with popular driver ends.
But the high torque co-efficient is what sets this ratcheting screwdriver apart from the competition with a maximum torque of 358.8 lbf-in., compared to the maximum torque of a standard screwdriver of around 183 lbf-in., and the ANSI standard of 115 lbf-in., preventing the screwdriver from breaking when the tool is overstressed and extending the life of the tool.
Set Includes PH: #1, #2; #3; SL: 3/16″, 1/4", 5/16"; Torx T15, T20, T25, T30; SB: #1, #2, HB: 1/8", 5/32", 3/16", 1/4"; Nut: 1/4″, 5/16″, 7/16"
What we say: 
Proferred takes their game to the next level with the T29004 Ratcheting 19-in-1 Interchangeable Bit Screwdriver. It's impressive that they can fasten 19 different fastener styles with one driver, but it's the build quality that really got our attention. The ratcheting mechanism itself is a weak point in many ratcheting screwdrivers. Using components that go beyond 3 times the ANSI standard sets this tool apart.
Price: $17.99
For more information, click here.
---
Winner – Precision Screwdrivers
Greenlee 0153-46T Torque Screwdriver
What they said: 
Screws and nut connections that are insufficiently tightened may lead to product or system failures such as fires or leaks. Torque ratings are becoming the safety standard and using only a conventional screwdriver involves a great amount of guesswork. The new Greenlee torque screwdriver (0153-46T) sufficiently tightens connections to comply with the 2017 National Electric Code (110.14D), where a calibrated tool is required to achieve a specified numeric torque value. The torque driver in the set is calibrated within tolerance according to ASME B107.300-2010. The kit is stored in a compact, durable case with bit sizes printed inside the case for easy identification. The new torque screwdriver set includes a dozen popular Phillips and Slotted 3-1/2 inch and 6-inch shank sized screwdriver bits and seven preferred 6-inch shank sized nut drivers.
What we say: 
Part multi-bit driver, part precision instrument, the Greenlee Torque Screwdriver takes the guesswork out of electrical installs that require specific torque application to pass muster. Just twist the adjustable dial on the base of the handle to set the torque from 5-50 in-lbs in 5-lb increments. It's simple to use and ensures you get the correct results every time.
Price: $490
For more information, click here.
---
Winner – Shear
KNIPEX Tools LP Anvil Shears (94 55 200)

What they said: 
While there are anvil-styled pruners in the market for trees and foliage, the KNIPEX Anvil Shears are the first designed instead for use on hoses and other soft materials such as leather and rubber. The Anvil Shears is a unique tool on the market and is faster, safer and easier to use compared to other tools used to cut rubber hoses like standard utility knives.
The blade of the shears is forced against the anvil, which creates an easy and clean cut without damage or deformation on soft and round materials. With the KNIPEX Anvil Shears you will get a clean, even cut on heater hose, airline hose, and radiator hose. The cutting capacity for round material is 1" while the maximum width of flat materials that can be cut is 1-1/2".
Main features for the Anvil Shears include a strong, replaceable blade and an opening spring and locking device. The locking device is easy to use and keeps the blades secure while closed. The Anvil Shears are constructed of rolled and oil-hardened tool steel and feature plastic coated handles for comfort and easy cleaning.
What we say: 
We love the familiar feel of the Knipex Anvil Shears' pruner-style design. Where it departs from your average garden tool is in its single-side cutting pressing into an anvil. This gives you the ability to cut softer materials, like the hoses you use for automotive and HVAC applications. It delivers the effectiveness of a knife without the inherent safety risks. It also features a replaceable blade so you don't have to worry about sharpening it or completely replacing the tool.
Price: $61
For more information, click here.
---
Winner – Sockets
Klein Tools 66010 2-in-1 Impact Socket Set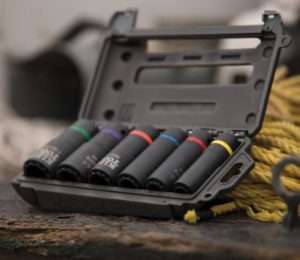 What they said: 
Construction and utility workers use multiple impact sockets in their daily work, manually switching between varying sizes as needed. As demanding deadlines push for efficiency, this process can be time-consuming and inconvenient. Klein Tools' new 2-in-1 Impact Socket Set equips professionals with 12 commonly used socket sizes. Each socket features hands-free adjustment, letting professionals switch between sizes without removing their work gloves and reducing the amount of time and effort required to finish the job.
Its six sockets feature two coaxial spring-loaded sockets in one tool and a high-torque, 12-point design to make positioning sockets on fasteners easier. Their color-coded bands help professionals quickly identify needed sizes. These deep sockets have a 1/2-inch drive intended for use when completing pole hardware installations or removals.
Each socket is engineered for use with impact drivers. Professionals will save time on the job by easily carrying and storing the needed impact sockets in one convenient, carrying case.
What we say: 
Klein just cut the number of sockets you have to carry in half with their new impact socket design. Each spring-loaded, 12-point socket has a smaller inner diameter that pushes down to make room for the larger size. It does all this without wasting much space. Color coding provides the icing on the cake that makes it easier to identify the size you need. It's an intelligent design that's also durable enough to use with your 1/2″ impact driver.
Price: $344.76
For more information, click here.
---
Winner – Specialty Sockets
Husky Dual Direction Extractor Sockets
What they said: 
Innovative Dual Directional design for removing OR tightening damaged fasteners
5 times greater extraction force to break free damaged fasteners
Tapered entry enables socket to easily seat on a damaged fastener, no hammering required
Use with an impact gun, ratchet, wrench or pliers
What we say: 
Husky's Dual Direction Extractor Sockets have a design that lets you work with even heavily rounded bolts. The biting points of each socket are deep enough to remove or install damaged bolts—something that's important for odd sizes that you don't have quick access to during a repair.
Feel free to use these with your impact driver or hand tools to get the job done. At less than $30 for the set, Husky boasts the same features at a much better price than similar Pro brands.
Price: $29
For more information, click here.
---
Winner – Specialty
CRAFTSMAN CMHT26005 CRAFTSMAN L to T Hex Key Series
What they said: 
The CRAFTSMAN L to T Hex Key Series includes a patent-pending way to quickly and securely convert from L to T-Handle hex keys in applications where additional grip and/or torque is required. The set of 10 SAE and 10 MM hex keys easily converts from L Keys to a comfortable T Handle with use of the included adapter that stores conveniently within the holder.
To convert, a key is inserted into its corresponding sized hole within the adapter and the adapter door is closed, offering a solution that is differentiated in the market by its simple, yet reliable design, and quick conversion. The CRAFTSMAN L to T Hex Key Series offers the flexibility to easily tackle any hex key application.
What we say: 
Is there anything worse than making a million turns with a hex wrench in the long position? Craftsman is offering relief with a simple yet brilliant solution—a T-handle that fits on top of the hex wrench. Just put the key in the matching size hole and close the door with the hex wrench in place. Quit cursing and fumbling around and with standard hex wrenches and get the job done easier with Craftsman.
Price: $19.97
For more information, click here.
---
Winner – Squares
Milwaukee MLSQ040 4-1/2″ Trim Square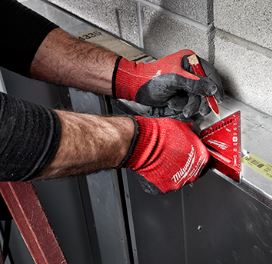 What they said: 
The new Milwaukee 4-1/2" Trim Square is an everyday carry layout solution. With its 35% more compact size it fits easily into pockets, pouches, and tight workspaces. High visibility laser-etched markings will not wear off, providing trusted accuracy throughout the life of the square, while a 1/4″ & 3/8″ dual measurement heel allows for quick marks.
What we say: 
How many times have you wished for a smaller square? For Pros, it's so much of a fight that many cut down their 6″ squares to make one that fits their needs (and their tool pouch). Milwaukee takes the hint and gives Pros what they want – a 4-1/2″ trim square that doesn't compromise on quality and features. Its laser-etched markings are easy to see, a 1/4″ and 3/8″ dual measurement heel lets you take care of marking tasks quickly, and it's a Made in the USA product.
Price: $10.99
For more information, click here.
---
Winner – Stud Finders
CRAFTSMAN CMHT77623 1-1/2" Stud Finder
What they said: 
This Craftsman Stud Finder features center find technology. It has a max sensing depth of up to 1-1/2″. It features a one of a kind center marking pin and non-marring backplate to ensure no unnecessary marks are left after use. It detects both wood & metal studs as well as the presence of live AC. It also has a metal scanning mode which can detect ferrous and non-ferrous at depths of up to 3″ behind a surface.
What we say: 
You can take your chances with finding nails in your studs with a magnetic stud finder or get it dead center the first time with Craftsman's CMHT77623. It reads up to 1-1/2″ deep (3″ for metal) and gives you an alert when it comes across live AC power. Once you find the center of the stud, push the button in the middle of the unit to put a small mark on the wall and place your nail or screw like a Pro!
Price: $24.98
For more information, click here.
Finalist
DeWalt DW0100 3/4 in. Stud Finder
---
Winner – Tool Sets
Husky 125-piece Mechanics Tool Set with Superior Access Ratchets
What they said: 
The dual-pawl technology of the 144-position ratchet in this Husky 125-piece mechanics tool set provides industry-leading access to bolts and fasteners where other ratchets simply can't. The 91 standard and deep 6-point sockets work to get the job done. The Husky 125-piece 144-position mechanics tools set is perfect for professional mechanics or the DIYer working around the house or in the garage needing access to hard to reach fasteners.
What we say: 
Standard ratchets have 72 teeth that require 5° of swing arc to make any progress. Husky's 125-piece mechanic's toolset includes ratches with twice the number of teeth that need just half the room to tighten or loosen fasteners. It's not just about the ratchets, though. The sockets feature chamfered edges that help you slip them over bolts easier and, of course, it's all at a great Husky price.
Price: $129
For more information, click here.
---
Winner – Pipe Wrenches
Milwaukee 48-22-7314 Cheater Pipe Wrench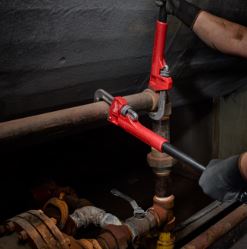 What they said: 
There's no category of tool that's more core to the plumber's arsenal than the pipe wrench. It might come as a surprise that this product space has largely been untouched when it comes to thoughtful innovation. This lack of innovation in the market has resulted in pipe wrenches that fail to satisfy an array of user needs—from lack of versatility and grip, to insufficient leverage and uncomfortable handles. Through many discussions with users and listening to their needs, Milwaukee wanted to provide a solution that was dramatically disruptive to this space. The result is a fully-redesigned pipe wrench that's more efficient than ever before.
What we say: 
Milwaukee calls it The Cheater, an official name to a common nickname given to giving pipe wrenches more leverage. We really don't see how being smarter is cheating. What's the solution when your pipe wrench is too long? Grab one with a shorter handle. But then the jaws are too narrow…and the whole job goes downhill from there. The Milwaukee Cheater takes the capacity of an 18" pipe wrench and gives a shorter handle option for tight spaces and a longer handle option for extra leverage. The result is one pipe wrench to handle what used to take up to three tools to cover.
Price: $99.99
For more information, click here.
---
Winner – Torque Wrenches
Milwaukee 2466-21 M12 FUEL 1/2″ Ratcheting Torque Wrench w/ ONE-KEY
What they said: 
The M12 FUEL Torque Wrench w/ ONE-KEY delivers faster installation time and precise torque measurements for torque-critical fasteners. An industry first, this solution allows the user to rundown and torque the fastener with one tool, eliminating the need to have two tools and increasing productivity by up to 50%. At +/- 5% torque accuracy, this tool will give users the confidence to know that their fasteners are torqued to the specific torque value they desire. ONE-KEY reporting allows the user to save individual torque events and create a report to show all of the fasteners target torque and actual torque applied.
What we say: 
Milwaukee takes the frustration of setting fasteners that require torque wrench confirmation. The built-in M12 Fuel ratchet tightens down bolts short of the amount of torque you need. From there, you're making a partial turn until you get confirmation from the wrench that you've reached the amount of torque you specified. It's a big time-saver that gives you repeatable results and offers reporting from ONE-KEY for final confirmation.
Price: $599 bare, $749 kit
For more information, click here.