As battery-powered outdoor power equipment continues to gain on gas, innovation comes in figurative waves. The commercial side of OPE still leans towards those gas products, but manufacturers are increasingly presenting viable alternatives where municipalities demand emissions-free solutions. Here are your winners for the PTIA 2019 Outdoor Power Equipment Awards!
Winner – Gas/Diesel Generators
Makinex Construction Products Dual Phase 16kw Compact Generator
What they said: 
Makinex has released a compact range of generators with outstanding power to weight ratio. They have two 16kw models that allow the user to combine three-phase and single-phase outlets in both 240V and 480V!
The Makinex 16kw Generator will power everything you need! It has the ability to start single and three-phase motors simultaneously. There are no electronics in the alternator, which means they are reliable and have a longer life. They are all easy to maneuver around small sites due to the trolley frame and push-along handles, which makes them ideal for any renovating job. These are the smallest generators on the market for their power range. There are also compatible with distribution boxes.
The Makinex Generator Range is a robust, powerful and reliable solution for providing power to equipment and tools, floor grinding, welders and brick saws, air compressors and a wide range of applications.
Our generator alternators provide 11 percent more power from the same engine due to the RFL permanent magnet alternator – allowing a cleaner sign wave, which then achieves 92 percent efficiency.
What we say: 
The story here is about power and size. Makinex puts the equivalent of a home backup generator in the space that's the size of a small tool chest with wheeled portability. Some of the magic is the alternator. By going with an RFL permanent magnet alternator, Makinex is picking up an impressive 11% additional power that cleans up their sine wave and reaches 92% efficiency. When you're looking to for serious job site power, Makinex has you covered.
Price: $11,549
For more information, click here.
Finalist
Ryobi RYi4022X 4000 Watt Inverter Generator with CO Detect
---
Winner –
<1000W
Inverters
EGO POWER+ PAD1500 Nexus Escape
What they said: 
Introducing the EGO Nexus Escape: Power when you want it, power when you need it. Built tough with a 120-Volt AC power outlet to power anything from a tablet while out and about, your lamps in the house, even your TV in a power outage. Compatible with all EGO POWER+ ARC Lithium batteries (available separately) to deliver Power Beyond Belief.
What we say: 
Compact portable power is big business and EGO makes it easy with their Nexus Escape. It provides up to 150 watts of power delivered through two USB ports and a standard 120V AC plug. Thanks to EGO's wide range of 56V batteries, you can run anything from a lightweight 2.0Ah battery all the way up to their 7.5Ah pack with 420 watt-hours. If your battery runs out, just pop another one in and you're good to go. Best of all, it runs on the same exact batteries as your EGO lawn care equipment.
Price: $99
For more information, click here.
---
Winner –
>1000W
Inverters
EGO POWER+ PST3042 Nexus Portable Power Station
What they said: 
Introducing the EGO Nexus Power Station: Quiet Clean Power for Indoor and Outdoor Use. The Nexus Power Station is the first portable power station of its kind. Use in a power outage to plug in your refrigerator so the food does not spoil or plug in your microwave to cook the family a quick dinner. Bring the power station anywhere you do not have convenient power: camping, hiking, boating, tailgating—the possibilities are endless.
What we say: 
The EGO Nexus Power Station is the best battery inverter we've tested so far. It lets you run tools up to 15-amp handheld worm drive saws. That may get even better with firmware updates. While short of matching the total capacity of the Goal Zero Yeti 3000 on its own, the flexible design makes it easy to carry extra batteries in reserve and hot-swap them when needed. Whether you're looking for no emissions, low noise, or you just need to run your power source inside, the EGO Nexus Power Station pushes access to reliable power further than ever before.
Price: $799 – $999
For more information, click here.
---
Winner – ATVs, UTVs
Greenworks Commercial CU 800 82V Battery-powered UTV
What they said: 
Greenworks presents the first-ever lithium-ion battery-powered UTV, the CU 800 Utility Vehicle. Designed to tackle any terrain, the UTV can reach speeds of up to 30 MPH. Users can transport whatever tools they may need for the job or spend the day hunting without hassle. The CU 800 carries up to 500 lbs and easily tows up to 1500 lbs. Powered with both 2-wheel and 4-wheel drive, the UTV can perform well in almost any type of terrain.
In addition to this, the vehicle is fully customizable to best fit your needs. You can customize the Greenworks UTV with a camo wrap or modify it with mud tires, a windshield, or a 3500 lb. winch. Since the vehicle is fully battery-powered, no harmful emissions are released and noise pollution is cut down significantly, making this an excellent tool for landscaping or hunting. This environmentally-friendly vehicle proves how powerful it is by traveling up to 90 miles on a single charge, giving users hours of runtime.
What we say: 
As battery-powered OPE makes its way into the market, it's bringing more than just lawn mowers along. The Greenworks CU 800 82V UTV is by far the most capable model we've seen so far. It has the power and speed we need in agricultural settings with similar features. There's just a lot less noise and no exhaust to ruin the scenery. With hours of continuous runtime available, it's a replacement for gas models in many settings.
Price: $24,999
For more information, click here.
---
Winner – Backpack Blowers
STIHL Inc. BR 800 C-E MAGNUM
What they said: 
The American-built STIHL BR 800 C-E MAGNUM backpack blower is the ideal machine for professional landscapers tackling large properties and heavy debris. The BR 800 C-E backpack blower offers 20 percent more power than the STIHL BR 700 backpack blowers, allowing users to clear leaves, grass and heavy debris faster and more efficiently. By adding the BR 800 C-E to their fleets, landscapers will see a real impact where it counts most — their bottom line.
The BR 800 C-E MAGNUM also comes equipped with a unique starting handle on the side of the unit, allowing users to easily start — and restart — the engine while continuing to wear the blower on their back. The BR 800 C-E MAGNUM also offers a telescopic tube, making it easy to quickly adjust the length of the blower tube to accommodate various user preferences and working conditions.
The STIHL BR 800 C-E MAGNUM backpack blower is packed with comfort and convenience features designed for professional users to quickly clear large properties and move on to the next project.
What we say: 
Stihl's BR 800 Magnum is an incredibly powerful and well-designed backpack blower at the top of the professional line. As the first commercially available blower to exceed 40 Newtons of blowing force in certification, it leaves debris begging for mercy at the sound of its approach.
From a user comfort standpoint, the BR 800 Magnum is outstanding. It features a well-designed frame and harness system, making it reasonably comfortable to wear on your back. One of the features that sets it apart from the competition is its side pull start cord. You no longer need to leave the engine idling or set it on the ground to restart as you move from one location to the next. Just get where you need to go and give it a pull on your left-hand side—it fires right up!
Price: $649.95
For more information, click here.
---
Winner – Battery Powered Backpack Blowers
Techtronic Industries RY40440 RYOBI 40V Brushless Backpack Blower
What they said: 
Incredibly powerful. Unbelievably quiet. The 40V Backpack Blower with CROSSFORCE FAN TECHNOLOGY, a unique dual-intake design, is the industry's quietest blower. The brushless motor combined with the 40V 5Ah lithium-ion battery, generates 625 CFM of clearing force at only 59 dB.
The backpack includes pro features like a variable speed throttle, cruise control and a turbo button that you don't have to hold down, offering convenient operation at your fingertips. Designed with Two Active Battery Ports, you can extend your run time with an additional 40V Lithium-ion battery. Enjoy comfort and support no matter how long you work, with the adjustable shoulder straps and contoured back design. The included 40V 5Ah lithium-ion battery is compatible with over 40 tools in the RYOBI 40V system. Quietly clear your leaves this season with more comfort and more power.
What we say: 
The Ryobi RY40440 backpack blower's specs made us do a double-take. At 625 CFM and 145 MPH, the RY40440 throws down the gauntlet for EGO's LB6000, the most powerful battery backpack blower we had tested to that point with 25 fewer CFM.
With our trusty force meter, we measured Ryobi's high mode at 10.4 Newtons. Then we turned on Turbo Mode. Our measured output jumped as high as 20.0 Newtons. That's impressive for a battery-powered blower and, so far, we haven't tested any other battery-powered blower with more power.
Price: $269
For more information, click here.
Finalist
EGO POWER+ LBX6000 Commercial Blower
---
Winner – Battery Powered Blowers
Greenworks Tools BL60L251 60V Cordless Jet Blower
What they said: 
The Greenworks Pro 60v Cordless Jet Blower continues to advance the company's track record of best-in-class gas-alternative tools. This product comes standard with Greenworks new HC battery, which is compatible on all 60V products, allowing for increased performance and run-time thanks to new cell technology. The Pro 60V Blower delivers up to 50 minutes of run-time with the included 2.5ah battery, and even longer run-time with available larger amperage batteries.
The powerful jet fan delivers 130MPH and 610CFM airspeeds to power through the toughest debris. The blower is equipped with a variable speed trigger with cruise control for increased control over airflow, as well as a turbo button for instant maximum force. The concentrator nozzle creates focused airflow for even better results, while the Jet Blower's ergonomic handle ensures maximum user comfort. The Greenworks Pro 60v Cordless Jet Blower is backed by a best-in-class 4-year tool and battery warranty.
What we say: 
When you want the best balance of power and weight from the Greenworks lineup, you turn to their Pro 60V system. The 60V blower boasts impressive specs. Registering nearly 15 Newtons on our force meter, it has the power to compete well against anyone's handheld battery-powered blower.
Price: $179
For more information, click here.
Finalist
DeWalt 60V MAX FLEXVOLT Brushless Handheld Axial Blower
---
Winner – Chainsaws
Husqvarna 572XP 70cc Chainsaw
What they said: 
As the flagship model of Husqvarna's next generation of chainsaws, the 572XP offers extreme productivity and introduces a new level of cutting excellence from Husqvarna. This 70cc chainsaw is designed to cut more, better and longer. It offers a 12 percent higher cutting capacity over similarly sized Husqvarna saws, rapid acceleration, and a wide usable RPM range, making it easier to cut and better suited to work with long guide bars.
Featuring an improved carburetor design and unique heat barrier, the 572XP ensures excellent cooling to prevent overheating. Its heavy-duty air filter optimizes filtration, giving it unprecedented reliability. Additionally, the chainsaw's outstanding power-to-weight-ratio, powerful engines, and user-centric design make it comfortable and safe to use all day every day.
The 572XP comes equipped with the second generation of Husqvarna's AutoTune technology. This improved technology offers a quick air/fuel mix adjustment and a broader adjustment range to ensure accurate carburetor settings in every phase of the work cycle. It increases the chainsaw's durability and performance.
The chainsaw's optimized clutch cover is designed to secure rapid ejection of saw chips, offering "clog-free" saw chip ejection. It also features Husqvarna's sharpened and pre-stretched X-Cut C 85 chain to give users superior cutting capacity from the start. Other features include wear-resistant felling sights, an HD filter that provides long-running intervals before cleaning, a rubber handle inlay for a safe and comfortable grip, flip-up caps and a fuel level indicator. The 572XP is backed by Husqvarna's one-year professional product warranty and qualifies for Husqvarna's Crown Commitment program, which guarantees a full refund or store credit if the product is returned within seven days of purchase.
What we say: 
If you can forgive us for being a bit long-winded on this one, 6 key features set apart the Husqvarna 572XP from other professional chainsaws. Thanks to an improvement in the engine layout, you get 12% greater cutting capacity with bars up to 28″. Several components in the engine design bring the bare weight down 14.5 pounds, an impressive feat considering its 4.3kW power output.
The engine also cools better than other designs—running up to 20% cooler compared to other Husqvarna engines. The team increased the size of the air filter, giving the engine better overall filtration and leaving you to clean or replace it less often.
This chainsaw features Husqvarna's 2nd generation of AutoTune, an air/fuel automatic calibration that now lasts up to 10x longer than the first generation. Finally, the 572XP comes standard with Husqvarna's X-CUT C85 chain. It's a full chisel, pre-stretched, 3/8″ chain with a gold-colored strap that gives you an easy indicator to use when you're sharpening it.
Price: $999.95
For more information, click here.
---
Winner – Battery Powered Chainsaws
Kobalt KCS 4080-06 80V 2.5 KW Chainsaw
What they said: 
The Kobalt 80V 2.5 KW chainsaw, the most powerful cordless consumer chainsaw available, changes the electric chainsaw game by providing 50cc gas equivalent power. The battery-powered brushless saw comes standard with a 4ah battery allowing it to complete up to 200 cuts of 4×4 lumber on a single charge, without any harmful gas emissions or noise pollution.
To ensure safety, the chainsaw is equipped with an inertia-activated chain break which instantly stops the chain in the case of kickback or misuse. The automatic oiler keeps the chain constantly oiled, extending the life of the chain and tool. The saw is designed with a pro-style chain tensioner for excellent bar clamping and includes onboard tool storage. This powerful chainsaw is started with just the push of a button, doing away with the stress of pulling a cord, which allows for hassle-free stopping and starting during use.
What we say: 
Kobalt is crushing it with the latest generation of 80V outdoor power equipment and the KCS 4080-06 chainsaw is a great example. We're now seeing more direct comparisons to gas engines and Kobalt is claiming the power of a 50cc engine. That's huge for a battery-powered chainsaw! Most all the standard features are onboard as well, giving us the impression that Kobalt is looking to do more than just be a player in cordless OPE, they want to lead it.
Price: $399
For more information, click here.
Finalist
EGO POWER+ CS1804 18″ Chain Saw
---
Winner – Hedge Trimmers
BLACK+DECKER BEHTS300 20″ Hedge Trimmer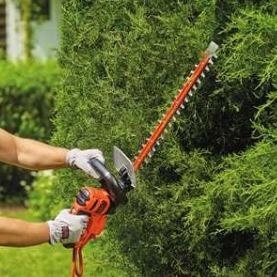 What they said: 
The BLACK+DECKER BEHTS300 is a 20″ hedge trimmer with a NEW innovative saw blade feature which can cut up to 1-1/2″ thick branches. The saw blade solves a user frustration in that the typical blade gap of hedges trimmers is 5/8″ to 3/4″. However, branches, particularly at the base of a hedge, can be larger in diameter. Often, users would have to return to their garage or shed to get a separate tool, such as a manual lopper, to cut these thicker branches. Now with the Black+Decker saw blade innovation, the user can simply use the saw blade on the end of the trimmer to cut these larger branches.
What we say: 
Black & Decker makes a really interesting move with their BEHTS300 electric hedge trimmer. If you look at the front edge, you'll see a saw blade on the end. When you reach the point where the cutting knives can't handle the diameter of the branches, you can use that saw blade to cut through and keep going without having to stop and grab another tool. That's a truly innovative (and handy) addition for a sub-$50 hedge trimmer.
Price: $49.99
For more information, click here.
---
Winner – Battery Powered Hedge Trimmers
Makita 18V LXT Brushless 24″/30″ Hedge Trimmer (XHU07/8)
What they said: 
The 18V LXT Lithium-ion Brushless Cordless 24" Hedge Trimmer (XHU07) and 30" Hedge Trimmer (XHU08) offer increased cutting capacity. With a Makita BL Brushless motor delivering 4400 SPM, these brushless hedge trimmers excel at speed and faster cutting. Three-speed options and variable speed trigger allow the operator to match and control the speed to the application. The dual-action cutting blade is ideal for commercial users with an upgraded handguard design and 5-position rotating rear handle offer increased comfort during vertical and angle trimming. The anti-vibration design aids in precision cutting, and a tip guard protects the end of the cutter bar against hard surfaces. And, with only one LXT battery, these new hedge trimmers offer the same performance as previous models while weighing less.
What we say: 
Drawing on its deep history in gas equipment and cordless tools, Makita scores a huge win with its latest cordless hedge trimmer. It significantly drops the weight down from the 18V X2 model while putting some serious distance on their competition in cutting speed and vibration control. Combine that with a feature set that makes your job easier and the Makita XHU07T and XHU08T are very easy to recommend.
Price: $379
For more information, click here.
---
Winner – Battery Lawn Mowers – Lawn Tractor
Cub Cadet XT1 LT42 e Battery-powered Lawn Tractor
What they said: 
Cub Cadet has leveled up the battery-powered lawn care game with its new line of electric tractors. With minimal maintenance, uncompromising power, and the industry's most convenient charging experience, the Cub Cadet battery-powered tractors more than deliver on an impressive mowing experience.
Building off the industry-leading XT Enduro Series, Cub Cadet battery tractors are designed with the newest technological innovations combined with the same strength, durability, and performance that comes standard with all Cub Cadet products – powered in a totally new way.
Quiet: A 56V Max lithium-ion battery provides quieter operation, a 1.5 hour or 2-acre cut time, and a hassle-free rapid recharging system
Superior cut: 42″ Twin-blade stamped deck and high-quality cut time boasts consistent performance with no power fade
Low maintenance: No oil, belts, gas or engine upkeep
Industry-best charging experience: Rapid recharge takes 4 hours for a complete recharge; flexible recharge hits a 25 percent charge in 1 hour
Comfortable convenience: High-back seat with armrests, front bumper, and cruise control offers an easy ride with bagging and mulching capabilities
What we say: 
Not everyone needs a zero-turn mower, and that's why you see so many lawn tractor sales. Cub Cadet is one of the leaders and makes waves by giving us a lithium-ion lawn tractor for under $4000. By sticking with lithium-ion batteries instead of lead-acid, it reaps several benefits, including the ability to discharge more completely without affecting the battery life.
Aside from the typical gas engine and belt drive maintenance considerations, the rest of the mower looks and feels like a lawn tractor. At the end of the day, that's the kind of smooth transition we like to see.
Price: $3999
For more information, click here.
---
Winner – Battery Lawn Mowers – Riding/Zero Turn
RYOBI 48V Zero Turn Electric Riding Mower RY48ZTR100
What they said: 
The RYOBI 48V 100Ah Electric Riding Mower features zero-turn technology with lap bar steering to help cover more yard in less time. Cutting up to three acres on one charge, it's QUIETLY and quickly changing the way America mows.
Built from the grass up, with a steel foundation for maximum durability and strength that lasts season after season. Ride with confidence, while the reinforced 12-gauge steel deck and rugged frame design withstand the abuse of rigorous mowing jobs. The 42" heavy-duty steel deck features a 12-position deck adjustment lever that dials in the perfect mowing height between 1.5" – 4.5".
Mow with more precision and less noise, while the four high powered brushless motors deliver unrelenting torque for the twin-blade cutting system. Relax in the perfect position, while the oversized plush seat and overmold handles absorb the vibrations of harsh terrain. Experience superior comfort and convenience, with automotive-inspired features like the spacious foot resting area, cup holders, enclosed storage compartments and LED headlights.
The advanced control panel activates the blades, engages the slow speed function and displays the battery level and run-time. The battery level indicator simultaneously monitors, adjusts and displays your batteries' charge percentage. The easy to read onboard LED screen always keeps you informed so that you can complete the job with confidence.
What we say: 
When you're ready to step up to the convenience of a battery-powered zero turn mower without the price tag of a commercial model, check out what the Ryobi 48V Zero Turn Mower has to offer. Its 42″ cutting deck and true zero-turn radius mow up to 3 acres on a charge using its 4 lead-acid batteries. With a focus on residential users, you can pick this one up for less than $4099.
Price: $4999
For more information, click here.
Finalist
Greenworks Tools RZ 42 82V Residential Zero-Turn Mower
---
Winner – Robotic Lawn Mowers
Husqvarna Automower 550 Robotic Lawnmower
What they said: 
Here to revolutionize professional landscaping businesses, the Husqvarna Automower 550 robotic lawn mower offers new channels of opportunity for outdoor professionals. The robotic mower can maintain lawns up to 1.25 acres and works independently, based on its set schedule and designated work areas, freeing landscapers up to do other tasks while the mower maintains a perfectly-manicured lawn. It can be installed in a variety of spaces, such as clients' yards, hotels, resorts, sports, and civic centers. The robotic mower is also equipped with a subscription to Fleet Services, Husqvarna's cloud-based fleet management system, allowing business owners to monitor multiple units from one app.
The robotic mower is equipped with many industry-leading features that give professional landscapers a sharp edge on their competition. These features include GPS navigation, a Penta search feature that offers five ways for the mower to find its way back to its charging station, guide wires, ultrasonic sensors for remote object detection, remote start, a weather timer, and automatic passage handling. To discourage theft, the Automower 550 also features a loud alarm that sounds whenever the mower is lifted and requires a personalized PIN code to disarm.
The mower can tackle complex yards and handle difficult terrain with ease, including slopes up to 45 percent. It offers a maximum cutting height of 2.4 inches, and a version with a cutting height up to 3.6 inches is also available
What we say: 
Husqvarna leads in the robotic mower space and now they're innovating ways to get Pros involved with their unique business needs. The Husqvarna Automower 550 has all of our favorite features—GPS mapping, large lawn capability, guide wires, remote object detection, and more.
What sets this model apart is its ability to integrate into business use. By integrating into Husqvarna's Fleet Services system, you can keep an eye on multiple units whether they're on separate client lawns or covering multiple sectors of a large property. As the future of robotic mowers moves from individual homeowners to lawn care businesses, Husqvarna is continuing the lead the way.
Price: $3699.95
For more information, click here.
---
Winner – Self-Propelled Lawn Mowers
CRAFTSMAN M270 V20 21-in Front Wheel Drive Mower
What they said: 
This 21-in front wheel drive mower, with true variable-speed control, features a 159cc Craftsman engine with automatic choke and is equipped with a V20 push-button start that provides quick and easy starting every time. The lithium-ion V20 battery can also be used in a variety of other outdoor products as well as power tools in the V20 system. A 3-in-1 deck allows you to side discharge, mulch, or bag (1.9-bushel dust blocker bag) for easy cleanup. The dual-lever, 6 position height adjustment makes it easy for you to change the cutting heights while mowing. The mower includes V20 lithium-ion battery and charger.
What we say: 
We love the integration of Craftsman's easy-to-use self-propelled gas mower and their popular power tool lineup. By using any Craftsman V20 (20V Max) battery, you can avoid pull starting the mower and just push a button instead.
The mower has all the standard features we like to see on a residential model and Craftsman hits a fantastic price point for a 21″ self-propelled mower that includes electric starting.
Price: $369
For more information, click here.
---
Winner – Battery Self-Propelled Lawn Mowers
Greenworks Tools MO60L514 60V Dual-Port Self-Propelled Mower
What they said: 
The next generation of power is here and available at the push of a button. The Greenworks Pro 60V Dual Port Self-Propelled Mower has all the power of a gas-powered tool, without any harmful emissions or noise pollution. This product comes standard with (1) new Greenworks HC battery, which is compatible with all 60V products, allowing for increased performance and run-time thanks to new cell technology.
The 21" battery-powered mower is designed with a dual-port battery compartment, allowing the tool to automatically, seamlessly transition to the second battery once the first battery has been depleted, for uninterrupted performance. Using this feature, the Greenworks Pro 60V mower has double the runtime. The mower is designed with variable speed rear-drive, which gives users the ability to set their own pace depending on the task.
Smart Cut Technology keeps the blade speed of the mower in sync with the cutting conditions. When encountering a patch of thicker grass, the Smart Cut Technology automatically raises the RPMs to compensate. Additionally, the mower allows you to manually increase the RPMs to the blade by simply pressing the Turbo button, a feature that has proven valuable against the thickest grass, as well as during leaf and debris removal. Additional creature comforts include easy fold extruded aluminum handles, with no-show cords that are height adjustable with two settings.
What we say: 
We're big fans of Greenworks' current 60V self-propelled lawn mower, and they're stepping up their game again. The new version has two active battery ports that automatically switch when the first battery is depleted, letting you work uninterrupted. They're also adding a manual Turbo switch. Even though the brushless motor automatically raises its RPMs when it hits an increased load, you can preemptively get them up in anticipation of a rough patch or when you're taking care of fall leaves.
Price: $499
For more information, click here.
---
Winner – Battery Stand-on Lawn Mowers
Greenworks Commercial Lithium Z 52S 82V Stand-on Zero Turn Mower
What they said: 
The Lithium Z stand on Zero Turn mower provides lawn care professionals with the power and cutting speeds they need, while not using any gas or giving off harmful emissions. The mower has zero-turn maneuverability, allowing users to expertly trim up lawns with precision. The mower is fully lithium-ion battery-powered and is designed with a brushless drive motor, so lawn care professionals won't bother clients with high noise levels or emissions.
The 52-inch steel deck and 17 different cutting heights give users what they need to finish the toughest of jobs in record-breaking time. The mower can reach speeds up to 6 mph and can reverse up to 3 mph. The mower has a smart design, starting at just the push of a button and giving the user an easy switch between 17 cutting positions. The lithium-ion battery holds a charge for up to 12 hours and can easily cut through 15.5 acres on a single charge.
What we say: 
Greenworks makes some big improvements to their PTIA 2018 winner from last year. On the surface, you get an additional 4″ of cutting as it moves from 48″ to 52″. But the major improvement comes in the form of the cutting area. The smaller version cuts for some 6 hours, but the new one doubles it and gives you the potential of cutting more than 15 acres on a charge!
Price: $22,999
For more information, click here.
---
Winner – Battery Powered Pole Saws
Milwaukee QUIK-LOK Attachment System
What they said: 
Attachment systems are not a new concept, but what makes QUIK-LOK so remarkable is that, through our advanced M18 FUEL cordless technology, we're able to deliver a versatile solution that not only achieves instant throttle response for more control, but it's also fully compatible with the M18 System which offers more than 180 other solutions. Plus, the ability to switch out multiple attachments based on the application will make jobs quicker, easier, and more cost-effective. This is a huge breakthrough for users who are frustrated with gas solutions or investing in multiple battery platforms to use higher voltage options.
What we say: 
The Milwaukee Quik-Lok pole saw attachment goes with a 10″ Oregon bar and chain that ramps up to 4600 RPM in less than 1 second. With the full kit, you get a 3′ extension to give you 80″ of reach. It's a very capable saw that we've used to trim back oaks and Bradford pears.
Don't overlook the bottom hook—it's fantastic for grabbing cut branches that catch in the canopy of our oak trees. With all of the yellow pollen finally giving way to brilliant green leaves, it's a shame to have a few dead pieces browning the look.
But the pole saw is only part of a much more comprehensive system. With a string trimmer, edger, and articulating hedge trimmer to complete the group, you can take handle all of your lawn care with a mower and this one powerhead.
Price: $229
For more information, click here.
---
Winner – Battery Powered Pressure Washers
Greenworks Tools PW18HYB AC/DC 60V Pressure Washer
What they said: 
The Greenworks Pro AC/DC Pressure Washer is the first EVER pressure washer that is both AC and DC power capable. This means users have the option to use the tool through AC power, while plugged in, as well as through DC battery power, without any cords required. While running on DC battery power the Pro Pressure Washer delivers 1500 PSI, with the option to increase the power to 1800 PSI and 1.1 GPM by plugging into AC power. The DC power is provided by a dual-port battery compartment, allowing the tool to automatically, seamlessly transition to the second battery once the first battery has been depleted, for uninterrupted performance.
The tool comes standard with a 25-foot high-pressure, tangle-free hose, along with 10" wheels, and a 35-foot power cord with inline GFCI for use on all exterior outlets. The metal wand has four nozzle options – 25 degrees, 40 degrees, soap, and turbo. The Greenworks Pro AC/DC Pressure Washer is backed by a best-in-class 4-year tool and battery warranty.
What we say: 
Today is the day we start talking about AC/DC hybrid battery-powered pressure washers. Greenworks is first to bring one to market and they're using the Pro 60V battery system as their launch point. With one or two batteries onboard you get 1500 PSI of power to work with, and the system will automatically switch batteries when you use two.
Jumping onto DC power, the pressure jumps up to 1800 PSI with 1.1 GPM flow. Greenworks didn't add some cheap afterthought of a cord, though. It's a full 35-feet long with inline GFCI protection. For your light-duty pressure washing jobs, you finally have the option to go cordless and gasless.
Price: $199
For more information, click here.
---
Winner – Battery Powered String Trimmers
Greenworks Commercial 82TB16 16″ Brushless String Trimmer/Brush Cutter
What they said: 
Tackle large areas of land with the powerful 82TB16 Brushless Bike Handle String Trimmer/Brush Cutter. Designed with high power torque, the trimmer can power through even the toughest patches of grass. The trimmer is designed with a bike handle grip, providing the user with comfort and maneuverability, as it spreads out the load of the trimmer.
The bump feed line gives users control over how much line they need as they're working through the job. The 16" cutting path can quickly cut through large patches of weed and brush. The tool can be powered on with just a push of a button. Users have continued control over the speed with the variable speed trigger. The trimmers are powered by Greenworks lithium-ion batteries, giving the tool extreme power without the harmful effects of gas. You can trim up a large area of land, without worrying about harmful emissions or loud noise pollution that will bother your clients.
What we say: 
Up until now, most USA-based battery-powered string trimmers have resisted a bicycle handle-style handle system. But it's a great choice in combination with a shoulder strap to take the strain off of your back to clear large areas. Greenworks is stepping up to fill the void with their Commercial 82V String Trimmer/Brush Cutter. With high-torque gearing and 0.095″ line, it's the model to turn to when you have a lot of ground to cover.
Price: $365
For more information, click here.