The 2019 Plumbing and Electrical Awards category reveals tons of new innovative products. From expensive dedicated trade-focused tools to feature-rich P&E hand tools, each product addresses and solves a specific problem. Focusing on everything from safety to powerful new ways to work, these PTIA 2019 Plumbing and Electrical Awards go to tools that every tradesman can appreciate!
Winner – Power Hydraulic Shears
Greenlee Shear 30T System
What they said: 
Greenlee expanded the Shear 30T system to include new dies, a new bare kit configuration option, giving professionals the ability to choose dies specific to their needs and utilize compatible pumps that they currently own. Mounted on a mobile workstation, the transportable Shear 30T is designed to increase productivity, improve precision and eliminate the need for rework while cutting strut, threaded rod, DIN rail, and Legrand 3000 Series Raceway.
The Shear 30T uses interchangeable dies that are made from durable, long-lasting material and can be rotated to extend die life. The unique die profile design offers compatibility with multiple brands and sizes of strut, providing versatility for the operator. The quick die change system allows the user to easily swap out dies with no tools or loose parts. For increased efficiency, the dies automatically retract after each cut so that they are in position for repeated use. In addition, the use of dies improves safety by eliminating sharp exposed blades when cutting various types of material such as strut and threaded rod.
What we say: 
What makes the Greenlee Shear 30T attractive is how efficient it makes just one crew member. In the field, you'll see a lot of Pros taking a portable band saw to make cuts in strut. You have to measure it, mark, it, clamp it, and cut it. The 30T makes the process much easier with its built-in measurement and stop system while the hydraulic pump and dies make a quicker, cleaner cut.
While the 30T will pay for itself in increased production quickly in the field, you'll get even more from it back at the shop. With so many projects using BIM (Building Information Modeling), you know what sizes and numbers of material you'll need in the field before you ever step foot on-site. With an inventory list, you can task one crewman to pre-fab those materials in the shop. Doing that helps you keep up with the needs of multiple crews on a project.
Price: $4,825 (bare kit) to $10,000 (depending on configuration)
For more information, click here.
---
Winner – Electrical Accessories
Eagle Tool US Eagle Gear Bag
What they said: 
Eagle Tool's new Eagle Gear Kit, 54 inch includes all of the tools commonly used on the job site for installing wire and cable in hard to reach areas. Get organized and look professional with our new premium carrying bag to ensure your tools are protected from the elements and ready to carry to the next wire installation job.
The high-quality US-manufactured fabric bag's main compartment accommodates all 54-inch length rods and has easily accessible pockets that are tough enough to endure the rigors of any job site. A variety of professional-grade tools and attachments are included in the kit to provide the right tool for any wire fishing situation.
The kit includes a 9/16" x 54" auger style cable bit with a 3/16" x 36" extension for drilling inside walls, a 16' fish rod kit for fishing wire, a lighted fish rod tip for dark areas (Pro Tool Innovation Award winner), a magnetic noodle kit attachment, two standard 18" bell hanger bits for drilling through walls, a ¾" x 54" dirt auger (also a Pro Tool Innovation Award winner) with a ¼" x 36" extension for drilling under sidewalks, and two Allen wrench and set screw kits for the extensions.
Eagle Tool US is proud to be a USA-based manufacturer and has been supplying Quality US products that stand up to the demands of the professionals who use them for more than 35 years.
What we say: 
Eagle Tool US builds high-quality electrical accessories. Now they're taking it to the next level by kitting some of the most popular together with a quality, professional carry bag. Also available without tools, these bags stand up to job site conditions and give you that extra something that leaves your clients with a more professional view of you. True to their name, Eagle Tool US Gear Bags are Made right here in the USA.
Price: $85 – $325
For more information, click here.
---
Winner – Fish Rods/Tape
Milwaukee Polyester Fish Tapes
What they said: 
Our Polyester Fish Tapes feature a high flexibility tape for the easiest fishing. The triple strand design won't kink after repeated use and delivers a more durable tape. The non-conductive tip allows you to safely handle wire and cable in electrical applications. A low-friction case provides you with a smooth payout and easy rewind. The fish tape features a multi-position handle allowing you to comfortably use the fish tape in any job site scenario.
What we say: 
The triple strand design of the Milwaukee fish tapes offers the best of both worlds. You get greater stiffness for payout but low friction for rewind. It's the best fish tape our crew has used, getting to the endpoint faster and coming back easier. The low-friction assists the tape inside the case as much as inside conduit. Virtually gone are the tough pushes and pulls that can make wire installation so tedious. And the case's wide, inside grips are excellent. Overall, Milwaukee has done a great job with this tool.
Price: $84.99-$174.99
For more information, click here.
---
Winner – Powered Fish Rods/Tape
Milwaukee 2873 M18 FUEL Angler Pulling Fish Tape
What they said: 
The M18 FUEL Angler Pulling Fish Tape is the world's first cordless, battery-powered fish tape. The tool gives users the ability to automatically reel tape into the drum for a cleaner jobsite and less fatigue. This automatic feed and retract also promotes a cleaner job site. The tool has the ability to pull #10 and #12 wires and has interchangeable steel and non-conductive drums to tackle any situation.
What we say: 
Let's go fishing! Milwaukee takes the hard work out of pulls by letting their M18 battery system provide the muscle. It's capable of both feeding and retracting #10 and #12 wire automatically from its drum. In the event that your line gets tangled, just flip the latches on the drum to access it and get your line back in the water, er, conduit.
Price: $529 (120′). $549 (240′)
For more information, click here.
---
Winner – Knockout Tool
Milwaukee 2677-21 M18 FORCE LOGIC 6T Knockout
What they said: 
When Milwaukee introduced their Knockout System in 2014 they brought a fresh perspective to hole-making, essentially redefining the entire process to promote better ease of use and productivity. The 10-ton tool gave a wide range of commercial and industrial users the speed, hole quality and capacity they needed. But because that range was so wide, it became increasingly important to provide an optimized compact solution for the breadth of applications that service and MRO professionals deal with which require maneuverability.
The addition of the 6-ton solution, 40% lighter than their 10-ton offering, provides these users with a reliable tool that they can easily navigate within these tight spaces and deliver the capacity to punch up to 4″ holes in 14 gauge mild steel.
What we say: 
While you can use heavy-duty tools for light- and medium-duty applications, there are some cases where light, more compact tools are more desirable. That's certainly the case with knockout tools. Milwaukee has responded by bringing their M18 FORCE LOGIC technology into a more compact 6T tool. This knockout tool shaves off the weight and still gives you up to 4″ capacity. It will save your arms and cover the majority of knockout needs for MRO crews and residential electricians.
Price: $999
For more information, click here.
---
Winner – Electrical Specialty
Amprobe AT-6010 Advanced Wire Tracer Kit
What they said: 
With the AT-6010 Advanced Wire Tracer, it has never been easier and safer to locate energized and de-energized wires, breakers, and fuses. When the transmitter is connected to the circuit, the receiver easily detects the signal in the wires or cables behind walls, ceilings, and floors. The transmitter works on energized and de-energized circuits up to 600 V AC/DC in Category I through Category III electrical environments, allowing for work directly on an energized circuit without the need to take equipment offline.
The transmitter also features high signal mode for general tracing and a loop mode designed specifically for locating shorts, as well as two optimal tracing frequencies that are automatically activated based on the detected voltage. The complete AT-6010 kit features test leads and accessories International accessory kit for use outside North America.
The AT-6010 can be combined with the CT-400 Signal Clamp (an optional accessory) for applications where access to circuit contacts is limited or where users are not able to connect the Transmitter to the circuit through test leads
What we say: 
Amprobe's AT-6010 makes tracing wires easier, whether they're live or not. Just plug in the transmitter leads (one to the hot and the other to a separate ground) and the system automatically chooses the best frequency for the receiver. As the most accurate tracer in its class, it makes finding the correct wire in a crowded box or breaker super-simple, letting you spend more time on diagnostics and repair and less time tracing.
Price: $599.95
For more information, click here.
---
Winner – Electrical Cordless Specialty
DeWalt DCN701D1 20V MAX Cordless Cable Stapler
What they said: 
The DEWALT20V MAX Cordless Cable Stapler is built for residential wiring applications, primarily fastening Romex brand wires and cables. Made in the USA with global materials, this stapler has a proprietary cable guide that helps to drive staples over cable. The compact frame and lightweight design are ideal for tight spaces. A center-mounted LED light helps eliminate shadows and illuminate the work area in low light conditions.
Compatible with DEWALT DRS1800 1″ insulated cable staples (sold separately).
What we say: 
Electricians have a new best friend with the new DeWalt 20V Max Cable Stapler. The big deal here is definitely time savings. If you're currently hammering in your cable staples, you'll fly through your installations with a stapler like this. DeWalt says you'll go twice as fast, but there are some areas we think it can speed things up even more.
Price: $249
For more information, click here.
---
Winner – VDV
Milwaukee VDV Punchdown Tool w/ Extended Blade (48-22-2165)
What they said: 
Punchdown tools are used to terminate Cat 5 and Cat 6 wires. Often, users must carry a separate flashlight and navigate tight workspaces to complete this type of work. The Milwaukee Punchdown Tool features a patent-pending integrated LED light as well as a long-reach punchdown blade for precision and accuracy. Finally, an ergonomic grip improves user comfort.
What we say: 
Milwaukee's Punchdown Tool is one of those "Why didn't I think of that first?" kind of tools. It's all well and good when you can see what you're doing with an overhead light. But plenty of punchdown jobs take place in closets or other areas with little to no lighting. For those times, Milwaukee gives you a light on your punchdown tool, so you don't have to manage a flashlight in your mouth. They also give you a long reach blade and a more comfortable grip.
Price: $79.99
For more information, click here.
---
Winner – Cordless Wire Crimpers
Milwaukee 2877-22 M18 FORCE LOGIC 750 MCM Dieless Crimper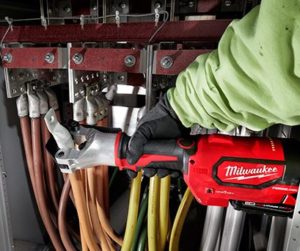 What they said: 
The lightest in its class, the M18 FORCE LOGIC 750 MCM Dieless Crimper features an in-line design and 180-degree rotating head for easiest alignment. A fully-enclosed high-speed hydraulic pump provides for the fastest dieless connections. When equipped with an M18 REDLITHIUM CP2.0 Battery Pack, the tool delivers up to 90 crimps per charge. A pre-crimp battery check prevents users from starting a crimp the tool cannot complete due to insufficient battery charge, ensuring a full crimp every time.
The new M18 FORCE LOGIC 750 MCM Dieless Crimper is fully compatible with the entire M18 line, now offering more than 180 power tool Milwaukee Tool is proud to unveil the simplest way to crimp without dies. The M18 FORCE LOGIC 750 MCM Dieless Crimper utilizes an industry-first, groundbreaking technology called Auto Distance Control. Auto Distance Control enables the tool to sense the instant it contacts the connector, applying a precise pressure for each size based on crimp distance. This revolutionary technology delivers optimal compression for each individual size allowing for one crimp UL Classified connections and uniform crimp appearance across the entire capacity range.
"We knew users deserved a better solution that took the best of both and delivered it in one, easy-to-use tool that didn't change their workflow," said Troy Marks, Product Manager for Milwaukee Tool. "To achieve this, we applied our knowledge of compression in a different way while maintaining broad UL Classification. Thus, autonomous distance-based crimping was born."
"The beauty of this technology is that it acts entirely behind the scenes. Everything is done simultaneously and instantaneously without the user ever having to stop, slow down, change settings, or do anything different than how they would operate any of the dieless tools they may have used in the past. It truly is the simplest way to crimp products and is a true testament to Milwaukee's focus on investing in game-changing technology that truly delivers breakthrough solutions for users."
What we say: 
While we're impressed with Milwaukee's ability to make a lightest-in-class dieless crimper, the major innovation here is definitely Auto Distance Control. A sensor in the tool detects when the ram contacts the connector and measures the outside diameter. In less than a blink of the eye, it determines the connector size and calculates the distance it needs to travel for a correct crimp. The result is the quality look of a 4-point dieless crimper with the capacity of a single-point. It's not magic, it's Milwaukee Force Logic.
Price: $4599
For more information, click here.
Finalist
Greenlee EK6IDCLX 6-Ton Underground Indenting Crimper
---
Winner – Cordless Wire Cutters
Milwaukee 2776R-21 M18 FORCE LOGIC 3″ Underground Cable Cutter w/ Wireless Remote
What they said: 
Due to the potential for Arc Flash, Linemen cut any potentially live cable remotely. When the situation calls for these types of cuts, Linemen have had to use methods such as hydraulic pumps and hot sticks that still maintain a physical connection between the user and the cut zone. The Milwaukee 2776R-21 M18 FORCE LOGIC 3″ Underground Cable Cutter w/Wireless Remote is the most technically advanced underground cutter, creating a safer cutting process for linemen.
What we say: 
Linemen have families that want them to come home after the shift is over. When the potential for arc flash exists, safety is paramount. Milwaukee's M18 FORCE LOGIC Underground Cable Cutter with Wireless Remote allows linemen to cut up to 1500MCM Copper from a safe distance. Only after activating a remote does the cutter penetrate to contact the metal cable. Thanks to ONE-KEY technology, you'll also get feedback on maintenance schedules and diagnostics while syncing data to the cloud.
Price: $3800
For more information, click here.
---
Winner – Wire Strippers
Southwire SNM1214HH-US Made in America Romex Wire Stripper
What they said: 
Southwire's new Made in America Romex Wire Stripper is specially designed with a 90° angled head to easily strip Romex jacket in confined spaces. Strips both 12/2 & 14/2 Romex NMB jackets and is a 12 & 14 AWG SOL wire stripper. This wire stripper comes with a large curved cutting blade, 6-32 & 8-32 screw shearing holes, Double dipped comfort gripped handles and wire looping holes making it the ultimate electrician's wire stripper!
What we say: 
Southwire is shifting their original heavy-duty Romex Stripper to US-based manufacturing as an expansion of their Made in America line. The new model is an inline version that makes stripping Romex jackets in tight spaces much easier. More than just a Romex stripper, it also has 6-32 and 8-32 screw shears, curved cutting blade, and wire loop.
Price: $28.99
For more information, click here.
---
Winner – Cordless Wire Strippers
Milwaukee 2935 M18 Cable Stripper
What they said: 
The M18 Cable Stripper vastly improves the cable stripping experience. With no exposed blades, the tool provides safer stripping than with a knife. Its compact, right-angle design helps users maneuver it more easily in tight spaces with less strain on the wrist. Built with an innovative bushing design, it makes cleaner more accurate strips.
What we say: 
Milwaukee expands its electrical line with a brand new cable stripper on the M18 battery platform. They give it a tight head to reach into tight spaces while a right angle drill-esque form factor keeps thing ergonomic for your wrist and arm.
What sets this tool apart from other cordless models on the market is the bushing design that leaves you with a more accurate strip so you can focus on making the connection and not cleaning up what the tool was supposed to do in the first place.
Price: $269.99 bare, $499.99 kit
For more information, click here.
---
Winner – Pipe Threaders
Milwaukee M18 FUEL Pipe Threader w/ ONE-KEY
What they said: 
Our M18 FUEL Pipe Threader w/ One-Key is the industry's first cordless pipe threader, revolutionizing the pipe threading process. The cordless pipe threader features AUTOSTOP technology that senses severe kickback and automatically shuts the tool off. It also has a die head retention lock preventing die head ejection and a side grip to eliminate the need for you to hold the spinning die head when starting threads.
The portable pipe threader delivers unmatched tool control and functionality and allows you to thread faster than the corded competition. Featuring a multi-speed selector, this powerful pipe threader threads faster than corded competitors, maximizing your productivity without compromising thread quality. The metal pipe threader gives you the power to thread up to 2" black iron pipe, stainless steel, and rigid metal conduit (RMC). The handheld pipe threader is compatible with One-Key Technology and is the industry's first pipe threader that wirelessly connects to a smartphone to track the tool's location, manage it in inventory, and lock the tool out for added security and protection to your investment.
What we say: 
Without a doubt, the Milwaukee M18 Fuel Pipe Threader has to be the most-anticipated tool for plumbing crews following the brand. The prospect of leaving hand threading and cords behind for a threader that's just as fast as corded models is exciting. Milwaukee takes things even further with a kickback control that keeps plumbers a little safer as they increase productivity. Including ONE-KEY in the system for tracking, inventory management, and lockout features also adds value to the tool.
Price: $1699
For more information, click here.
---
Winner – Plumbing Accessories
RIDGID Press-In Branch Connector Tool Kit
What they said: 
The RIDGID Press-In Branch Connector Tool Kit takes the standard RIDGID press tools to a new level. This accessory kit for making ¾-inch branch connections on 1 ½-inch to 6-inch black steel pipe reduces the complexity of making connections. More importantly, though, it speeds up the process, particularly in industrial gas settings, where you can eliminate flames and a fire watch, providing significant project cost savings. It is ideal for adding gauges or ¾-inch pipe in chilled water, compressed air, industrial gas, and low-pressure steam system applications.
The Connector Tool Kit includes an expander that fits all RIDGID standard press tools, including the RP 340, RP 330, RP 320 and CT-400, and works with Viega Press-In Branch Adapter Fittings. The kit also contains fitting positioning guides, an arbor shaft assembly, drill guide, and vacuum adapters. The hole saw arbor attaches to standard drills, includes an M27 hole saw, and is designed to prevent the saw from penetrating both sides of the pipe; the vacuum adapters allow for connection to standard-size vacuum hoses to help reduce steel chips falling into the pipe while making the branch. Both the positioning and drill guides ensure proper placement against the pipe.
What we say: 
You really need to see the Ridgid Press-In Branch Connector in action to appreciate the beauty of what the development team accomplished. From ensuring the access hole is drill press straight to creating the perfect press-in connection, this is a system that's going to save you a ton of time over traditional branch methods. Check out the video here.
Price: $825
For more information, click here.
Finalist
Milwaukee 49-16-2690 FORCE LOGIC Press Ring 2-1/2″ – 4″ Kit
---
Winner – Cordless Augers
Milwaukee 2871A-22 M18 FUEL Sewer Sectional Machine w/ Cable Drive
What they said: 
Expanding the offering within the drain cleaning category, Milwaukee launches the M18 FUEL Sewer Sectional Machine w/ CABLE DRIVE. The tool's CABLE DRIVE technology provides the first Automatic Feed and Retract solution within sectional machines designed to reduce user strain when pulling back the cable from the pipe. The power to clear roots at 200ft with a cordless solution provides users the power they need to clear tough clogs with the easiest setup and transport allowing users to work with fewer hassles and get on more calls.
What we say: 
The big deal for Milwaukee's new M18 Fuel Sewer Sectional Machine is how much drain-clearing power it offers way down the line using just an 18V battery. Combined with its automatic feeding and retracting system, it offers a level of comfort and convenience plumbers don't expect from a sectional machine, especially a cordless one!
Price: $3,700
For more information, click here.
Finalists
Milwaukee 2775-21 M18 FUEL SWITCHPACK Sectional Drum System
Ryobi P4003K 18V ONE+ 50ft. Hybrid Drain Auger
---
Winner – Cordless PEX Expansion
Milwaukee 2633-22HD M18 FORCE LOGIC ProPEX Expansion Tool
What they said: 
The M18 FORCE LOGIC 2"-3" ProPEX Expansion Tool joins the M12 and M18 ProPEX Expansion Tools to deliver the industry's most consistent commercial installations. Its powerful hydraulic system expands up to 3" Uponor PEX pipe. Like its M12 and M18 predecessors, it features an auto-rotating head that expands pipe uniformly and maximizes installation speed. A single trigger pull initiates the tool to rotate, expand, and reset automatically, ensuring consistency across the entire installation.
Its intelligent design provides the user optimum balance in overhead connections and can also be flipped over to sit squarely on a table-top for extended use on-site or in the shop. Featuring Milwaukee ONE-KEY Technology, the tool can be tracked to within a 100-foot range of any phone. You can also view tool usage, receive notifications for recommended maintenance, and sync information wirelessly to the cloud.
What we say: 
When you have large diameter PEX installations, life gets a bit tougher than your typical single-family residential install. Milwaukee's M18 Force Logic ProPex Expander covers 2″ – 3″ PEX installations with automatic head rotation to ensure you get an even expansion. One-Key integration helps you keep track of your tool while keeping your maintenance schedule in check.
Price: $2,500
For more information, click here.
---
Winner – Pipe Cutters
Milwaukee Close Quarters Tubing Cutter Set
What they said: 
When Milwaukee launched a lineup of copper tubing cutters in 2018, they focused on delivering solutions with the very best durability and cut performance in the industry. They've further enhanced this line by giving users another option when they need to make cuts in the tightest spaces.
No matter if you prefer the adjustability of the original Mini and Constant Swing Copper Tubing Cutters, or the even more compact nature of the new Close Quarters Tubing Cutters, Milwaukee has a range of solutions to accommodate the most common sizes of tubing.
What we say: 
We like Milwaukee's Constant Swing Copper Tubing Cutter and the Mini, but sometimes we're still struggling in tight spaces. So now Milwaukee is giving us even an even more compact set of options to get the job done. You still get chrome rollers to keep the durability high and weep holes which allow water to drain before it can do more damage. These are available in 1/2″, 3/4″, and 1″ sizes along with a 3-piece kit option.
Price: $49.99
For more information, click here.
---
Winner – Cordless Press Tools
Hilti NPR 32-A22 Cordless Pipe Press
What they said: 
A professional-grade tool designed for installation of water and air supply lines without sweating, brazing or threading. Using tested technology, the Hilti cordless pipe press NPR 32-A22 crimps a variety of fitting together rather than using translational methods to join tubing or pipes. The tool's inline design and rotating head allow the user to get to those hard to reach places, along with a built-in LED light to illuminate dark areas. This tool is the ideal solution for better productivity and more reliability for mechanical projects.
The NPR 32-A22 is backed by Hilti's 20-2-1 year warranty – 20 years of repair or replacement of defective parts, two years no cost repair including wear and tear, and a guaranteed one-day turn-around on repairs.
What we say: 
Hilti puts together a fantastic press tool with their NPR 32-A22 Cordless Pipe Press. We love the rotating head that puts your arm in a comfortable operating position no matter how awkward the space of the press is. The auto-retracting jaw only comes back to its original position once the tool senses the press has reached the correct pressure, giving you confidence that it's correct the first time.
On the safety side, we really like the audio and visual cues when something isn't quite right and that the locking pin can only be closed in the right position.
Price: $1,319 bare, $1,469 kit
For more information, click here.
---
Winner – Specialty Plumbing
RIDGID FlexShaft Drain Cleaning Machines
What they said: 
Lightweight and fully-contained, Ridgid FlexShaft machines clean 1 ¼-inch to 4-inch residential and commercial pipes up to 70 feet. They are used in conjunction with a full suite of specialized accessories designed for clearing grease, sludge, small tree roots and soft blockages with less mess and enhanced speed.
FlexShaft machines utilize chain knockers that expand to the size of the pipe to quickly clear the entire circumference. The chain knockers are connected to a flexible, nylon-sheathed cable that is housed in a fully enclosed drum and powered by a cordless drill attached to the driveshaft. The FlexShaft machines are purpose-built to be a lightweight, compact solution that can be easily carried from work vehicle to job site with minimal strain on the body.
Designed with efficiency and cleanliness in mind, FlexShaft machines allow for inspection cameras to remain in-pipe throughout the entire drain cleaning process for maximum efficiency. The durable, nylon sheath allows for the cable to be easily wiped clean as it is pulled from the line and its fully-contained drum limits job site cross-contamination.
What we say: 
Pros know routine maintenance is far better than reactionary service calls and that's especially true in plumbing. Ridgid owns this concept with their FlexShaft Drain Cleaning Machines that not only clean but also allows the operator to use an inspection camera at the same time. As the machine cleans debris away, you can diagnose the state of the pipes and determine if there are any areas of concern. It's an efficiency gain that makes you more productive and your business more profitable.
Price: $999 – $1499
For more information, click here.