The problem with buying great, innovative tools is storing them. Storage addresses the tool crib, the shop, the job site, and the vehicle that goes in between them all. We try to recognize the many ways innovation improves how we store, transport, and organize power and hand tools. Here are the PTIA 2019 Storage Awards winners!
Winner – Dollies & Hand Trucks
Milwaukee PACKOUT Dolly (48-22-8410)
What they said: 
Milwaukee Tool continues to revolutionize tool transportation, organization, and storage for the trades with the addition of a new solution to their widely popular PACKOUT Modular Storage System. The PACKOUT System is not only the most versatile and durable modular storage system in the industry, but it is also the largest with the launch of these new products.
Through an intuitive and quick attachment mechanism, the new PACKOUT Dolly allows users additional options for transporting and storing their existing PACKOUT collections. Constructed with impact-resistant polymer and a 250lbs weight capacity, the PACKOUT Dolly provides users with a convenient way to transport their tools and equipment throughout the job site. Its smooth roll wheels allow the Dolly to easily roll with a heavy load, while a QUICKSTOP Loading Lever enables users to hold the dolly in place when loading and unloading the PACKOUT dolly.
What we say: 
The Milwaukee Packout Dolly is a welcome addition to their modular storage system that we've been looking forward to. Of course, you can put your Packout boxes on any dolly, but Milwaukee has several design features that make it worth using. First, it's designed to lock the bottom Packout box in place, securing it better than simply setting it down on other dollies. It also has strap points on either side. It's an added measure of safety to keep the stack from moving, even if you're using something other than Packout boxes on it.
Finally, the Loading Lever brake really sets the Packout Dolly apart. You don't have to lock down the casters while you load or unload. Just put your foot on the lever and release it when you're done. If you're delivering Packout boxes and bags to various locations around the job site, it's a time-saver that lets you keep things under control.
Price: $89.99
For more information, click here.
---
Winner – Accessories
Milwaukee 48-22-8485 PACKOUT Mounting Plate
What they said: 
Through an intuitive and quick attachment mechanism, the new PACKOUT Mounting Plate allows users additional options for transporting and storing their existing PACKOUT collections. The PACKOUT Mounting Plate provides users the ability to stabilize and secure their PACKOUT Storage in the shop or in a vehicle. Like the Dolly, the PACKOUT Mounting Plate is constructed with impact-resistant polymer and has metal reinforced mounting and tie-down points that allow it to support & secure 100lbs of weight on the floor and 50lbs on the wall.
What we say: 
We love our Milwaukee Packout boxes but it's not always obvious exactly what's inside when you stack them. The new Packout Mounting Plate is a great way to hang them on the wall of your shop or van so you can easily see what each one contains. Just grab the boxes you need for the job and stop wasting time looking through each one until you come to what you're looking for. Plus, they're a great way to get your Packout boxes off the floor and open up some space.
Price: $29.99
For more information, click here.
---
Winner – Bags
Husky 16-in. Pro Mobile Office Organizer
What they said: 
Designed to be belted into your passenger seat, the Husky Mobile Office helps you stay organized while working from your vehicle. The molded lid has raised edges to keep items from sliding off and provides a flat work surface. The main compartment has dual lockable zippers for security. Multiple exterior pockets for your notebook, pencils, water bottles, and other critical items. The interior has padded dividers that will fit your laptop, tablet and file folders. The exterior is constructed of heavy-duty 1680D fabric with fully reinforced edges to prevent wear. Dual, riveted truck handles provide easy transport.
What we say: 
Husky's 16″ Pro Mobile Organizer is a great solution for managing your projects on the go. Our team loves the amount of document and tech storage, letting you keep everything you need with you for multiple site visits. There's still room for a smattering of necessities and the top is intelligently thought out as a workspace that keeps things from sliding off.
Price: $50
For more information, click here.
---
Winner – Fixed Storage
Stanley Ready-to-Assemble Foldable Garage Cabinets
What they said: 
Providing a flexible and robust storage solution to meet the needs of garage and workshop owners, STANLEY has introduced the innovative Ready To Assemble range, comprising four versatile metal cabinets.
Taking just minutes to set up and install, each product features a folded 'pop-up' design (patent pending) which intuitively transforms into a multi-functional storage unit. The cabinets can be combined with others in the series, and include adjustable shelving, allowing users to build a storage solution to meet their exact individual requirements.
What we say: 
One of the biggest pain points for installing fixed shop cabinets is just putting the panels together and squaring them up. Stanley has a brilliant solution that lets you simply slide each end up while the sides pop in place. Tighten down the fasteners and you're ready to hang them on the wall—no extra hands needed!
Price: TBA
For more information, click here.
---
Winner – Modular Storage
CRAFTSMAN VersaTrack Trackwall System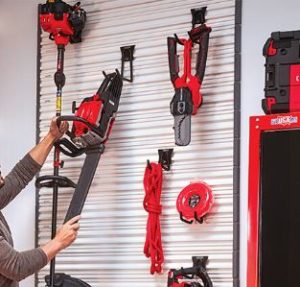 What they said: 
Pride in a job well-done starts with taking pride in your tools. That's why nearly every CRAFTSMAN tool and storage solution doesn't just work well, they work well together. The new V20 and V60 cordless outdoor tools feature integrated VERSATRACK storage hooks. Simply flip out the storage hook to hang on the VERSATRACK Trackwall System. When you're ready to use the tool, return the hook to its storage compartment. Get the most out of unused wall space in your garage or work area with the customizable VERSATRACK Trackwall System and have a spot to hang all of your cordless outdoor tools. A variety of hanging hooks and accessories are also available.
What we say: 
Turn your garage or shop wall into an organized dream with Craftsman VersaTrack! With the ability to hold 75 pounds per linear foot and install on almost any wall, VersaTrack and its wide range of organizing hooks and shelves let you get things off the floor and onto the wall. Hang your lawn equipment, bikes, extension cords, power tools, and so much more in a way that will make your neighbors stand in awe of your skills.
Price: $99 to $269
For more information, click here.
---
Winner – Rolling Chests & Cabinets
GEARWRENCH 83169 Mobile Work Station
What they said: 
To solve a problem, sometimes you need to think outside the box. In this case, GEARWRENCH actually went and built a better box.
GEARWRENCH, part of Apex Tool Group, recently unveiled its new Mobile Work Station, built to addresses common pain points from plant maintenance professionals across a wide range of industries. The innovative design blends practical functionality and durability with customizable features that give professionals the freedom to make the Mobile Work Station work for them.
This type of Mobile Work Station is a first for GEARWRENCH, which traditionally has focused on the tools that are inside the box rather than the box itself. Steinweg invited a group of industry professionals to share their frustrations with their rolling boxes and then asked them to draw out what they thought would make the ideal setup. Some of the pain points included wheels that were too small and a lack of customization options.
The GEARWRENCH Mobile Work Station glides on industrial-grade 6×2-inch-wide polyurethane locking casters that support a max capacity of 2,000 pounds. With 11 different-sized drawers—including a full-size top drawer with adjustable partitions—and a lockable side cabinet with adjustable shelf, the 19,000 cubic inches of storage space is flexible enough to fit whatever tools the job needs. The drawers boast 100-pound capacity ball-bearing locking drawer slides.
The station is large enough to function as a workspace complete with vise-mounting capability, but at 42×24.5 inches, it's compact enough to roll through most standard work areas. With a charging tray and power strip with six 120-volt outlets and two USB ports, users can charge tools and power electronic devices that might be needed. A spray can shelf and pegboard panel offer even more options for customizable storage of tools, power cords, hoses, and more.
What we say: 
What we love about Gearwrench's Mobile Work Station is that they let real-world users drive a design that works for maintenance crews and not just the automotive guys. From 6″ casters to customizable partitions and a lockable side cabinet to a pegboard panel, this rolling tool cabinet is so much more functional than what we're used to seeing.
Price: $3,345.68
For more information, click here.
Finalist
DeWalt 41-in. Wide Tool Chest & Rolling Cabinet with Power Drawer
---
Winner – Truck Boxes
WernerCo WEATHER GUARD Lighted Truck Box
What they said: 
The WEATHER GUARD Lighted Truck Box with PowerSync Technology is a heavy-duty truck toolbox that features a pre-installed lighting system. This first-to-market product delivers high-visibility tool storage lighting for professionals that need bright, dependable lighting for any time of the day or night. When users open the lid of the WEATHER GUARD truck box, the responsive, ultra-bright LED lights illuminate the tools and equipment stored inside. Its magnetic switch system does not require an on/off switch; the truck box lights will automatically turn on when the lid is open, and off when it is closed.
The WEATHER GUARD Lighted Truck Box's easy-to-install wiring can be completed within 30 minutes and is compatible with all full-size trucks in North America. Professionals simply connect the box's wiring harness to the power supply of their truck and the lighting system is activated, reducing costly and time-consuming vehicle upfitting.
The WEATHER GUARD team designed this product with enhanced functionality and value in mind. The WEATHER GUARD Lighted Truck Box's system consists of long-lasting and low power consumption rear-mounted lighting that lasts a minimum of 20,000 hours so users don't need to worry about changing the bulbs. Each light is surrounded by frosted diffusers to eliminate glare, while the box's wide light dispersion is designed for maximum visibility. This product meets the IP66 requirement for durability against water and dust intrusion and is available in matte black and clear colors.
What we say: 
Weather Guard is the first to pull off an out-of-the-box lighted truck box, and it's clear the product team put a lot of thought into the design. It has a better fit, finish, and function than many first-generation products we see. Installation really can be done in 30 minutes and the only electrical real knowledge you need is the ability to plug in a wire harness. When you rely on your truck and tools to work before the sun comes up and after it goes down, Weather Guard's Lighted Truck Box is the best storage solution available.
Price: $1075
For more information, click here.