Our award-winning hand tools deserve just as much recognition as power tools. After all, hand tools form the staple of the electrical, plumbing, mechanical, and automotive trades. Power tools can't do everything! This year, our award-winning hand tools prove to be more ergonomic, offer additional features and functions, and solve some unique problems. Here are your winners for the PTIA 2020 Hand Tools Awards category.
Winner – Bolt Cutters
Milwaukee Tool 48-22-4218/48-22-4224 18″ & 24″ Fiberglass Bolt Cutters w/ PIVOTMOVE Rotating Arms
What they said: 
Our Fiberglass Bolt Cutters with PIVOTMOVE Rotating Handles are engineered to give you the best access and are available in 18″ and 24″ sizes. The adaptable rotating handles allow you to make more cuts around obstacles common in utility environments. The fiberglass bolt cutters are 1000V UL classified to provide you with added security. The forged steel bolt cutter blades are custom heat-treated for maximum durability. Bolt Lock secures the pivot bolts to prevent loosening. The 18″ bolt cutters have slim ergonomic handles allowing for comfortable use in multiple orientations. The MILWAUKEE Fiberglass Bolt Cutters with PIVOTMOVE Rotating Handles have lanyard holes integrated through the handles for easy tethering.
What we say: 
When standard bolt cutters won't fit into the area you need to access, your options are limited. Milwaukee's new Fiberglass Bolt Cutters with PivotMove Rotating Arms change the game in your favor. By pressing a button on the joints, you can rotate the handles to give the head access without losing your ability to actually cut the bolt. When that area also happens to be an electrical hazard, the fiberglass handles offer 1000V-rated protection.
Price: $149.99 (18″),  $169.99 (24″)
For more information, click here.
---
Winner – Chalk Lines
Crescent Tools CLO100 100' Professional Reel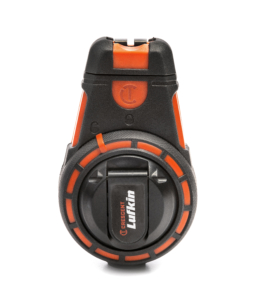 What they said: 
For too long, professionals have had to deal with chalk reels that are messy, inefficient, and poorly built. That's why Crescent Lufkin is launching its new line of chalk reels, designed to erase the most common problems with the competition's products.
The 100' Professional Reel (#CLO100) features an end hook that retracts into a nested position, protecting it from unwanted snags. It also self-releases to avoid having to walk back to release it from a hooked position. The single-hand hub lock lets you stop the line in place and snap lines with only one hand, while the 6:1, tuck-a-way rotating hub provides faster rewind and reel protection during storage. The one-way chalk refill valve allows for quick chalk refills without the mess.
All are built with a high-impact, dual-material case for added protection against harsh jobsite conditions. The Professional Reel is also available in a full aluminum body option for added toughness.
What we say: 
While our judges like the overall design of Crescent's 100′ Professional Reel, a couple of features really resonated with them. First of all, the one-way refill valve got our attention. We all have stories of new guys and gals (or even ourselves when started) making an absolute mess during a chalk refill. The lock is another attention-getter. Just use your thumb to lock the hub in place and hold onto the reel with one hand while popping your line with the other.
Price: $17.16
For more information, click here.
---
Winner – Clamps
MICROJIG DVC-850AP MatchFit Dovetail Clamp AP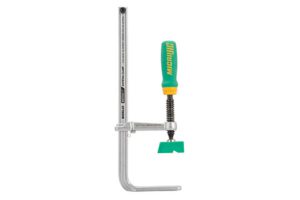 What they said: 
When MICROJIG debuted its MATCHFIT System, it didn't just roll out another product. It created a new category—the Dovetail Track System. One of the company's newest products, the Dovetail Clamp AP, builds on that, providing true innovation.
Standard clamps have to enclose all of the parts being pressed together, but the head of the Dovetail Clamp AP instead is forged to fit a standard 14 degree, ½" dovetail groove. Anywhere a maker can mill this groove, a clamp can be used. That means woodworkers can throw out their expensive, shop-cluttering T-track. With the Dovetail Clamp AP, a maker can do even more with just a simple piece of plywood. This is economical for the craftsperson and environmentally responsible, especially for single-use jigs and fixtures.
The Dovetail Clamp AP also features a novel accessory that is innovative in its own right—the X-PAD. The green X-PAD slides onto the clamp pad to provide increased functionality. It features a "Pressure Transfer Notch" that allows the users to apply hold-down and inline pressure simultaneously as he or she tightens the clamp. It also features an internal bevel to hold round stock. The X-PAD allows makers to complete many types of glue-ups with fewer clamps. It is not available anywhere else in the industry.
What we say: 
There's a lot to love about the design of MicroJig's Dovetail Clamp AP. It starts with the head that fits in standard dovetail grooves without the need for a track. We like the increased 8.5-inch capacity and the two-way clamping force you get from the X-Pad (and its ability to hold round stock) has our woodworkers really excited. Even the seemingly small addition of a coil that prevents the arm from dropping is a huge convenience when you're working on longer pieces. MicroJig's Dovetail Clamp AP is the new must-have clamp for woodworkers.
Price: $30
For more information, click here.
Finalist
---
Winner – Concrete/Masonry Hand Tools
Milwaukee REDSTICK Concrete Levels
What they said: 
The new REDSTICK Concrete Levels take a 3-tool operation down to one by allowing users to screed, smooth, and level with the same tool. A magnesium base features a 2" wide working surface with a rounded edge for smoothing and an angled edge optimized for screeding and striking. Once the job is done, the level can be easily wiped clean no matter how big the mess.
What we say: 
Milwaukee packs a lot of innovation into their Redstick Concrete Levels and each one of them adds to the overall function and user experience. First off, we love the level/screed combination. It's a design that makes complete sense considering Milwaukee solved the issue of cleaning it.
Sharpsite vials are much easier to see than standard ones—something that's helpful when the level isn't close to eye level. Adding gradients is critical as well. Not all concrete jobs need to be flat, and many have a specific grade they have to match. Finally, they're designed to work in the tough concrete environment. The levels' magnesium backbones resist even the smallest amount of bending while the vials are housed in high-impact acrylic.
Price: $99.99 – $219.99
For more information, click here.
---
Winner – Conduit Benders
Milwaukee Tool 48-22-4072 1″ Aluminum Conduit Bender
What they said: 
Our 1″ Aluminum Conduit Bender features high contrast markings for the best visibility allowing you to easily and accurately make bends. A reinforced hook and pedal and lightweight aluminum shoe provide you with added durability while a secure double bolted handle won't loosen after repeated use. The conduit pipe bender shoe features the most bending references as well as a wear-resistant reference chart for easier use. Offset multipliers are featured on the shoe while 30°, 45°, and 60° center of saddle bend notches and a back of 90° bend indicator allow you to easily and accurately bend conduit.
What we say: 
If you've ever seen the results of an electrical installation by a Pro who takes a lot of pride in his or her work, it can be as beautiful as any piece of art hanging in a museum. Creating a precise series of conduit bends takes both talent and a quality tool. Milwaukee's Aluminum Conduit Benders help on the quality side by reinforcing their hook and pedal while double-bolting the handle to ensure it doesn't loosen up on you. You'll go to the job knowing that the tool is ready every time. New for 2020, Milwaukee is expanding their aluminum conduit bender line with a 1″ model.
Price: $94.99
For more information, click here.
---
Winner – Electrical
Fluke Corporation Fluke Insulated Tools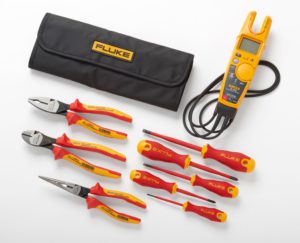 What they said: 
Electricians and facility maintenance technicians should ideally work on de-energized electrical equipment, but that isn't always possible, so their hand tools should provide as much protection as possible. The Fluke 1000 V Insulated Tools are designed to keep workers safe in hazardous areas and are rugged enough to use in the toughest environments without breaking.
The premium hand tools are rated at 1000 volts but individually tested to over 10,000 volts. They are compliant to globally-recognized safety standards established by European regulatory agencies to ensure the greatest safety when working in live environments. Multi-layer insulation combined with their ergonomic design make these tools comfortable to use all day without strain or fatigue.
The Fluke 1000 V Insulated Tools are available individually, in multi-tool kits, and in bundles with the Fluke Pack30 Professional Tool Backpack, the T6 Electrical Tester, 117 Electrician's Multimeter or 87V Digital Multimeter. All insulated test tools are backed by a lifetime warranty.
What we say: 
Fluke's line of insulated tools focuses on safety first, but they didn't let quality and comfort slide in their designs. German steel and precision manufacturing ensure that they can stand up to any jobsite. The handles are genuinely comfortable as well. The tools also feel great in your bare hands even though you'll be wearing gloves and other PPE when there are potentially live circuits nearby.
Price: Varies
For more information, click here.
---
Winner – Hatchets
Hart Tools HHHSA1 14-inch Forged Steel Hatchet with Sheath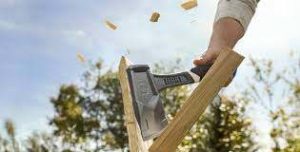 What they said: 
The HART 14-inch Forged Steel Hatchet features a hybrid head shape for easy splitting and chopping applications. The face cutouts make it easier to remove from wood for ease of use. The rubber, textured grip provides a comfortable, secure grip during use. This steel hatchet is a great option for small log splitting around your home and for recreational use with camping. Included with the hatchet is the protective guard. Always be sure to wear the necessary safety gear when using (gloves and eye protection). Limited Lifetime Warranty included for this product.
What we say: 
The uniqueness of Hart's 14-inch forged hatchet lies all in its head. Literally. Its hybrid design gives it the ability to chop and split effectively rather than being more one-sided. There are face cutouts that make removing the head easier. With its lifetime warranty, it's a great hatchet to keep in your shop or take on your outdoor adventures.
Price: $26.88
For more information, click here.
---
Winner – Levels
Kapro Tools Condor Magnetic Digital Level with OPTIVISION

What they said: 
The 905D is based on the popular Kapro 905 Condor box level, which is the most durable aluminum profile in the market. It features an extremely wide finely milled read surface with very strong Rare Earth magnets, and an uninterrupted upper edge. The large rubberized shock-absorbing end caps and its Polycarbonate breakproof OPTIVISION Red vials provide extra protection while on the job. The 48" has two ergonomic, non-slip handles making it easy to operate.
The 905D module features the largest LCD display in its class, which is tilted at 45° with a flip readout to assure optimal readability at any angle, including when it is inverted overhead.
When it comes to accuracy, the 905D is unbeatable, with 0.05° at 0° and 90° digital accuracy and a 0.0005"/" (0.5mm/m) vial accuracy. It is also IP65-certified waterproof and dustproof.
Digital functions include a "mode" function for selecting degree (0, 1 or 2 decimal), percentage, pitch mm/m, in/ft. and in/ft in fraction format. The "hold" button freezes a readout on the display and the "false zero" function lets you manually set your base angle for quick and precise slope measurements as needed for ADA 4.8.2 ramp compliance.
The 905D has electronic recalibration, visual and audible slope indication, and a low-battery indicator signal. For conserving battery life, users may set the auto-shutdown for 15, 30, 60, and 120 minutes of non-use.
Kapro's patented OPTIVISION vial features a high visibility vial bubble with defined edges and strong surrounding color definition (up to 8 times more visible than a regular vial), as well as an extra set of reading lines for setting gradients. This vial is exceptionally accurate at 0.0005"/1" and is warranted for life for its accuracy. The high contrast ratio between the bubble and vial liquids in Kapro's solid acrylic vials makes visibility up to eight times easier than clear liquid vials with white backgrounds. OPTIVISION provides visibility in low light and bright light and is UV-resistant, meaning the vial always maintains its original color contrast and visibility.
What we say: 
In one of the most highly-contested categories, Kapro's digital version of the 905 Condor came away with the win. It's the culmination of the best that Kapro has to offer: Optivision Red vials, an excellent digital display, magnetic base, a jobsite-tough design, and excellent accuracy. If you're in the market for a digital level, Kapro's Condor Magnetic Digital Level is the most innovative of the year.
Price: $250
For more information, click here.
---
Winner – Marking
Milwaukee Tool  48-22-3100 – INKZALL Jobsite Markers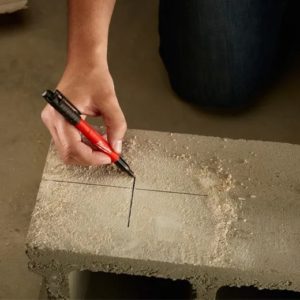 What they said: 
INKZALL Jobsite Markers feature clog resistant tips and the ability to write through dusty, wet or oily surfaces. The durable marker tips are designed for writing on rough surfaces such as OSB, cinder block, and concrete and the ink dries quickly to reduce smearing markings, without drying out quickly when the cap is left off. For added user convenience, the INKZALL markers have a built-in hard hat clip for easy storage and access. INKZALL markers confirm to Milwaukee's commitment to best-in-class durability and their relentless mission to provide innovative solutions to the end-user.
What we say: 
Writing or marking on job site materials with an ordinary "Sharpie" is a great way to spend a lot of money replacing felt tip markers. Milwaukee Inkzall markers are specifically designed to deal with the materials and mess that we often have to deal with without giving up after just one use. With a variety of colors to choose from, you're running out of excuses not to have them in your toolbox.
Price: $0.97
For more information, click here.
---
Winner – Multi-Tools
Hart Tools HHCTMT04 4-in-1 Folding Knife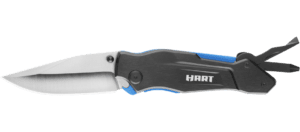 What they said:
The HART 4-in-1 knife is an excellent tool to have by your side at any time. This knife is constructed from high-carbon stainless steel for ultimate durability while the handle is constructed from durable and lightweight aluminum for strength and comfort. The blade locks closed with a liner lock design that ensures the blade stays put away and safe when you are not using it. This knife also features an integrated bottle opener, Phillips PH2 driver bit, a package opener, and a removable pocket clip for added durability and convenience. Whether you are out fishing or assembling the latest addition to your living room furniture, this knife is the perfect companion to have on you when those small jobs come up throughout the day. This knife is covered under HART's Limited Lifetime Warranty.
Innovative features in a sleek EDC pocket knife design (bottle opener, Ph2 driver bit, and package opener integration) – can pull additional details and content from Walmart.com or HARTTools.com if needed.
What we say: 
The days of suitcase-sized multi-tools with 6000 tools (okay, maybe that's an exaggeration) are coming to an end as more minimalistic, compact designs with high-use tools take their place. Hart's 4-in-1 folding knife is a great example. It has a knife, #2 Phillips bit, and bottle opener—what else do you really need? We'll take a package opener, please! It's so much more helpful than a pharmaceutical spatula or a toothpick.
Price: $15.88
For more information, click here.
---
Winner – Pliers
GEARWRENCH 82592C Pitbull AutoBite 10-inch Tongue & Groove Pliers

What they said: 
After in-depth interviews with dozens of trade professionals, GEARWRENCH determined that traditional tongue & groove pliers have some serious flaws that affect their performance, causing user pain and frustration:
Current tongue & groove pliers are difficult to adjust, especially in tight or confined situations.
Push-button styles offer limited access due to the protruding push-button and are prone to jamming due to dirt getting into the push-button mechanism.
Frequent hand and finger pinching is an issue because the handles can close against each other.
Handles are often uncomfortable to use in commonly encountered repetitive and/or high-torque applications.
The GEARWRENCH product development team was tasked with providing a new tool that addressed these problems; the result is new GEARWRENCH PitBull AutoBite Tongue & Groove Pliers. Specifically designed for professionals, PitBull pliers feature AutoBite one-handed adjustment that allows users to simply place the pliers over the workpiece and squeeze the jaws closed around it. Users can literally reach into a cramped area with one hand, squeeze the handles to set the jaws to the perfect grip range, and get the job done. The thumb-operated AutoBite lever doesn't protrude like push-buttons do and is integrated into the upper handle, so PitBull pliers have an extremely slim profile for even greater access.
The handles have a built-in stop that prevents them from closing against each other, greatly reducing the chances of pinching fingers or hands. Comfort during use was also a key design goal, so the handles are ergonomically designed and made of co-molded variable-hardness materials for exceptional comfort. PitBull pliers have several other unique benefits: Handles have the GEARWRENCH Grip Zone non-marring feature, consisting of softer concave areas on the inner sides of each handle that can grip items like plated plumbing fixtures without damaging them. The handles also have tether points, allowing the pliers to be used at height. Finally, the jaws have a special aggressive tooth design to maximize grip and torque transfer.
What we say: 
Push-button tongue and groove pliers make adjustments easier, and Gearwrench takes things to the next level with Pitbull AutoBite pliers. We really like that the design shifts from a button on the outside to a thumb-operated lever that keeps both the mechanism and your thumb in line with the handle. Push-button mechanisms stick out and require your hand to reach to the outside of the pliers. This significantly increases the amount of working space you need to make adjustments on the fly.
Price: $34.37
For more information, click here.
Finalist
---
Winner – Multi-Bit Screwdrivers
Wiha Tools 28789 11-Piece Insulated TorqueControl SlimLine Blade Set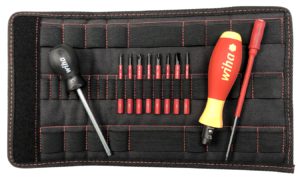 What they said: 
All Wiha Insulated tools are VDE Certified and meet EN/IEC 60900 testing standards for protection against arc flash explosion, ASTM F1505 standard specifications for insulated and insulating hand tools, NFPA-70E standards for electrical safety on the jobsite, and CSA testing benchmarks for safety and performance. Every single Wiha insulated tool is individually tested to 10,000 volts AC and rated to 1,000 volts AC (1,500 volts DC) for safety and peace of mind in energized applications.
Wiha premium quality Insulated SlimLine Blades consist of Wiha premium quality tool steel for strength and durability and have exact fit precision machined tips for reduced cam-out. Each blade has a black oxide finish for corrosion protection and direct molded insulation for protection against electrical shock and arc flash explosion and features 33% narrower blade shafts for reaching deep set fasteners.
The Insulated SlimLine Torque Blade Holder (6.75" OAL) boasts the Wiha ClicFix feature for secure lock and quick release of SlimLine Blades and have direct molded insulation for protection against electrical shock and arc flash explosion. Made of Wiha premium quality tool steel for strength and durability.
TorqueVario-S handles feature an audible and perceptible click for alerting users the desired torque limit is attained with a torque accuracy of +/- 6% for confidence in precise tolerances. Once the desired torque is attained the TorqueVario-S handle automatically resets for the next torque setting application and maintains a 50% greater unfastening torque
for faster removal.
What we say: 
Space-saving multi-bit screwdrivers are available for all kinds of applications—isn't it time you ask the same from your insulated screwdriver set? Wiha takes things to another level by giving you a multi-bit design with a torque-limiting handle. Add in additional power for reverse and Wiha's incredibly comfortable handle, and you have a multi-bit screwdriver set that every electrician is going to want to get their hands on.
Price: $266.66
For more information, click here.
Finalist
---
Winner – Ratchets
Milwaukee Tool Ratchet & Socket Sets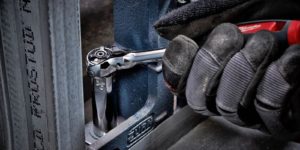 What they said: 
Milwaukee Tool has once again delivered innovation to a core category of tools aimed at the professional trades with the introduction of new Ratchet & Socket Sets engineered for better access in tight spaces and maximum strength. Each of the new sets features a slim profile 90-tooth 4º ratchet and wrench-compatible sockets uniquely designed with four parallel flats to deter rolling.
The new ratchets also have a slim profile and flush directional lever which allows them to conveniently access the most hard-to-reach applications. All Ratchet & Socket Sets are constructed with an all-chrome finish making them easier to clean and giving them a sleeker look. Because socket sizes can often be hard to see, labels are engraved on two of the flats to enable easier identification and readability from multiple angles. All are available in both SAE and metric. For added convenience, each kit comes in a carrying case for ultimate portability. All sets also include accessories such as 3" and 6" extensions so users have everything they need to get the job done.
Available in both SAE and Metric.
What we say: 
Milwaukee upgrades the standard ratchet by moving from a 72-tooth to a 90-tooth design. That gives you a shorter arc swing, but it's access that sets these apart. Milwaukee uses a slim handle and keeps the directional level flush with the ratchet head to give just a little more access into tight spaces. When it comes to engine work, that makes a difference.
Price: $69.99 – $179.99
For more information, click here.
---
Winner – Sockets
Milwaukee Tool Sockets with FOUR FLAT sides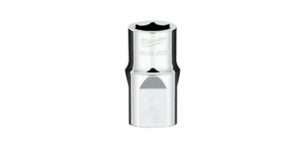 What they said: 
Our 1/2″ Drive SAE 6-Point Sockets with FOUR FLAT Sides are designed from the ground up to be part of the most versatile socket family. MILWAUKEE sockets feature an innovative design with four parallel flat sides, which deter rolling and are wrench-compatible. The socket sizes are stamped into the flats providing you with improved, easy-to-read visibility. These deep and standard socket sizes have optimized geometry to reduce bolt rounding and stripping. We back all our sockets with a lifetime guarantee.
What we say: 
Aside from creating specialty tools such as extractors, there's nothing really left to innovate, right? Not so fast, my friend. Milwaukee thinks outside the automotive circle and is content to be more of a square. Why? Because squares don't roll away from you. Aside from keeping your socket friends close, those flat sides also let you wrap the box end of a wrench around it if you need an assist.
Price: $4.99
For more information, click here.
---
Winner – Specialty
Milwaukee Tool 48-22-9216M Lineman's 5in1 Ratcheting Wrench w/ Milled Strike Face
What they said: 
The MILWAUKEE Lineman's 5-in-1 Ratcheting Wrench with Milled Strike Face features the most durable ratchet. The Milwaukee ratcheting wrench has a built-in milled face hammer providing a dedicated surface for hammering commonly used utility hardware like staples and j-hooks This wrench also has a large directional switch that can be easily pressed while wearing gloves. The Milwaukee ratchet wrench is constructed from durable forged steel to provide longer tool life. The high leverage wrench fits 3/4″, 1″, and 1-1/8″ square sockets and 9/16″ and 3/4″ standard sockets.
What we say: 
Linemen aren't typically at the top of the list when you're discussing ratchet applications, but they use them frequently and have particular needs. Milwaukee addresses them beautifully with their 5-in-1 Ratcheting Wrench. It fits common lineman square and standard sockets and puts the directional switch on the outside edge. It lets you easily flip it while wearing gloves. Plus, Milwaukee specifically designed it so that you can hammer away at height without worrying about negative consequences.
Price: $104.99
For more information, click here.
---
Winner – Squares
Crescent Tools EX6 2-in-1 Extendable Layout Tool
What they said: 
Professionals appreciate when one tool can take the place of two. The new Crescent Ex6 Layout Square does that through an innovative design feature, providing the functionality of a 7-inch square and a 12-inch square in one package.
Solid aluminum construction is only the beginning. An original in its category, Crescent's Ex6 layout square delivers 2-in-1 capabilities, making woodworking and framing simpler. The Ex6 eliminates the need to carry a 7-in and 12-in square and acts as a continuous edge for scribing and marking large scale lumber. The practical, quick-access thumb locking mechanism releases the foldout extension quickly and then holds it securely for transport. When you've finished a task, the tool conveniently folds to fit comfortably in a pocket or work pouch.
Laser-etched markings add another level of efficiency, increasing visibility and significantly reducing signs of wear and tear, while its aluminum finish reduces heat retention while working on roofs or in other extreme conditions.
What we say: 
Crescent's Extendable Layout Tool has quickly become a favorite among our judges. Its folding extension gives you the ability to work with materials up to 12 inches deep while taking up a lot less space. Laser-etched markings keep the measurements easily visible. From marking cuts for framing to scribing, it's a handy addition to your tool bag.
Price: $34.37
For more information, click here.
---
Winner – Tool Sets
MAC 7 PC. T-HANDLE RBRT STAR KEY EXTRACTION SET
What they said: 
The MAC Tools R.B.R.T. Hex Key Range are the first Hex Keys to utilize Rounded Bolt Removal Technology (R.B.R.T.), designed to effectively grip and remove fasteners rounded up to 96%, while also perfect for everyday use and prevention of rounding new fasteners. The anti-slip dual-directional hex keys are effective at both tightening and removing compromised hex fasteners. The range includes both SAE and Metric L-Keys, as well as ergonomic t-handles for higher torque applications. Ball-end options are also available to aid access to restricted or hidden fasteners.
What we say: 
There's nothing worse than having a rounded fastener and no extractor specifically for it. MAC Tools not only brought a series of hex keys to their damaged fastener extractor line, but they also designed them in a way that gets you out of a tight spot even if the head is 96% rounded. That's incredible! Our team also likes that MAC went with a T-handle design, giving you more control over the process and a greater chance of successfully removing the fastener without damaging other parts around it.
Price: $79.99-$159.99
For more information, click here.
---
Winner – Mechanics Tool Sets
Craftsman VERSASTACK MECHANICS TOOL SETS (CMMT45063 and CMMT45071)
What they said: 
The 63PC VERSASTACK Mechanic Tool Set is a comprehensive 3/8-in drive mechanic tool set that integrates seamlessly into the VERSASTACK System. An ideal set to incorporate into an existing arsenal of tools, or great starter set. This set features 72 Tooth 3/8″ Drive Quick Release Ratchet (CMMT81748) which provides users with an ideal balance between durability and accessibility. All tools meet or exceed ASME specifications and are backed by CRAFTSMAN'S Full Lifetime Warranty.
The 71PC VERSASTACK Mechanic Tool Set is a comprehensive 1/4-in and 3/8-in drive mechanic tool set that integrates seamlessly into the Versastack System. An ideal set to incorporate into an existing arsenal of tools, or great starter set. This set features CRAFTSMAN's 72 Tooth 1/4″ and 3/8″ Drive Quick Release Ratchets (CMMT81747 & CMMT81748) which provides users with an ideal balance between durability and accessibility. All tools meet or exceed ASME specifications and are backed by CRAFTSMAN's Full Lifetime Warranty.
What we say: 
A couple of new Craftsman mechanic's sets keep an eye on value while giving you the quality they're willing to back for life. We like the organizational aspect of the cases. In particular, we noted the deeper vertical storage for sockets that keep them from rolling around during transport. A clear lid also lets you see what in the box without opening it. Finally, they clip right in with other Craftsman VersaStack boxes.
Price: $59.98-$69.98
For more information, click here.
---
Winner – Utility Knives
Milwaukee Tool FASTBACK Folding Utility Knives
What they said: 
When Milwaukee Tool introduced its first FASTBACK Knife, it redefined cutting on the job site. Now, the company has expanded its leadership in cutting solutions once again by introducing the next generation of FASTBACK Knives. The new knives come fully equipped with features users know and trust from the previous lines and incorporate new improvements to provide users with a trusted, everyday carry.
The Utility Knives have been enhanced with improved, durable wire belt clips for reduced pocket-tearing and lanyard holes for easy tethering. The quick-change function has been moved to the back and a metal extension has been added to prevent accidental blade removal. All FASTBACK utility knives come equipped with a blade holder designed for scoring.
What we say: 
Milwaukee Fastback Utility Knives continue to evolve into even better designs. Like the rest of the Fastback lineup, the new generation of utility knives gets a more durable clip and a tether hole. After listening to user feedback, Milwaukee also shifted the quick-change to the back of the knife and designed an extension to keep the blade from coming out accidentally. These may seem like relatively minor changes, but they make the experience of using them better.
Price: $8.99-$14.99
For more information, click here.
---
Winner – Pocket Knives
Milwaukee FASTBACK 5-in-1 Folding Knife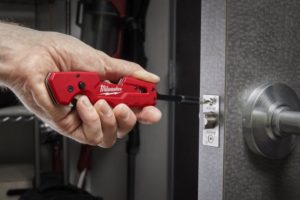 What they said: 
When Milwaukee Tool introduced its first FASTBACK knife, it redefined cutting on the job site. Now, the company has expanded its leadership in cutting solutions once again by introducing the next generation of FASTBACK knives. The new knives come fully equipped with features users know and trust from the previous lines and incorporate new improvements to provide users with a trusted, everyday carry. Created to increase productivity and offer unmatched durability, the new FASTBACK knives have numerous enhanced features. All FASTBACK knives will continue to have the popular press-and-flip design for fast, one-handed opening and tool-free blade changes, and will now include an upgraded, more durable wire belt clip to reduce pocket-tearing and a lanyard hole for easy tethering.
FASTBACK 5-in-1 Folding Knife
Press-and-flip opening mechanism
Stainless steel, partially serrated blade
Multi-functionality
Folding ¼" bit holder
Reversible Phillips and flathead bit
Bottle opener
Durable wire belt clip
What we say: 
Milwaukee has their Fastback lineup really dialed in as far as the basic design goes. It's easy to use and priced for value. Now, they're focusing on where the line can improve and expand. The Fastback 5-in-1 gets the wire clip and lanyard hole upgrades along with a 1/4″ bit holder and a double-sided bit to reduce the temptation to use the flat of your blade as a makeshift screwdriver. Toss in a partially serrated blade for its versatility and a bottle opener for the end of the day, and you have the next must-have addition to the Fastback lineup.
Price: $14.99-$29.99
For more information, click here.
---
Winner – Specialty Knives
Milwaukee Tool 48-22-1924 Lineman's Hawkbill Knife w/STICKWORK 3in1 Ring
What they said: 
The Lineman's Hawkbill Knife with STICKWORK 3in1 Ring has a stainless steel blade that is optimized to stay sharper longer. This new addition to Milwaukee knives is ideal for stripping cable. Equipped with the new STICKWORK 3in1 Ring, the knife is also compatible with both shotgun and universal style hot sticks while easily hanging for storage. The oversized ergonomic handle is designed for comfortable use with gloves, and a molded sheath makes it easy to carry and store.
What we say: 
Milwaukee has had a lot of success with their knife lineup, and they have another multi-year winner in their Lineman's Hawkbill Knife. The Milwaukee StickWork design sets this one apart. It functions as an appendage to let linemen attach the knife to shotgun and universal hot sticks, giving them the reach they need to do the job safely.
Price: $27.99
For more information, click here.
---
Winner – Pry Bars
CAMO LEVER
What they said: 
LEVER is all about freedom during installation. Without time-consuming set-up, the unique LEVER tool sets in one turn to lock boards in place for fastening with no strain, no hassle. When combined with CAMO EDGE Clips, LEVER speeds up grooved decking installations by locking multiple rows of boards and clips in place for quick fastening. The compact LEVER is also strong enough to straighten any warped board. Smaller crews are not a problem—LEVER eliminates the need to have someone holding boards, or a tool, in place. Lay your boards down, lock them in place with LEVER and you are free to fasten. And the timing of the LEVER launch aligns with the need for one- or two-person installation that allows social distancing on the jobsite to protect worker safety.
"We are unwavering in our mission to help contractors build a better deck easier and in a faster timeframe–even with smaller crews," said W. Scott Baker, CEO. "CAMO LEVER is the latest addition to the family of innovative CAMO products that gives contractors an unparalleled deck-building experience. We're dedicated to helping our contractors stay on the job as well as emerge strong from the pandemic."
The versatile LEVER tool adjusts to single, double, and even steel joists and keeps spacing between boards consistent, which, for the discerning deck builder, adds to the beauty of a fastener-free surface. For the best installation experience, lock in a whole field of boards using 2–3 LEVERS across the length of the deck.
What we say: 
Kiss your traditional prybar goodbye when you're setting deck boards with the Camo Lever. Not only is it more effective at holding even warped boards straight thanks to its job-specific design, but it also reduces the number of people you need to get quality results. We love the Lever's ability to push and hold deck boards on its own and that it doesn't take a Ph.D. to learn how to use it.
Price: $99.95
For more information, click here.
---
Winner – Tape Measures
Milwaukee Tool STUD Tape Measures
What they said: 
The next generation of Milwaukee's popular STUD tape measures now delivers best-in-class standout, reaching up to 14′. With EXO360 Blade Technology, these tape measures feature the longest-lasting blade that is both rip and wear-resistant. This technology is combined with a fully reinforced frame and impact-resistant overmold, making STUD the most durable tape measure in the industry. These tapes will come complete with a Finger Stop and double-sided printing. Now also available in Magnetic.
What we say: 
Milwaukee comes away with another tape measure win thanks to their update to the Stud lineup. They've improved on the Hulk-like durability of the blade and its EXO360 design and gave it a standout capable of reaching 14′. They're still packing it in one of the most durable housings we've seen and will have Milwaukee's Finger Stop brake system as well as the double-sided printing we like. Try one for yourself and see how much longer it lasts compared to your regular tape measures.
Price: $22.99 – $29.99
For more information, click here.
Finalist
---
Winner – Wrenches
Sunex Tools 9917MPRA Metric V-Groove Combination Wrench Set
What they said: 
Radius V-Groove Design: Creates an anti-slip and prevents rounding of the fastener.
Box End Offset by 15 Degrees: Provides clearance for your fingers and other obstructions near the fastener.
Radius Corners: Grip the flat sides of the fastener head instead of the corner to prevent round-off.
Strength & Durability: Upgraded steel from High Carbon to Chrome Vanadium for more strength and durability. Lifetime warranty.
What we say: 
Subtle changes make all the difference when it comes to tools like wrenches. We're impressed with the way Sunex' V-Groove wrenches grab and hold fasteners. Small indentations grab the corners of your fastener and let the sides stay snug to the flat edges. The result is less slipping and rounding to the nuts and bolts you're working on. Additionally, these wrenches get upgraded metallurgy to a higher strength chrome vanadium.
Price: $114.66
For more information, click here.
---
Winner – Torque Wrenches
PROTO SMART TORQUE WRENCH – J6110BT J6112BT J6114BT
What they said: 
Correctly torqued fasteners are critical to safety. Current torque wrenches can be hard to set and can lack precision in tightening. Users often apply too much torque without knowing, even if the wrench is accurate. Micrometer scales to set the target value on the wrench require some training to set and read.
The PROTO Smart Torque Wrench is app-controlled via Bluetooth, which allows for a fast and accurate setting, programming of complex sequences, and recall of favorites. Entries are direct, removing ambiguity and increasing precision.
The handle features unique 2-stage haptic feedback to warn users when the target is approaching in order to apply torque with precision. The user is then alerted that the target has been met by a positive click. As well as haptic feedback, progress can also be tracked live via the app, with LED lights, and on the wrench screen, giving multiple ways to interact, enabling the user to tighten with precision.
The app allows wireless data transfer in order to create, send, and share reports for QC and audit, providing proof the user has worked to the required spec.
What we say: 
Proto's Smart Torque Wrench is sure to be a favorite in shops and on jobs that demand precision. Our judges were drawn to the ease of defining torque levels and sequences, the multiple ways technicians get alerted as they approach and reach specified torque. Users can even generate a report for approval from their phone. Overall, the system can lead to a higher-quality and more efficient process of setting and reporting fasteners.
Price: $1,030.79 – $1,235.36
For more information, click here.
Finalist
---
Winner – Pipe Wrenches
Crescent Tools CAPW14 14″ Aluminum K9 Jaw Pipe Wrench
What they said: 
These new Crescent Pipe Wrenches have been redesigned from the ground up to be lighter, quicker to adjust, and more comfortable to use. But even more, they've been designed to deliver the most powerful pipe grip ever with our new straight wrenches offering larger bite surfaces and exclusive K9 30-degree angle access jaws that give you massive turning power, even in the tightest, most-restricted situations.
The K9 jaw technology allows teeth to bite in an arc of 30 degrees—much greater than typical pipe wrench operation limits—for greater access in tight spaces. The adjustment ring thread pitch is angled for faster opening and closing of the wrench jaw for up to twice the adjustment speed.
Crescent K9 Jaw Pipe Wrenches come in both cast aluminum (14-inch, 18-inch, and 18-inch long-handle versions) and cast iron (14-inch and 18-inch). Aluminum models are up to 40% lighter than typical cast iron wrenches with thicker cross-sections in high-stress areas for exceptional strength. Our cast iron wrenches have also been optimized for strength, weighing up to 10% less than competitive products.
What we say: 
Getting a straight shot at a pipe is great, but that's not always the case, especially in crowded or tight areas. Crescent's K9 Jaw Pipe Wrenches let you get a solid bite up to 30° off-angle to get the job done with a lot less frustration and time. Go for aluminum handle models to get a combination of lighter weight and strength.
Price: $49.97
For more information, click here.