Every year it seems like our outdoor power equipment award winners eclipse the influence of gas-powered tools. The 2022 Innovation Awards presented this year to the most innovative outdoor power equipment products highlight that type of advancement. As battery-powered outdoor power equipment continues to gain on gas, innovation seems to arrive in relentless waves.
This year, even the commercial side of the OPE market started, if not ditching gas, at least introducing new battery-powered products for professional landscapers. Manufacturers continue to innovate in this area, as you can tell by the many winners of the 2022 Pro Tool Innovation Awards for outdoor power equipment.
Winner – Accessories
AeroFlex Snap & Trim Replacement Trimmer Heads
What they said:
Swap your old battery trimmer's single outlet string cartridge with the newly patented Aero-Flex® Snap & Trim™ Spool Converter System. It includes dual Aero-Sharp® line blade cutters and a free-spinning Glider. Get rid of the old 'string' trimmer hassles for good! There's no longer a need to buy those brittle plastic flail blades. Gives your battery trimmer new life by replacing your existing cap and spool with the innovative Snap & Trim™ kit from Aero-Flex (No tools needed).
The glider now lets you rest the trimmer on the ground for easier use and less work while providing accurate grass-cutting height control as it lifts and supports the trimmer to also become a rotary mower. The more powerful Aero-Sharp® line blades, aerodynamically designed and engineered, simply snap into place, last longer, cut even heavier grass at level heights, and more grass cut per charge. You can say goodbye to current fatiguing string methods and frustrations dealing with spools, springs, rewinding, rethreading, and snarls, and say hello to greater control, less fatigue, higher battery efficiency, and more grass cut per charge.
What we say:
One of the most frustrating things about using a string trimmer is when you have to reline or reload the trimmer head. Aero-Flex® Snap & Trim™ features make that process much easier with their system. Unique kit selections are designed to fit most string trimmers, making changing the line blades much easier. They're also aerodynamically shaped to get more runtime out of your battery.
Price: $19.99 – $29.99
For more information, click here.
---
Winner – Battery Powered Backpack Blowers
RYOBI 40V HP BRUSHLESS WHISPER SERIES 730 CFM BACKPACK BLOWER RY404170VNM
What they said:
The RYOBI 40V HP Brushless Whisper Series Backpack Blower delivers awesome power without the noise! Delivering 730 CFM and 165 MPH this blower can move wet or dry leaves and tackle the toughest debris. At only 59 dBs this blower is 85% quieter than a gas blower! Giving you all the power without the noise. With a variable speed trigger, cruise control option, turbo button, and speed tip attachment you have ultimate control to meet your needs. Featuring two active battery ports, you can use both of the included 6 Ah batteries for continuous runtime in order to get larger jobs done. The contoured molding and adjustable straps provide comfort and support to you while in use. This kit is equipped with (2) 40V 6.0 Ah batteries and the included Rapid Charger charges each battery in under 60 minutes with 4X faster charging.
What we say:
Ryobi already had a winner when they took their popular gas backpack battery and switched it over to the 40V system for a battery-powered option. Now it's even better with Whisper Series technology bringing the noise level way down to just 59 decibels based on ANSI testing standards. That may just sound like a number, but when you see what kind of blowing force it achieves, it's hard to believe it's only producing that much noise.
Price: $429.00
For more information, click here.
Finalist
---
Winner – Battery Powered Blowers
RYOBI 40V HP BRUSHLESS JET FAN BLOWER/VACUUM KIT RY404150VNM
What they said:
The RYOBI 40V HP Brushless Jet Fan Blower/Vacuum is the all-in-one solution to make yard clean-up quick and convenient this fall. With a single tube for blowing, vacuuming, and mulching, this blower has 40V HP Technology that delivers 2X more power for gas performance. The jet fan blower design allows for increased airflow, providing 600 CFM and the included speed tip can increase airspeed to up to 100 MPH. The variable speed/cruise control dial allows for ultimate user control.
Conveniently change between blow and vacuum mode with the turn of a dial. In Vacuum mode, this tool uses a durable metal impeller to shred debris, eliminate clogs, and mulch 20 bags of leaves into 1. The included vacuum tip expedites clean up and the collection bag can hold up to 10.5 gallons of debris. The adjustable harness allows for the collection bag to be worn on the user's back as opposed to carried underneath the unit, providing balance and comfort to get the job done.
What we say:
Ryobi did several things to get our voting team's attention in the highly-competitive category of battery-powered blowers. First, the design is in line. You don't have to switch the tube from the front to the side and it's not as awkward to carry around in vacuum/mulching mode. Then there's the actual mulching performance itself. Many leaf blower/vac mulch at a 10:1 ratio, but Ryobi's design cuts even smaller, bringing shredding your leaves at a 20:1 ratio. Of course, 600 CFM is excellent for any leaf blower and we appreciate that Ryobi includes a harness to deal with the added weight of collecting leaves.
Price: $329.00
For more information, click here.
Finalist
---
Winner – Battery Powered Chainsaws
DEWALT 60V MAX 20 in. Brushless Cordless Chainsaw DCCS677Z1
What they said:
Made for professional use, the 60V MAX 20 in. 5.0Ah Brushless Cordless Chainsaw features a peak horsepower of 4 HP using a DCB615 battery. Designed for consistent high-level performance, this chainsaw features tooled chain tensioning for reliable bar retention. Its brushless motor delivers expert-grade efficiency with auto-oiling for continuous lubrication. The unit's bar and chain were engineered for low kickback for a range of outdoor cutting applications, and its chain brake offers added kickback protection.
20% MORE PEAK POWER than a 50.2 cc Gas Chainsaw
MORE THAN 2X THE TORQUE: Up to 2.36X the torque of a 50.2 cc Gas Chainsaw
FAST CUTTING THROUGH THICK WOOD: Cuts through 17 in. white oak log as fast as 15 seconds using DCB615 battery
What we say:
Make no mistake—DeWalt is on a power play with their 60V Max 20-inch chainsaw, and that's a good thing for us. Creating more torque than a 50.2cc gas model, DeWalt is in a very elite class that finally takes on the farm and ranch class of chainsaws. Thanks to the power of a monster brushless motor and DeWalt's 15.0Ah/5.0Ah FlexVolt battery, there's another class of chainsaw that's breaking free of gas.
Price: $549.00
For more information, click here.
Finalist
---
Winner – Battery Powered Edgers
DEWALT 20V Max Brushless Cordless Edger DCED400
What they said:
The DEWALT 20-Volt Edger creates a clean edge on your lawn with ease. This edger is equipped with an edge guide to protect the edge blade from wear and tear, allowing for a long blade life. The adjustable height settings provide the user with up to 2 in. of cutting depth. It is equipped with an adjustable bale handle to fit all body types and a brushless motor for long runtime and motor life. Replacement Edger Blade DZO400 on hand when your edger's blade breaks or becomes worn.
What we say:
As DeWalt continues to build out its battery-powered outdoor power equipment lineup, there's a renewed focus on its massively popular 20V Max battery system. From the ground most of the way, the DCED400 looks and acts like a typical edger. It departs from tradition at the top, where DeWalt shifts from the trigger system we're used to and moves to a pistol grip. In addition to shortening the overall length, it's also a more natural position for your wrist.
Price: $188.99
For more information, click here.
---
Winner – Gas Generators
DuroMax 13,000-Watt Tri Fuel Generator XP13000HXT
What they said:
DuroMax's newest innovation, the XP13000HXT Tri Fuel generator, is the largest Tri Fuel portable generator on the market with 13,000 watts of peak power and the ability to power the entire home. The Tri Fuel's front-facing fuel interface includes a simple push-to-start button allowing users to switch between three fuels, gasoline, propane, or natural gas, easily and effortlessly, and for ultimate freedom of fuel choice. This innovation comes as a result of consumer demand and the DuroMax team's understanding of the industry which allowed them to innovate a unique product with quality, durability, advanced technology, and longevity at the center.
Advanced technology developments include updating the HXT series with an advanced computer system and a large LED display so users can view the gas gauge, load gauge, as well as voltage, frequency, and runtime at a glance. It also has a convenient remote start feature to ensure that users can start the generator from a distance.
It also contains a fully loaded power panel equipped with a variety of outlets to suit user needs, including individual circuit breakers, idle control, a low oil sensor, and a 50 amp plug which allows users to hook up generators directly to the home through an interlock kit or a transfer switch.
To further the longevity of the product, the XP13000HXT Tri Fuel was created with a wheel-and-handle-kit and sold-filled tires making it more reliable and long-lasting compared to other options on the market. This generator is approved for use in all 50 states and the DuroMax's XP13000HXT is both EPA and CARB certified and comes with 5 YEAR Residential Warranty (1 Year Commercial Warranty). With safety in mind, the HXT series has CO alert technology to ensure emergency shutoff upon Carbon Monoxide detection.
What we say:
Duro Max packs massive power and fuel versatility in their HP13000HXT. Using gas, it's capable of producing up to 13,000 watts of power, which is what some whole-home generators have. It's also capable of using propane or natural gas without making additional modifications. Additionally, DuroMax designed their generator to have carbon monoxide detection/shutoff and it's compliant across all 50 states.
Price: $2,499
For more information, click here.
Finalist
---
Winner – Battery Powered Hedge Trimmers
RYOBI 40V HP BRUSHLESS WHISPER SERIES 26″ HEDGE TRIMMER RY40660VNM
What they said:
With a cutting speed ranging from 2800 – 3200 strokes per minute, the RYOBI 40V HP Hedge Trimmer delivers faster-cutting speeds and longer run time. The premium HP brushless motor delivers 35% more power than the RYOBI 40V 24" Hedge Trimmer. As part of our WHISPER SERIES family, this hedge trimmer is among our quietest range of products. The 26 in. blades provide maximum cutting capacity and added reach. The dual action steel blades offer an aggressive 1.5 in. cutting capacity, all while reducing unwanted vibration. A magnesium gearbox provides more durability and lighter weight for those longer jobs. There is a 2-speed switch allowing you to choose between cutting speeds for optimal power and runtime, as well as a rotating handle for precision cutting at any angle. Featuring the innovative HEDGESWEEP, this design helps clear clippings and debris while you trim.
What we say:
Ryobi sent a shot across the bow of its competition with the launch of its 40V 26-inch hedge trimmer. With speeds up to 3200 SPM and a massive 1.5-inch capacity to go with its dual action blades, its cuts like a professional model rather than something designed for homeowners. Add in a rotating handle with quiet operation and Ryobi created something Pro crews need to take a closer look at.
Price: $319.00
For more information, click here.
---
Winner – Battery Powered Lawn Mowers
RYOBI 40V HP BRUSHLESS WHISPER SERIES PUSH 21″ LAWN MOWER RY401220
What they said:
The RYOBI 40V HP Brushless 21″ Whisper Series Multi Blade Cordless Lawn Mower delivers the power of gas with the convenience of cordless. The premium HP brushless motor provides more power, longer runtime, and longer motor life. It starts with just a push of a button and is ideal for yards up to 3/4 acre. It features dual active battery ports and 2 40V 6Ah batteries that provide up to 70-minutes of runtime. As part of our WHISPER SERIES family, this mower is among our quietest range of products. RYOBI's CROSS CUT multi-blade system offers two blades for superior cutting performance or a single blade for longer runtime. The integrated mulch plug allows the user to quickly switch from bagging to mulching with just a pull of a lever. The onboard fuel gauge shows the status of the battery life remaining, making it easy to check while mowing. The durable 21″ deck is lightweight, resists corrosion, and is covered by a limited lifetime warranty. The mower has a premium 11″ high wheel design and the deck features a 7-position single-point height adjustment to easily select your grass height between 1″ and 4″. With the 3-in-1 mowing functions, you can choose between bagging, mulching, and side discharge functions. An easy lift bag removal allows you to quickly and easily empty the grass bag. The ONE-touch aluminum handles fold to help provide compact, vertical storage.
What we say:
Ryobi's RY401220 is the culmination of a massive jump in performance and design over the past couple of years. It's strong, using a brushless motor to power through thicker grass better than most of its competition. Its dual-blade system cuts clippings finer and leaves an even cut. For those of you who prefer to bag or side discharge, Ryobi's design is more effective at both than most premium competitors. If you're on the hunt for a full-featured, high-performance push mower, it doesn't get much better than this.
Price: $734.00
For more information, click here.
---
Winner – Riding/Zero Turn Lawn Mowers
CUB CADET SurePath Auto Steer Zero Turn Mower PRO Z 960 S
What they said:
The Cub Cadet PRO Z 960 S and 972 S SurePath units are outfitted with GPS technology and an exclusive four-wheel steering system that provide a semi-autonomous experience designed to maximize efficiency and productivity while minimizing effort and advanced training.
What we say:
Cub Cadet's SurePath technology is a GPS-assisted system and it's something Pros need to pay attention to. It's partly about the look. By simply pressing a button when it's time to turn, you get consistent, even striping no matter how long your lines are. It's also about efficiency. Field research show an average of nearly 7.5 inches more coverage per pass, resulting in more than 425 fewer acres mowed over the course of a season. It's an impressive innovation that makes a real difference.
Price: $23,999-$24,999
For more information, click here.
---
Winner – Battery Riding/Zero Turn Lawn Mowers
RYOBI 80V HP Brushless 54″ Lithium Electric Zero Turn Riding Mower RYRM8034
What they said:
Introducing RYOBI's first lithium-ion battery-powered zero turn riding mower, the RYOBI 80V HP 54" Lithium Electric ZTR. HP Technology and 80V batteries combine to deliver the power equivalent of a 42-horsepower gas engine while eliminating the hassle and maintenance of a gas mower. This rider cuts up to 5 acres per charge with the help of 5 brushless motors, (3) 80V 10Ah batteries, and (4) 40V 12Ah batteries, with a Super Charger that fully recharges in 5 hours so you're ready for your next job.  The revolutionary iDrive system uses an intuitive one-handed joystick steering to maneuver around objects more easily than a traditional ZTR. The innovative LCD screen displays runtime, battery life, and cut/drive speed while in use, while the Riding Mower app allows you to monitor charge time and battery life remotely. This riding mower features the CROSS CUT multi blade system, providing superior cutting & mulching performance, while the 12-point height adjustment allows you to select the perfect cutting height between 1.5" and 4.5". The rubber side discharge chute makes it easy to maneuver around landscaping so users are not restricted by where they can cut. Designed with comfort and convenience in mind, this mower features premium seat suspension, 2 USB ports to charge phones, a storage compartment, and LED headlights. Lawn maintenance will never be the same thanks to the RYOBI 80V HP Brushless 54" Lithium Electric Zero Turn Riding Mower.
What we say:
Ryobi is changing expectations of a battery-powered zero turn lawn mower with the RYRM8034. Most obviously, the lap bars are gone and there's a joystick control instead. It's designed to make maneuvering around objects easier. Under the deck, Ryobi has three sets of Cross Cut blades, bringing the cutting efficiency and quality of stacked blades to a zero turn. Even the power source is different with the ability to combine 80V main batteries with up to four 40V batteries to extend your range up to 5 acres and cut with the power of a 42 HP gas engine.
Price: $6,999.00
For more information, click here.
Finalist
---
Winner – Robotic Lawn Mowers
CUB CADET XR5 3000 Robotic Mower 22AKJEFA603
What they said:
The Cub Cadet XR5 3000 & 4000 series are an expansion of the successful XR5 platform. Now with a dual cutting deck, the premier robotic mower platform can extend up the line to handle 3000 and 4000 square meter lawns with the same award-winning user benefits of edge mowing, superior maneuverability, and extreme ease of use thanks to the 4.3″ color touch screen.
What we say:
Cub Cadet's XR5 robotic mower line is all about high-precision mowing with minimal effort on your part. It was a successful start but somewhat limited in the size of lawn that could take advantage of the design. With the larger 3000 and 4000 series, you can now automatically cut lawns up to a full acre in size.
Price: $2849-$3049
For more information, click here.
---
Winner – Battery Self-Propelled Lawn Mowers
Milwaukee Tool M18 FUEL 21" Self-Propelled Dual Battery Mower 2823-22HD
What they said:
The Milwaukee M18 FUEL 21" Self-Propelled Dual Battery Mower delivers best-in-class cut quality and more max torque than 200cc gas competitors, meeting the performance needs of the Landscape Maintenance professional. The M18 FUEL 21" Self-Propelled Dual Battery Mower brings innovation and industry-leading performance to battery-powered lawn mowers and is a true testament to Milwaukee's focus on investing in game-changing technology that truly delivers breakthrough solutions for users.
Harnessing the power of Milwaukee's POWERSTATE Brushless Motor, the M18 FUEL 21" Self-Propelled Dual Battery Mower delivers best-in-class power levels and more max torque than a 200cc gas engine to meet the needs of the professional landscaper. The REDLINK PLUS Intelligence allows the mower to achieve an instantaneous throttle response for blade and drive motors, increasing control and productivity.
The mower delivers best-in-class quality of cut with a true 21" cut capacity and optimized steel deck design. Featuring 3-in-1 capability for bagging, mulching, and rear side discharge, the M18 FUEL 21" Self-Propelled Dual Battery Mower reduces missed blades of grass and clumps compared to competitive mowers. For added functionality, the mower is designed with a single-point height adjustment to easily change between cutting heights and cover a wide range of grass species. Rear wheel drive paired with variable speed self-propelled functionality gives users more control during use. Furthermore, front and side lights deliver 180° visibility to increase awareness and precision while mowing in low light situations.
To meet performance expectations in certain high-demand applications while maintaining system compatibility, the M18 FUEL 21" Self-Propelled Dual Battery Mower requires the simultaneous use of two M18 REDLITHIUM batteries. While using the self-propelled function at 3MPH and removing 1" of most types of grass, users can expect up to 60 minutes of run time on (2) fully charged M18 REDLITHIUM HIGH OUTPUT HD12.0 Batteries.
What we say:
We've used commercial-grade battery-powered self-propelled mowers before and while the construction was solid, the performance left something to be desired. Milwaukee eliminates the gap with a 21-inch model that rivals the power of a 200cc gas engine. In addition to its strength, the quality build professionals need is there along with the cut quality their clients demand.
Price: $999.00
For more information, click here.
Finalist
---
Winner – Stand-On Lawn Mowers
Altoz Switch Compact Tool Carrier
What they said:
The Altoz SWITCH compact tool carrier is built around an operator-first stand-on tracked platform, providing multifunction for multi-seasonal usage. Mow. Plow. Snow Blow. Broom. Brine – Do more. Go further with one Altoz compact tool carrier.
Drop, Swap and Go is the key feature to owning an Altoz SWITCH. Whatever the task, all Altoz attachments connect, and disconnect, quickly and easily. Engineered for commercial use, Altoz offers a front-mounted Snow Blower (44- or 54-inch), Angle Power Broom (48-inch), V-blade (44-inch folded or 54-inch straight), Straight Blade (48- or 60-inch), Brine Kit (44- to 54-inch coverage) with 20-gallon capacity and three different mower decks: Brush Deck (44-inch/2-spindle or 54-inch/3-spindle), All-Terrain Deck (61-inch/3-spindle) or Finish Deck (66-inch/3-spindle)
The keys to wanting to return to the job day after day are operator comfort, good equipment and the satisfaction of a job well done. The operator station of an Altoz SWITCH is ergonomically correct a fully adjustable, coil spring-over gas shock rider. The perforated platform and low center of gravity allow ample room, and secure foot positioning, for increased control on off-camber terrain.
Because all terrain is not the same, the compact size of the all-new SWITCH (54-inch length with an adjustable 42- or 52-inch width) gets its traction and stability via Altoz 9-inch wide tracks. The patented torsion spring axle suspension is the key to bridging terrain gaps and decreasing chassis bounce, producing one of the smoothest rides. Cast inner and outer idler wheels keep the track aligned, and double-sealed wheel bearings keep out contaminants to extend the bearing life under harsh conditions.
Operator efficiency will add value to the bottom line when removing snow, reclaiming overgrown areas, low lands and technical terrain, quickly, confidently and safely with the need for only one main compact tool carrier. Best suited for commercial use, city utility departments and government entities, the SWITCH compact chassis, with clear front sightlines, can make quick work of snow and debris removal on sidewalks, parking lots and roads, or advanced debris management in low, soft and wet areas, steep sidehills and rough terrain while maintaining water retention ponds, lake and river banks, parks, cemeteries, road right-of-ways and ditches.
The 29.5 horsepower Kawasaki FX 852cc engine has an integrated electronic throttle and governor control helping you power through the toughest conditions. And Kawasaki's EFI fuel management system continually adjusts power to load, keeping ground speed steady – Get more done in less time with maximum fuel economy.
High-performance commercial Hydro-Gear PR-series pumps and Parker TF-series motors deliver quick response to the Altoz track system and smooth control for speeds up to 6 mph.
The SWITCH features include electric dial throttle control, a right-hand side 9-gallon fuel tank, SmarTrac Pro control, solid-state PTO switch, RPM, hour meter, warning lights, keyless push-to-start ignition switch and the patented SoftStart clutch control for decreased mechanical wear.
What we say:
Year after year, Altoz keeps extending your ability to work with more track systems. After successful ride-on and stand-on mowers, now you can do much more than just mowing thanks to the Altoz Switch. Starting with a comfortable stand-on tracked platform, you can add a snow blower, angle broom, V-blade, brush deck, or brine system to the front. From spring all the way through winter, Altoz has the solutions to keep your property in great shape even when wheeled systems aren't the way to go.
Price: See Dealer
For more information, click here.
Finalist
---
Winner – Battery Powered Multi-Head Systems
STIHL Battery-Powered KombiMotor KMA 135 R
What they said:
The battery-powered KMA 135 R KombiMotor delivers truly professional performance on par with gas-powered products with reduced noise and zero exhaust emissions. With over a dozen optional attachments, the KMA 135R provides users the ability to tackle a range of landscaping jobs without loading the trailer with a pile of tools. It is easy to operate and has a variable speed trigger with three performance levels to optimize performance and run time. The onboard battery slot can support both an onboard battery or a backpack battery for even longer run times. Its quiet operation provides flexibility and extended working hours during early mornings and evenings, and it is durably constructed with a weather-resistant design. The STIHL KMA 135 R joined the STIHL 135 professional battery-powered platform with an onboard battery and 16 attachments, making it a convenient and versatile product
What we say:
Ever since we started testing multi-head systems, Stihl had a big advantage with its battery-powered KombiSystem. Now, it's even better with the 135-series KombiMotor powerhead. With its high-performance motor, you can use Stihl's extensive range of accessories to maintain properties more effectively than you can with other brands. Plus, Stihl made the shift away from a tethered connection to housing the battery directly on the tool.
Price: $360
For more information, click here.
Finalist
---
Winner – Battery Powered Pressure Washers
Greenworks Tools Pro 60V 3000 PSI Pressure Washer PW60L02
What they said:
This is the Industry's most powerful cordless electric pressure washer (3000 PSI MAX @ 1.1 GPM, 2.0 GPM MAX @ 100 PSI). Runs off of one or two batteries. With one battery, the unit runs at a lower 1800 PSI and kicks up to 3000 PSI when two batteries are used. When there's no pressurized hose available, the unit can siphon water instead.
What we say:
Greenworks is introducing the most capable battery-powered pressure washer we've seen. Using two 60V batteries (there will also be an 80V version), its brushless motor can produce up to 3000 PSI. Skeptical? Not to worry. Greenworks has their pressure washers tested through the Pressure Washer Manufacturer's Association (PWMA), so you can have confidence they're not yanking your chain.
Price: $349.99
For more information, click here.
---
Winner – Electric Pressure Washers
DEWALT 2100 MAX PSI 1.2 GPM 13 Amp Electric Jobsite Cold Water Pressure Washer DWPW2100
What they said:
Power through outdoor cleaning jobs with the multi-use 2,100 MAX PSI 1.2 GPM 13 Amp Electric Jobsite Cold Water Pressure Washer. For convenience and quick accessibility, this Pressure Washer was designed with internal storage capability so you can seamlessly stow and retrieve the included wand and nozzles. This durable unit has a high-strength frame for stacking and the self-contained, compact design makes the Pressure Washer 3X smaller. The design also gives you the freedom to store the unit vertically or horizontally. Simply place the hose securely under the main handle of the unit for low-hassle storage and transport. Accessories include a turbo nozzle for up to 2.4X cleaning width, 15° nozzle, 40° nozzle, a soap nozzle with wand storage, and a built-in removable soap tank for projects that require detergent for a full clean. This tool delivers the versatility to clean tools and equipment, along with decks, siding, sidewalks, boats, outdoor furniture, and vehicles. The Corded Cold Water Pressure Washer can easily be transported to the jobsite or around the home, weighing 24 lbs. with multiple grab points for loading and unloading, wheels, and a retractable handle.
What we say:
DeWalt opened our eyes to what's possible in a pressure washer's physical design with their DWPW2100. Roughly the size of a suitcase, a roll cage protects the entire unit while the housing stores the wand and nozzles inside. Even so, there's still room for the motor, pump, and detergent tank as well, making for an incredibly compact storage footprint. It's no slouch in performance, though. It's a full 2100 PSI/1.2 GPM CETA-certified unit (Cleaning Equipment Trade Association).
Price: $269.00
For more information, click here.
Finalist
---
Winner – Cordless Pruning Saws
Milwaukee Tool M18 FUEL HATCHET 8″ Pruning Saw 3004
What they said:
The M18 FUEL HATCHET 8″ Pruning Saw delivers increased control and access, has the power to cut hardwoods, and is the fastest cutting pruning saw on the market.
To provide users with increased control and maneuverability in tight access areas, the pruning saw features a compact design and weighs less than 5lbs without a battery. The advanced electronics package allows the tool to maintain speed under heavy loads without bogging down, allowing the operator to complete demanding cuts faster than 25cc gas. Additionally, the saw reaches full throttle in under one second and is paired with a variable speed trigger to deliver ultimate control over the power range. This pruning saw features a lanyard loop, full house chain, easy access chain tensioner, automatic oiler, metal bucking spikes, onboard scrench storage, lanyard loop, and a climbing scabbard.
What we say:
Mini chainsaws have become incredibly popular over the last couple of years. While that's an adorable designation, Milwaukee's M18 Fuel Hatchet prefers to take the class of pruning saws more seriously. With cutting performance that's faster than saws with a 25cc gas engine, it's built for professional use. Thanks to a total weight of fewer than 5 pounds, it's a great fit for cutting smaller branches without having to break out a larger saw.
Price: $279.00 bare
For more information, click here.
---
Winner – Cordless Pruning Shears
CRAFTSMAN V20 Cordless Pruner CMCPR320C1
What they said:
This Craftsman V20 Pruner eliminates the need for manual pruning with its V20 1.5Ah battery. Cut both wet and dry wood with the shears' 1-1/4 in. cut capacity and up to 900 cuts per charge. Efficiently clip at up to 1 cut per second with up to 20X less effort† than a manual pruner. No extra tools are needed to change blades, making maintenance on the jobsite quick and simple.
†Using CMCB2015 battery vs. Fiskars 391651-1003 cutting 19 mm birch dowels
What we say:
Cordless pruners are a great way to keep your landscape looking great without reaching for a bottle of ibuprofen when you're done. Craftsman's V20 cordless pruner can cut branches up to 1 1/4 inches in diameter and its 1.5Ah battery can make up to 900 cuts on a charge. Best of all, Craftsman packs it all in a kit that costs less than the competition at $129.00.
Price: $129.00
For more information, click here.
---
Winner – Battery Powered Snow Blowers
Greenworks Tools Pro 60V Dual-Stage Snow Blower DSSN60L821
What they said:
60V Dual Stage 24″ Snow Blower with ZTS (Zero Turn System). Uses a three-port powerhead that extends your runtime and runs at optimal performance with two or three batteries. Kit includes two 8 Ah batteries.
What we say:
Greenworks has a two-stage snow blower for 2022 that's ready to kick Old Man Winter in the teeth. It has a 24-inch intake with beefy wheels and the zero-turn self-propel drive system you need for a machine with this kind of weight and power. With two batteries, you can run at the snow blower's peak performance level and there's a third active battery port you can use when you need the longest runtime.
Price: $1,899.99
For more information, click here.
Finalist
---
Winner – Gas Snow Blowers
Cub Cadet 2X 28″ INTELLIPOWER Snow Blower 31AH5IVTB56
What they said: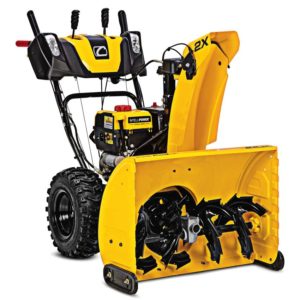 The Cub Cadet 2X 28″ IntelliPower utilizes an electronic governor engine. IntelliPower engine technology delivers consistent power in heavy and wet snow conditions by digitally optimizing engine output to help provide a smooth and consistent experience in challenging conditions. IntelliPower technology provides up to 13% more available power* for the 272cc engine.
*When compared to the same engine without IntelliPower technology. Improvements vary depending on engine models and specific operating conditions.
In addition to the 272cc engine this snow blower is equipped with power steering, single hand control, heated hand grips, and a hi-arc steel chute.
What we say:
Cub Cadet starts with the foundations of a solid 2-stage snow blower, including the power steering you need and the heated handles that are a nice luxury. What sets it apart is its electronic controls to govern the engine, offering consistent performance and higher available power than engines with the benefits of IntelliPower.
Price: $1,499.00
For more information, click here.
Finalist
---
Winner – Water/Chemical Sprayers
Milwaukee Tool M12 FUEL Two Gallon Chemical Sprayer 2528-21G2
What they said:
The M12 Two Gallon Handheld Sprayer delivers the best pressure control and no manual pumping. Designed to meet the needs of professional landscape maintenance and pest control, the sprayer provides users with instant, constant and adjustable pressure up to 80 PSI and a 17 ft vertical spray distance. The 3-mode pressure adjustment knob adjusts the pressure between 20 – 80 PSI to tackle a wide range of applications. When paired with an M12 REDLITHIUM CP2.0 Battery, users can expect up to 80 gallons of spraying per charge. The M12 Handheld Sprayer Powered Base is compatible with both the 1 Gallon and 2 Gallon Handheld Sprayer Tank, providing the ability to rightsize the tank for the application and premix multiple tanks to increase productivity. As an added benefit, the sprayer features an onboard measuring cup for quick measurement, a strainer that filters debris from entering the tank, and vertical and horizontal wand storage.
What we say:
Milwaukee's M18 Switch Tank Backpack Sprayer is fantastic for large areas, but sometimes you don't need that kind of coverage. For those smaller jobs, Milwaukee's M12 sprayers offer 1- and 2-gallon options with a lighter handheld design. Capable of spraying up to 17 feet and with adjustable pressure, you can get up to 80 gallons of operation on one battery charge. The tanks are also interchangeable, so you can use one powerhead with multiple mixes.
Price: $189.00 – $199.00
For more information, click here.
---
Winner – Battery Powered String Trimmers
EGO POWER+ POWERLOAD STRING TRIMMER WITH LINE IQ ST1623T
What they said:
Introducing the EGO POWER+ 16" POWERLOAD String Trimmer, the world's most advanced trimmer featuring the world's first LINE IQ technology. Auto-sensing technology monitors and feeds the length of the line for a continuous 16" cutting swath delivering non-stop high-performance trimming. No bump needed! Patented POWERLOAD technology automatically winds your trimmer line. Replacing your string line is as easy as feeding the line into the head and pressing a button! A carbon fiber shaft makes it the strongest string trimmer on the market – backed by a lifetime warranty. With its telescopic design, quickly adjust the shaft length for ease of use and comfort. Get over 60-minutes of continuous cut time when used with the included EGO 56V 4.0Ah ARC Lithium battery. This revolutionary trimmer is also built with digital variable speed, a high-efficiency brushless motor, and .095″ professional cutting line. Experience Power Beyond Belief without the noise, fuss, or fumes.
What we say:
The EGO Line IQ battery-powered string trimmer is everything you hope would come from the sum of EGO's impressive innovation. With Line IQ joining PowerLoad and a carbon fiber shaft, it's even easier to use than previous models with the high performance and low vibration we've come to expect. When it comes to battery-powered string trimmers, EGO continues to lead the pack.
Price: $329.99
For more information, click here.
---
Winner – Battery Powered Tillers
RYOBI 40V HP BRUSHLESS 18″ REAR TINE TILLER RY40720VNM
What they said:
The RYOBI 40V HP Brushless 18" Rear Tine Tiller is the industry's first-ever cordless rear tine tiller that delivers innovation, cordless convenience, and ultimate power to your gardens. Equipped with two brushless motors and counter-rotating tines, it is powerful enough to take on even the toughest terrain. The 18" tilling width and 10" tilling depth make this cordless tiller ideal for large gardens, deep tilling, small farms, and breaking new ground. The integrated Transport mode allows for faster transport speeds than gas tillers to help you get the job done quicker. The 9-position depth stake, and variable speed self-propelled forward and reverse drive gives you ultimate control when tilling. 1-touch pivoting folding handles allow for compact storage in your garage or shed. Take advantage of the removable sand/water ballast and bull bar handle that allow for additional weight for deeper and more controlled tilling. The large 14" pneumatic wheels make for easy maneuverability and transport over rough terrain. This Tiller comes with (4) 40V 6.0 Ah Lithium-ion batteries and 4 active battery ports for extended runtime. When the job is complete, place the batteries on the dual-port rapid charger that charges (2) 40V 6.0Ah batteries simultaneously in less than 60 minutes.
What we say:
When we took Ryobi's 40V HP Brushless rear-tine tiller out to the farm, we wanted to know if it could compete with gas models. Breaking through undisurbed pasture, it was obvious that it does. The tines ripped through the grass, exposing the soil underneath. With a couple of passes, we had a patch of ground ready to plant without the need to deal with a gas engine. Between a traditional rear-tine tiller design and controls with the runtime of four 40V batteries, it's an impressive machine.
Price: $1,259.00
For more information, click here.
---