Using an innovative blade, bit, or saw could help you cut, drive, or fasten more quickly. That can turn into more profit, less time on the job, or a reduction in call-backs. Use the right accessory or fastener, and it can help you produce fantastic results. Of course, the opposite holds true. That's why the Pro Tool Innovation Awards seek out the year's most innovative accessories and fasteners. From bits and blades to guides and extenders, here are your winners for the PTIA 2023 Accessories Awards!
WINNER – Circ Saw Blades
CMT Orange Tools ITK XTREME DEMOLITION 007 "License To Cut" 286.324.07-X10
What they said:
CMT Xtreme Demolition 7-1/4" x 24-tooth, 007 "License to Cut", saw blade innovation:
Low Mass Plate Design – CMT's patented design to improve battery life, when used on cordless saws, by reducing the initial power draw needed to reach the maximum RPM during start up. In addition, the ample slots in the plate, keep the blade cooler and ventilate the machine, corded or cordless, better than any other design, leading to increased blade life.
Secured Tooth Geometry – CMT's Exclusive engineering guarantees the blade better handles impact with nails; 20X more cuts than competitors on wood with embedded and loose nails. Designed to ensure the longest tool life under the most demanding conditions; tips are brazed deep inside the blade plate, enabling it to withstand the brutal working conditions and increase nail-impact resistance.
Operator Safety is taken into consideration by the extended anti-kickback design of the plate's shoulder. This greatly reduces the chance of injury, due to kickback of the saw, during the cutting process.
Productivity Test versus competitors, which yielded the following results before the blade is rendered obsolete:

Diablo Demo Demon – 12 "loose" nails cut.
DeWalt Elite Series – 16 "loose" nails cut.
CMT Xtreme Demolition – 320 "loose" nails cut.

Made in Italy

High grade, laser cut, spring steel keeps the cut true and stable.
Tips manufactured by world class carbide specialist Ceratizit with industrial chrome carbide.
Carbide tips are set using Silver-Copper-Silver "Tri-Metal" brazing which allows teeth to handle high stress and impact especially when cutting harder woods, composite material and wood with nails.
PTFE Coating – CMT's specific coating which is applied, then kiln dried for maximum adhesion to the blade.
PTFE, and the application process, lead to smoother, faster cuts and provide greater resistance to pitch build up and rust/corrosion.
What we say:
Take one look at CMT Orange Tools' 007 demo blade, and it's immediately clear this blade is different. Large cutouts around the blade reduce overall mass, leading to faster acceleration and less overall energy use, helping you manage the battery on cordless saws. They also help reduce heat buildup during cutting.
A closer look reveals a tooth design that handles nail strikes more effectively by avoiding a full-on nail hit against a single tooth and brazing deeper into the plate. At the same time, a 5° ATB configuration offers stable, fast cuts in clean and nail-embedded wood.
Price: $13.97
For more information, click here.
Finalist
---
WINNER – Multi-Tool Blades
Milwaukee Tool NITRUS CARBIDE Extreme Material Blades
What they said:
The NITRUS CARBIDE™ Extreme Metal blade will cut more bolts, screws and nails than ever before. The NITRUS CARBIDE™ Extreme Material blade delivers the fastest, most versatile cuts in more materials like screw-embedded wood, cement board, plaster, drywall and more. Both NITRUS CARBIDE™ multi-tool blades have an optimized blade length, tooth design, and unique carbide blend for greater cutting capabilities. Complete with a newly designed Universal Fit OPEN-LOK™ anchor, the new blades are strengthened and reinforced to provide reduced vibration and better control while cutting. The new anchor maximizes tool-to-blade power transfer through secure connection and improved design. In addition, the open-back design maintains the ability to fit on over 100+ multi-tools, and allows for quick blade changes. Offering the fastest cutting and longest life, the entire family of NITRUS CARBIDE™ products, including the original NITRUS CARBIDE ™ SAWZALL BLADES and the new NITRUS CARBIDE™ Multi-tool blades are the best performing cutting products on the market.
What we say:
Milwaukee's Nitrus Carbide upgrade made its way to oscillating multi-tool blades and is redefining how tough these accessories can be. Much more than just a coating, these blades benefit from high-quality carbide teeth with a geometry and connection optimized to deal with cuts that other blades wouldn't dare attempt. The Extreme Material blade is your go-to for general-purpose cuts when you may or may not hit nails, screws, or other metal along the way. You'll get fast cutting and exceptional blade life, making your next job that much more productive.
Price: $24.97 (based on the 49-25-1561)
For more information, click here.
---
WINNER – Recip Saw Blades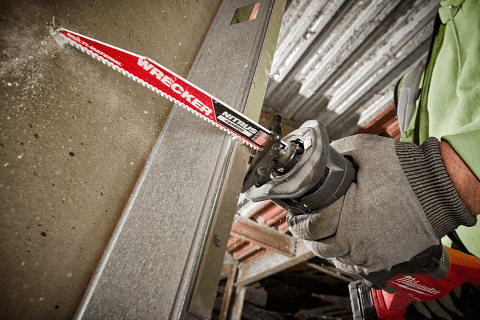 Milwaukee Tool 6TPI The WRECKER with Nitrus Carbide
What they said:
Milwaukee Tool is driven to create innovative reciprocating saw blade solutions that deliver unmatched life and superior cutting versatility—introducing the WRECKER™ with NITRUS CARBIDE™ SAWZALL® Blade, the longest-lasting, fastest cutting, and most versatile blade for demolition and remodeling jobs. The WRECKER™ with NITRUS CARBIDE features a 6TPI design, ideal for the fastest cuts in woods, metals, and abrasives, delivering users with the best demolition blade on the market. This blade eliminates the need for blade changes by having the capability to cut everything from wood with nails to thick metal. Milwaukee's unique carbide blend, NITRUS CARBIDE™, delivers the fastest cuts and longest life. This next generation of carbide teeth technology dissipates heat better than any non-Nitrus blade in the industry.
What we say:
Representing the top of the line, Nitrus Carbide Sawzall blades take demo work to a whole new level of productivity. High-quality carbide, advanced tooth connections, optimized geometry, and other factors all work together to give you the longest-lasting blades in the toughest cutting scenarios.
The Wrecker with Nitrus Carbide is your new go-to multi-purpose blade. Its 6 TPI tooth configuration makes quick work of woodcutting while the teeth are strong enough to cut through metal without breaking off. Whether you're looking for one blade to do everything or you know you've got a mess or materials to deal with behind the wood you're cutting, keep some Wrecker blades on hand for every demo job.
Price: $19.97 (based on the 48-00-5272)
For more information, click here.
Finalist
---
WINNER – Table Saw Blades
CMT Orange Tools ITK XTREME Combination Blade 256.050.10
What they said:
CMT ITK Xtreme 10" x 50-tooth, Combination Saw Blade Innovation:
XTREME Balancing – CMT's patented system that allows for extremely accurate dynamic balancing of the blade, several orders of magnitude above and beyond that which is currently available in the marketplace. Each blade undergoes rigorous assessment and only in the event that micro imbalance is detected will the appropriate correction holes be applied. You may find 1 to 5 micro balancing holes on your blade, depending on the degree of micro imbalance. When in perfect balance, a single incision will appear on the blade as proof of balance. These holes will have no effect on the technical properties of the blade during use (such as an increase in noise, chip build-up at the correction site, etc.). This translates to precise cutting, longer blade life, reduced vibration and noise and less wear and tear on your machine components.
Noise/Vibration Reduction – New laser-cut lots with sound-dampening polymer reduces vibration and noise by 25% with respect to standard saw blades. Improved cutting quality and extended blade life. Slots positioned near toothed crown provide impressive vibration isolation and shock absorption. Fully compliant with National Noise Emission Standard & Regulation.
Orange Chrome Coating -Protects the tool from corrosion, rust, and resin/residue build-up. Extends tool life dramatically. Absorbed power by the motor is significantly reduced so the tool moves smoothly throughout cutting operation. Tool maintenance is fast and easy. Surface hardness: 380-400 Vickers is taken into consideration by the extended anti-kickback design of the plate's shoulder.
Made in Italy

High grade, laser cut, spring steel keeps the cut true and stable.
Tips manufactured by world class carbide specialist Ceratizit with industrial chrome carbide.
Carbide tips are set using Silver-Copper-Silver "Tri-Metal" brazing which allows teeth to handle high stress and impact especially when cutting harder woods and composite material.
Tensioning – Blade-specific tensioning ring on blade body provides stability during the cut. Tensioning on this tool is machine and operation tuned for best performance.
Resharpening – For the best user experience and enhanced blade life, the ITK XTREME blade's carbide is able to be resharpened. The back of each blade is laser engraved with specific and detailed sharpening instructions.
What we say:
Trace your eyes around the ITK Xtreme Combination Blade from CMT Orange Tools, and you'll notice a double layers of stacked laser cut slots. These polymer-filled cuts reduce vibration and noise, and in this case, the more, the merrier.
Vibration control takes another step forward with the introduction of balancing holes. Each blade is tested for small levels of vibration and holes are drilled to even it out. This extreme level of balancing creates an incredibly smooth, precise cutting experience with longer blade life than competitors that don't put in the extra effort.
Price: $38.97
For more information, click here.
---
WINNER – Cleaning
Danco Attachable Dust Pan 11033X
What they said:
Transform your ordinary 5-gallon bucket into a multi-use tool to help you with your everyday household and PRO projects! The Danco Attachable Dust Pan quickly latches onto your 5-gallon bucket rim for fast and easy cleanup. This bucket accessory stays secure during your projects with our specially designed clips and solid wedge for added support. All you need to do is latch and lock the dustpan into place, flip over, and start sweeping dirt, trash, leaves, standing water, and so much more into your 5-gallon bucket, then toss it into a larger trashcan. The Attachable Dust Pan converts your bucket to a jumbo dustpan and is perfect for construction and job worksites, warehouse, yard work, and everyday home cleanup.
5-GALLON BUCKET ACCESSORY – THE ULTIMATE DUST PAN ATTACHMENT! Converts your everyday 5-gallon bucket into a jumbo dust pan that is perfect for the PRO and everyday household clean-up
LOCK it in place, SWEEP IT UP, FILL IT UP and CLEAN IT out with ease
COMPATABILE WITH 5-GALLON BUCKETS: The Danco Attachable Dust Pan fits most 5-gallon buckets
VARIETY OF USES: Sweep up outdoor debris, collect trash, pick up items in home such as small toys or pet hair, shovel up snow/ice or overflow of water caused by a flood, even use it to remove excess paint from a paint roller or brush
EASY TO STORE: The Attachable Dust Pan can fit easily inside your 5-gallon bucket
DURABLE AND RELIABLE CONSTRUCTION: This dust pan is made of recycled heavy-duty plastic which is chemical resistant and it retains its shape even after a lot of use
What we say:
Danco's Attachable Dust Pan is the must-have $5 bucket accessory every shop and home needs. Just connect it to a standard 5-gallon bucket and use it for just about anything you can think of. Scoop up debris, sweep up sawdust, act as the backboard for paper ball basketball, squeeze out your paint rollers, distribute mulch. Seriously—for $5, use your imagination and go to town!
Price: $4.98
For more information, click here.
---
WINNER – Cutting & Routing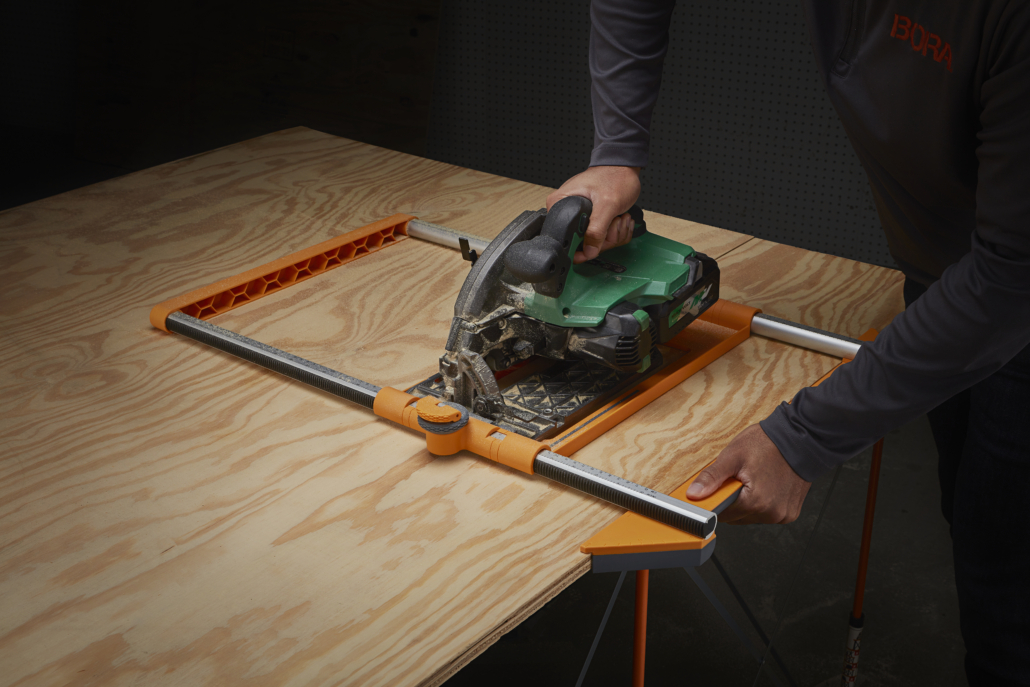 BORA Tool NGX Twin Rail Rip Guide 546250
What they said:
The BORA® NGX Rip Guide makes it quick and easy to accurately rip or cross-cut sheet goods and dimensional lumber. Whether users need to make one, or a series of repeated cuts, the durable aluminum twin rail design prevents racking and misalignment, while the oversized ergonomic handle provides ultimate control. The Rip Guide's revolutionary tool-free clamping mechanism allows for quick, easy snap-in saw mounting; and is designed to be compatible with most circular saws, fitting both left and right-handed saws. The portable size offers an easy setup, eliminating the need for a large table saw. Designed to make up to 24-inch cuts, the NGX Rip Guide is perfect for ripping sheets of plywood in half. If a user needs to make precise cuts, they can use the micro-adjust knob on the guide to dial it in. Plus, it has imperial and metric measurement markings to satisfy any cutting need.
What we say:
Bora's NGX Rip Guide is the accessory you need when standard circular saw fences just won't cut it. Its tool-free fit system ensures the majority of circular saws will work with it, the 24-inch capacity covers the majority of cuts in sheet goods, and the ability to make micro adjustments means many users can forgo the cost and space required for a table saw or track saw.
Price: $79.99
For more information, click here.
---
WINNER – Metal Drill Bits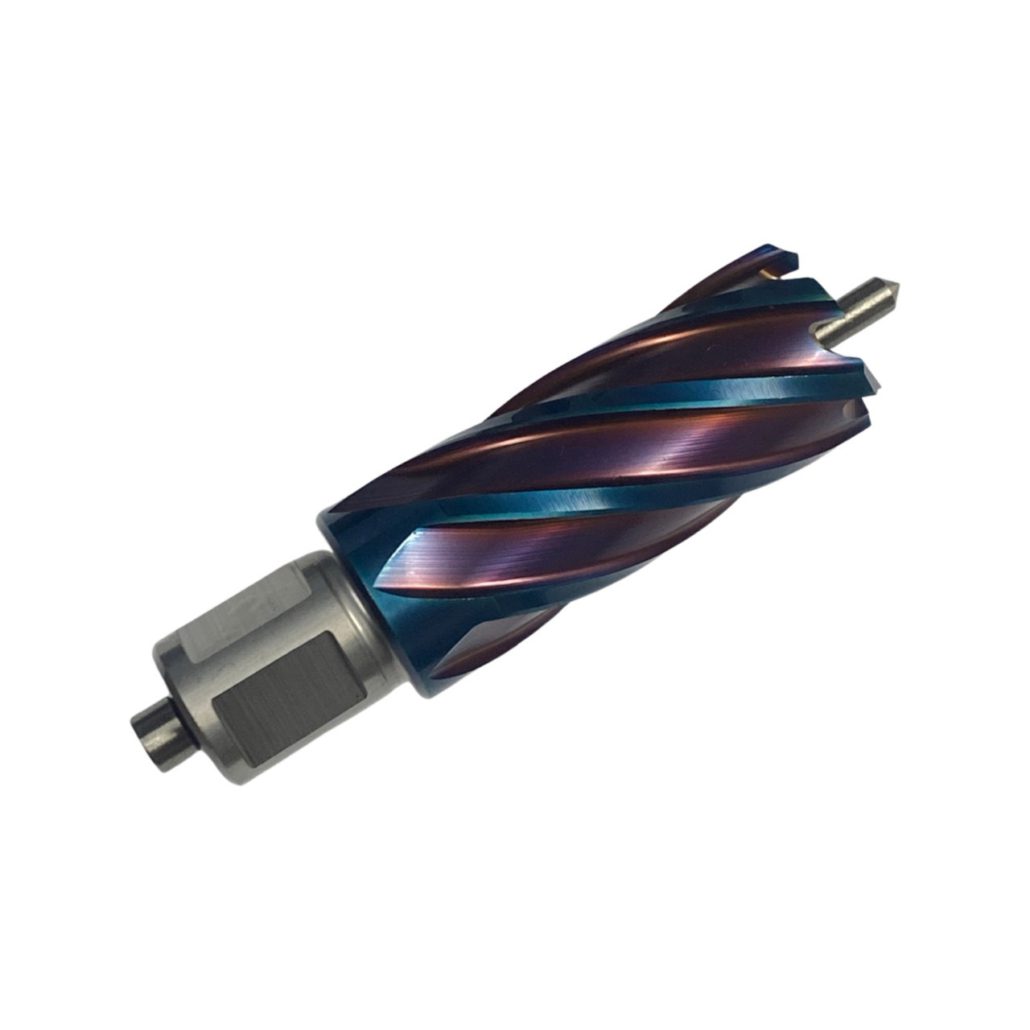 Drill America nACo (Nano-Composite) Blue Coated Annular Cutters (ANC Line)
What they said:
Drill America Annular Cutters (Also called magnetic drills or mag drills) are made from m2 High Speed Steel, Blue coated in nACo Nano-Composite coating
nACo Nano Coating offers extra protection against tool wear and high heat
nACo Nano-Composite Blue coating increases tool life 30% (or greater) compared to traditional HSS annular cutters
Cuts through difficult materials, including steel, cast iron, heated and stainless steels
Cuts only necessary material for fast, efficient, quality hole making
3/4″ Weldon Shank fits most magnetic drill presses
All Drill America Annular Cutters – Come standard with pilot pin
Sizes run from 7/16″ up to 2-1/16″
Available in 1″, 2″ and 3″ Depths of Cut
What we say:
When you're using a mag drill, high speed steel is a good way to go, but you can do better. Drill America's nACo-coated annular cutters can increase the life of the cutter by 30%, and even more if you're using discount cutters. The coasting, which appears blue, resists wear and heat build up better than HSS blends alone. At the same time, it's still capable of cutting through some of the toughest materials, including cast iron and stainless steel. You get the performance you need with a longer cutter life that saves you money over the long run.
Price: $55.92 – $420.45
For more information, click here.
---
WINNER – Drill Guides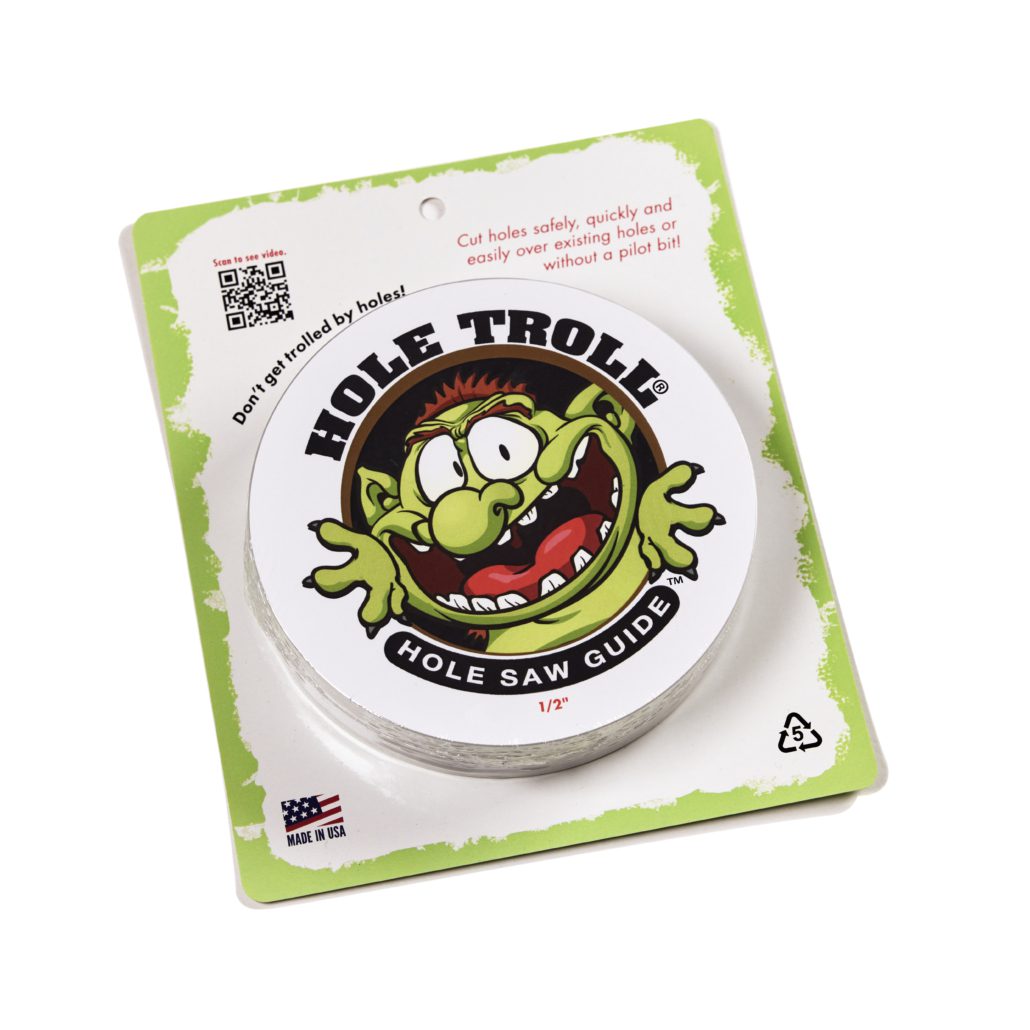 Visa Tools LLC Hole Troll
What they said:
The Hole Troll solves significant profitability and productivity issues for builders and construction professionals by enabling them to quickly center and use hole saws over existing holes, or in scenarios when a pilot bit is missing, broken or undesired. This solution can save valuable downtime spent on workarounds and tool repairs, materials waste and damage, and injuries and related costs.
The Hole Troll is different from existing tools for enlarging pre-existing holes or enabling pilotless hole saws: 1. It is a recyclable consumable; 2. It can work on a variety of surfaces; 3. It can work with many hole saw types and sizes; 4. It enables quick, visual centering of a hole; 4. It can work without or with a bit; 5. It is portable; 6. It has a low per-unit cost; and 7. It is made in the USA by Americans.
Common workarounds for enlarging existing holes exist, including bridging/splinting the hole; cutting, drilling, and gluing a core inside the hole; fabricating a guide plate; and routering the hole. More unconventional methods for enlarging holes include using reciprocating saws, rotary cutters, torches, or manual stabilization of the hole saw. These can all be time consuming, may require additional tools or materials, or potentiate risks.
Solutions for missing pilot bits are limited to fabricated guide plates; else, it is a trip to the store for replacement bits or a new hole saw assembly if the arbor is not serviceable.
Contractors are bound to timelines and budgets. Agreement terms do not bend to accommodate injuries and related expenses, and workers comp, medical bills, liability insurance and absenteeism can tank profits. Construction labor is a top-10 occupation for reported injuries and illnesses (DOL, BLS). As many as 10 percent of workers may be expected to be injured on the job (BLS), and injured workers are out for 30 days on average (DOL, BLS). Materials prices are escalating, as much as 230 percent year-over-year for lumber. Labor rates are up. Workplace injuries have been an issue.
Construction businesses that work safely, productively and cost-effectively have an advantage. Keeping workers safe and on the job has never been more important. The Hole Troll is our simple and humble attempt at better enabling existing tools and their users for the best possible results.
(More at www.theholetroll.com)
What we say:
The Hole Troll is a brilliant product to keep in your toolbox that can help you enlarge existing holes with far less frustration. Center the guide over the hole, fasten it in place (nails, screws, hot glue, and other options all work), line up your hole saw with the groove you need to cut, and pull the trigger. There's no need for a pilot bit—the Hole Troll keeps you in line and stable. With a 6-pack costing just under $20, there's no reason not to have the Trolls working on your side for once.
Price: $19.99
For more information, click here.
---
WINNER – Drilling
Spyder Products Mach-Blue Goo Cutting Tool Lubricant
What they said:
Spyder's Mach-Blue Goo is a high-performance metal cutting lubricant that extends tool and bit life in tough metal-working operations. Apply it to the work surface or directly onto a cutting tool to drill up to 5X more holes and up to 2X faster than dry drilling. Unlike cutting oils that drip and run, Mach-Blue Goo is a thick paste that doesn't drip, and clings to vertical and overhead surfaces for superior lubrication and heat reduction. The water-based formula is non-toxic and is easy to clean-up with a shop towel. Mach-Blue Goo is ideal for drilling, tapping, sawing, milling, threading, engraving, punch press work and more, and can be diluted or sprayed for increase versatility. The lubricant is a must to avoid work hardening of stainless steel during drilling and also works great on steel, aluminum, high-carbon, nickel-chrome, heat treated steels and a wide range of exotic alloys. Save your expensive bits with Spyder's made-in-the-USA Mach-Blue Goo.
What we say:
Spyder has been making waves with its Mach-Blue power tools accessories for years and now, they're introducing a lubricant to complement them. Mach-Blue Goo is specifically formulated to improve your metal-drilling with some 5 times more holes per bit and twice the drilling speed than you get from dry drilling. The thick formula doesn't't go everywhere like oil does, and is great when you're drilling on vertical or overhead surfaces. It's non-toxic, water-based, and works no matter which brand of bit you're using. At less than $10, it's a low-risk trial that will leave you coming back for more.
M
Price: $9.98
For more information, click here.
---
WINNER – Drills/Drivers Attachments
Simpson Strong-Tie Timber Drive Structural Fastening System F-Q-TMBRDRV23
What they said:
The Simpson Strong-Tie® Timber Drive™ structural fastening system is a revolutionary tool for standup operation while driving large structural screws. It is the first semi-automated tool for this application. Timber Drive is ideal for heavy-duty jobs that require repetitive fastening, such as decks, docks, boardwalks, piers and flooring. The ergonomic design of Timber Drive makes it a faster, easier way to work — with less fatigue on knees, back and shoulders. The Timber Drive Solution includes:
Timber Drive Structural Wood Attachment with built-in positive placement nosepiece
Protective carrying case
Adjustment thumbscrews
Allen wrench
The Timber Drive features an adjustable countersink for customizing the countersink depth setting for any job, and the nosepiece can be configured for face fastening in wood-to-wood applications or positive placement for connector fastening.
Features
Timber Drive can be used with corded or cordless motors
Works with structural screws in a wide variety of fastener diameters, thread types, heads and lengths up to 6 ¼"
No special certification is required to operate Timber Drive systems
Built-in extension for ergonomic, stand-up screw driving
Fastener length adjustment (for 3" to 6 ¼" screws)
Fastener diameter adjustment (#10 – #12, #14 – 0.315", 0.316" – 0.394" shanks)
Expanded countersink depth settings for high-density flooring materials
Configurable nosepiece: Flat bracket for wood surfaces or positive placement nose piece that locates connector holes when fastening metal straps to wood, engineered wood or mass timber panels
Patent-pending gravity-feed mechanism allows you to load screws quickly and easily
What we say:
Simpson Strong-Tie has had back-saving collated screw fastening systems for a while, but the Timber Drive takes them to a whole new level. Specifically designed to handle longer, thicker, structural screws, you're no longer limited to the slow process of driving with a standard drill or impact driver. Thanks to Simpson, you can get the natural look and strength of timber building with far greater efficiency and convenience than ever before.
Price: TBA
For more information, click here.
Finalist
---
WINNER – Driver Bits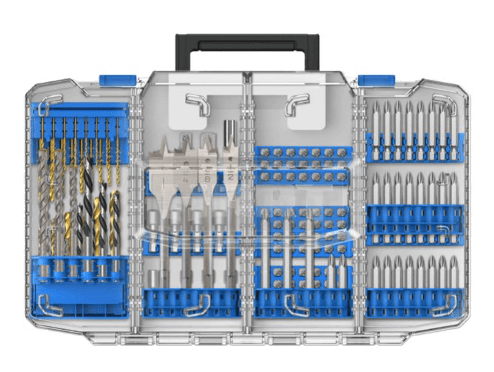 HART 175 PC Multi Material Drill & Drive Bit Value Set HADVMC175
What they said:
Looking for the best value, feature set, and assortment in your drilling and driving bits? Look no further than the new HART 175 Piece Multi Material Drill & Drive Bit Value Set. This set not only includes the ultimate assortment of drill bits, drive bits, bit holders, socket adaptors, and so much more, but also includes best in class features in storage, bit removal, and ease of use.
This 175 Piece Value Set comes inside HART's new modular case design that features: improved bit retention, easy bit removal, transparent lids for ease of use, sliding locks, and a nestable design making it easy to store your many power tool accessory cases all together. With these modular cases, you can easily customize your case by easily moving around the bit bars to different locations inside the case, or from other power tool accessory sets to combine your most used accessories.
The 175 piece set is also top of the market in terms of value. At it's $29.98 retail and 175 pieces included -that's only $0.17 per bit, which is half the cost of other leading power tool accessory brands. This set includes (23) of HART's Titanium drill bits which feature a 135° split point tip leading to 4x faster drilling, and a titanium coating which reduces heat for longer life. These bits can be used to drive into wood, metal, and PVC. The full set includes: (77) 1" Insert Bits, (42) 2" Driving Bits, (1) Magnetic Bit holder, (23) Titanium Drill Bits, (6) Masonry Bits, (4) Spade Bits, (7) Brad Point Bits, (10) Nut Drivers, (2) Socket Adaptors, and (3) 3-1/2" Drive Bits.
What we say:
HART accessories have always been a fantastic value, but now they're taking it a step further and adding greater convenience to the deal. The nesting design makes storage easier, and the ability to take bars out and move them to other boxes means you can set them up in whatever way is the most convenient for the way you like to work. Plus, the bits are easier to remove than before, giving your fingers a break. Of course, the sets are still a great value, with the 175-piece kit coming in for less than $30.
Price: $29.98
For more information, click here.
---
WINNER – Driver Bits Holders/Extenders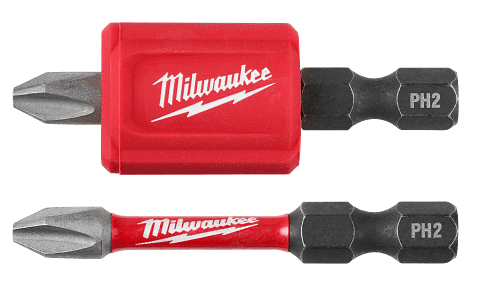 Milwaukee Tool SHOCKWAVE IMPACT DUTY Magnetic Attachment and PH2 Bit Set 3PC
What they said:
Milwaukee Tool introduces their new SHOCKWAVE Impact Duty™ Magnet Attachment Set for added holding strength for fasteners. The magnetizer features enhanced magnetization for driver bits to hold longer fasteners and increased control when driving screws into the material. The magnetizer is cross-compatible with other driver bit brands and the compact design allows for access in tight applications and visibility of the application.
What we say:
Tired of fasteners that fall away from your bits even though they're magnetized? Milwaukee's got your back. By slipping the Shockwave Impact Duty Magnetic Attachment over the bit you're using, you increase the overall holding strength, allowing those heavier fasteners to stay put while you get them started. 1 inch in length, the magnetizer is designed for bits 2 inches or longer and can work with any brand of bits you happen to have on hand.
Price: $6.97
For more information, click here.
---
WINNER – Impact-Rated Driver Bits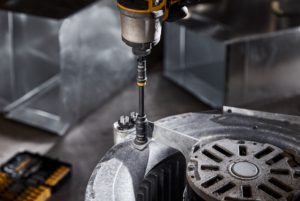 DEWALT FLEXTORQ 4-in-1 Double Ended Nut Driver DWADENDEXT-2
What they said:
Take on a wide variety of applications with the FLEXTORQ® 6 in. Double-Ended Nut Driver. Featuring a patent-pending onboard storage design, this accessory maximizes versatility and convenience with 4-in-1 functionality. Detachable sockets allow for the quick removal of metal shavings to help promote long life on tough jobs and the 6″ length allows access in hard-to-reach places. Every FLEXTORQ® nut driver is IMPACT READY® with a 1/4″ hex shank that stands up to the power of impact drivers.
What we say:
DeWalt is saving room in your tool bag with the FlexTorq 4-in-1 Double-Ended Nut Driver. A pair of double-ended nut drivers fit onto opposite ends of an impact-rated shaft in a way that ensures you have all four sizes (1/4″, 5/16″, 3/8″, and 7/16″) together and don't risk them rolling around to the dark reaches of your bag, never to be seen again. The design also makes it easy to clean out metal shavings, and its 1/4″ hex shank makes it impact-driver friendly.
Price: $19.99
For more information, click here.
---
WINNER – Dust Collection
Rockler Corp. Dust Right FlexiPort Power Tool Hose Kit with Click-Connect, 3′ to 12′ Expandable Hose
What they said:
Never before have you experienced an easier system for controlling the dust from handheld power tools. This kit offers all the features of our well-loved FlexiPort system, plus the Click-Connect feature for fast, easy switching of a single hose between multiple tools! Leave the included rubber Click-Connect FlexiPorts on your tools and switch the hose from port to port with a secure "click." The kit includes four FlexiPorts of varying diameters, plus the Click-Connect Hose Adapter, which threads into the included Expandable Hose (now in blue). The blue hose is lighter in weight than the older black hose, for less tendency to pull on your tools. Three of the four FlexiPorts have a clasp that you can ratchet down for a secure connection to the tool. Finally, a vent collar lets you adjust the suction level—perfect for reducing swirl marks when orbital sanding.
Details:
Click-Connect hose adapter and ports make it easy to move hose from tool to tool, leaving ports on the tools
Squeeze the side tabs on the hose adapter to release; just push to click in
Rubber FlexiPorts flex to fit dust outlets on a wide range of handheld power tools
Includes four swiveling FlexiPorts: 3/4" ID x 1-1/4" OD, 1" ID, 1-1/4" ID and 1-1⁄2" ID
Three largest ports have cinching plastic clamps to ensure a tight connection
FlexiPorts swivel to prevent tangling and have a molded elbow to help keep the hose off your work
Expandable Hose (now in blue) has been improved with reduced weight for less pulling on your tools
Stretch hose expands 4x its length to 12′ for a large working radius
Hose collapses down to just 3′ for compact storage on top of your shop vacuum
Click-Connect Hose Adapter features vent ring for regulating suction and hose tension
2-1/4" OD swiveling port attaches to standard shop vacuums, and the Dust Right® Dust Separator (#45556, sold separately)
Both hose fittings reverse thread into the hose for a secure, leak-free connection
Additional individual ports available separately to outfit all your tools
Benefits of the Click-Connect Feature:
If your handheld power tools range widely in size and shape, the Click-Connect system will be a welcome feature. FlexiPorts that are particularly hard to fit over the tool's dust port can be installed once and left for good. FlexiPorts that are on the looser side can be secured with the clasps and, again, left for good. You'll also be able to control suction with the vent collar. Additional Click-Connect FlexiPorts are available individually for outfitting additional tools with different port sizes.
What we say:
If you're like us, you've dropped more than a few curse words about the number of different vacuum ports your tools have. Rockler helps eliminate the frustration and make sharing a single vacuum more convenient with its Dust Right FlexiPort Click Connect system. Multiple sizes of hose adapter come in the set (additional singles available separately). Connect one to each of the tools you need dust collection on, and you're ready to easily move the hose from tool to tool with a simple click. Since the adapter stays on the tool, you don't have to stop and search for the right size every time you switch tools. Problem solved.
Price: $49.99
For more information, click here.
---
WINNER – Extractors
GripEdge Tools R.P.T. Socket Extractors
What they said:
GRIPEDGE – "ITS ALL ABOUT THE GRIP" – GRIPEDGE R.P.T. (Rounding Prevention Technology) Socket Extractors are designed to replace standard extraction sockets. The unique, patented, non-tapered & Bi-directional geometry enables complete contact with the fastener sidewall and is designed to grip up to 100% round Bolts, Nuts, Studs, Socket Cap screws, Button Head screws, Threaded Pipes, Lug Nuts and Grease Nipples. Compromised fasteners can be re-inserted in a pinch if a suitable replacement is not available. Each socket is formed from premium Cr-Mo steel for increased strength and durability as well as coated for increased corrosion resistance. All sockets have sizing details laser marked visibility and are hand and impact ready.
What we say:
When it comes to extractors, it's all about how damaged the fasteners can be and still be able to get them off. GripEdge's R.P.T. Socket Extractor design takes it to the ultimate level—bolts can be 100% rounded and these will still get them out. Better yet, they don't taper to grip, so you get more surface area biting into the fastener as you apply torque. The material composition is strong enough that you're welcome to hammer the extractors down onto problem fasteners without breaking them. The design is also bidirectional, allowing you to re-use damaged fasteners if you don't have a suitable replacement on hand.
Price: $169.99 – $241.99 per set
For more information, click here.
---
WINNER – Hole Saws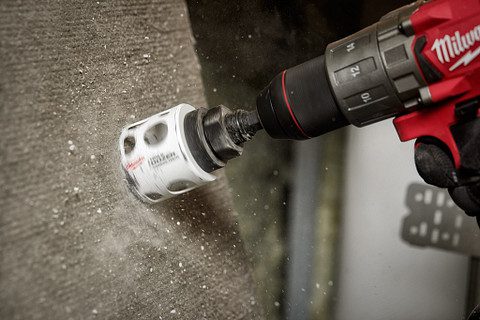 Milwaukee Tool Hole Dozer with Carbide Teeth Hole Saws
What they said:
Milwaukee Tool continues to deliver ground-breaking cutting solutions with the next generation of HOLE DOZER™ with Carbide Teeth Hole Saws. Featuring a new 3 TPI design, these hole saws are engineered to deliver faster cuts with the durability of a bi-metal saw and life of a carbide hole saw.
The HOLE DOZER™ with Carbide Teeth Hole Saws are designed to provide users with the best durability and longest life in both general purpose and extreme materials. Offering the most versatility, the carbide teeth provide the ability to cut through stainless steel, cast iron, fastener embedded wood, cement board, fiberglass, plaster, asphalt shingle and more with ease. Deep gullets clear material fast and all-access slots provide fastest plug removal, resulting in efficiency and productivity with less downtime between holes. The new slot design allows users increased pilot visibility for accurate placement and faster chip ejection keeping the cut cool. The new hole saws have a cutting depth of 1.62" allowing clearance to handle cuts in a wide range of materials.
The HOLE DOZER™ with Carbide Teeth Hole Saws will be available in sizes ranging from 3/4'' to 6'' and will be sold individually and in 9 and 12 piece kits. In addition to the new hole saws, a HOLE DOZER™ with Carbide Teeth Cobalt Pilot Bit and a small and large HOLE DOZER™ with Carbide Teeth Arbor W/ Cobalt Pilot Bit will also be available. Designed to give users up to 10X longer life vs standard pilot bits, these bits provide strength and durability on the toughest applications.
What we say:
Cobalt and carbide, oh my! Milwaukee made their carbide Hole Dozer even better with a tooth design that can cut through cast iron without ripping off teeth left and right. Add in available cobalt pilot bits, and you have one tough metal-cutting hole saw! Improvements in the slots also make getting the plug out easier, making the Hole Dozer the benchmark for metal-cutting hole saws that everyone else is chasing.
Price: $16.47 (based on the 1-3/4″)
For more information, click here.
---
WINNER – Rotary Tool
HART 95 PC TableTop Rotary Accessory Carousel Set HATTC95
What they said:
For the 2023 Holiday Season, HART is launching its new 95-Piece TableTop Rotary Accessory Carousel Set. Not only is this set a part of HART's new TableTop lineup of accessories that incorporate a stationary standing design with a clear plastic lid for easy viewing, but will also feature a carousel 360 ° style base so the user can easily pivot the 4 sides of the accessory case around for easy bit access.
On top of the innovative carousel design, this set also incorporates HART's new modular design for their accessory cases making each side customizable with removable bit bars.
This Rotary Accessory set includes 95 pieces that can remove material on PVC, wood, and metal. The accessories include a wide variety of bits, including cut off wheels, wire brushes and wheels, burrs, grinding stones, sanding bands, polishing wheels, and so much more that all add up to over a $150 value, at only a $20 retail. These accessories are all compatible with all HART Rotary tools as well as select other leading rotary tool brands.
What we say:
HART is stepping up their accessories game in a big way, this time in the rotary tool category. The clear, rotating 4-sided case makes for a convenient way to flip through your accessories and find what you're looking for. When it's time to take your talents on the road, flip out the bars and customize your accessory kit in one of HART's flat cases that travel more easily. HART doesn't abandon the value side of the equation, either—this 95-piece rotary tool accessory set is just $20.
Price: $20
For more information, click here.
---
WINNER – Router Bits
MICROJIG Lock Miter Bit MB-050-0750LM
What they said:
The MICROJIG FITFINDER Center Platform Lock Miter Bit is an innovative tool designed to make the lock miter joint easier and more precise for woodworkers. The lock miter joint is a strong and seamless right-angle joint used in various woodworking projects. However, it has been traditionally difficult to execute accurately, even for experienced craftsmen.
The Lock Miter Bit by MICROJIG distinguishes itself from existing products on the market in several key ways. First, it incorporates MICROJIG's Patent Pending Center Finding Platform, which enables quick and precise bit height adjustment. Unlike other products, this bit has a measuring point precision-milled into the body of the bit that corresponds exactly to the center of the joint profile. This eliminates the need for guesswork when setting the bit height and ensures consistent, high-quality results.
Combined with the FITFINDER 1/2 Gauge, this feature allows woodworkers to effortlessly find the halfway point of their stock up to three quarters of an inch in thickness. This means that setting the bit height perfectly the first time becomes seamless and eliminates the need for multiple test cuts, saving time and material.
The Lock Miter Bit also has a Router Collet Safety Line etched in, providing a visual indicator to ensure the bit is correctly inserted into the router collet. This thoughtful touch enhances safety by preventing any guesswork or mistakes during setup.
One of the most impressive features of the Lock Miter Bit is its ability to create a small slot within each groove, acting as a "glue well." This design allows excess glue to flow into the slot instead of blocking the joint, resulting in cleaner and stronger joints. Moreover, this unique feature reduces the reliance on clamps, making the assembly process more efficient.
The precise measurements provided by the Lock Miter Bit eliminate the need for trial and error, resulting in lower material costs. Woodworkers can achieve accurate results on the first attempt, reducing waste and increasing profitability.
The elimination of trial and error also saves time and effort for woodworkers. They can set up the Lock Miter Bit quickly and confidently, allowing them to focus more on fine-tuning their projects and enhancing their craftsmanship. This time-saving aspect enables woodworkers to take on more projects, leading to increased productivity and potentially higher revenue and profits.
Overall, the MICROJIG FITFINDER Lock Miter Bit revolutionizes the lock miter joint process by simplifying and streamlining the setup process. Woodworkers can achieve precision, safety, and innovation with this tool, as it eliminates the challenges associated with mastering the lock miter joint. Its exceptional features and capabilities make it a deserving candidate for recognition as a Pro Tool Innovation Award winner.
What we say:
We're big fans of products that make processes more efficient. When it comes to the complex lock miter joint, MicroJig takes a huge step forward in helping woodworkers add it to their list of competencies. From set up through completion, the Lock Miter Bit makes the lock miter joint process easier and reduces the potential for error, helping users grow in their confidence while saving money on material and improving productivity.
Price: $94.99
For more information, click here.
---
WINNER – Sanding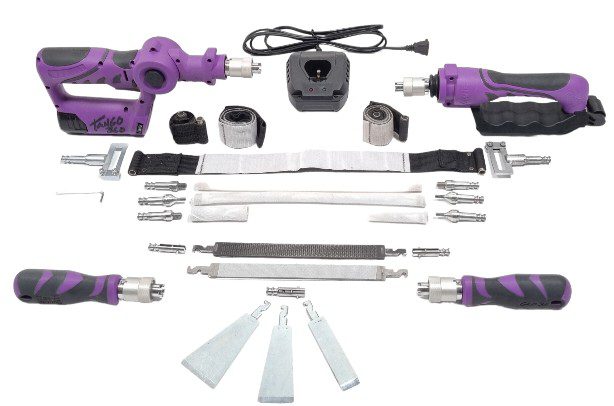 Davis Tool Systems DTS Sanding Suite Kit acsk001
What they said:
The Davis Tool Systems® suite of sanding accessories for use with the DTS Tango 360® Power Tool and Damping Handle and/or DTS Grip 360® manual utility handles.
The Davis Tool Systems® suite of sanding and abrading accessories is designed for use with the separately sold DTS Tango 360® Power Tool and Damping Handle and/or the DTS Grip 360® manual utility handle. It all connects with our patented DAVIS Connector, giving the user greater agility with ergonomic advantages by allowing the accessory to be held in fixed position, in relation to the handle, or to freely rotate. This extends the dexterity of the hand out through the tool for unparalleled control.
Furthermore, many of these accessories have connections to the handles on both ends. This allows the user to coordinate the work motion between two hands, leveraging both to manipulate the accessory in three dimensions with natural dexterity. Fatigue and frustration are greatly reduced as the user has greater to position the accessory in relation to the work object and apply pressure and motions precisely as needed—manually with one or two Grip 360® utility handles or at up to 3,000 strokes per minute of reciprocal action with the Tango 360® Power Tool and Damping Handle.
The accessories themselves are precision designed and manufactured to integrate with the DAVIS Connector for maximum productivity.
This means something as deceptively simple as a scraper can become amazingly nimble in fixed position or free rotation while remaining rugged enough to get the job done! Our scrapers are made of 3mm thick hardened steel for forceful action with delicate control. Like the other accessories described below, our scrapers are intended to be customized with self-adhesive, hook and loop tape to create useful abrading work surfaces with the user's choice of sanding sheet grits. Endless combinations of sheets of different grits can be applied to DTS accessories to optimize work efficiency.
An S-tang at one end of the rasp/sander combo keeps with the thickness of the rasp to it can slide through tight spaces, like between the slats of a wooden shudder encrusted with old paint, before it is connected with a precision-made slotted adapter at the distal end. Vintage shudders and other decorations can be efficiently stripped of old coatings for new life!
The array of robust strap, belt, profile and finger sanders allow the user to sand around objects such as banister posts on stairs and balconies without scaffolding or unsteady ladders. By leveraging a wide variety of 3rd party hook and loop abrasives and buffing mediums with DTS accessories, delicate chair backs and legs can be stripped of old coatings with relative ease or fine tune polished.
A robustly built hex key adapter opens the flexible DTS platform to further possibilities using third party hex-bit-based accessories with impressive torque.
These accessories have been chosen to introduce the DTS platform to doers and makers. More are currently in development.
What we say:
They say necessity is the mother of invention, and there's no better case to make for confirming that than the Davis Tool System Sanding Suite. It's capable of sanding in areas we'd never be able to reach with a power tool. Even when you want the control of hand sanding, the unique design reaches into areas in a way that makes it more efficient than other methods. Take a look at for yourself and just imagine the projects you've done that could have been much quicker and easier with the DTS!
Price: $459
For more information, click here.
---
WINNER – Stands, Tables, & Bases
BORA Tool Workhorse XT PM-3360
What they said:
The all-new BORA® Workhorse XT is built to undertake any task on the job site. Its durable steel construction is designed to withstand and thrive in rugged environments. With a heavy-duty weight capacity of 2800 lbs. per pair, over 200 lbs. per pair more than leading competitors, this sturdy sawhorse is reliable for any project. Increase efficiency and reduce back strain with the intuitive slide and lock leg adjustment, which increases the working height from 30 inches to 34 inches. Use the pre-drilled end brackets and top beam to create a sacrificial top and attach 2×4 material to connect two Workhorse XTs and create a strong, sturdy workstation. Its quick setup is easy and faster than conventional sawhorses. Plus, the built-in bottle opener on the Workhorse end bracket is perfect for a treat after a long day.
What we say:
Bora's Workhorse XT is a fantastic work horse to have around your shop or jobsite. The capacity is a beastly 2700 pounds per pair. Combined with a simple design to frame out the top with 2x4s, there's not much you can't park on top. Since the legs have adjustable heights, uneven ground won't stop you, either. Plus, the drop-down, folding legs are easy to set up and tear down.
Price: $49.99 each
For more information, click here.
---
WINNER – Step Bits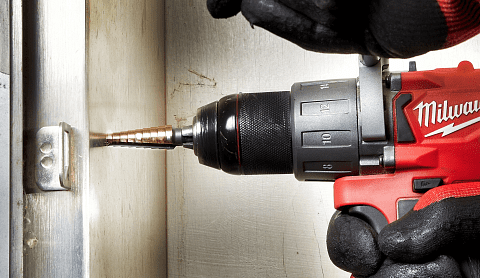 Milwaukee Tool Cobalt Step Drill Bits
What they said:
Milwaukee Tool is now a full solution provider for step drill bits with the introduction of their new Cobalt Step Bits. Made in the USA, the Milwaukee® Cobalt Step Drill Bits are designed from the ground up to deliver unmatched performance with up to 15X life in stainless steel and over 1,000 holes in mild steel.
The Cobalt Step Bits feature an elongated dual flute offering, best heat management, and smaller steps to provide the smoothest drilling experience. The Rapid Strike™ Tip delivers up to 2X faster holes in stainless. Optimized for Cordless Drills, the 3-Flat Secure-Grip™ reduces bit slippage. The Laser Engraved reference marks allow users to easily stop on any size. The bits provide best-in-class performance when used on low speeds and with cutting fluid for stainless steel and high speeds for mild steel. For optimal use, the bits are recommended for mild and stainless steel up to 14ga thickness.
What we say:
Milwaukee has been on a tear with its step-bit development the last few years. Their latest introduces cobalt, but it's not just a matter of making a cobalt step bit with much longer life. With the bit's pair of elongated flutes and smaller steps, the creation of the hole size you're after is smoother. Milwaukee's Rapid Strike Tip also gets the hole started more quickly and accurately, reducing the number of mistakes and rework.
Price: $49.97 (based on the 13-step 1/8-1/2")
For more information, click here.
---
WINNER – Track Rail
BORA Tool NGX Saw Plate RT 546001
What they said:
The BORA® NGX Saw Plate RT incorporates revolutionary new technology that offers quick, tool-free saw mounting and helps make sure every cut is clean and smooth. Compatible with the BORA® NGX & WTX Clamp Edges™, the saw plate's new intuitive, easy-to-use design fits both left and right-handed saws and is adjustable to fit most circular saws. Simply connect the saw plate to the clamp edge using the accurate t-track connector and snap in a circular saw. Align the circular saw's built-in indicator with the saw plate's cut line and make perfect cuts every time.
What we say:
Bora's NGX and WTX Clamp Edges are a great way to set up accurate cuts for your circular saw. With the NGX Saw Plate, you can take it to a more accurate level by making those Clamp Edges a rail system. The Saw Plate offers a near-universal tool-free fit, so almost any circular saw you own will mount on it, corded or cordless. Once installed, you can easily glide your saw across long cuts, eliminating the wandering that sometimes occurs. For many people, the accuracy is at a level that you won't need to invest in a table saw or track saw.
Price: $44.99
For more information, click here.
---

WINNER – Construction Adhesives
Hilti HIT-FP 700 R Adhesive Anchor
What they said:
HIT-FP 700 R, the industry's first fire-resistant injectable adhesive anchor for rebar connections, now offers a simpler post-installed solution for concrete-to-concrete connections to help support engineers and contractors build safer fire-rated structures.
Adding more efficiency and increased structural safety, the HIT-FP 700 R is the FIRST fire-resistant adhesive anchor of its kind. Similar to cast-in anchors, this solution is easier to install, doesn't compromise building integrity under high temperatures, helps ensure code-compliance, and supports rebar design for structural connections. In addition to simplified installation, using the HIT-FP 700 R with existing longer-lasting, higher-performing installation, you can help minimize waste and gain more cost efficiency by existing Hilti adhesive dispensers, especially those powered by our performing batteries on the Nuron all-on-one cordless platform. A fire-resistant adhesive anchor with superior bond strength at temperatures up to 932°F, the HIT-FP 700 R Adhesive anchor is a better solution for fire-resistant concrete-to-concrete connections.
What we say:
Until Hilti's HIT-FP 700 R Adhesive Anchor, you were out of luck if you wanted an injectable fire-resistant adhesive anchor approved for rebar connections. Now it's here, and your crew can enjoy the efficiency gains from easier installation that meets codes. Since it's coming from Hilti, you can be confident the adhesive is going to hold up when things get heated.
Price: $92
For more information, click here.
---
WINNER – General Adhesives
DAP All-Purpose Adhesive & Filler
What they said:
An all-in-one total project solution, DAP All-Purpose Adhesive & Filler is formulated to build, bond and repair for many exterior home projects. From patching brick walls, mending concrete or stone walkway and concrete stair cracks to repairing rotted wood and adhering underwater ceramic pool tiles, the new All-Purpose Adhesive & Filler 3 in 1 is a true multi-purpose adhesive and filler solution every professional needs in their toolbox. The moldable formula has an extended working time of 20 minutes to recreate and perfect any broken corners with ease. It adheres to porous and non-porous surfaces such as brick, stone, concrete, wood, uncoated metal, mortar, fiber cement, stucco and most common building materials. The fully cured material provides a final strength of 12,000 PSI per ASTM D695. The 3-in-1 filler is waterproof and can be mechanically sanded and painted.
What we say:
DAP is making your product selection easier with its All-Purpose Adhesive & Filler. Rather than staring at an unending list of options, if you need to patch or fill nearly any construction material, DAP has it covered with one product. Boasting a 12,000 PSI cure strength, this sandable and paintable solution can handle a ton of different applications.
Price: $26.98
For more information, click here.
---
WINNER – Caulk/Sealants
DAP Concrete Crack Filler
What they said:
DAP Concrete Crack Filler features an easy-to-use dry formula that tackles horizontal cracks, whether driveways, basements, walkways, patios or garage floors, in just one pass. Professionals will find the water-activated solution provides a durable, seamless, and excellent color-matched repair that won't shrink, crack or fade over time. Unlike most traditional concrete fillers that are liquid, messy and require shaking before application, DAP's Concrete Crack Filler is precise and simple to use with three easy steps; pour, level and mist. Light traffic ready in 4 hours and rain-ready in just 24 hours, Concrete Crack Filler is weather and UV resistant, so it won't peel or discolor with time.
What we say:
Filling concrete cracks doesn't have to be a pain. With DAP's Concrete Crack Filler, all you have to do is pour it in, level it out, and hit it with a misting of water. There's no mixing or even bottle shaking to worry about. It's a one and done solution that offers Pros the results they demand with a simplicity that DIYers can easily tackle themselves.
Price: $10.98
For more information, click here.
---
Grip-Rite Ninja Hidden Deck Clip
What they said:
The Grip-Rite® Ninja™ Hidden Deck Clip is your time-saving solution for grooved deck board installation. Take the guesswork out of deck board spacing with one clip. No more frustration with clips falling out of the groove and onto the ground. The compression fit levers hold the clip in position and evenly space the deck boards making installation quick and easy.
Simply insert the clips into the board at each joist, slide the next deck board in place, and fasten the PrimeGuard Max-coated stainless-steel screws. The serrated razor teeth grab the board on either side to ensure a secure hold…and the innovative Flex-Fit universal clip design means you can create straight, diagonal or herringbone patterns using a single style clip.
You'll get the job done right in less time with a beautiful, long-lasting finish, thanks to the innovative new Grip-Rite Ninja Hidden Deck Clip!
Features & Benefits:
The Grip-Rite Ninja Hidden Deck Clip is the time-saving solution for grooved deck boards
Includes a pre-assembled compression fit Grip-Bite™ clip with stainless steel screws
One-pass fast and easy installation with a compression fit lever Grip-Bite™ serrated teeth firmly lock deck boards into place
Marine grade Stainless steel resists corrosion and exposure to the elements
The hidden deck clip takes the guesswork out of deck spacing, perfectly connecting grooved deck boards for a seamless deck appearance
Flex-Fit™ universal design can be used with PVC or composite grooved deck boards for a variety of deck patterns including straight, diagonal, and herringbone
For use with Wolf, TREX, and Fiberon grooved deck boards
Backed by a limited lifetime warranty.
What we say:
Using clips to get consistent spacing and screwdriving makes for outstanding deck building results. The big headache is that they don't always stay where you put them. That's where the Grip-Rite Ninja Hidden Deck Clips come in. By gripping the grooves, they stay exactly where you put them, speeding up your installation and saving you a ton of time. You're not limited to a basic installation, though. Whether you want a straight, diagonal, or herringbone pattern, Ninja Hidden Deck Clips help you get the install done right.
Price: $49.99 – $399.99 (based on package count)
For more information, click here.
---
WINNER – Nails
BECK America Diamond Coated Framing Nails
What they said:
We have just brought our patented diamond coat adhesive technology to traditional framing applications with a 3" x .131 bright basic framing nail. This code approved fastener is specifically designed to improve efficiency, reduce compressor air pressure output, and enhance performance when driving nails into engineered lumbers, while creating the best holding values possible. They come in strip and coil versions to work with almost any nailer – including our wide variety of FASCO® (a BECK member) nailers.
Here's what sets our product apart from the competition:
1. Diamond Coating with Adhesive: Our framing nails now feature our patented diamond coating adhesive. This drastically reduces the amount of energy required to drive the nails into engineered lumbers, making your work more efficient and effortless.
2. Increased Holding Power: The diamond coating dramatically enhances the holding power of our nails. This means that your structures will be more secure and resilient, giving you and your clients peace of mind.
3. Code Approval: These 3 x.131 nails are covered by ESR-1539 and compliant with the most current standard IBC and UBC.
What we say:
Modern materials have made buildings stronger than ever, but they've also presented some challenges in the construction process. When it comes to framing with engineered lumber, it's harder for nailers to fully drive. When you have multiple guns on one compressor working right at the edge of its capacity, you better have your framing hammer handy to pound down the proud nails. That's more hassle than you should have to deal with. Loading BECK Diamond Coated Framing Nails in your nailer means you can drive them significantly easier than standard nails. Better yet, the diamond coating offers a much stronger hold on the material, and they're code approved. What's not to love?
Price: Varies
For more information, click here.
---
WINNER – Structural Screws
Hillman Group Power Pro Structural Lag Screws
What they said:
Power Pro Structural Lag Screws are engineered for speed, low energy consumption, strength, and durability. The new and innovative building code approved structural screw outperforms other fasteners. The patented screw design offers features that are unmatched in the category and set a new benchmark for performance. This general purpose structural fastener is designed for wood-to-wood construction and is ideal for a variety of indoor and outdoor projects from framing to deck ledger and post attachments. Structural Lags require no pre-drilling and are ICC Building Code Approved. They can be used in place of standard hex lag screws and have much faster installation vs. standard lag screws. Structural Lags have an innovative thread design that provides 30% faster installation vs. competitive screws and allows users to drive more screws per battery charge. The dome head allows for low-clearance applications and has countersinking underhead nibs that lock into wood for a secure hold. The diamond shank helps reduce drive torque and friction. The durable epoxy coating provides 4 layers of corrosion protection and is AC257 treated lumber certified. Structural Lag Screws have grade 5 strength for durability.
What we say:
Kiss lag screws goodbye for good! With Hillman's Power Pro Structural Lag Screws, you have a code-approved fastener that installs faster on two fronts. For one, they don't require you to pre-drill a pilot hole, eliminating an entire step of the process. Secondly, they drive in faster than competing designs, helping you work faster and make the most of your power tool's battery. For high-strength wood-to-wood construction, Power Pro Structural Lag Screws are simply a better way to make the connection.
Price: Varies
For more information, click here.
---
WINNER – Metal Screws
Hillman Group Power Pro Metal Lath Screw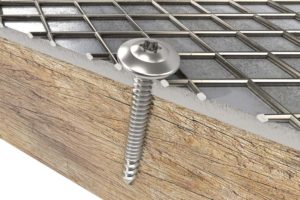 What they said:
Premium Power Pro Lath Screws are the first star driven lath screw available in the retail market. Lath screws are used to attach lath or metal to wood or metal substrates. Engineered for optimum performance in wood or metal for faster, easier driving with stronger pullout ratings. The innovative new fastener requires no pre-drilling and fastens metal and wood with a unique Micro-Bit® tip design. The single tip eliminates the need for separate self-drilling and self-piercing point screws needed to penetrate metal up to 18 gauge thick. The star drive and included Pro-Stik® 2" star drive bit provide stable driving and prevent cam-out. The wide, low-profile head is ideal for applications such as stucco/plaster, metal brackets to framing, and other general applications. The Micro-Bit® point prevents point walking, and quickly penetrates wood and up to 18-gauge metal. The exterior coating consists of a zinc layer with a clear top sealant that is recommended for exterior projects and treated lumber. This new design replaces commodity lath screws that typically have a standard Phillips drive recess that is prone to bit stripping & slipping. Power Pro Lath Screws are available in innovative reusable, reclosable, and stackable plastic packages.
What we say:
If you spend time connecting lath or metal using standard lath screws, you feel the pain with every camout. The Hillman Group is dealing with that headache by introducing the first star-drive heads on their Power Pro Metal Lath Screws. That alone brings a sigh of relief, but that's not all there is. The screws' Micro-Bit tip design offers accurate self-starting in wood or metal with no need to pre-drill holes. Plus, the zinc layer and top sealant make these appropriate for interior or exterior applications, including fastening pressure-treated wood.
Price: Varies
For more information, click here.
WINNER – Wood Screws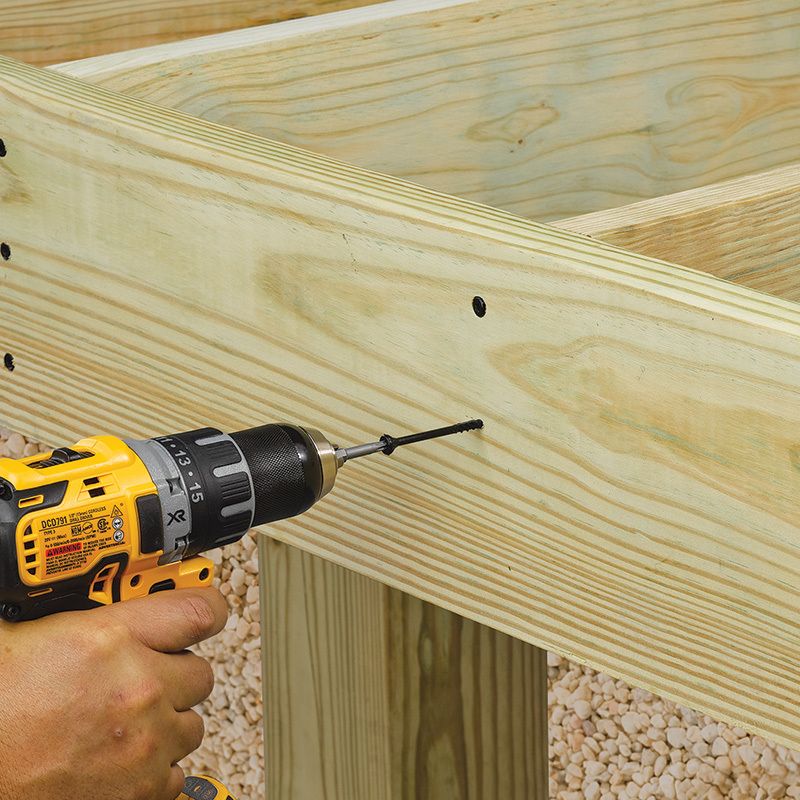 FastenMaster MVP Multipurpose Fastener
What they said:
MVP features FastenMaster's exclusive double-lead SureStart™ point for a fast start, and the TORX® ttap® drive system for stable, wobble-free installation. The fastener also features a durable ProjectLife™ Coating that delivers superior corrosion protection for the life of the project and a SureSink™ Head that countersinks into the wood without compromising clamping force. Many of FastenMaster's PRO customers require a multi-purpose fastener on their projects for framing, bracing, etc., and the MVP Fastener with its patented features and productivity benefits can deliver real value to the PROs. MVP fasteners are available in six sizes from 1½- through 4-inches in half-inch increments, and come packaged in small packs of 100, project packs of 250 to 500 depending on the length, and in bulk quantities of 1,250 to 2,000 fasteners depending on the length. A free TORX® bit is provided in every box. And, as with all FastenMaster structural products, MVP is IBC/IRC code compliant with design values available for applications where required.
What we say:
You might think too much about the design of your wood screws, but the folks at FastenMaster certainly do. The MVP multipurpose screw starts with a fine thread tip before quickly evolving into a coarse thread pattern and finished with a strong grip section. The combination give you a fast, accurate start followed by a stable driving through the end that holds tight, even if you're countersinking the screw. Topped off with a Torx ttap head and outstanding corrosion resistance, FastenMaster certainly named the MVP well.
Price: Varies
For more information, click here.
---
WINNER – Specialty
Hillman Group Power Pro ONE Multi-Material
What they said:
Developed to outperform and replace standard wood screws, sheet metal screws, and concrete/masonry screws with a single, innovative, new engineered fastener design. Eliminate the confusion when trying to decide which screw to use. The One Screw program simplifies your tool box by using a single screw design to satisfy projects that fasten into wood, metal, concrete, drywall, and plastic. Engineered for optimum performance in multiple materials, Power Pro One™ Screws are the One Screw you'll ever need! Power Pro One® Multi-Material Screw Advantages Drives fast and easy High quality and performance in multi-materials Finishes for all projects: interior or exterior No pre-drilling in wood, drywall, plastic, and metal up to 20 gauge thick (pre-drilling required for concrete and masonry applications) Head styles and sizes available to cover the most common wood, metal, and masonry projects Available in zinc plating for interior jobs, and a bronze epoxy coating for exterior projects and treated lumber. Innovative packaging: reclosable, reusable, stackable Patented design Lifetime guarantee
What we say:
Why keep multiple types of screws in your toolbox? Because fastening wood is different from fastening metal, which is different from driving in concrete. Until now. Hillman's Power Pro One Multi-Material Screws work in wood, metal, concrete, plastic, and drywall. They don't just kinda work—they're specifically engineered to work great in all of those materials. It's the One screw to rule them all.
Price: Varies
For more information, click here.
---
WINNER – Straps, Ties, & Brackets
RailFX Express Mount Brackets
What they said:
Express Mount Brackets Cut Time and Cost in Half A new, patent-pending product from RailFX, the innovative Express Mount Bracket makes it easier and faster to install cable railing. By eliminating the need to drill holes in deck posts, they can cut the amount of time required to install cable railing in half, while also significantly reducing material costs. The brackets simply mount to the outside of each deck post, delivering a unique "floating cable" appearance. The new universal drilling template makes installation easy, without specialty tools or training. For contractors who are paid upon completion of a project, RailFX Express Mount Brackets offer a solution to finish jobs and quickly move onto the next job.
Web page: https://www.railfx.net/express-mount-brackets/ Video: https://youtu.be/HmGG0p2I714
What we say:
Traditional cable rail systems look great, but they require a complex process of drilling through posts and can be a pain to get perfect-looking results. The RailFX Express Mount Brackets take so much of the headache out of the process, that it's very approachable, even for DIYers who have never installed a cable rail system. Using a drilling template, you can easily ensure each bracket installs at exactly the right height. They screw directly into the side of the post, so there's no need to drill through them. The hardware installs on the outside of the posts, leaving your view from the inside as one that reveals the look of cable without the hardware.
Price: Varies
For more information, click here.
Finalist
---