This year's award-winning automotive tools and metalworking tools really topped anything we've seen to-date. New ratchets, tool sets, storage solutions, and other products really paved the way for innovation. No matter if you work in the automotive or metal fabrication industry, you should find something here that grabs your attention.
If you work with vehicles, metal, or any related field, the tools given a 2023 Pro Tool Innovation Award in the automotive and metalworking category should present possibilities, potential, and improved workflow opportunities for anyone in the trades. Check out the leading innovators in the 2023 Automotive and Metalworking Tools Awards category.
WINNER – Accessories, Abrasives
DEWALT Elite Flap Disc DWA8280
What they said:
Quickly remove material with DEWALT ELITE SERIES™ Flap Discs. Designed with ceramic grains and premium cloth, these top-of-the-line accessories deliver aggressive grinding action and long life in extreme applications.
DEWALT ELITE SERIES™ Flap Discs last up to 75% longer than Norton flap discs.
What we say:
DeWalt's Elite Series grinder accessories have been setting a higher standard for performance and longevity. Both are evident in the Elite Flap Disc with ceramic grains that facilitate fast material removal and a premium backing cloth that holds onto the grains longer than competing options.
Price: $8.32
For more information, click here.
---
Winner – Cordless Band Saws
FLEX 24V 5" Deep Cut Band Saw
What they said:
Power through large PVC pipe, angle iron, and up to 4-inch black iron pipe with the FLEX 24V 5" Deep Cut Band Saw. This powerful cordless band saw features a high-power brushless motor that provides fast cutting speeds along with a lightweight magnesium housing for maximum durability. Its tool-free quick adjustment shoe allows fast adjustments for flush cuts and a speed dial with variable speed trigger provides multiple speed options at your fingertips. An LED light illuminates dark work areas, and a rafter hook allows quick and easy storage from ladders, struts, and FLEX STACK PACK™ rack rails between cuts.
What we say:
Flex makes your portable band saw applications more efficient and convenient with a pair of options that operate on their 24V battery platform. The deep cut model gives you a generous 5-inch opening, while a strong brushless motor pairs with a variable speed dial to keep the blade melting through a wide range of materials. Tool-free shoe adjustments and a lightweight magnesium housing are highlights of the design. Plus, Flex's Stacked Lithium batteries open up high capacity, improved power, and fast charger with a longer life.
Price: $319.99
For more information, click here.
---
Winner – Bandfile
Milwaukee Tool M12 FUEL 1/2" X 18" Bandfile
What they said:
Milwaukee Tool continues to bring cordless innovation to the automotive market with industry-focused solutions that increase user productivity and control while providing pneumatic-like performance. Available in both 18" and 13" sizes, the new M12 FUEL™ Bandfiles deliver the fastest spot removal, unmatched control, and greater mobility and access in application, delivering increased efficiency and accuracy on the job.
Milwaukee's new bandfiles provide professional automotive technicians with the fastest spot weld removal on the market, driving increased productivity and improved performance on the job. Harnessing the power of M12 FUEL ™ technology, these bandfiles deliver a best-in-class material removal rate and are resistant to belt slip, offering a pneumatic performance without the hassle of hoses, cords, or routine tool maintenance.
When equipped with an M12 REDLITHIUM™ XC 4.0 battery, users can remove up to 50 spot welds using the 18" bandfile and up to 40 spot welds with the 13" bandfile on a single charge.
The new M12 FUEL™ Bandfiles provide professional users with unmatched control and deliver greater mobility on the job, eliminating the limitations of pneumatic solutions. Revolutionary forward and reverse functionality provides users greater versatility while lock-on capability improves ease of use, minimizing energy exerted in repetitive applications. With a user-focused design and advanced ergonomics, the M12 FUEL™ Bandfiles are equipped with a 360-degree tool-free arm rotation to improve access and precision in hard-to-reach applications as well as quick access belt change capability for additional ease of use. Offering an unmatched feature set, including a variable speed trigger and LED lights, and delivering the power of pneumatic, this bandfile eliminates the need for compressors and hoses.
The new M12 FUEL™ Bandfiles join the M12™ Cordless System, the largest sub-compact system on the market, focused on delivering industry-leading durability and power in the tightest spaces. Currently the M12™ System is made up of more than 125 solutions.
What we say:
Milwaukee is offering a legitimate way for auto body techs to shift from pneumatic to cordless/hoseless bandfiles while gaining new features that make them more versatile. By keeping the tool on the M12 platform, the overall size and weight of the tool is lower, closer to what you're used to from pneumatic models. The end results is a bandfile that's more convenient and more effective than the ones Milwaukee is displacing. With the time you'll save in setup and maintenance, and the higher productivity you'll enjoy, you won't every want to connect a hose again.
Price: $249
For more information, click here.
---
Winner – Diagnostics
Innova Electronics Pro Smart Diagnostic System Tablets with RepairSolutionsPRO
What they said:
Introducing a new line of OE-level professional Smart Diagnostic System (SDS) Tablets with RepairSolutionsPRO™ from Innova.
We're not just introducing another scan tool, but a total solution designed specifically for professional automotive repair use. The tablets were created with input from ASE Certified technicians, automotive repair students, longtime Innova customers and insight from shop visits with a goal to revolutionize the diagnostic process with increased accuracy and efficiency.
The SDS43 and SDS50 are the only affordable OE-level tablets on the market that don't rely on the Android platform–dramatically improving their performance and speed. Each tablet works on all 1996 to current model vehicles, including battery electric vehicles (BEV), hybrid electric vehicles (HEV) and plug-in hybrids (PHEV), to make it easier to efficiently find and fix problems on today's vehicles. Once connected to a vehicle, the tablets auto decode the VIN and offer OBD2 and OEM diagnostic pathways.
Each has Innova's patented display featuring 30+ pieces of information on a single screen to help techs find the problem faster and minimize scrolling. Unlike any other line on the market, the SDS tablets include premium access to Innova's knowledgebase, with 100 million+ vehicle fixes verified for accuracy by ASE Certified master technicians.
With near instantaneous boot times, the SDS43 is a great entry-level professional diagnostic tool that's also ideal for budget-conscious automotive repair students who demand speed, accuracy and proven reliability. And the SDS50 has Innova's renowned all-in-one OBD2 diagnostics plus OEM diagnostics for techs seeking advanced powertrain diagnostics. Its technician-designed interface focuses on speed and effortless navigation through Innova's patented software featuring OEM-licensed data. It's equipped with bi-directional active tests and special functions to access Engine Powertrain and Transmission control modules for top vehicle brands (Ford, GM, Toyota, Fiat/Chrysler, Honda, Nissan, Hyundai/Kia).
Both enable fixes for DTCs with associated repair tips directly on the tool, as well as detailed report sharing through the free RepairSolutionsPRO companion app. The Wi-fi-enabled app also lets users generate three different types of reports: 1) Diagnostic Report, 2) Collision Industry Report and 3) Service Writer / Service Manager Customer Report with pre- and post-scan comparisons. This helps shops/techs see what is going on and can help them communicate with customers about items they may want to address because nobody wants to have to come back to the repair shop soon. And this proactive approach can also lead to increased repair order revenue for the shop.
What we say:
Vehicles are getting more complex each year, and so are the repair processes. At the same time, your customers don't want the expense and inconvenience of playing guess and check with repairs. Innova's SDS Tablets with RepairSolutionsPRO software can ease the pain while giving you confidence that the work you're recommending will get them back on the road. Small but important time-savers like lower boot-up time and less time scrolling help you get to the work more quickly, while accurate software diagnosis pinpoints the problem. Even the newest techs can reduce their diagnostic learning curve and quickly gain the experience they need.
O
Price: $299 – $699
For more information, click here.
---
Winner – Cordless Die Grinder
FLEX 24V Die Grinder
What they said:
Grind metals and welds in tight spaces where angle grinders can't go with the FLEX 24V Die Grinder. This electric die grinder delivers up to 28,000 RPMs complete with adjustable speeds to match the application at hand for optimal precision. It's built with a slim ergonomic design for comfort that lasts for hours. A spindle lock makes for easy accessory changes. Carve wood, marble, and granite, or de-burr metal with ease using the FLEX 24V Die Grinder.
What we say:
Flex is blowing away its competition in performance with their 24V die grinder. With 28,000 RPM coming from its brushless motor, other cordless models can't keep up. Even pneumatic models are struggling to catch their breath as they try to keep up with Flex's material removal rates. When the job calls for a more balanced approach, the tool's adjustable speeds give you the control you need. Beyond the impressive performance level, the grinder's physical design is ergonomically sound, making it comfortable to use for longer periods of time. It's everything you need from your die grinder without a hose tying you down.
Price: $219.99
For more information, click here.
---
Winner – Cordless Grinders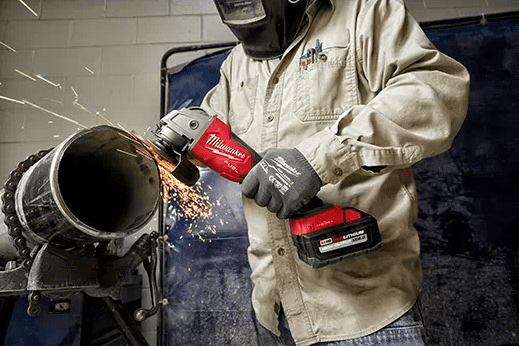 Milwaukee Tool M18 FUEL 4-1/2″ / 5" Braking Grinder w/ ONE-KEY 2882
What they said:
Milwaukee Tool reveals the next advancement in cordless grinder power and performance with the new M18 FUEL™ 4-1/2" / 5" Braking Grinders with ONE-KEY™ – available with paddle switch, no-lock and slide switch, lock-on options. Designed for the toughest grinding and cutting applications, the new grinders are ONE-KEY™ enabled, generate 11A corded power, and feature a RAPIDSTOP™ Brake to deliver the next level of jobsite productivity and enhanced safety.
True to all M18 FUEL™ solutions, the new M18 FUEL™ 4-1/2" / 5" Braking Grinders with ONE-KEY™ combine three exclusive innovations – the POWERSTATE™ brushless motor, REDLITHIUM™ battery pack, and REDLINK PLUS™ intelligence. The POWERSTATE™ Brushless Motor provides maximum sustained power and 8,500 RPM, allowing users to complete the toughest grinding and cutting applications and push cordless grinders harder than ever before on the jobsite. REDLINK PLUS™ Intelligence ensures unmatched levels of performance, protection, and compatibility. When equipped with a REDLITHIUM™ HIGH OUTPUT™ XC 6.0 Battery, which delivers 50% more power and runs 50% cooler than standard XC REDLITHIUM™ Batteries, the grinders allow users to get more done on a single charge.
To provide enhanced safety, the RAPIDSTOP™ Brake quickly stops accessories with stop times of under 2 seconds with an abrasive disc. For ease of use, the grinders feature tool-free adjustable guards and accessory changes to provide quick guard installations and adjustments. FIXTEC Nut technology allows for tool-free accessory changes while remaining compatible with the most common accessories on the market today. As an added benefit, ONE-KEY™, provides the ability to track the grinders with community tracking and alerts, complete inventory management, and industry leading smart-equipment technology to secure the user's investment.
What we say:
Milwaukee packs a lot into its flagship M18 Fuel small angle grinder, starting with strong performance coming from the brushless motor. The brake is quick, stopping wheels in less than two seconds. Solving one of the angle grinder's top frustrations, the tool-free wheel changes don't require you to keep track of a spanner wrench. With One-Key onboard and a choice between paddle switch and slide switch designs, crib managers have the inventory management and tracking information they need and the ability to choose between the safety of a paddle switch or the convenience of a lock-on function for their crews.
Price: $499
For more information, click here.
---
Winner – Hand Tools-Mechanics Tool Sets
CRAFTSMAN OVERDRIVE Mechanics Tool Sets
What they said:
From sockets and wrenches to ratchets and more, CRAFTSMAN® OVERDRIVE™ tools deliver the performance needed to finish your most challenging automotive projects with pride. Access confined areas with a high-count 180-tooth ratchet designed to minimize arc swing. Complete difficult jobs with sockets designed to remove fasteners rounded up to 70%. Loosen stubborn fasteners with a long panel design that provides increased leverage vs. CRAFTSMAN® raised panel wrenches.
What we say:
Craftsman's OVERDRIVE series of mechanics tools are setting a new standard as your go-to hand tools. The 180-tooth ratchet needs only 2° of swing arc to make progress, much less than standard 72 or 90-tooth models. On top of that, the OVERDRIVE sockets are capable of gripping fasteners that are as much as 70% rounded, leaving you reaching for your extractor socket less frequently. And when you need to reach for a wrench instead of a ratchet, the ones Craftsman packs in the OVERDRIVE sets offer better leverage than their previous raised panel models. From top to bottom, Craftsman OVERDRIVE mechanics sets put higher productivity and less frustration in your hands.
Price: $109.00 – $359.47
For more information, click here.
---
Winner – Cordless Impact Wrenches
Milwaukee Tool M18 FUEL 1/2″ Controlled Mid-Torque Impact Wrench 3062/3062P
What they said:
Our M18 FUEL™ Controlled Torque Impact Wrench with TORQUE-SENSE™ are the industry's most repeatable impact wrenches. TORQUE-SENSE™ torque control overcomes common variances seen on the jobsite, maintaining target torque better than competitive products that use blow counting algorithms. This performance is enabled by new to world sensors designed in-house by Milwaukee Tool that feed sophisticated machine learning algorithms. Every trigger pull is recorded, and data can be downloaded for customizable reporting to ensure confident installation. This cordless impact wrench is ideal for utility-scale solar projects, where eliminating the 2-step method on the jobsite can deliver up to 3X faster installation speed. Milwaukee offers best-in-class performance and application speed with FUEL™ technology, enabled by POWERSTATE™ brushless motors, REDLINK PLUS™ tool intelligence, and REDLITHIUM™ battery technology.
What we say:
An impact wrench that can accurately measure torque has been the holy grain of product teams for ever since brushless motor electronics opened up the possibility. Milwaukee's one big step closer with a model that uses machine learning algorithms rather than blow counts. The M18 Fuel Controlled Mid-Torque Impact Wrench is currently dialed in for the kind of work you see on solar installations. With what the team learns in this initial launch, expect the 3062 to be the tip of the iceberg for what Milwaukee does with controlled torque applications.
Price: $1399
For more information, click here.
---
WINNER – Automotive Inspection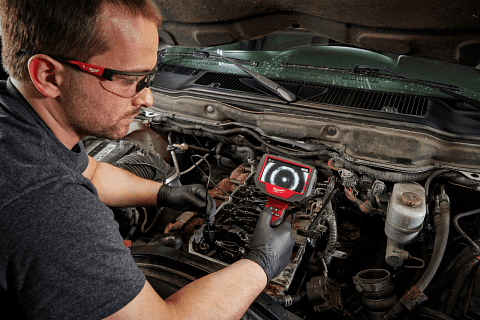 Milwaukee Tool M12 Auto Technician Borescope 3150-20
What they said:
Optimized for the automotive technician, the M12™ Auto Technician Borescope delivers 5mm access and clear diagnosis, meeting inspection demands in passenger, light truck, and diesel applications. Powered by the M12™ battery system, this borescope is fully compatible with all M12™ solutions in your toolbox. The 5mm camera head, paired with a 3' cable optimized for rigidity, allows for best access in tight spaces, including glow plug holes and fuel injector ports. Front and side view cameras with adjustable LED brightness provide increased application viewing. High-definition photo and video capture with 4x zoom allows the technician to diagnose hairline cracks with confidence. The 4.3" rotatable screen allows the technician to adapt the borescope to their inspection environment. Conveniently access, export, and share files stored on the included 32GB SD card. Equipped with temperature sensing technology, if the vehicle being inspected is too hot to use the camera without potential damage, the borescope notifies the user and shuts down, helping the technician extend the life of their cable. Field-replaceable camera cable (48-59-3150) provides reduced downtime.
What we say:
Automotive inspection isn't quite as simple as it is in other trades. You're working in tight spaces, and you can just drill a hole through the engine block to gain access. Milwaukee's 3150 M12 Auto Technician Borescope is specifically designed to deal with these challenges. Needing just 5mm for entry and using a 3-foot cable, you're able to see what going on under the hood in glorious HD on a rotatable 4.3-inch screen. The scope has photo and video capture and has a 4x zoom function. Plus, the borescope is powered by the same M12 battery that supports a wide range of cordless automotive tools.
S
Price: $499
Winner – Jump Starters
RYOBI Power Tools P7110 – 18V ONE+ Jump Starter
What they said:
The RYOBI 18V ONE+ Jump Starter is the first ONE+ tool of its kind, providing up to 1600 peak amps with the ability to jump start an engine as large as a 6.0 liter V8! Compatible with any 18V ONE+ battery, you can expect to jump start a car up to 20 times on just a 2 amp hour 18V ONE+ battery. This Jump Starter is the ideal solution for when your car, truck, or boat needs that extra bit of juice after long periods of inactivity, or on cold mornings. No need for a second vehicle and jumper cables anymore! This unit can operate in temperatures as cold as minus four degrees fahrenheit with 8 cold cranking amps. Engineered with safety at the top of mind, the jump starter features anti-spark technology, and reverse polarity protection to give you peace of mind that cables are safely connected to the battery. Using the on-board quick start guide with step by step instructions, you can have your vehicle jumped and running in as little as 60 seconds. The on-board LED work light provides increased visibility whether working on the side of the road, at night, or in any low light situation. Best of all, it is a part of the RYOBI 18V ONE+ system of over 280 cordless products.
What we say:
Ryobi is expending the value of the 18V One+ battery system with the introduction of the P7110 jump starter. With 1600 peak amps, you can jump engines all the way up to a 6.0L V8 without the need for a second vehicle. Plus, a 2.0Ah battery has the capacity to delivery 20 jump starts, and it works in temperatures down to -4° F. Alongside solutions such as tire inflator and power supplies, this is another must-have automotive tool to add to your road trip checklist.
Price: $179
For more information, click here.
---
Winner – Ratchets
Duralast 3/8in Drive 90 Tooth Encapsulated Ratchet
What they said:
Duralast has introduced the new and innovative Encapsulated Ratchet that fills the brand's promise of bringing speed, access and strength while also introducing new enhanced features including:
Hybrid Shield Technology
Alloy steel core shielded with tough, glass-filled nylon
Glass-filled nylon helps protect against temperature, chemicals, and corrosive environments
90 tooth design provides more precise ratcheting with only 4 degrees ratcheting arc
Designed with a dual material comfort grip handle for ergonomic grip
Dual material grip withstands the abuse of harsh environments
Also available in 1/4″ drive, Part # 51-006
Guaranteed for Life
What we say:
We all love our chrome ratchets, but some days, heat, cold, chemicals, rain, sweat, or other headaches get in the way of what should have been a positive experience. Enter the Duralast Encapsulated Ratchet. Available in 3/8″ and 1/4″ drives, these offer the grip and chemical resistance you need along with buffering against hot and cold conditions. Add in 90-tooth ratcheting and a lifetime warranty, and you get a high-value ratchet you can count on day in and day out.
D
Price: $26.99
For more information, click here.
---
Winner – Cordless Ratchets
Milwaukee Tool M12 FUEL Insider Extended Reach Box Ratchet
What they said:
Milwaukee Tool revolutionizes the automotive industry with the release of the new M12 FUEL™ INSIDER™ Extended Reach Box Ratchet and accessories. Designed for transportation maintenance and automotive professionals, this ratchet delivers users the lowest profile and most versatile solution with the capability to drive up to 60ft-lbs of max torque, ultimately improving productivity on the job.
Featuring the industry's lowest profile sockets, the M12 FUEL™ INSIDER™ Extended Reach Box Ratchet's sockets deliver professionals with more access. Optimized for users working in tight spaces, this ratchet measures over ¾ inches shorter to allow better access in those applications. To protect users from hitting objects in hard-to-reach locations, it delivers a 35% more compact head size compared to other leading ratchets on the market. The M12 FUEL™ INSIDER™ Extended Reach Box Ratchet delivers professionals with the most versatile ratcheting solution, improving productivity and efficiency to complete more jobs.
Compatible with 1/4", 3/8", and 1/2" drive sockets, plus 1/4" hex bits, this ratchet is pass-through capable up to 15mm, offering users the most drive sizes in one solution. Interchangeable adapters provide further versatility on the job, available in both metric and SAE sets. Providing up to 60 ft-lbs max torque, this ratchet delivers users with the power to remove stubborn fasteners and pneumatic performance without the hassle of hoses, cords, or routine tool maintenance. Driving productivity throughout the day with the power to remove difficult fasteners, this tool drives up to 350 RPM of no-load speed to deliver professionals with the best combination of speed and torque.
What we say:
While you're applying Neosporin to your busted knuckles, Milwaukee's automotive team has been working on a way to keep hem from getting that way in the first place. By inserting the socket into the ratchet head instead of onto it, the M12 Fuel Insider drops another 3/4 of an inch and significantly improves your ability to access tight areas. That by itself is enough to make it a winner in our eyes, but Milwaukee's product team took it further. The ratchet is compatible with all three standard drive sizes, 1/4″ hex bits, is pass-through capable up to 15mm, has an extended reach, and a high speed drive of 350 RPM. We're guessing it's going to be a while before anyone can top that!
Price: $299
For more information, click here.
Finalist
---
Winner – Riveting Tools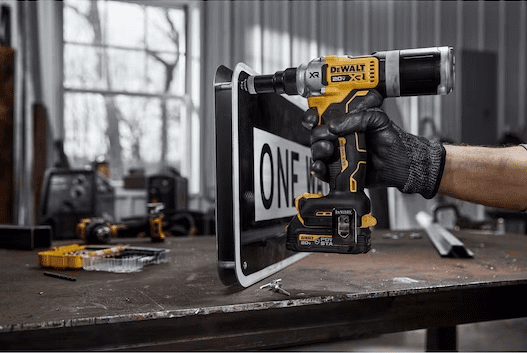 DEWALT DCF414 20V MAX XR Brushless Cordless 1/4″ Rivet Tool
What they said:
Install aluminum, steel, and stainless steel blind rivets up to 1/4″ with the 20V MAX* XR® Brushless Cordless 1/4″ Rivet Tool. The brushless motor delivers up to 4,500 lbs of pulling force and has the capability to pull 300 rivets per charge. Other features like a tool-free nose piece change and on-board nose piece storage help to maximize productivity on the jobsite. Battery and charger sold separately.
PACKED WITH POWER: get 50% more power to tackle tough jobs
BRUSHLESS MOTOR delivers up to 4,500 lbs of pulling force for fastening rivets, including those made of stainless steel
GET UP TO 300 RIVETS PER CHARGE to maximize productivity on the jobsite
DESIGNED FOR EASE OF USE with tool-free nose piece changes and on-board nose piece storage
What we say:
Kiss your old rivet tool goodbye and say hello to the convenience of cordless operation thanks to the DeWalt 20V Max XR Brushless Rivet Tool. Relying on a brushless motor for higher performance and efficiency, the DCF414 can produce up to 4500 pounds of pull force to set rivets confidently, and can handle up to 300 pulls on a charge using 1/4″ rivets and the compact Power Stack battery. The tool-free nose piece change and onboard nose piece storage are nice touches that add to the convenience and the physical form factor makes it a comfortable tool to handle.
Price: $799
For more information, click here.
---
Winner – Sockets
GripEdge Tools R.P.T. HEX BIT SOCKETS
What they said:
GRIPEDGE – ITS ALL ABOUT THE GRIP – R.P.T. (Rounding Prevention Technology) Hex bit sockets are designed to replaced standard hex tools. RPT prevents the rounding of Hex fasteners whilst being able to removed extremely compromised Hex fasteners. The unique, patented, & bi-directional geometry delivers up 50% more prevention torque on good Hex fasteners vs standard Hex tools, whilst applying up to 400% more torque on damaged fasteners vs standard Hex tools. Compromised fasteners can be re-inserted in a pinch if a suitable replacement is not available. Each bit is precision machined from S2 steel for increased strength and durability as well as coated for increased corrosion resistance. All sockets have oversize, roll stamped, and ink filled size markings for greater visibility and nickel chrome plating ensures corrosion resistance.
What we say:
A quick survey of our team reveals that we round out hex head fasteners more often than others. That's why we're excited about GripEdge's R.P.T. Hex Bit Sockets. As a go-to socket for all your hex head fasteners with the durability of S2 steel construction, you get a better grab with new fasteners. When the fastener you're working on is in bad shape, you get 400% higher torque potential than with a standard hex head socket, making your chances of success far greater. The design is bidirectional as well, so you can re-use damaged fasteners if you don't have a replacement on hand.
Price: $99.99
For more information, click here.
Finalist
---
Winner – Impact-Rated Sockets
Milwaukee Tool SHOCKWAVE Impact Duty Lug Nut Sockets
What they said:
Milwaukee Tool continues to innovate their SHOCKWAVE Impact Duty™ sockets line-up with the addition of their SHOCKWAVE Impact Duty™ ½ Drive Lug Nut Wheel Sockets. Designed for tire installations and removals, the Lug Nut Wheel Sockets feature the most durable, non-marring sleeve to protect rims during tire changes while ensuring the durability of the sleeve.
The SHOCKWAVE Impact Duty™ ½ Lug Nut Wheel Sockets are designed with an ARMOR-GUARD™ sleeve, made of a premium, durable plastic covering for lasting protection. This feature protects against crackling or shredding, which is a common frustration mechanics and automotive technicians experience during wheel installations and removals.
The sleeves are color-coded gray and red to distinguish between metric and SAE sizing, and include stamped, ink-filled markings on the socket for easy size identification. The sockets also have a plastic insert, preventing the lug nut from marring while being used.
Constructed with thin walls, the sockets are optimized for users to access the tight spaces around lug nuts. Optimized for use with 1/2″ drive impact wrenches, drivers, and adapters, the sockets feature a dual-hole design and ring groove for easy socket attachment and removal from the tool. These new lug nut wheel sockets meet ASME industry standards for thin wall sockets to ensure proper fit to the fastener.
Milwaukee Tool is committed to providing users with power tool accessory solutions that save time and increase productivity on the jobsite. Through its investment in enhancing socket design and overall functionality, the company continues to lead and drive innovation in the fastening category by delivering the longest-lasting and most versatile accessories available.
What we say:
Impact sockets are fine for many jobs, but when you have a vehicle that needs to stay in pristine condition, wheel changes and tire rotations introduce significant risk. Milwaukee is lowering the risk of marring wheels and lug nuts with Shockwave Impact Duty Lug Nut Sockets. Their thin wall design gets into the tight space around lugs while an exterior sleeve and interior insert prevent scratches on the rim or lug nuts. The material is more durable than most as well, ensuring you get a longer service life from them. To top it all off, the sleeves are color-coded for SAE and metric, and ink-filled markings make it easy to see which socket you need.
Price: $17.99 – $19.99 (single sockets)
For more information, click here.
---
Winner – Tap & Die Sets
Milwaukee Tool Taps & Dies Program
What they said:
This 125 SKU launch features new and innovative products that set us apart from our competition. The Hex-LOK™ 2-in-1 Handle is designed to be the most versatile threading solution in common metal applications, such as brass, aluminum, mild steel, and more. Its all-metal construction allows for tool-free hex die and tap collet changes and is optimized for maximum balance and control when threading. Our taps and dies are precision machined for creating or repairing clean, accurate threads, and feature long-lasting laser etched markings. Users will have the ability to shop a wide range of products including plug taps, taper taps, hex dies, and threading accessories.
What we say:
Milwaukee's design team honed in on three areas of frustration with standard threading sets. First, they noted that the sizes are hard to read. Each black tap and die has a light-colored marking that makes it easy to read compared to typical etching. Second, many sets require different handle sizes. Milwaukee created a single Hex-LOK handle to tackle both taps and dies across the entire size range. The chrome handle is just under 9 inches long with curved edges that are comfortable in your hand. A 1-inch hex interface holds the threading dies or the tap collet and requires no tools to install either. Finally, Milwaukee specifically addressed the durability of the bits and finished them off with a black oxide coating. When it comes to threading chores, Milwaukee made it a much easier task.
Price: $4.99
For more information, click here.
---
Winner – Welding
Hilti FX 3-A Cordless Stud Fusion System
What they said:
The FX 3-A Cordless Stud Fusion system speeds up tougher fastening jobs and help boost design efficiency, while cutting welding time significantly. Covering applications with higher tensile loads and thinner base materials than previous Hilti products, cordless stud fusion is up to 75% faster than traditional welding methods.
The cordless system is lighter than other systems and is a fully mobile, autonomous system with no power cables needed. With cordless stud fusion, construction becomes not only faster than traditional methods, but it can also be done by almost anyone—with minimal training—helping to reduce the risk of installation error. This fastening method is also safer than traditional welding methods as it helps shield users from heat and gas. With virtually no sparks, splatters fumes and no angle grinder needed for the surface preparation, it offers more significant advantages from a health and safety perspective. Compared to welding and other methods like bolting and clamping, cordless stud fusion allows more speed and flexibility in engineering, procurement, and construction.
Collectively, the benefit of this system gives customers more flexibility and more capacity to finish the work earlier. It's also a cleaner system with no welding slag, burn marks or ceramic ring waste. When using an optional sealing washer with S-BT-MR SN threaded stud, post-painting is not required. With the easier-to-follow H-code setting customers can expect higher-quality and more consistency, with repeatable fastenings. Additionally, the Active Fusion Indicator (AFI) gives the installer systematic real-time feedback to help improve the quality of fastening.
What we say:
We're all feeling the pain of a construction workforce that's in need of more skilled labor. Hilti is using product design to close the gap, and a great example is the FX 3-A Cordless Stud Fusion System. By incorporating a more efficient stud fusion system, your crew is able to work faster than they would with typical welding or bolting. Plus, the training time is less, the risk of errors is lower, and your operator receives feedback that helps them become even more competent. If you needed another reason to take a closer look, it's a battery-powered solution, so your crew doesn't have to worry about managing a generator and extension cords to get the job done.
Price: $8,372.15
For more information, click here.
---
Winner – Wrenches
Mac Tools R.B.R.T. Combination Wrench Set – 6-PT. SCLM5XLRBRT
What they said:
At Mac Tools, we aim to give our customers products with a purpose along with providing products that increase productivity and user safety. Rounded and compromised bolt removal is a growing issue in the automotive space, however, we did not want to give our end users an extraction wrench that is used only on troubled bolts. We looked to deliver a combination wrench that operates as a traditional wrench with stretched performance capabilities. This resulted in our Mac Tools RBRT Grip Combination wrenches. The Mac Tools R.B.R.T. Combination wrenches provide best in class performance on new and damaged bolts, delivering up to 80% round bolt removal on the 6 point box end, and up to 60% round bolt removal with the open end.
What we say:
Any time you see R.B.R.T., it's time to pay attention, because you're about to see something special. In this case, it's Mac Tools' R.B.R.T. combination wrenches. They're your new favorite everyday combination wrenches thanks to outstanding performance on new/good bolts and the ability to dive into the extractor range. The box end can bite down on bolts up to 80% rounded, while the open end can grip ones with 60% rounding. It's another solid solution from Mac Tools that leaves you reaching for your specialty extractor set less often.
Price: $249.99 – $349.99
For more information, click here.
Finalist
---
Winner – Torque Wrenches
Mac Tools Digical Torque Wrench TWV250D
What they said:
The Mac Precision Torque Wrench LCD is bringing the most unique and innovated torque wrench available. The Precision Torque Wrench LCD has a LCD screen for easier readability. It's one button and quick setting make it one of a kind. Quickly set your torque setting and get to work! It also has an added load cell for a more accurate and precise torque. It has a familiar and firm click to let the user know when they have hit their torque value. The Mac Precision Torque Wrench LCD is changing the game of torque.
What we say:
For professionals who prefer the simplicity of a purely mechanical torque wrench, the Mac Tools TWV250D is an excellent choice (see our review of the similar analogue Mac Tools TWV250DR) . The LCD screen helps those of us that don't have young eyes anymore avoid reaching for our reading glasses, and the 10,000-click calibration cycle keeps it in service longer between maintenance. Better yet, the sealed body reduces the likelihood of shop dust and chemicals reaching the mechanics and the square handle keeps it from rolling off of your tool chest. It's an easy-to-use, durable option that won't leave you pushing a series of buttons to get the job done.
Price: $409 – $459
For more information, click here.
---
---