The award-winning 2023 hand tools category introduced several really innovative takes on otherwise familiar products. As we all know, hand tools—while not as "flashy" as power tools" form the backbone of a majority of the trades. From electrical and HVAC to plumbing and woodworking, reliable hand tools get the job done. Innovation just makes them all the better.
This year, the 2023 award-winning hand tools took the Pro Tool Innovation Awards to a new level. With increased features, better ergonomics, and more functionality, these tools really address some significant pain points.
WINNER – Bolt Cutters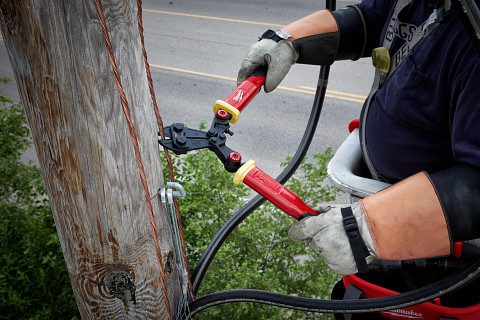 Milwaukee Tool 18″ & 24″ Fiberglass Bolt Cutters w/ PIVOTMOVE Rotating Arms
What they said:
Milwaukee's Fiberglass Bolt Cutters with PIVOTMOVE™ Rotating Handles are engineered to give the best access and are available in 18″ and 24″ sizes. The adaptable rotating handles allow for more cuts around obstacles common in utility environments. The fiberglass bolt cutters are 1000V UL classified to provide added security. The forged steel bolt cutter blades are custom heat treated for maximum durability. Bolt Lock secures the pivot bolts to prevent loosening. The 18″ bolt cutters have slim ergonomic handles allowing for comfortable use in multiple orientations. The MILWAUKEE® Fiberglass Bolt Cutters with PIVOTMOVE™ Rotating Handles have lanyard holes integrated through the handles for easy tethering.
What we say:
When standard bolt cutters won't fit into the area you need to access, your options are limited. Milwaukee's Fiberglass Bolt Cutters with PivotMove Rotating Arms change the game in your favor. By pressing a button on the joints, you can rotate the handles to give the head access without losing your ability to actually cut the bolt. When that area also happens to be an electrical hazard, the fiberglass handles offer 1000V-rated protection.
Price: $149.99
For more information, click here.
---
WINNER – Cutting
Malco Andy Aluminum Handled Offset Left Snips 12" MC12L
What they said:
Malco's Andy Aluminum Handled Offset Left Snips 12" (MC12L) is an innovative new addition to the company's popular Andy™ snips product line. This new tool builds on the Andy Snips' legacy of excellence that pairs state-of-the-art design with the most rigorous standards of cut quality, length and ease of use. This versatile tool with offset handles ensures that HVAC and building construction trade pros can make longer, tighter, higher-quality straight and left curve cuts in many types of materials, including sheet metal, metal roofing, aluminum, stainless steel, steel siding, and vinyl. A sleek head design improves maneuverability making these snips capable of cutting tight material shapes such as vinyl siding J-Channel.
Verified by internal testing, the MC12L Andy Snips offer the following advantages over competing products:
Superior material flow for up to 60% faster cutting speeds
Up to 45% longer cuts when operating one-handed
The highest maneuverability for continuous cut radii half the size of leading competition, with better cut quality
Lower jaw made of investment-cast tool steel allows for starter holes as small as ½"
Contractors, builders and roofers want tools that make their work more efficient in a variety of ways – one-and-done trips to the job site, quality work at all times with no reworking, and no material waste. The nature of the metal roofing business means that there's an interest in specialty tools, especially when it comes to the best tool for the application at hand.
A quality pair of snips like Malco's Andy Snips are considered a staple because they allow trade professionals to make the cleanest, most efficient cuts possible across a wide range of materials. The MC12L Andy Snips are built with incredibly strong, lightweight aluminum for ease of use and durability, and the ergonomic offset handle provides a safer and more comfortable angle for cutting to reduce hand fatigue. A 3-inch cutting length reduces the total number of cuts and repetitive motions, saving the user time and effort. The sharp bottom cutting jaw is constructed of tough tool steel, while the upper cutting blade can be easily replaced every 20,000 cycles to extend its overall life.
The line has always been about making the job easier and being reliable, which is why Malco has continued to release new versions like the MC12L to fit a variety of customer needs. Since its introduction in 1970, "Andy" has grown to become synonymous with lightweight snips across the trades and is one of Malco's best-selling product lines. Like the other 13 products in Malco's Andy line, the MC12L Andy Snips continue the legacy of ease-of-use, empowering trade professionals to make the cleanest, most efficient cuts possible across a wide variety of materials.
What we say:
Just the thought of using snips can make your hands start to cramp. Fortunately, Malco's Andy line is available and with the latest upgrade, snipping is easier than ever. From the lightweight aluminum construction to the ergonomics design of the handle, your hands are already in a more favorable position. Then there's the cutting surface—all 3 inches that extend further than traditional snips and result in making fewer cuts. After 20,000 or so cuts (if you feel like counting), you can replace the top blade to get that like-new cutting action back instead of having to replace the entire tool.
S
Price: $63.50
For more information, click here.
---
WINNER – Spacers Gauges
Malco Adjustable Siding Gauge
What they said:
Malco's new Adjustable Siding Gauge (SGA) is an innovative new all-in-one installation tool that eliminates the need to use multiple gauges for varying siding widths, while eliminating the need to use shims and/or have more than one person to complete projects. It's specially crafted for siding and construction pros, making it the ultimate tool for rapid siding installation both in its simplicity and efficiency of use, saving contractors and installers time and money.
Built with an adjustable 5/16"–5/8" clamping range and an adjustable 4"–8" (1/4" increments) facing range, contractors and installers can quickly and easily hang different types of fiber cement siding, LP Smart Siding and other lap siding of various widths. The adjustable clamp ensures materials are held firmly held in place while the adjustable reveal ensures the siding is properly positioned. SGA also supports full 16-foot length lap siding for fast one-person installation.
During the research & design process, Malco heard from contractors that they wanted a high-quality, intuitive and ready-to-use solution for siding installation – no messing around with multiple gauges for use on various material thicknesses. Using this feedback, Malco's product design and development team focused efforts on creating SGA to withstand the ongoing wear-and-tear at the jobsite, such as simulated outdoor weather conditions that mimicked both summer and winter installation, drop testing from 10' onto concrete – one of the more abusive conditions the gauge would endure, and grip testing while supporting a maximum load.
Based on this internal testing, Malco's heavy-duty SGA tool is the most durable model available on the market, and features a weather-resistant nylon base and a lightweight aluminum cover that resists breakage if dropped – compared to plastic materials used in competing products that become brittle and break in cold conditions. Additionally, its ability to grip onto fiber cement and smart siding while supporting a maximum load from 5/8" thick fiber cement siding was determined to be superior to leading competitors.
With SGA, installers don't need to bring an extra person to assist with the job — an important benefit in this industry facing a labor shortage. To use the SGA, trade professionals simply slide the tool over the siding, tighten the adjustment screw to the appropriate gap width, and start siding in a fraction of the time compared to other methods. An ergonomic clamping lever reduces hand fatigue – a design that ensures comfort while quickly hanging siding all day long. Users can also set a clamping force they prefer to install siding their way with this versatile gauge. The non-marring SGA works without damaging or scratching primed materials. Plus, as the tool wears over time, end-users can continue to adjust for that wear in order to make it grip for a longer tool life. Sold in a set of two, SGA ensures that siding installers will always have the right tool for the job at hand.
What we say:
We've seen some impressive ways to made siding installation easier over the years, but Malco's Adjustable Siding Gauge is the best. By setting the pair to the same detent and clamping them onto the already installed siding, it's your second and third set of hands to hold pieces up to 16 feet in length and exactly the right height, leaving you with both hands to fasten them properly. Best of all, it makes a 2 – 3-man job one that you can do by yourself, and it'll cost you less than you'd pay your helper for the day.
Price: $75
For more information, click here.
Finalist
---
WINNER – Hammers
ToughBuilt ShockStop 20 oz Hammer
What they said:
The ToughBuilt® ShockStop™ Steel Rip hammers revolutionize professional-grade striking tools. Innovative ShockStop™ technology absorbs vibration at the head to slash fatigue and reduce compounded strain and pain- keeping pros at peak performance all day. ToughBuilt's compensating coil spring is the first in its industry: this ShockStop™ head design and enlarged face are forged to strike sure, redirecting felt recoil and excess vibration to the rear and away from the handle. The hammer diminishes fatigue even after repeated striking, while the balanced, downward-momentum design with greater mass concentration at the head maximizes impact.
The hammer ensures that while vibration is busted for the user, the full force of each stroke makes contact with your surface. Designed for utility on any jobsite, this hammer sets the benchmark for accurate striking and driving across various materials with an integrated magnetic deep-channel nail starter, making placement of different fasteners simple and intuitive, securing even oversized nails into the deep top channel for setting.
Backed by a lifetime warranty and constructed in the most rigorous conditions, the ergonomic triple-injected overmolded handle provides increased grip stability while ruggedizing the tool to drops and shocks. Every tool which carries the ToughBuilt name should assure Pros the lasting durability to meet the needs of demanding jobs, and this line of technology-enhanced hammers is no different: we brought the ShockStop™ hammer line to Taran Tactical Innovations and asked Taran Butler, firearms expert marksman and trainer to the stars, to put it up against a series of weapons he developed for the John Wick movie franchise. The hammer withstood punishing rounds, ranging from a .22 caliber pistol up to a high-powered .308 rifle, without pitting, and the spring didn't budge from its housing. The ToughBuilt ShockStop™ Hammer embodies our ethos of disrupting the market with products that perform like faithful classics while delivering smarter, more exceptional solutions to keep Pros on the job.
What we say:
There's no question that ToughBuilt's ShockStop Hammer is different. The moving parts and spring make it clearly different from anything else you've ever used. But here's the thing—it really works! The amount of vibration that reaches your hand is significantly lower than using traditional hammers, and it does a fine job of transferring force to the nail. It's also tough. They actually shot it with a .308 round, and we were able to inspect the fully functional results for ourselves. ToughBuilt threw away traditional thinking with the ShockStop and engineered a winner.
Price: $44.98
For more information, click here.
---
WINNER – Pocket Knives
Columbia River Knife & Tool (CRKT) Provoke EDC
What they said:
The Provoke EDC features a revolutionary opening mechanism, and as I say that I fully recognize that term is used all too often, so I don't throw that out there lightly. The Kinematic mechanism that helps the blade deploy is at one time simple (it's not an auto and there are only a few moving parts) yet it took years to perfect.
For anyone interested in the Kinematic opening feature but who didn't need or want a curved karambit blade, now you can get the same innovative technology in a knife designed for everyday carry. The Provoke EDC features a new plain-edge blade made from D2 steel for excellent edge retention and a lightweight aluminum handle that, combined with a flush mounted pocket clip, allows it to ride comfortably in a pocket.
What we say:
New knife designs are common. By adjusting the materials, blade size and shape, handle design, and opening method, you have an infinite number of possibilities. However, CRKT's Provoke EDC is anything but common—it's extraordinary. Instead of a rotational blade deployment, the blade shifts slightly up from its closed position and then straight out into its locked open orientation. The magic is in the complementary pivoting joints that work together. Plus, it's a smooth, quick operation. Just flick your thumb forward and the blade is ready for work in a fraction of a second.
Price: $175
For more information, click here.
---
WINNER – Utility Knives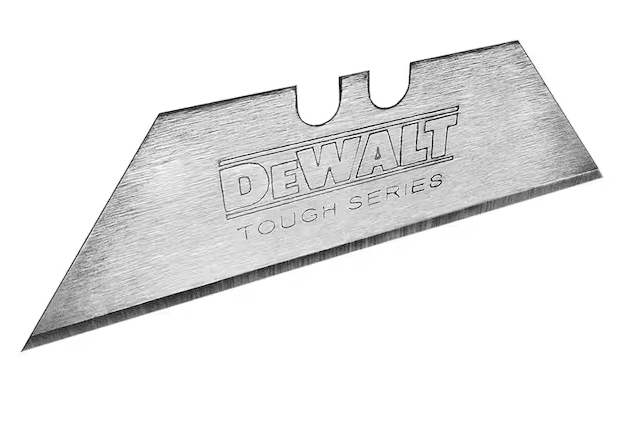 DEWALT ToughSeries Utility Blades DWHT11132/DWHT11132L
What they said:
Stay sharp in rough conditions with the DEWALT TOUGHSERIES Utility Blades. The blades feature a proprietary coating and an innovative induction-treated edge. These durable blades deliver up to 5X the life over standard carbon utility blades.
Longer life: take advantage of up to 5X the life over standard carbon utility blades
Durable design: engineered with a proprietary coated edge to deliver durability during tough jobs
High-edge-retention: get high-performance edge retention with induction heat-treated blades
Maximize strength: withstand rough conditions with a high-carbon steel-base blade
Comprehensive compatibility: works with standard-size utility knives regardless of brand
What we say:
Metallurgy is an amazing science and DeWalt uses it to your benefit in the creation of ToughSeries Utility Blades. With a traditional trapezoidal shape that fits in most utility knives, you get up to 5 times the life you're used to from standard blades. That durability comes from a combination of a coated edge and heat-treatment applied to a high-carbon steel blend. A 5-pack is less than $5, so grab a set and see how you like them in your utility knife. We bet you won't switch back!
Price: $3.99– 21.99
For more information, click here.
---
WINNER – Landscaping
Zenith by Danco Crack and Crevice Cleaner 12027
What they said:
The Zenith Crack and Crevice Cleaner from Zenith by Danco effortlessly removes weeds and debris between concrete cracks or gaps in wood planks on your deck. The sharp edge of the weeding tool easily removes those unwanted and unsightly weeds from view. Attaching the Crack and Crevice Cleaner to a broom pole or paint handle means you can say goodbye to bending and kneeling to get to those weeds. Now you can get into those difficult spots while standing. Get the Zenith by Danco Crack and Crevice Cleaner today and quickly remove debris from your patio deck or driveway cracks.
• CLEAR AWAY THE DEBRIS AND WEEDS: The Crack and Crevice Cleaner is a weed remover that is the perfect tool for weeding driveways, sidewalks, lawn pathways, decks, yard brick-work, walkways, patios, and anywhere weeds are growing in the cracks and crevices
• LONG AND SHORT BLADES: The long blades are great for cleaning out deeper cracks in concreate or wood decks while the short blades work best with composite decks – these blades come in different lengths and thicknesses so you can get into just about any crack or crevice
• SCREW ONTO BROOM POLE OR PAINT HANDLE: Attaches to most push broom poles or paint handles saving you the trouble of bending and/or kneeling to get into between those annoying cracks and crevices
• COMPACT AND EASY TO STORE: The Crack and Crevice Cleaner is small and compact allowing for easy storage – by removing the tool from the handle attachment you can easily store this weeding tool inside your tool box
What we say:
Tired of fighting weeds making a home out of the joints in your concrete, deck, or patio? The Zenith Crack and Crevice Cleaner is the medicine for what ails you. Twist the attachment onto the handle of your choice and easily purge the offending growth out without having to bend over to pull them or spray them with a weedkiller. It's a simple, effective, and inexpensive design that's a must-have addition to your landscaping tools.
Price: $9.98
For more information, click here.
---
WINNER – Tapes & Rulers Measures
OX Pro 24-Inch Imperial Tuff Rule
What they said:
The OX Pro 24-Inch Imperial Tuff Rule was designed to take common construction measurements and simplify them. It is a rigid, versatile, and compact imperial measuring rile built with a practical purpose for all tradesmen. Every dimension on this rule, the length, width, and thickness, serves a practical purpose incorporating the requirements of everyday construction.
Each fold-out increment represents 6" featuring the common measurements: 6", 12", 18" and 24". Once fully extended, the rule is 24" long, designed for measuring the standard width of ½ sheet, larger stud spacing and floor joist spacing. The 1 ½ inch width of the rule makes measuring easy when framing timber – making stud width, blocking, and mending plate measurements are lightening fast. While the half unfolded size of the rule fits standard screw spacing for Sheet and Drywall. The OX Tuff Rule includes a bonus angle finder from 0-180° to allow for easy marking of mitres and identifying the angles of existing structures. The center line feature allows for quick and precise marking of offset lines and split centers.
Fit with premium brass hinges and pins for smooth operation, the Tuff Rule is constructed from tough engineered ABS plastic for the ultimate durability.
What we say:
Everywhere you look on OX's Pro 24-Inch Imperial Tuff Rule, you'll find an intentional design that's there to help you measure something. From the width of the rule to each section that folds out and even the pivot point, there's a plethora of helpful measuring tools built in. With a retail price of just under $15, it's an inexpensive device that you'll find a ton of uses for.
Price: $14.99
For more information, click here.
---
WINNER – Pliers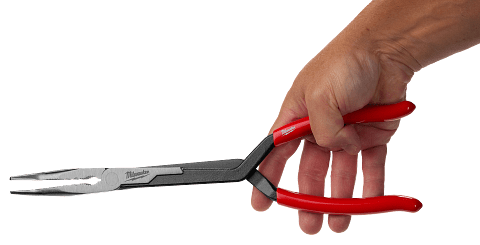 Milwaukee Tool Long Reach Pliers 48-22-6541
What they said:
Our 13" Long Reach 45° Nose Pliers provide the best access and maximum gripping force*. The MILWAUKEE® long reach pliers feature a Deep-Reach Cross Handle design which delivers a wide jaw opening while maintaining a slim profile for extended reach in tight spaces. The single joint pliers provide maximum gripping force and allow for more control when handling different materials and objects. The 45° jaws provide access in hard-to-reach angles and are designed with multi-function gripping zones for common applications such as fasteners, washers, wires, and more. Our long-reach pliers feature a corrosion-resistant black oxide coating for increased durability and slip-resistant grips for better leverage. These pliers are backed by a limited lifetime warranty.
What we say:
Milwaukee's 13″ long reach pliers have several advantages over other design. The joint placement and handle design combine to keep the profile slender longer than many designs, keeping your sight line open and making sure you can actually reach far into tight spaces. The jaw contains multiple sections, each with a purpose for gripping, pulling, and/or turning. Since the joint is so far up the handle, you'll get excellent leverage as the jaws bite down on those hard-to-reach items.
B
Price: $39.99
For more information, click here.
---
WINNER – Pry Bars
Zenith by Danco Trim Puller ZN700001
What they said:
The Zenith by Danco Trim Puller is a patented tool that does all the work of a pry bar and claw without damage. The Trim Puller is designed to safely and efficiently remove baseboards, molding, door casings, and decorative panels without damage to the trim or the wall and without needing a shim or small board spacer. It has a larger, flatter, and wider contact area than clumsy traditional tools and features an integrated wedge that provides increased removal efficiency and prevents damage to the trim and wall. Ideal for repair and remodel projects where care and precision are needed, including cabinets, countertops, trim, flooring, and much more. An impact-absorbing handle provides increased user comfort, and its robust heat-treated steel construction offers durability. If demolition and trim removal for remodeling is your aim, the Trim Puller will work quickly with your project. Save Time, Save Trim, Save Cash, and Stop Damaging Walls. Switch to the Trim Puller today for all your remodeling and demolition projects.
• Ideal for removing baseboards and molding: The Trim Puller is designed specifically for safely removing baseboards, molding, door casings, decorative panel and even nailed or glued countertops
• Wedged center protects the wall and trim: The Trim Puller has a larger, flatter and wider contact area that features an integrated wedged center that provides increased removal efficiency and prevents damage to both the trim and wall
• Does all the work of a wrecking bar, flat pry bar and claw and eliminates the need for a shim or small board spacer
• Comfort grip, shock-absorbing handle: This trim puller is capped off with a premium handle that feels comfortable in the hand while offering exceptional shock absorption
• Durable steel construction built to last: Made with durable high carbon, heat treated steel with a ground bevel on the edge which allows tool to easily be driven between trim and wall and also allows tool to be used as a shim for leveling cabinet bases
What we say:
When you're pulling baseboard or trim on a remodel, the last thing you want to do is damage the wall. When you do, you're looking at rework that's going to cost you time and cut into your profit margin. With the Zenith Trim Puller, you can avoid those mistakes. Its wide design spreads the leverage force out over a longer area. A built-in wedge nudges the nails loose, and the end is rounded to prevent an edge from digging into the drywall as you pry outwards. You won't need shims or spacers, and you'll be able to complete the work faster. With a retail price of just under $25, the Zenith Trim Puller will pay for itself the first time you use it.
Price: $24.98
For more information, click here.
---
WINNER – Scrapers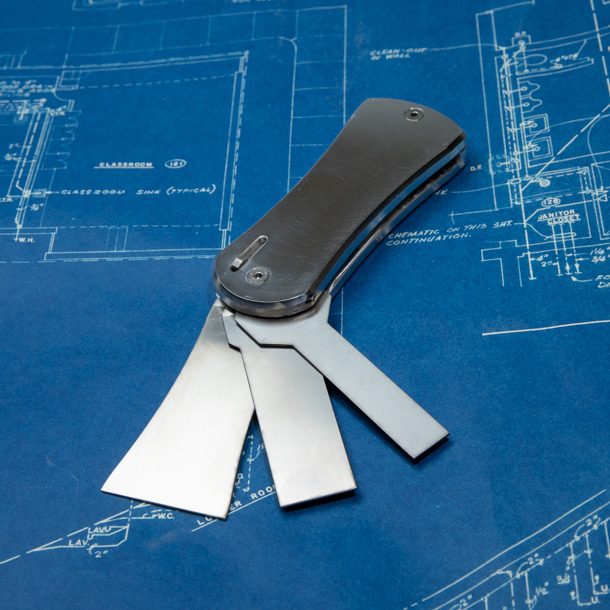 Techdry Tools Dry-X3
What they said:
Techdry has added innovation in the putty knife category by allowing you to have 3 different size blades at your disposal, safety locked in the case. We have incorporated the 3 most common sizes used by drywall finishers (1/2″, 1″ and 2″) for small or hard to reach areas (around cabinets, door frames and in exposed ceilings). Our 304 stainless steel blades allow Techdry to offer our "no questions asked warranty". The Dry-x3 keeps you from returning to your tool bag to retrieve different tools. Techdry has gone through 3 years of development to insure our mechanism is as protected from drywall compound as possible. Techdry has entered 9 retail stores in the last year with a great sales record across the United States and Canada, our patent was awarded on 5/01/23. Proudly made in Omaha, Nebraska. Feel free to check out our Instagram for operating videos of the Dry-x3. We are excited to launch our new tools in fall of 2023!!! Always made in the U.S.A.
What we say:
Tools that save room in your tool bag are fantastic, and Techdry has one that for drywallers that's a must-have! Covering the three most common sizes you need for small detail areas, you just flip out the one you need to the space at hand. Not only does the Dry-X3 save space by combining three putty knives into one, but they also fold into the handle to take up even less overall space.
Price: $53
For more information, click here.
---
WINNER – Screwdrivers
Milwaukee Tool Screwdrivers (USA)
What they said:
The Screwdrivers are custom machined and engineered with precision fit tips to offer the best fit and to reduce stripping during demanding fastening applications. The tips are laser-etched to deliver maximum grip on hardware. Made with high-strength, boron-infused steel for increased hardness, the screwdrivers are built to withstand the demands of the jobsite and provide long tool life. For challenging fastening applications, select screwdrivers include a wrench-ready bolster for added torque. A knurled shank allows for precision control during fine-tune fastening. The screwdrivers are easily identified with tip size markings, including Phillips, cabinet, ECX, slotted, and square.
What we say:
Milwaukee looked at virtually every aspect of screwdriver design in optimizing the latest line. Precision fit tips are laser etched to provide outstanding grip on screw heads, knurling on the shank offers additional grip when more precision turning is required, and models that might need some extra torque help have a hex bolster for a wrench assist. Of course, the shaft is a Nothing But Heavy Duty steel blend, while the handles are comfortable and tether-ready. The cherry on top… Milwaukee is making these in the USA!
Price: $12.97
For more information, click here.
---
WINNER – Multi-Bit Screwdrivers
LENOX 6pc Demolition Multi-Bit LXHT68003
What they said:
The Lenox 6pc Demolition Multi-Bit Set is equipped with a steel-reinforced multi-blade handle and strike cap and designed for demanding demolition applications. Six premium 7″ S2 Alloy Steel blades are included – ensuring strength, versatility, and durability to drive into rusted or stuck fasteners. The quad-lobe handle enhances grip, leverage, and torque and is built with a fixed bolster for high-torque wrenching. Get reliability with a locking C-Ring to secure the comprehensive range of bars, including PH2, PH3, SL1/4″, SL5/16″, SQ2, and T25.
What we say:
What's one of the first things you learn the hard way about multi-bit screwdrivers? Don't ever bang the end with a hammer. Thanks to Lenox, you can throw that rule right out the window. Their team engineered a multi-bit screwdriver specifically for demolition use. Instead of changing out the tip with a 1-inch bit, each bit has a full-length shaft that slides into the handle and can handle the shock of a hammer strike. Just don't try that with anyone else's multi-bit drivers.
Price: $21.98
For more information, click here.
---
WINNER – T-Handle Screwdrivers
CRAFTSMAN SpeedDrive T-Handle CMHT68135
What they said:
The Craftsman SpeedDrive T-Handle Multi-Bit Screwdriver redefines fastening efficiency. With SpeedDrive Technology in a T-Handle design, it offers leverage for 2x torque* delivery with a torque rating of 416 in-lbs. SpeedDrive dual directional driving also delivers 2x faster driving for demanding applications. The ergonomic handle design with overmold is optimized for comfort, torque, and control, and efficiently stores 6 bits for easy organized quick access. *compared to CMHT68129
What we say:
There's a lot to love about Craftsman's SpeedDrive T-handle screwdriver—it has just about everything! Of course, you get the ergonomic advantage of a T-handle design, and Craftsman adds their SpeedDrive ratcheting system to it. It's bidirectional, so you can drive or remove screws much faster. Securing the win, this is also a multi-bit screwdriver, with spare bits storing in both the left and right sides of the handle.
Price: $32.98
For more information, click here.
---
WINNER – Sharpening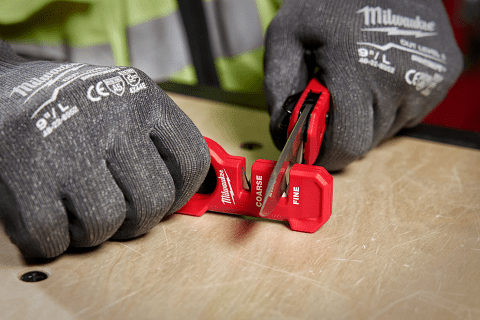 Milwaukee Tool Compact Knife Sharpener 48-22-1590
What they said:
Our Compact Knife Sharpener has a large finger loop for a SECURE GRIP and added control while sharpening. This pull-through sharpener has three sharpening surfaces compatible with most knives; coarse carbide for quick edge setting, fine ceramic to finish the sharpened edge, and diamond grit for freestyle specialty blade sharpening. Its compact size is ideal for pocketed carry, and has a magnet for easy, convenient storage on the jobsite. This tool is also tether ready.
What we say:
Your mood can sour in a hurry when you whip out your favorite pocket knife only to find that it's too dull to cut efficiently. Milwaukee's Compact Knife Sharpener offers an easy and inexpensive way to get it back in shape quickly. Coarse and fine pull-through slots take care of most blades, while a third sharpener on the reverse side lets you manage specialty blade shapes or working a different angle. Best of all, it's small enough to easily fit in your tool bag, tool belt, or pocket, so there's no reason to leave it behind.
y
Price: $12.99
For more information, click here.
---
WINNER – Specialty
Stupid Simple Tools Identibolt PRO
What they said:
I started Stupid Simple Tools in my college apartment while finishing up my undergraduate degree in 2018, but it wasn't until the launch of our flagship product in 2019 – the SST Identibolt – that the company felt real. The original product was a simple, but elegant, solution to a dilemma most people with a workshop face: a bucket of loose bolts and nuts accumulated over the years, that you promise you'll organize (one day).
The Identibolt was a wall mountable bolt and nut identifier, machined from a solid piece of aluminum – then anodized a beautiful gunmetal gray – before finally being laser-etched with 28 different male and female thread combinations, to quickly and easily identify any common hardware.
After 4 years of selling, 5 years of real time use in our own shop, and hundreds of 5-star reviews, we fully understood the amazing utility of our bolt identifier, as well as its two biggest setbacks – the need to mount it using screws or fasteners, and the inability to take measurements outside of the exact location you mounted it. While our personal Identibolt was happily secured to drywall using ordinary wood screws, it turns out many customers prefer to place their Identibolt inside metal storage cabinets or the side of their toolboxes. Then one day I was replacing my trucks brakes and had to unscrew my Identibolt from the wall to measure a thread on my dangling brake caliper, that I realized the value of a portable bolt identifier.
We fixed both these issues in the Identibolt Pro model by adding a simple component: magnets. Embedded on the back surface to quickly mount to any ferrous surface, and on the front surface to create the magnetically detachable measurement plates. The Imperial and Metric plates pop off the stationary nylon base with a swift grab, and re-attach into their preset locations with the satisfying snap of magnets.
Having the two thread-types on separate plates meant that we could color-code each with their traditional colors, resulting in gorgeous deep red and blue anodized surfaces. Measure any bolt or nut by taking it to the location of your mounted Identibolt PRO, or grab a plate off the unit and go measure it in place.
Alongside being a great straight-edge for marking, the plates' edges feature built in rulers for measuring the length of bolts, diameter of washers, or whatever if you misplaced your tape measure again and need to measure something really quick (it happens surprisingly often). The Identibolt PRO is more than just your workshop's most-used-tool – it's a piece of engineering art ; as beautiful as it is functional. We spent hours testing different finishes, dimensions, and prototypes – focusing on every detail to create a tool with that you will appreciate every single time you use it.
What we say:
How often do you stop and try to figure out what size nut or bolt to need to make the proper pairing? Stupid Simple Tools has a brilliant accessory you can keep in your shop or take with you to the job. Available in imperial or metric, you can check the size of both nuts and bolts on the same tool and quickly know what size replacements to grab. It's mountable if you want to keep it semi-permanently installed, or you can take it with you and stick it to the nearest ferrous surface with the magnets on the back.
Price: $97.99
For more information, click here.
---
WINNER – Squares
Lay Out Line, LLC 1001 Rapid Rafter Double-sided Square
What they said:
Our new product, the Rapid Rafter, is a patented double-sided square. Rapid Rafter not only reduces the amount of time by allowing for simultaneous marking on both sides of the board, but it also increases accuracy by allowing the user to mark both sides of the board without moving the product. As a bonus, the Rapid Rafter folds flat to be used as a normal square and to fit conveniently in your nail bag. We designed the Rapid Rafter for marking layout on ridge, hips and valleys. It is currently engineered 1.75" and flexes so it can be used for nominal and actual framing materials.
As far as marking both sides, we mark both sides for several reasons including left handed or right handed guys cutting, our crews using worm drive or standard saws, cutting down from the top plate, or cutting up from scaffolding. The Rapid Rafter can also be used to efficiently mark posts and to be used as a long straight edge. In addition, our Rapid Rafter is one of the only squares on the market that allows you to attach a magnetic torpedo level to our metal plates in our rafter square.
We are working on coming out with wider (interchangeable) bases, 3″, 4″, and 6″ for glulam, as well as an aluminum version.
What we say:
The Rapid Rafter Double-Sided Square does all the things you expect from a traditional square, but then it takes things up a notch. The folding wraparound design helps save you some time and improves overall accuracy during layout and squaring tasks on rafters and joists. With its ability to mount a torpedo level, work on posts, and offer a longer straight edge, you'll find your self reaching for this square more often than you might think.
Price: $24.99
For more information, click here.
---
WINNER – Vises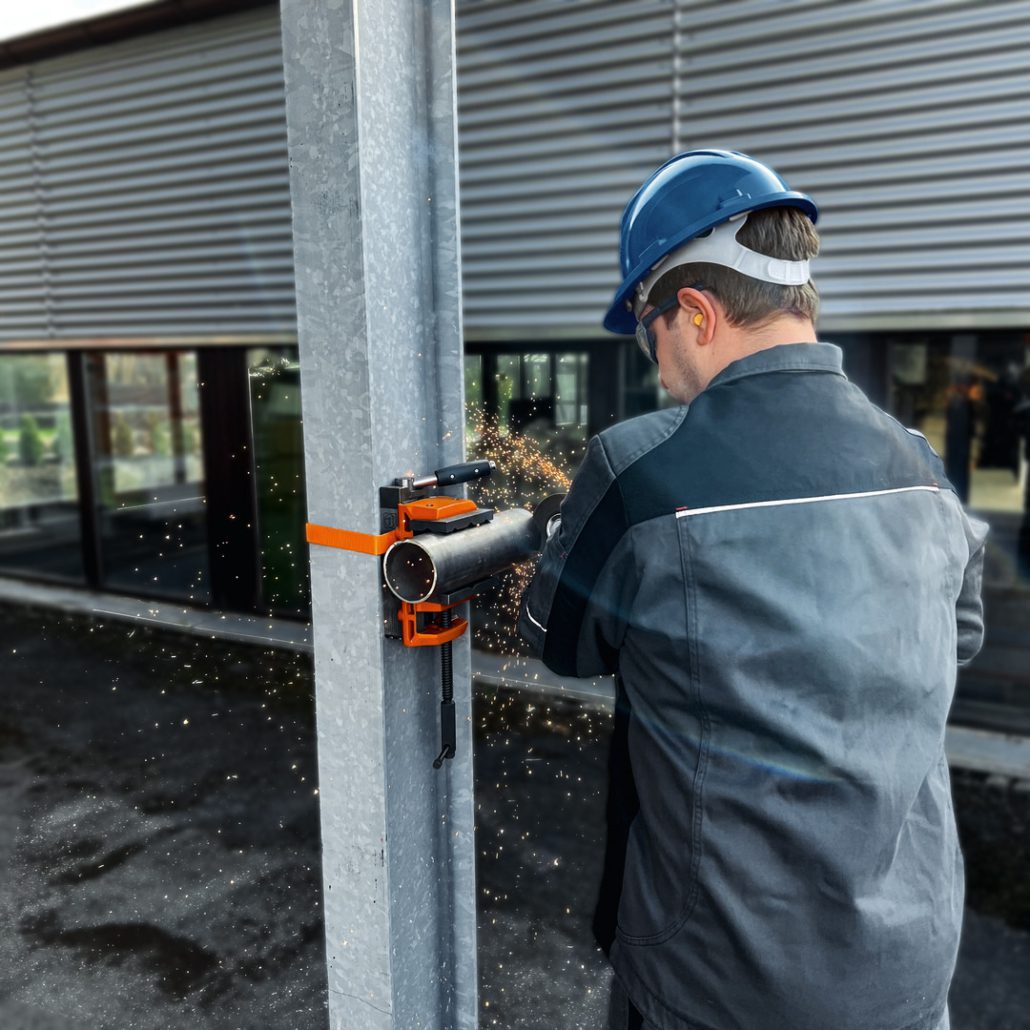 FEIN VersaMag 90701004020
What they said:
FEIN VersaMAG: Clamping Force Goes Mobile. VersaMAG is a powerful mobile vise with a permanent magnet. The FEIN VersaMag system brings a new dimension of flexibility and problem-solving to almost any workshop and job site, no matter the industry. Anchored by a powerful magnet, the FEIN VersaMag system means you're no longer chained to the workbench. Take the VersaMag on the job to quickly and easily clamp in a variety of spaces and overhead.
+ Easy to use vice combined with permanent magnet
+ Strong holding power of 1,754 lbf
+ Small size and low weight but powerful clamping
+ Versatile: unlimited applications in welding houses, plumbing/pipe/HVAC/construction/industrial trades, farm/fleet industries, automotive job sites, and more.
The Competition:
+ Doesn't include vise, so limited uses
+ Holding strength is significantly less
+ Intended for drill presses, not universal or portable
What we say:
Vices are great for so many tasks, but portability isn't on their standard resume`. Enter the Fein VersaMag, a portable vise that doesn't force you to compromise the function of the bench or vehicle-mounted vices you normally use. It has a 4 1/4″ jaw capacity and the strong grip you require for holding materials. At the base, there's a muscular permanent magnet that's capable of holding with 1750 pounds of holding force on a 1-inch steel plate. With that kind of strength, you can work on vertical or overhead surfaces with no problem. Need more? Fein also offers a welding plate and 3 1/3″ oversize jaws as add-ons.
Price: $449.95
For more information, click here.
---
---