Our household and home product awards cover those really innovative products that don't quite fit into our traditional tool, accessory, or fastener categories. Everything we use in the course of building a home ultimately ends up with a place we can enjoy for years to come. Many of these innovative household products fill that space and help give us new ways to enjoy the fruits of our labors.
This year, the 2023 award-winning household products ranged from kitchen products and appliances to cooling chairs and misting fans. This remains a really fun category that promises a lot of room for expansion and we reveal more and more products that can improve your daily life.
WINNER – Cleaning
Hoover ONEPWR Streamline BH55400V
What they said:
Introducing the ONEPWR™ Hoover Streamline: the ultimate cordless solution for spotless hard floors. This product is going to be your new best friend. It adds convenience to your cleaning by washing and vacuuming all in one simple step. Boost Mode tackles stubborn messes with ease, while the intuitive LCD screen provides real-time updates on cleaning progress. This screen also includes a built-in trouble shooting feature with text and images! The dual tank system keeps clean and dirty water separate for a fresh clean with every pass, and LED headlights illuminate your path to help reach under cabinets and along baseboards for a thorough clean. When the job is done, the self-cleaning function makes cleaning up easier than ever. Not only does the self-clean tray clean your product for you, it also charges your batteries so you are ready to go as soon as you want to clean next. This product includes our HushTone™ Technology, meaning it is engineered for a quieter clean without compromising performance. Lastly, this unit is a part of Hoover's ONEPWR™ system, so you can use the same battery in any of our cordless products!
What we say:
Hoover's ONEPWR Streamline makes your hard floor cleaning more convenient on several levels. First, you can clean and vacuum at the same time (sorry mop, your usefulness has run its course). The there's roller design that lets you get right up along the sides where other vacuums leave a couple inches of dirt and debris behind. The operating noise level is quieter than other cleaners, an LCD screen offers helpful information as you clean, and the unit self-cleans when you're done. Even better, the self-clean tray also charges the battery, so you don't have to take it off and set it on a charger. It's as streamlined a cleaner as you could hope for.
Price: $449.99
For more information, click here.
Finalist
---
WINNER – Commuting
Greenworks GW 80V 27.5″ Commuter E-Bike 275EB80L460
What they said:
Range: 25 Miles
Speed: 20 MPH
Charge Time: 40 Mins
Carrying Capacity: 300 Lbs
Rear Rack and Fenders
LCD Display
3 Speed Petal Assist
What we say:
E-commuting is becoming more popular and today's brushless motor and battery technology is making it a legitimate option for many people. Greenworks is entering the space with a commuter E-bike that has an excellent 20 MPH top speed and competitive 25-mile range. Considering it only takes 40 minutes to charge, you can make longer commutes to work without a problem. What really caught our attention was the price. Just under $1900, Greenworks is offering a quality, full-features E-commuter for about half of what you'd pay from name brands like Trek.
Price: $1899.99
For more information, click here.
---
WINNER – Kitchen Products
InSinkErator Power & Advanced Series
What they said:
InSinkErator® is excited to announce the launch the next generation of garbage disposals. The Power and Advanced Series garbage disposals are new and improved garbage disposals that will replace and upgrade our current Power and Quiet Series disposals.
The new Advanced Series and Power Series garbage disposals feature easier install, increased stages of MultiGrind® Technology, elevated SoundSeal® Technology, and increased horsepower, setting them apart from current InSinkErator Quiet and Power Series models.
InSinkErator's garbage disposal installation has never been easier with new EZ Install technologies. The new EZ Connect Cord and EZ Connect Hardwire Adapter feature a simple connector plug for both corded and hardwired installations. The EZ Removable Dishwasher Inlet Plug is designed for easy removal with a simple turn of the included wrenchette. Finally, EZ Grip Handles make it easier to grip the disposal when installing and Lift & Latch technology makes it easy to attach the disposal to the sink for a faster, hassle-free installation.
The new Power and Advanced Series garbage disposals also feature improved MultiGrind® Technology. Now with up to four stages of MultiGrind® Technology, InSinkErator garbage disposals help tackle even the toughest food scraps. Our Power Series Disposals feature 2-Stage MultiGrind® Technology and rust-resistant, stainless steel grind components to handle tough food scraps like peach pits. Our Advanced Series disposals with Advanced Grind feature 3- or 4-Stage MultiGrind® Technology and rust resistant stainless steel grind components to handle tough and fibrous food scraps like bones and celery stalks.
InSinkErator's SoundSeal® Technology delivers quiet disposal operation. Our Power Series disposals operate at reduced noise levels over a standard disposal while our Advanced Series features Quiet and Quietest SoundSeal® Technology. Our Quiet SoundSeal® Technology features a Quiet Collar® Sink Baffle to block noise from the sink opening, a rubber Anti-Vibration Mount and Tailpipe Coupler to reduce vibrations, and a Full Trim Shell to further restrict disposal noise. Our Quietest SoundSeal® Technology is equipped with a custom-molded Sound Jacket, Anti-Vibration Mount and Tailpipe Coupler, and Quiet Collar® Sink Baffle to reduce noise and vibration from the disposal making it the quietest disposal on the market.
What we say:
InSinkErator enjoys a wide reach and solid reputation in the garbage disposal sector, but that doesn't mean they're content to rest on their laurels. How do you make a great garbage disposal better? InSinkErator's new Power and Advanced lines target three key areas of meaningful improvement: easier installation, stronger performance, and quieter operation. Whether you're fitting new construction, adding a disposal for the first time, or replacing existing disposals, InSinkErator is setting a standard your customers will love.
Price: Varies based on model
For more information, click here.
---
WINNER – Outdoor Living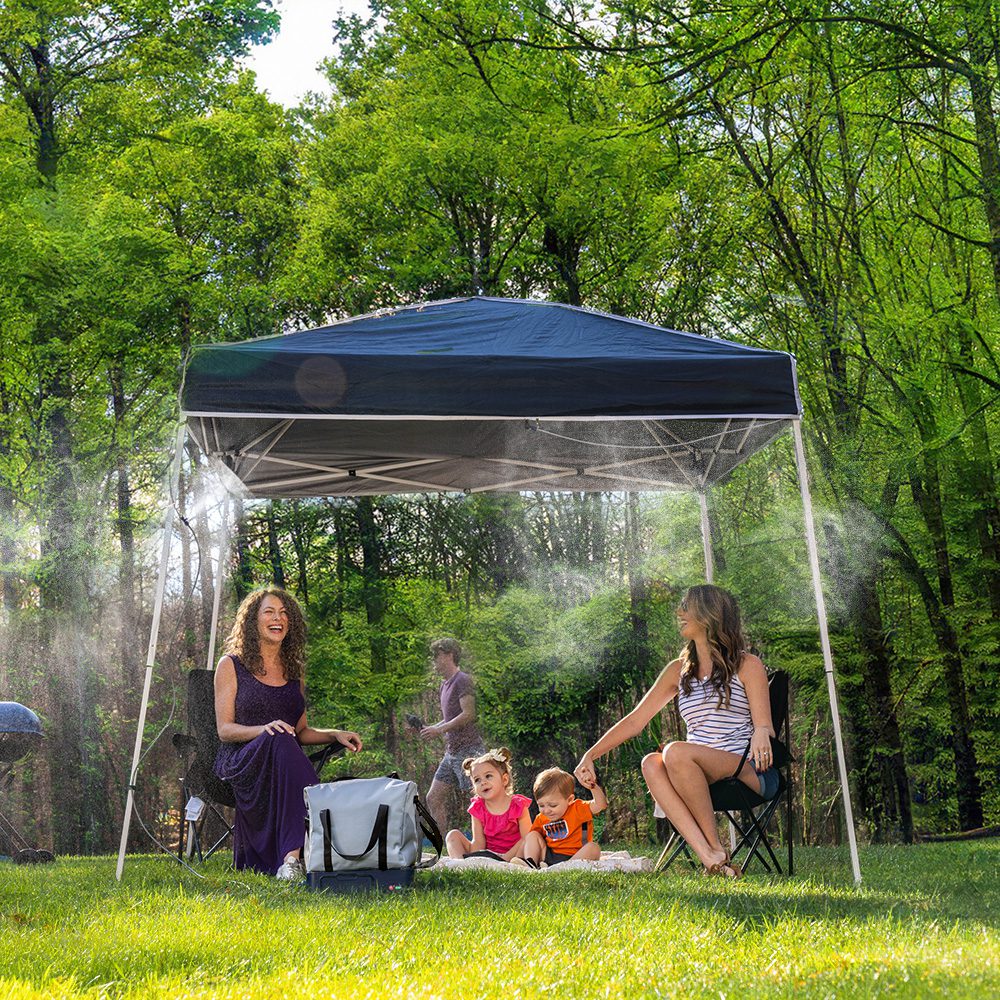 Project Source Portable Misting Cooler Kit
What they said:
The Portable Misting System by Project Source Misting is a revolutionary cooling solution with ice-cold mist capabilities, collapsible design for portability, compatibility with any Project Source Misting product, and cordless operation powered by a 12V battery system. It offers instant relief from heat with its refreshing mist, making it perfect for outdoor activities and hot summer days. The collapsible design saves space and facilitates easy transport, while the compatibility with various misting devices caters to individual preferences. Its cordless functionality ensures convenient use in any outdoor setting, making it a must-have for staying cool and comfortable no matter the location.
What we say:
A mister always sounds like a good idea during the heat of summer, but the reality can be a bit inconvenient. There's not always a hose nearby, nobody wants to carry a 5-gallon bucket of water around, and you can just drop a hose in the pool or lake. There's a better way, and is comes in the form of the Project Source misting cooler. Fill the easy-to-carry soft cooler with ice and water, set up at your spot on the deck, beach, soccer field, or wherever you find yourself, and enjoy a cool mist to keep your mind and body relaxed. It's easy, convenient, and so much better than wrestling with other designs.
E
Price: $149
For more information, click here.
Finalist
---
WINNER – Smart Home
Brinks Electronic Deadbolt with Fingerprint Sensor
What they said:
The Brinks Electronic Deadbolt with Fingerprint Sensor sets the standard for unparalleled convenience, ease of use and top-notch security, all at an affordable price point. The fingerprint sensor technology provides an exceptional level of security and personalization. Open doors seamlessly with just the touch of your finger, no keys needed. The Brinks Electronic Deadbolt also allows a more traditional approach to unlocking the door with a personalized 4 to 8 digit code. An integrated numeric keypad with a backlit display ensures easy access even in low-light conditions, further emphasizing the user-centric design. The Brinks Electronic Deadbolt has the capacity to store up to 50 user codes and 50 fingerprint codes, allowing every family member or frequent visitors to have their own unique access code, enhancing accountability while maintaining maximum security. The deadbolt comes with 10 single-use codes, perfect for granting temporary access to visitors, contractors, or service providers. These single-use codes are automatically deactivated after one-time use, ensuring that your home remains secure after their purpose is fulfilled.
Other features include:
• Auto Relock: The Brinks Electronic Deadbolt will automatically relock, securing the door after a set period of time, giving you peace of mind knowing that your home is always protected – even if you forget to lock the door behind you.
• One-Touch Locking Function: As easy as it is to use your fingerprint to unlock the door, the fingerprint will also lock the door with just a single touch, ideal for when you have your hands full or those moments when you need to secure your home quickly.
• Multiple Finishes: Available in matte black, satin nickel and Tuscan bronze finishes to match most design styles.
What we say:
Electronic deadbolts are a fantastic way to allow or cut off access to a home or facility without having to cut a bunch of keys. They can be a bit pricey, though. Brinks has a compelling solution to the problem. Their latest electronic deadbolt is both code and fingerprint enabled, with the capacity to save 50 users on both methods. Of course, there's also a key to use as a backup. We like the feature set, but it's the price that really got our attention—just $79. With many electronic locks with the same features running $100 or more, Brinks has an affordable way to enjoy the same convenience and security.
Price: $79
For more information, click here.
---
WINNER – Sports & Recreation

Greenworks 60V 2-Seat Youth Go Kart GC60L80
What they said:
RANGE: 20 Miles
Speed: 25 MPH
Charge Time: 2.5 HRS
Carry Capacity: 276 lbs
Dual Bluetooth Speakers
Full Suspension
All Terrain
What we say:
Sorry, grownups, this one's for the kids. Two kids, actually. Part of Greenworks' expansion into household and recreational products includes a 2-seat youth go-kart, and this one's no joke. Hitting speeds of 25 MPH with a full off-road design, your kids' faces will be lit up with delight as they tear around the racetrack you're already thinking about building in the backyard. It gets even better, though. Full suspension helps smooth out the ride, and built-in Bluetooth speakers enhance the entertainment value. Running on 100% battery power, there's enough capacity for drive or 20 miles. Who needs a screen to be entertained when you have one of these around?
Price: $1999.99
For more information, click here.
Finalist
---
WINNER – Upright & Stick Vacuums
Greenworks 24V Stick Vac 4707702CO
What they said:
Powerful Suction for All Household Messes Including Pet Hair
Up to 90 Minute Runtime with Two Removable 24v PowerAll™ Batteries
30-Minute Rapid Charge Time! Charge One While Using the Other for More Runtime
3 Power Modes for Multi-Surface Cleaning controlled by LED Touch Screen
For Whole-Home Cleaning, 5 Attachments and Charging Stand Included
What we say:
If you're not using a cordless tick vacuum yet, you're missing out on one of the most convenient ways to keep your house in order between deep cleanings. Greenworks has a fantastic design with their 24V Stick Vac. With three power modes controlled by an LED touchscreen, you can quickly hit your carpets and hard floors for spot cleaning, or clean the whole house with a vac that's lighter and more maneuverable than traditional upright models.
Greenworks sweetens the deal with an all-inclusive kit that includes two batteries, nozzles, storage clips, 3 HEPA filters, and a charging stand for just under $400.
G
Price: $399.99
For more information, click here.
---
---