Every year it seems like our outdoor power equipment award winners eclipse the influence of gas-powered tools. The 2023 Innovation Awards presented this year to the most innovative outdoor power equipment products highlight that type of advancement. As battery-powered outdoor power equipment continues to gain on gas, innovation seems to arrive in relentless waves.
This year, even the commercial side of the OPE market started, if not ditching gas, at least introducing new battery-powered products for professional landscapers. Manufacturers continue to innovate in this area, as you can tell by the many winners of the 2023 Pro Tool Innovation Awards for outdoor power equipment.
Winner – Gas Snow Blowers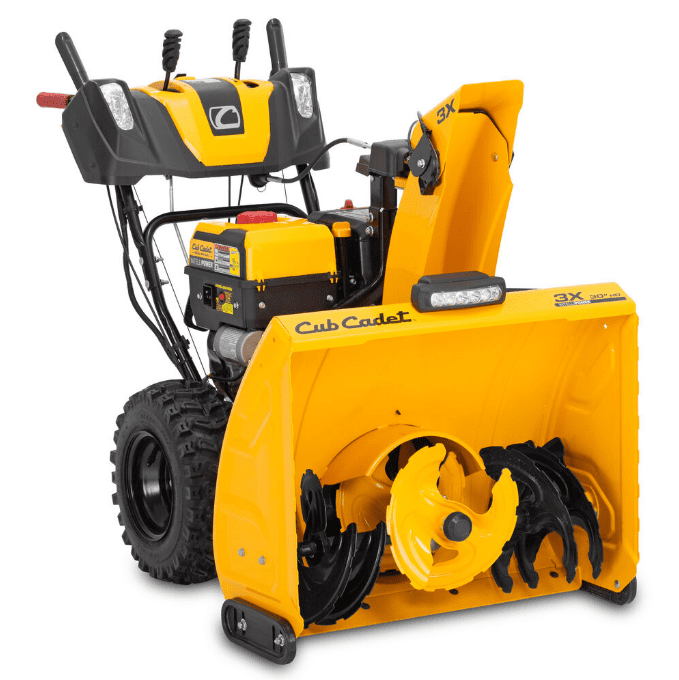 CUB CADET 3X 30″ HD Intellipower® Snow Blower 31AH5LVWB103X
What they said:
Take down the wall of winter with the Cub Cadet 3X 30″ IntelliPower® 3 stage snow blower engineered to handle up to 23-inches of snow. A 3X brings power that's built to last with a Cub Cadet 420cc 4-cycle OHV engine with IntelliPower Technology and push button electric start, making it easy to start in winter weather.
IntelliPower® engine technology offers up to 16% more available power, resulting in less bogging down when clearing heavy, wet and deep snow. Three-stage design with durable, center-mounted steel accelerator spins 10x faster than the augers to break down and quickly clear heavy, wet snow.
A heavy-duty cast aluminum auger gearbox and steel chute provide durability, allowing your machine to take on what winter has to offer.
Maneuver through snow with ease thanks to trigger-controlled power steering and a self-propelled drive. Heated grips provide added comfort in cold weather. Work at your pace, with six forward and two reverse speeds, and in the dark thanks to the dual LED headlights and LED light bar. Whatever your extreme, there is a Cub Cadet snow blower engineered for it.
What we say:
Cub Cadet starts with the foundations of a solid 3-stage snow blower, including the power steering you need and the heated handles that are a nice luxury. The Intellipower upgrade helps set this model apart with consistent performance and higher available power from its 4-cycle 420cc engine. On the business end, the center auger is geared to spin ten times faster than the other augers, blasting through snow and breaking it up, so the next stages can effectively clear it. Wrapped up in a durable build, Cub Cadet's 3X 30″ HD Intellipower snow blower has what it takes to handle the heaviest snowfalls this winter.
Price: $2099
For more information, click here.
---
Winner – Accessories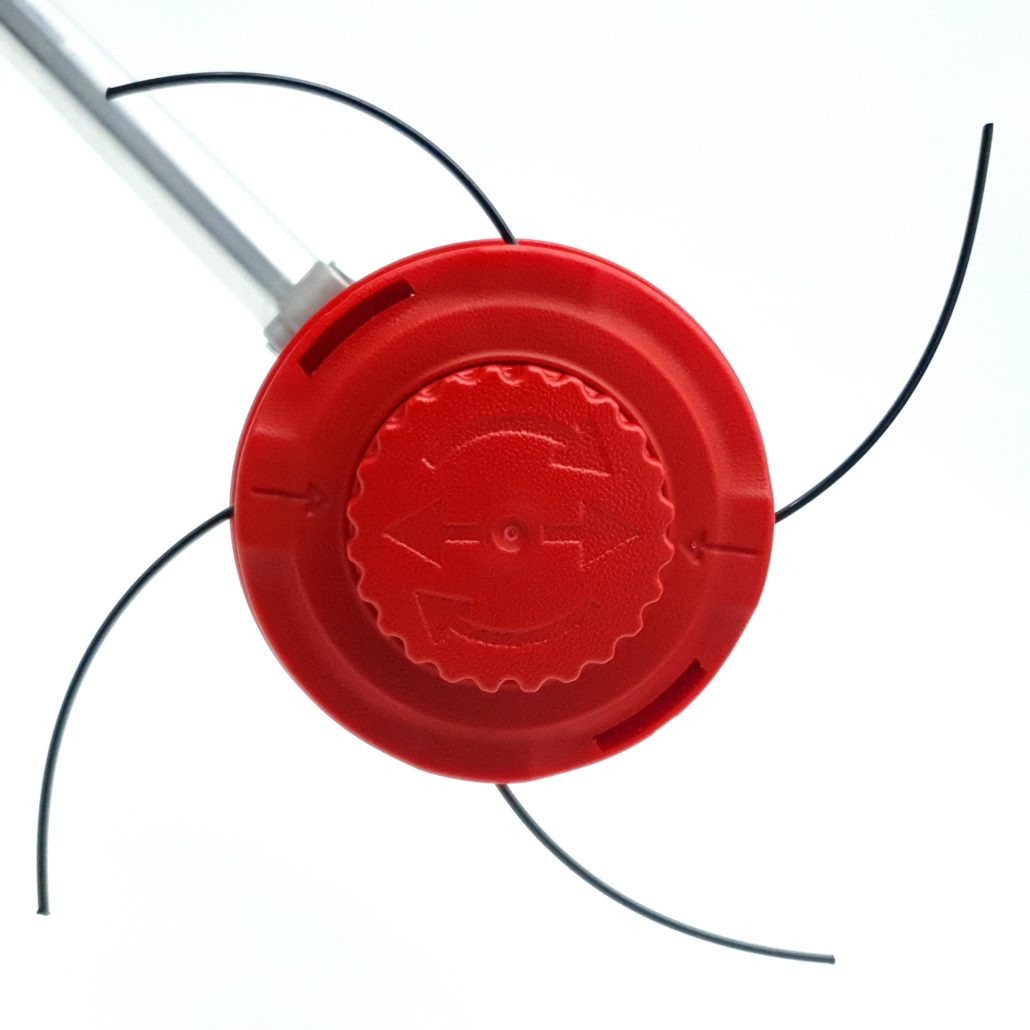 AMKOR Tri-Clone TREX 1000 & 2000 Fast Feed String Trimmer Head ATI-21DST2000
What they said:
W've been selling since Sep. 1 2021.
TREX 1000 fits Stihl straight shaft only, M10 x 1.00 mm screw
TREX 2000 fits on Echo, Husqvarna and other M10 x 1.25mm screw straight shaft
True fast feed string trimmer head
Load more line than any other string trimmer heads
Fast feed/ Bump feed 4 string provide a greater cutting power
Option to load 2 or 4 string (Up to .105 string)
Never need to open the head to load the line
Easiest/ Quickest to load line
Can use .069 line to .155 (.155 can be bought from Lowe's)
What we say:
When you want to take your string trimmer's cutting power to the next level, check out what the AMKOR Tri-Clone Trex has to offer as a replacement trimmer head. This fast-load head has the ability to run with a dual line like most, or with four line, doubling the cutting strikes with each rotation. Plus, the four cutter configuration can run lines up to 0.105″ and hold a generous capacity.
Price: $39.99
For more information, click here.
---
Winner – ATVs, UTVs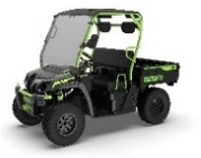 Greenworks 60V Utility Vehicle w/ (6) 8 Ah Batteries, 1.5 kW Charger CU400W6
What they said:
RANGE: 20 Miles
SPEED: 15 MPH
CHARGE TIME: 2 HRS
TOW CAPACITY: 500 lbs.
ELECTRONIC ASSIST DUMP BED
What we say:
When Greenworks delivered their zero turn and lawn tractor ride on lawn mowers, folks wondered what would come next. Now we know—the popular 60V and 80V residential lines are looking forward to battery-powered UTVs. Sporting a 2-person configuration with electronically assisted dump bed, the 60B model is capable of running 15 MPH and up to 20 miles. It can even tow up to 500 pounds.
Price: $12999.99
For more information, click here.
---
Winner – Battery Powered Augers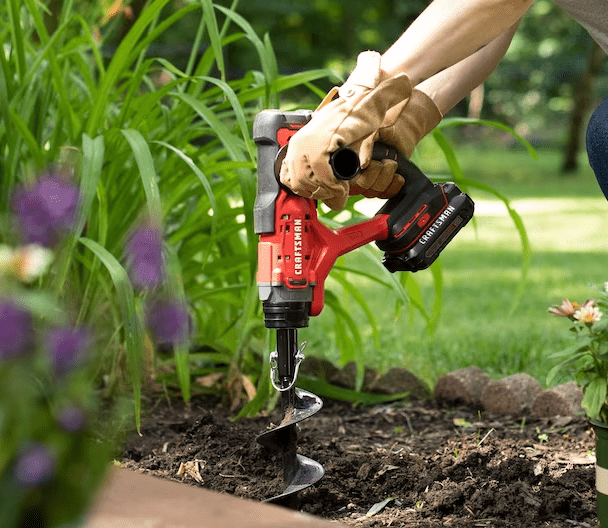 CRAFTSMAN V20 Multi-Use Garden Tool
What they said:
Up to 165 Holes Per Charge
Per Charge, using a CRAFTSMAN V20 CMCB2015 1.5Ah Battery, 3-in deep holes from surface to removal in existing untilled garden
Digs Holes up to 3x Faster Than a Manual Planter
Using CMCB2015 CRAFTSMAN V20 1.5Ah, 3-in deep holes from surface to removal, 4-in standard manual planter in existing untilled garden
Up to 25 Holes Per Minute
Per Minute, using a CRAFTSMAN V20 CMCB2015 1.5Ah Battery, 3-in deep holes from surface to removal in existing untilled garden
Auxiliary Handle, left and right placement, with 3rd gripping surface Compatible with other CRAFTSMAN specific garden bits (Sold separately)
What we say:
Craftsman if giving your arms and back a break this planting season with the V20 Multi-Use Garden Tool. This compact, handheld auger comes with a 3-inch auger that quickly makes room for bulbs and small plants. Using any V20 battery for power, the compact, lightweight 1.5Ah battery has all the power you need to make up to 165 3″ holes on a single charge, and work at a rate of about 2 seconds per hole.
Price: $129
For more information, click here.
---
Winner – Battery Powered Backpack Blowers
STIHL Battery-Powered Backpack Blower BGA 300
What they said:
Modeled after its gas counterparts, the BGA 300 is the first STIHL battery-powered backpack blower and the most powerful battery blower in the STIHL line-up. The industry-leading Noise Reduction System is designed to improve sound quality and provide 360-degree noise reduction that keeps the noise level at a minimum without disrupting residents and bystanders.
With its high-performance brushless motor and three power levels, the STIHL BGA 300 delivers a powerful 26 newtons of blowing force and a max air speed of 192 MPH (571 CFM) for heavy-duty clearing, allowing the user to get the job done quickly and thoroughly. When paired with the STIHL AR 3000 L battery, the BGA 300 delivers up to 140 minutes of performance so the user can complete nearly a day's work without recharging.

Certified by the American Green Zone Alliance (AGZA), the BGA 300 provides operators a quality tool with the same look and feel as its gas-powered counterpart making it easy to make the transition to battery. Its robust and durable build also provides an easy-to-handle and comfortable ergonomic design in a virtually maintenance-free package. In addition, low operating costs due to eliminating the hassle and cost of fuel make it a cost-effective, environmentally conscious purchase. "
What we say:
Seamlessly make the transition from gas to battery power on your backpack blower with the Stihl BGA 300. Maintaining the form and feel of the BG 300 gas backpack blower, Stihl brings 26 Newtons of blowing force powered by their high capacity backpack battery. In conjunction with a full line of Stihl Pro-grade handheld tools, lawn care crews are now even closer to having a trailer full of equipment that not only replaces gas, but also doesn't force them to compromise in performance.
Price: $699.99
For more information, click here.
Finalist
---
Winner – Battery Powered Blowers
Kress 60V Brushless Axial Blower KG561
What they said:
Kress lithium-ion battery-powered blowers have set the new benchmark for handheld blowers. Extreme power – with three speeds and a Turbo option – makes the most difficult clean-up jobs a breeze. Without fuel mixing, starter cords or chokes, the blower is ready at any time. The Kress-made brushless motor provides instant on-and-off to preserve battery life and the blower comes fitted with a trigger control for maximum work efficiency.
Additionally, the Kress handheld 60V Brushless Axial Blower boasts a maximum air volume of 850CFM and air speed of more than 170 mph. Equipped with air amplifier technology, the operator has complete control of airflow for increased efficiency based on the requirements of the job.
The Kress 60V Brushless Axial Blower permits professional-level performance without the complexity of a typical gas-powered blower. And Kress-built brushless motors provide more power, longer runtimes and an extended lifespan over standard brushed motors.
What we say:
The battery-powered handheld blower sector has been all about pushing the performance envelope, and that continues this year. Gaining attention as a legitimate high-performance option, the Kress 60V KG561 leaf blower can deliver up to 850 CFM and 170 MPH. Even compared to battery-powered backpack blowers, those are outstanding numbers. If blowing force has been your primary hangup in making the switch to a battery leaf blower, you're officially out of excuses.
Price: $379.99
For more information, click here.
---
Winner – Battery Powered Brush Cutters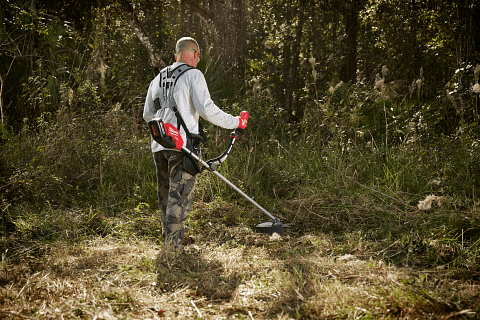 Milwaukee Tool M18 FUEL Brush Cutter 3015-20
What they said:
Designed to meet the needs of the professional, the M18 FUEL™ Brush Cutter delivers the power to clear thick brush, allowing users to finish the job more efficiently and effectively. Featuring a POWERSTATE™ Brushless Motor, this brush cutter maintains the ability to sustain power underload without bogging down, powering through the most demanding of applications. Utilizing REDLINK PLUS™ Intelligence, this brush cutter delivers instantaneous throttle response for ultimate control and increased productivity. A two-speed control feature provides users with maximum run-time in low applications where less power is needed while maximizing power for increasingly demanding applications. The M18 FUEL™ Brush Cutter provides professional landscapers the best cutting experience with less fatigue during extended periods of cutting. A dual shoulder strap harness and a lightweight, balanced design gives users more comfort and ease of use.
What we say:
The big deal here is that the Milwaukee 3015 is a legit dedicated brush cutter rather than an attachment-capable system. Rather than simply shifting an existing string trimmer to accept a blade, the design team started from the ground up. The performance is outstanding, and the bike handle controls and adjustable shoulder harness go a long way in giving in the same feel and maneuverability of a gas model. With this setup, you can take on everything from reclaiming areas of overgrowth to clearing trails through the back forty.
Price: $199
For more information, click here.
---
Winner – Battery Powered Chainsaws
Milwaukee Tool M18 FUEL 14″ Top Handle Chainsaw 2826
What they said:
The Milwaukee® M18 FUEL™ 14″ Top Handle Chainsaw cuts faster than 35cc gas, delivers the power to cut hardwoods, and eliminates the headaches associated with gas engines. The saw is designed to meet the performance, durability, and ergonomic needs of the professional arborist, power utility linemen, and landscape maintenance professional.
Harnessing M18 FUEL™ technology, the saw can reach full throttle in under 1 second to provide users with ultimate control and faster cutting than 35cc gas, increasing application speed and productivity. The POWERSTATE™ Brushless Motor maintains speed under heavy loads without bogging down to outperform small gas engines and higher voltage systems. In addition to outperforming gas competitors, the saw eliminates all of the headaches associated with gas engines, such as pull starts, high noise levels, emissions, and regular maintenance. The REDLINK PLUS™ Intelligence enables full-circle communication between the tool and battery, providing you with unmatched levels of performance, protection, and productivity. The M18™ REDLITHIUM™ HIGH OUTPUT™ XC 8.0 Battery (not included) provides efficient power delivery giving users longer runtime in application with the ability to make 150 cuts per charge in 4″ x4″ Cedar.
As an added benefit, the saw has a professionally demanded feature set including an easy access chain tensioner, automatic oiler, metal bucking spikes, onboard scrench storage, lanyard loop, and climbing scabbard.
What we say:
The Milwaukee M18 Fuel Top Handle Chainsaw is a highly convenient, fast-cutting tool that can replace your gas saw without a problem. Targeting professionals who want a top-handle chainsaw with focus on higher performance, this 35cc gas-equivalent saw makes quick work of limbing and topping at height, and limbs branches on the ground with ruthless efficiency. With no gas engine issues to deal with, it's an incredibly convenient saw that can easily take over as your go-to top-handle.
Price: $499
For more information, click here.
Finalist
---
Winner – Battery Powered Hedge Trimmers
ECHO 56V Hedge Trimmer DHCS-3400
What they said:
ECHO's DHCS-2800 and DHCS-3400 are the world's-lightest single-sided battery-operated Hedge Trimmers. They are part of the ever-growing ECHO eFORCE® 56V Battery System.
These lightweight and innovative models feature MAXOUT™ Technology which ensures maximum output for the life of the battery charge. That means the battery will provide maximum power output from full charge to empty, and the user would not experience any reduction in performance throughout battery run time.
The DHCS-2800 and DHCS-3400 both feature single-sided, double-reciprocating blades, and are incredibly lightweight for easy maneuverability. They have power comparable to a 22cc gas-powered Hedge Trimmer, with blade speeds of up to 4,600 strokes per minute. The DHCS-2800 features 28 in. blades while the DCS-3400 has 34 in. blades. Both models feature high & low cutting speeds and precision cut blades for clean finishing in all cutting situations.
In addition, both are part of ECHO's X Series lineup which is our best-in-class solutions that are lightweight, powerful, and offer greater productivity. They are both kitted with a 2.5Ah battery and a Rapid charger and available as bare tools.
What we say:
Modelled after ECHO's gas models, the 56V DHCS-3400 has an outstanding reach with its 34″ knives while offering a lightning-fast 4600 SPM stroke rate. As part of the X-Seres lineup, you get professional-grade performance and durability with the convenience of a battery power source. If you're tired of dealing with the hassles of a gas engine, ECHO offers a hedge trimming solution that doesn't make you compromise in performance to switch over to battery power.
Price: TBA
For more information, click here.
---
Winner – Lawn Mowers Accessories
Altoz, Inc. TRX Deck Wing Extension
What they said:
The Altoz Deck Wing Extension is an innovative accessory designed specifically for the Altoz TRX 766 tracked zero-turn mower with HV All-terrain Deck. This time-saving accessory sets a new standard in versatility for the industry, enabling operators to accomplish tasks that were once considered challenging or impossible.

Unleash the Power of Versatility:
The Altoz Deck Wing Extension gives operators the ability to tackle a wide range of mowing challenges with ease and efficiency. The TRX 766 tracked zero-turn mower with HV All-terrain Deck and Deck Wing Extension is designed for mowing solar fields, under fence lines, shorelines, ditch banks, or maintaining orchards and water retention ponds. This accessory is key to accessing hard-to-reach areas effortlessly and navigating obstacles or confined spaces.

Boost the Bottom Line:
We understand that time is money, and efficiency is paramount. That's why the Altoz Deck Wing Extension is engineered to optimize your productivity and profitability. By increasing the cutting width by 16 inches (82 inches total), it covers more ground in a single pass, increasing mowing coverage and productivity by 25%. The unique functionality reduces the time spent on string trimming and results in fewer labor hours which increases the bottom line.

Unparalleled Flexibility and Terrain Adaptability:
The Deck Wing Extension doesn't just provide added cutting width; it also boasts exceptional flexibility to effortlessly follow the natural contours of the terrain. Its ability to flex up to 12 degrees allows it to adapt to landscape contours and ensures an even and precise cut on flat, uneven or rolling terrain.

Cutting-Edge Design for Superior Performance:
Crafted with meticulous attention to detail, the Altoz Deck Wing Extension is designed to deliver superior performance and durability. Equipped with a low lift, reversible, hardened steel straight blade, it guarantees efficient and clean cutting results. The spindle cover serves as a shield, protecting the spindle, bearings, and seals from grass wrapping, extending their lifespan and reducing maintenance needs.

User-Friendly and Convenient:
Time is valuable, and every second counts. That's why the Deck Wing Extension is designed for hassle-free installation and removal, allowing more work to get done quickly and efficiently. It features a locking transport position, making trailering easy. With its user-friendly design, operators can focus on what matters most – getting the job done effectively and efficiently.

What we say:
Altoz designed the Deck Wing Extension specifically to help you mow under objects that would normally require you to come back and tackle with a string trimmer. As you cut, the extension is capable of flexing up to 12°, following the grade of the land, even if not the same as what the main deck is over. The nice thing is that you can easily attach or remove it to deal with the property at hand, and it folds up to ensure you can still fit your TRX mower on the trailer.
Price: $2195
For more information, click here.
---
Winner – Lawn Mowers, Lawn Tractor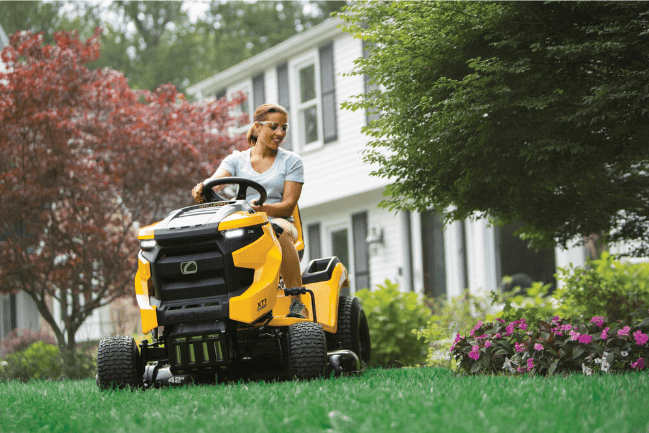 CUB CADET Enduro with IntelliPower XT1 LT42/13A6A9TSA10
What they said:
The Cub Cadet XT1 LT42 with IntelliPower lawn tractor is engineered with elite strength and reliable control. IntelliPower™ Technology allows you to maintain a constant blade tip speed by digitally monitoring and adjusting the throttle position to optimize the engine's RPM, giving you a more consistent cut. Mow with optimized command and control at every turn with a hydrostatic transmission that eliminates shifting, just push the pedal and go.
Ride in comfort with a 15-in. high-back seat. An AGM battery delivers reliable starting with a slower discharge so you won't have to worry about it going dead during the offseason. The LT42 is compatible with a variety of attachments and accessories for year-round versatility. Backed by a 3-year warranty and a nationwide network of Cub Cadet dealers for expert service and support, the XT1 Enduro Series delivers an unrivaled mowing experience.
What we say:
Cub Cadet's Enduro series lawn tractors are built to maximize performance, versatility, and comfort. Expanding on that, the line now includes an IntelliPower option on the XT1 42-inch lawn tractor that makes it even better. It's all about cut quality, with the system automatically adjusting the throttle to ensure the engine is running at an optimal RPM level while a hydrostatic transmission accelerates without the need for shifting. The XT1 is good for more than just the mowing season. There are a variety of attachments that make it an all-year tool for maintaining your property.
Price: $2399
For more information, click here.
---
Winner – Battery Lawn Mowers, Lawn Tractor
RYOBI 80V HP 42″ Riding Lawn Tractor RYRM8060
What they said:
RYOBI™ introduces its first 42″ lithium battery powered riding lawn tractor, the RYOBI 80V HP 42″ Lithium Electric Riding Lawn Tractor to its 80V HP Brushless lineup of outdoor power equipment. 80V HP technology provides the power of a gas tractor with the convenience of cordless utilizing brushless motors, advanced electronics, and high-performance lithium technology.
RYOBI's first 42″ lithium electric riding lawn tractor combines 80V HP technology and 3 brushless motors to deliver the power equivalent of a 21-horsepower gasoline engine. This 42″ lithium electric riding lawn tractor delivers the performance of gas with the convenience of cordless by cutting up to 2 acres per charge, powered by (3) RYOBI™ 80V 10Ah lithium batteries. The included 80V Hyper Charger can fully recharge this mower in under 2.5 hours.
The RYOBI 80V batteries are designed to easily be removed so that the user can swap batteries and extend their runtime without having to stop to recharge. With the convenience of RYOBI™ 80V batteries, this mower requires no regular engine maintenance, gas, or oil while providing a quiet cutting experience for the user.
Featuring RYOBI's CROSS CUT multi-blade system, the 42″ 10-gauge heavy-duty fabricated steel deck uses four steel blades to achieve a superior cut. Users can utilize the 13-point height adjustment to find their ideal cutting height between 1.5″ and 4.5″. The quick-release deck allows users to remove the deck in 90 seconds, making servicing and replacing blades a breeze.
This riding lawn tractor has mulching (mulching kit ACRM054 sold separately), side discharge, and bagging capabilities (bagging accessory ACRM028 sold separately). This 42″ riding lawn tractor has plenty of features that will make mowing an easy experience.
To keep users always informed and in control, the LCD screen displays information on runtime, battery level, and blade check reminders. Control blade speed, drive speed, and headlights with the push of a button. This riding lawn tractor can also be paired with the RYOBI Riding Mower App via Bluetooth® for quick and easy monitoring of battery levels while charging.
The RYOBI Riding Lawn Tractor makes quick work of towing, with a towing capacity of 500lbs. and a universal 2" square hitch on both the front and rear to connect trailers, snowplows, dump carts, dethatchers, or any other attachments. This tractor is also equipped with front, rear, and side storage compartments to haul mulch, logs, plants, or any material around the yard, making it the most versatile riding mower on the market. The premium seat ensures a comfortable ride for users even while mowing rough terrain. Additional user convenience features include (2) USB Ports (1 USB-A, 1 USB-C) to charge mobile devices and cup holders.
What we say:
Rounding out Ryobi's line of 80V riding lawn mowers, the 42″ lawn tractor is an impressive machine. For power, you can load up to three 10Ah suitcase-style batteries, giving you the runtime to mow up to 2 acres. With the power equivalent of a 21HP gas engine, you have the power you need, while Ryobi's CrossCut stacked blade system offers higher cut quality than traditional single-blade designs. You also get the durability of a fabricated 10-gauge steel deck, the comfort of an adjustable seat, Bluetooth connectivity, lots of storage on the mower, and the ability to use a variety of attachments.
Price: $4999
For more information, click here.
Finalist
---
Winner – Riding/Zero Turn Lawn Mowers
CUB CADET Ultima Series ZTXS Zero-Turn Mower
What they said:
Your one-of-a-kind lawn has finally met its match. The Cub Cadet® Ultima Series™ ZTXS is our first-of-its kind mower with a zero-turn steering wheel. Built with commercial-grade features, this machine was engineered to take on the varied terrain of almost any yard. Including yours. Able to pull a zero-turn with ease, tackle tough hillsides of up to 20 degrees, and take on the long stretches of up to 12 acres in between, you might think the ZTXS was built specifically for your yard.
From stretching hillsides to dodging that pond and your favorite bushes and even the barn, the ZTXS is ready for the job. Synchro-Steer™ technology gives you control of all four wheels from the intuitive steering wheel, making our signature zero-turn possible. And, with a commercial-grade deck and engine, the ZTXS offers strength and the consistent cut quality you can depend on. Mow after mow and zone after zone. So you can be confident you won't mow over that sapling and our tubular steel rollover will put your mind at ease on those hills. All while delivering the comfort you expect from an Ultima seat and armrests.
What we say:
For those of you who have been staring longingly at Cub Cadet's commercial zero-turns with a steering wheel system but don't have a commercial mower budget, your day has come! The Ultima series now has a steering wheel ZT option that includes Cub Cadet's Synchro-Steer 4-wheel control. On one hand, the steering wheel is easy to control for folks who don't like the idea of lap bars. On the other, control system gives you the ability to mow slopes up to 20°. Whether it's about the steering system prefernce or the challenges of your specific lawn, Cub Cadet's Ultima ZTXS is the zero-turn mower you need.
Price: $7,499 – $10,299
For more information, click here.
---
Winner – Battery Riding/Zero Turn Lawn Mowers
EGO POWER+ 42" Z6 Zero Turn Mower with E-Steer ZT4205S
What they said:
Drives like a car, turns like a ZTR! Introducing the industry's first e-STEER™ technology, which delivers ultimate control with the added precision of a steering wheel. This 42-inch electric zero turn lawn mower packs the equivalent of 22 horsepower in a gas-powered mower without the noise, fuss, or fumes!
Featuring Peak Power™+ technology, it combines the power of six EGO 56V ARC Lithium™ batteries. This 42-inch zero turn lawn mower cuts up to 2.5 acres on a single charge with the four included 56V 12.0Ah ARC Lithium™ batteries and is fully expandable so you can cut three, four, five, or as many acres as you need.
Four independent brushless motors deliver the power and performance of gas while an adjustable hydraulic seat suspension delivers a comfortable mowing experience. Customize the ride with an LCD interface featuring three driving modes that can be accessed with the touch of a finger: Control, Standard, and Sport. Premium features like LED lights, a USB charging port, and Bluetooth come standard to make the experience unlike any other ZTR. Experience zero-turn mowing like never before with the EGO Power+ 42" Z6 Zero Turn Riding Mower with e-STEER™—Power Like No Other.
What we say:
The Tesla of battery-powered lawn mowers now drives a lot more like one thanks to the EGO E-Steer's steering wheel. It's more than just a racecar-style steering wheel that still allows for a zero turning radius, though. EGO put most of the controls right at your fingertips where they're easy to see and adjust on the fly. From drive speed and blade speed to battery levels, everything you need is right in front of you. As you'd expect from EGO, the performance and refined design are also present, making for a user experience that's second to none.
Price: $5,999.00
For more information, click here.
---
Winner – Robotic Lawn Mowers
Mammotion Technology LUBA AWD Series Perimeter Wire Free Robot Lawn Mower
What they said:
LUBA AWD Series is a state-of-the-art mower that uses cutting-edge technology to make lawn care more efficient, convenient and eco-friendly. It delivers a picture-perfect lawn with a hands-free experience and features quick setup, all-wheel-drive for up to 75% slopes, multi-zone management, smart app control, obstacle avoidance and the ability to handle up to 5000m² to ensure your lawn always looks its best no matter the season.
In contrast to other robot lawnmowers on the market, which require manual burying of long wire boundaries and produce ineffective random mowing paths, LUBA is easy to use and its planned route algorithm significantly improves mowing efficiency. Besides, most of robot lawnmowers on the current market are two-wheel-driven, which are easy to get stuck and stop working until users take them out. LUBA's all-wheel-drive enables it to climb up to a 75% slope to deliver best-in-class capability, ensuring extensive adaptability to handle large home yards and the most demanding rough terrains.
Available in 3 models: LUBA AWD 5000 can mow up to 5000m2 (1.25 acres), LUBA AWD 3000 can mow up to 3000m2 (0.75 acres), LUBA AWD 1000 can mow up to 1000m2(0.25 acres).
Key Features:
Quick Set-Up Without Perimeter Cable
Users no longer need to dig or bury wires – simply walk with LUBA along the lawn boundaries of the initial mapping to program the mowing zones. Its Intelligent RTK and Multi-sensor Integrated Navigation System ensures precise positioning in the cm-level accuracy.
Smart App Control
With the app control, you can easily create no-go zones so areas like flower beds will always be protected. The app allows you to edit the mowing zones based on seasonal changes for a fully customizable mowing experience.
Versatile For Multi-zone Lawns
For lawns that are divided into more than one zone LUBA has the answer! The app can be used to create and set mowing tasks for separate mowing areas, and the connecting pathways that can be added mean LUBA will automatically perform the task set in each different zone.
The advanced self-planning routes algorithm enables LUBA to map mowing routes between different zones effectively and eliminate repetitive movements to deliver an improved mowing efficiency compared to competitors.
Perfect For Complex Terrains (AWD)
Featuring all-wheel-drive, LUBA can traverse a variety of mowing zones and climb up a 75% slope with ease. In addition, it features the best-in-class capability compared to two-wheeled mowers meaning it can easily navigate uneven or rough terrain without getting stuck.
Obstacles Avoidance
The four ultrasonic radars can automatically detect obstacles as small as 2 inches within the 220˚ Field of View for avoidance whilst mowing, and the Collision Avoidance System ensures that LUBA automatically brakes and turns in another direction when it encounters a foreign object.
Increased Mowing Efficiency
The outstanding dual cutting plates will cut a width of up to 400mm and the adjustable cutting height of 30mm-70mm promise efficient mowing for a well-tended lawn at all times.
What we say:
Worry-free robotic mowing is now a reality thanks to the LUBA AWD series from Mammotion Technologies. It solves the #1 frustration by going without a boundary wire. Instead, a RTK/GNSS and multi-sensor navigation system works to help you create a perimeter on the app, which also lets you set no-go zones and creates its own optimized mowing pattern. You have the option to set multiple mowing zones for larger lawns, and the all-wheel-drive system can handle slopes up to 75° and avoids getting stuck better than other designs. Add in obstacle avoidance, and the LUBA AWD is one of the most advanced robotic mowers you can get today.
Price: $2899
For more information, click here.
---
Winner – Battery Self-Propelled Lawn Mowers
EGO Power+ 21″ Select Cut XP Mower with Speed IQ LM2167SP
What they said:
The EGO POWER+ 21" Select Cut™ XP Mower with Speed IQ™ delivers 8.3 foot-pounds of cutting torque—power that exceeds gas without the noise, fuss, or fumes. This cordless lawn mower delivers up to 90 minutes of run time on a single charge with the included 56V ARC Lithium™ 12Ah battery. The electric lawn mower delivers precision cutting with its advanced mulching blade and eight cutting height positions from 1 to 4 inches, adjustable with one hand. Three-in-one functionality delivers your choice of mulching, side discharge, or bagging your grass clippings; an easy-access two-bushel grass collection bag is included. This self-propelled lawn mower includes bright LED lights for added visibility when mowing at dawn or dusk, and it folds flat for compact storage between cuts.
What we say:
The EGO Select Cut XP Speed IQ self-propelled mower is another example of why we love this brand—they took a winning product and raised the benchmark even higher. It combines power, cut quality, and automatic speed adjustment better than any other mower currently available. With controls and critical information right on the screen in front of you and a self-adjusting pacing system that seems to work like magic, it's the most advanced self-propelled lawn mower and delivers on its promises.
Price: $999.00
For more information, click here.
Finalist
---
Winner – Battery Stand-On Lawn Mowers
Exmark Stand-on Mower
What they said:
Exmark has introduced its first stand-on electric mower – the Vertex V-Series. The new machine provides the commercial durability and cut quality landscape maintenance professionals expect from Exmark, in a HyperCell powered electric mower.

Exmark Director of Marketing, Jamie Briggs, said the new machine is a natural evolution for the company, especially as more and more contractors look to electric equipment for a competitive edge.

"We built the Vertex V-Series for contractors, municipalities and schools looking for the next generation of zero engine emission mowers," Briggs said. "It is a highly productive solution for anyone that needs to comply with local regulations, ordinances, or preferences for quiet mowing solutions and zero engine exhaust."

Exmark leverages the HyperCell Power System to power the Vertex V-Series mowers. Designed specifically for commercial mower applications, HyperCell batteries are designed to run cooler to provide more runtime and longer service life. The Vertex V-Series uses eight HyperCell batteries, with patent-pending management software that optimizes performance for the conditions and delivers up to 7 hours of runtime per charge.

The Vertex V-Series uses commercial high-torque wheel motors working with a planetary transmission to deliver a smooth, responsive feel at the controls and ground speed of up to 10 mph.

In addition to delivering incredible power and torque in use, the electric powertrain also eliminates service and maintenance typically associated with gasoline engines, including oil and filter changes. The use of electric spindle motors also makes belt maintenance and replacement a thing of the past.

This reduction in maintenance time and cost, when combined with the dramatic savings in fuel costs, makes Vertex V-Series a cost-efficient choice for contractors looking to minimize the total cost of ownership of their machines.

Vertex V-Series mowers feature Horizon360 Connect smart equipment remote software, which provides app-based connection to the machine for real time equipment data, battery charge status and location information.

For 2023, Exmark will offer the Vertex V-Series with a 52-inch Electric Series 4 side-discharge cutting deck. Fabricated and welded from high-strength steel to deliver Exmark's signature quality of cut. The high-torque deck motors feature a 9-inch diameter cast aluminum spindle housings with blade retainers for maximum commercial durability.
What we say:
Commercial-grade battery-powered lawn mowers are here, and the race is on to match the performance, runtime, and durability of has-powered models. Exmark drives deep into the needs of commercial stand-on lawn mowers with the Vertex V-Series. This 52-inch stand on boasts speeds up to 10 MPH and up to 7 hours of runtime. Tackling on the most critical issues for battery cells, Exmark's HyperCell batteries are specifically designed to run cooler, which helps to keep both the runtime and service life high. All of that battery tech is wrapped in a quality build that delivers the quality cut you expect from Exmark mowers.
Price: Vertex V-Series : $39,999
For more information, click here.
Finalist
---
Winner – Log Splitters
RYOBI Power Tools RY40704 – 40V HP Kinetic Log Splitter
What they said:
Enter the RYOBI 40V System with the RYOBI 40V HP Brushless Kinetic Log Splitter Kit. 40V HP Technology delivers more power than an 80cc gas log splitter, making this log splitter a true gas replacement. 40V HP technology combines a brushless motor, advanced electronics, and high performance lithium technology to provide more power, longer runtime, and greater durability. This log splitter produces 12 tons of splitting force, allowing it to split logs up to 20" in length & 10" wide. Save time with the kinetic design, which yields a 2 second cycle time & 10X faster splitting. With up to 150 splits per charge, this kinetic log splitter is perfect for splitting chopped down or fallen trees into smaller pieces of firewood. Easily transport the kinetic log splitter around your yard with the comfortable hand grips & all-terrain wheels. The heavy-duty steel frame can handle the toughest of jobs. Recharge the 40V 4Ah batteries in 160 minutes with the included 40V Charger.
What we say:
2023 marks the year log splitters make the jump to battery power from mainstream brands. Ryobi's 40V HP Brushless Log Splitter uses a kinetic drive to split logs with 12 tons of splitting force. With a capacity for logs up to 10 inches in diameter and 20 inches long, it's capable of splitting up to 150 times on a 4.0Ah battery and has a cycle time of just 2 seconds. With a frame designed for easy transport to and from your log pile, getting ready for fireplace season has never been easier or more convenient.
Price: $999
For more information, click here.
---
Winner – Battery Powered Pole Saws
EGO POWER+ 10″ TELESCOPIC POLE SAW
What they said:
The EGO POWER+ 10" Pole Saw introduces an industry-first LED Cut Line Indicator for improved visibility and better accuracy when working under dark, shaded canopies and low light conditions.
Its telescopic carbon fiber shaft extends for a total reach up to 16 feet while maintaining best-in-class weight up to 30 percent lighter than other pole saws for tree trimming.
Tool-free tensioning provides fast, precise chain tensioning so you can get back to work faster.
This cordless pole saw makes up to 100 cuts on a single charge with the included 56V 2.5Ah ARC Lithium™ battery. The electric pole saw features a high-efficiency brushless motor that delivers long runtimes, low vibrations, and an extended motor life.
Its 10-inch bar and 1/4-inch chain delivers smooth, precise cuts with chain speeds up to 20 m/s. The pole saw features a quick-adjust handle for ultimate control along with a shoulder strap and strap hook for added comfort.
What we say:
How do you make a pole saw more innovative? For EGO, the recipe took some time to get just right, and you'll love their efforts the next time you have tree trimming chores. It starts with EGO's 56V battery and a muscular brushless motor. Then it adds a lightweight, yet strong carbon fiber shaft. Just in case that's not enough reach, the design team made it telescoping. For the icing on the cake, you get tool-free chain tensioning to get you back in the game quickly. The cherry on top is a cut line indicator to help you line up the cut accurately before you pull the trigger.
Price: $399.00
For more information, click here.
Finalist
---
Winner – Power Washers/Scrubbers
RYOBI Power Tools 18V ONE+ Telescoping Soap Dispensing Scrubber PCL1701B
What they said:
RYOBI introduces the all-new 18V ONE+ Soap Dispensing Telescoping Scrubber to its 18V ONE+ System of over 280 Cordless Products.This all-new motorized scrubber allows users to leave the sponges in the garage along with the backache that comes with traditional, manual cleaning methods. The cordless portability and lightweight design are perfect for cleaning on the go. The convenience of the 18V ONE+ Soap Dispensing Telescoping Scrubber is having the power to do more with cordless freedom; precisely spray the included RYOBI Soap Solution, turn on the scrubber and let it do all the work. This improved telescoping scrubber gives users an effortless cleaning experience with soap and water dispensing technology. The 6-position pivoting head and 51" telescoping pole allow users to clean high and low hard-to-reach areas. Clean with confidence knowing this scrubber's battery enclosure is IPX7 Water Resistance Rated – allowing this tool to be submerged in up to 3 feet of water for up to 30 minutes. This scrubber is compatible with over 25 Hex Shank and Triangle Connector accessories (sold separately) and the included 6" Medium Bristle Brush is ideal for cleaning tile, fiberglass, and siding.
What we say:
We love our power scrubbers for cleaning out coolers, washing windows, scrubbing shower tile, and much more. Ryobi made the job that much easier by improving on their excellent telescoping scrubber. Using an 18V One+ batter for power, the design now has a soap dispenser onboard. Just connect a hose, pick the scrubber size and stiffness for the job at hand, and get to work. You'll be amazed at how quickly you can clean things compared to the manual scrubbing or pressure washing you usually do.
Price: : $199
For more information, click here.
---
Winner – Battery Powered Pressure Washers
Greenworks 60V Cordless 3000 PSI Pressure Washer GPW3001
What they said:
The Greenworks 60V 3000-PSI Pressure Washer is the most powerful residential battery-operated pressure washer and has a 10 Year Motor Warranty. Are you looking for the #1 rated, best electric pressure washer? Found it! The new Greenworks 60V 3000-PSI Pressure Washer is an industry-leading workhorse boasting 2x the cleaning power, in half the time! With a hassle-free push-button start, the Greenworks 60V 3000-PSI Pressure Washer powers up easily and gets to work in no time. The heavy-duty smart sensing TRUBRUSHLESS™ motor automatically adjusts pressure and flow to deliver the perfect amount of water for each nozzle tip. And you'll have your pick for any job with the included 15°, 25°, and 40° nozzles, turbo nozzle and soap nozzle. Ready to clean concrete, brick, fences, decks, houses, cars, RVs, boats, and more! The hassle-free 25-foot kink-resistant hose eliminates frustrating hose tangles – and with on-board accessory storage, you'll always have what you need at your fingertips. The open steel-frame design with 10-inch never-flat wheels can be stored vertically – taking up 50% less space in your garage or shed. The Greenworks 60V 3000-PSI is certified by the Pressure Washer Manufacturers Association (PWMA), which sets the standards for best-in-class pressure washers – guaranteeing trusted performance. Backed by an industry-best 10-year motor warranty and 4-year tool warranty, the Greenworks 60V 3000-PSI Pressure Washer is built to stand up to most stubborn dirt and grime anytime you need it.
What we say:
Battery-powered pressure washes have been on the market for a few years, but they've always had to play second fiddle to electric models when it comes to performance. That's changing now that the team from Greenworks has a 60V mode that's capable of 3000 PSI. That's legitimate gas territory! Other brands have made some bold claims in the past, so we'll forgive you for being a bit skeptical. However, all Greenworks pressure washers are certified by the Pressure Washer Manufacturer's Association, so you know they're not playing games with where they take their measurements. If you're looking for the power of a gas pressure washer with the convenience of battery power, Greenworks has your ticket to happiness.
Price: : $599.99
For more information, click here.
---
Winner – Electric Pressure Washers
HART 3000 PSI Brushless Electric Pressure Washer HW143011VNM
What they said:
The NEW HART 3000 PSI Pressure Washer gives customers all the punch of a gas pressure washer- without the hassle! This pressure washer is ideal for heavy duty cleaning around the home or jobsite. It comes included with: (3) Quick Connect Nozzles- 15°, 40°, & Soap, 25' High Pressure Hose, Trigger Handle, and a Metal Spray Want with ¼" Quick Connect. On-board storage is provided to hold all accessories. The pressure washer has a durable metal frame and large 12" flat free wheels to help customers transport the machine to all types of jobs. The BRUSHLESS motor and 3000 PSI pressure are ideal for cleaning dirt, oil, and grime off driveways, siding, patios, furniture, and other outdoor areas. This pressure washer emits water at 1.1 GPM (gallons per minute), making cleaning quick and efficient for those that use it. With the increasing amount of gas regulations starting to spread nationwide, customers can feel at ease as their powerful pressure washer is emission-free! This pressure washer is ideal to use for larger ground spaces like driveways paired with the new 12" Electric Surface Cleaner (HW31SC11VNM).
What we say:
When you're shopping for an electric pressure washer, 2000 – 2300 PSI is a pretty good target to get the top performance. HART doesn't think that's good enough and by marrying the higher efficiency and power of a brushless motor with the low hassle of an electric power source, they have a 3000 PSI electric pressure washer. You get the performance of a gas-powered model without putting up with the additional maintenance, noise, and emissions they produce. Plus, you have the unlimited runtime of a 120V AC outlet. It's a win-win for sure.
Price: $374
For more information, click here.
---
Winner – Gas Pressure Washers
Makinex Dual Pressure Washer 4000psi
What they said:
The Makinex Dual Pressure / Surface Cleaner offers an innovative solution by combining two essential cleaning tools, a rotary cleaner, and a wand pressure washer, into one single machine providing results that are three times faster with speed of coverage compared to similar products.
This integration allows for convenient switching between the two cleaning methods by simply turning a handle, eliminating the need for separate machines or time-consuming equipment changes.
One key aspect of innovation lies in the versatility and flexibility it offers. Users can adjust water pressure according to their specific cleaning requirements ranging from 1000psi up to a powerful 4000psi. By combining two functionalities into a single machine, the Makinex Dual Pressure Washer enhances efficiency and saves time.
Overall, the innovative aspect of it lies in its ability to offer multiple cleaning options in a single, adjustable, and user-friendly machine. It combines convenience, versatility, and efficiency, making it a valuable tool for a wide range of cleaning applications.
What we say:
people who use pressure washer regularly know the time savings a surface cleaner offers. Makinex took the idea and said "hold my beer" with their latest design. they started with a quality pressure washer design and added a frame with four wheels that includes 360° front casters. Then, like a lawn mower deck, they added a surface cleaner directly to the frame, making it far easier to maneuver than other surface cleaner designs. Here's the kicker, though—it's not just for surface cleaning. It's a dual function model that still includes a traditional pressure wand. Thanks to Makinex, you can hit all of your commercial pressure washing duties with a single all-in-one unit.
Price: $5995
For more information, click here.
---
Winner – Cordless Pruning Saws
Milwaukee Tool M18 FUEL HATCHET 8″ Pruning Saw 3004
What they said:
The M18 FUEL™ HATCHET™ 8″ Pruning Saw delivers increased control and access, has the power to cut hardwoods, and is the fastest cutting pruning saw on the market. To provide users with increased control and maneuverability in tight access areas, the pruning saw features a compact design and weighs less than 5lbs without a battery. The advanced electronics package allows the tool to maintain speed under heavy loads without bogging down, allowing the operator to complete demanding cuts faster than 25cc gas. Additionally, the saw reaches full throttle in under one second and is paired with a variable speed trigger to deliver ultimate control over the power range. This pruning saw features a lanyard loop, full house chain, easy access chain tensioner, automatic oiler, metal bucking spikes, onboard scrench storage, lanyard loop, and a climbing scabbard.
What we say:
Mini chainsaws have become incredibly popular over the last couple of years. While that's an adorable designation, Milwaukee's M18 Fuel Hatchet prefers to take the class of pruning saws more seriously. With cutting performance that's faster than saws with a 25cc gas engine, it's built for professional use. Thanks to a total weight of fewer than 5 pounds, it's a great fit for cutting smaller branches without having to break out a larger saw.
Price: $279
For more information, click here.
Finalist
---
---
Winner – Pruning Shears, Cordless
Milwaukee Tool M12 Brushless Pruning Shears (2534-20)
What they said:
Designed to meet the needs of professional landscapers, the electric pruning shears deliver up to 75% faster application speeds when compared to a manual solution. Providing the power to cut up to 1-1/4" branches, an integrated mode select board offers the ability to lock the blades into half cut capacity mode, increasing cut speed by 40% versus full cut capacity mode. When paired with a Milwaukee® M12™ CP2.0 battery, these shears deliver up to 1,000 cuts per charge in 1/2" branches to drive ultimate productivity on the job. Providing users with the ability to match blade capacity to each cut's unique need, Active Blade Control allows blade movement to mirror the trigger movement, allowing for more control in application. Optimized for different professional applications, the M12™ Brushless Pruning Shears' lightweight, inline design allows for better maneuverability and control in tight access pruning. With the integration of M12™ Brushless technology and a slim, ergonomic design, muscle effort is reduced by 75% compared to manual solutions, helping users complete the toughest applications with ease and speed. Weighing only 3.3lbs, these pruning shears are lighter than other battery-powered pruning solutions, delivering improved ease of use in the application.
What we say:
Cordless pruning shears are great, but Milwaukee's OPE team saw some room for improvement over existing options. In addition to a professional-grade construction, two key features set this model apart from the competition. First, you can cut in a half capacity mode. By reducing how wide the shears are open, you increase your cutting speed by 40%. That adds up when you have a lot of roses to prune. There's also Active Blade Control that ties the movement of the blades to the movement of the trigger. It offers much greater control in areas that you need it. It's all wrapped up in an inline design that offers excellent access in crowded areas and significantly reduces the amount of effort you have to put into pruning.
Price: $169
For more information, click here.
F
---
Winner – Battery Powered Snow Blowers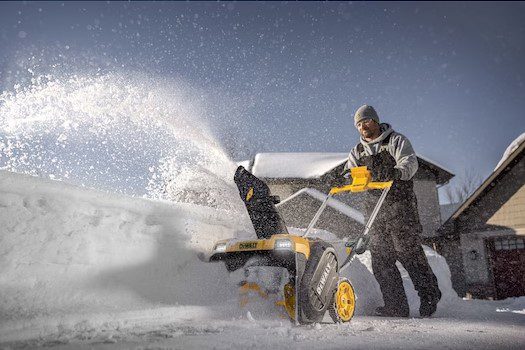 DEWALT 21" 60V MAX Single Stage Snow Blower DCSNP2142Y2
What they said:
Clear up to 16 parking spaces or a 1/4 mile of sidewalk on a single charge with the 60V MAX* Single-Stage Snow Blower. Engineered to throw snow up to 40 ft†, this single-stage machine has a 7 in. steel auger to break down heavy, wet, or packed snow. Powered by 2 FLEXVOLT® 20/60V MAX* batteries, this snow blower is equipped with an LED dashboard for instantaneous readouts of battery state of charge, current operational mode and high load indicator all within the operator's view. 2-way electric chute controls for directional command and single-touch, dashboard-mounted paddles provide 190 degrees rotation without stopping or lifting a hand. Featuring Max Power Mode to help maximize performance on big jobs and Eco Mode to help prolong battery life, this electric snow blower is designed for tough demands.
What we say:
DeWalt turns to its 60V FlexVolt battery system and uses two of the high-capacity batteries to power their flagship single stage snow blower. It features two modes: an Eco mode to deal with the lighter snowfalls of the early season while extending your runtime, and a Max Power mode to power through Old Man Winter's best efforts in the deep winter. LED indicators give you instant feedback on the battery charge levels, what mode you're in, and when the load is getting near the machine's limits. Unlike most models, the chute controls are electric, allowing to more easily redirect the throw when you change directions.
Price: $999
For more information, click here.
---
Winner – Sprayers-Water/Chemical
Z Turf Equipment Z-Spray Zero-Turn Stand-On Spreader Sprayers
What they said:
Z Turf Equipment unveiled its completely redesigned family of Z-Spray zero-turn stand-on spreader sprayers. The new machines give turf management professionals the productive, versatile, and maneuverable machines they need for the wide range of property types they maintain.
Z Turf Equipment Product Manager, Jonathan Guarneri, said while the new machines are clearly evolved from earlier Z-Spray models, they include new innovations to accomplish specific goals.
"We focused on four important areas in the Z-Spray redesign: machine dynamics, operator comfort, innovation and durability," Guarneri said. "Each of the improvements and innovations we made comes back to one of those four areas of focus."
A low center of gravity design places the operator between the drive wheels, with the heaviest components placed low and centrally within the corrosion-resistant stainless-steel frame. The new design keeps machine balance and dynamics consistent, regardless of how much material is in the hopper and tanks. The new design also enables Z Turf Equipment to include a heavy-duty air filter on the engines of Mid and Max models.
The new bi-directional boom is capable of springing both forward and back, so there is less chance of snagging and damaging the boom when maneuvering in tight spaces. A patented foam marker activation system starts the foam marker and spray pump simultaneously whether using the toe switch or the panel-mounted rocker switch.
A contoured operator pad and revised control layout provide increased comfort and economy of motion. The operator platform is suspended by adjustable isolators to lessen the bumps and vibrations reaching the operator, and the hose reel has been relocated to the right side of the machines for easier access. Larger drive tires (24-inch on Mid and Max; 22-inch on Junior) provide a smoother ride over varying terrain.
The new Z-Spray machines are also designed to only need annual maintenance, with just one grease point. The patented flip-up hopper eases hopper cleaning and access to the engine for service. A patented magnetic operator pad removes easily, without tools, for access to the spray chart, or for service and maintenance. A new tank design leaves less leftover material in the tank and features a tools-free tank drain.
The 2023 Z-Spray line of zero-turn spreader sprayers includes:
Z-Spray Junior –– Zero-turn; 16hp Vanguard engine; 24-gallon tank; 150lb hopper
Z-Spray Mid –– Zero-turn; 21hp Vanguard engine; 40-gallon tank; 250lb hopper
Z-Spray Max –– Zero-turn; 21hp Vanguard engine; 60-gallon tank; 250lb hopper
What we say:
The latest generation of Z-Spray stand-on spreader/sprayer from Z Turk Equipment is all about improving on a solid design foundation. It's a more durable design, with booms that pivot and spring back in both directions and extending the general maintenance cycle to an annual appointment. The controls are dialed in to be efficient for the operator, while the overall comfort gets a big boost and the stability improves from a shifted center of gravity. Even the foam spray indicator got an upgrade to make sure it starts at the same time as the spray. From top to bottom, Z Turf optimized this machine to be significantly better than its previous iteration.
Price: $22,199 – $23,599
For more information, click here.
---
Winner – Battery Powered String Trimmers
Milwaukee Tool M18 FUEL 17″ Dual Battery String Trimmer
What they said:
The M18 FUEL™ Dual Battery 17" String Trimmer meets the performance, durability, and ergonomic needs of landscape maintenance professionals. Our 17" String Trimmer provides the Highest Constant Power by delivering more peak torque than leading gas and battery professional string trimmers. This 17" string trimmer provides the Fastest Clearing and cuts through the most demanding applications while maintaining the highest string speed.
The POWERSTATE™ Brushless Motor and advanced electronic package allows the string trimmer to reach Full Throttle in Under One Second, boosting control and productivity. MILWAUKEE® REDLINK PLUS™ Intelligence has total system communication between the tool and battery for unmatched levels of performance, protection, and productivity.
The 17" string trimmer requires (2) M18™ REDLITHIUM™ Batteries for operation and is optimized to be used with M18™ REDLITHIUM™ HIGH OUTPUT™ batteries. The advanced electronic package also delivers instant throttle response, high and low speeds, and a variable speed trigger giving you ultimate control over the power range. The M18™ REDLITHIUM™ HIGH OUTPUT XC8.0 Battery gives you best in class performance and run-time in all applications.
The Easy Load Trimmer Head provides an easy line loading experience and the ability to load up to 25′ of trimmer line in under 30 seconds. Our M18 FUEL™ Dual Battery 17" String Trimmer is part of the M18™ system which is fully compatible with over 200 tools.
What we say:
The Milwaukee M18 Fuel Dual Battery String Trimmer gives Milwaukee's cordless lawn care line a big boost in performance. Its 17-inch cutting swath is more than just a number—this is a powerful string trimmer that can tackle heavy overgrowth. Plus, it includes a rapid-load trimmer head to make your line changes much easier and less frustrating. Between this string trimmer for primary trimming duties and the M18 Fuel Brush Cutter for thicker brush, professional lawn care and landscaping crews have two high-performance options to keep on their trailers.
Price: $699
For more information, click here.
---
Winner – Battery Powered Tillers
RYOBI Power Tools 18V ONE+ Garden Hoe P29130
What they said:
RYOBI introduces the all-new 18V ONE+ Garden Hoe to its lineup of 18V ONE+ cordless products. The industry's first 18V Garden Hoe allows users to replace manual clearing solutions with the convenience of cordless. With a 6.5″ wide and 3.5″ tall rectangular blade, this garden hoe eliminates the pain and effort required when manually cultivating gardens and flower beds. This all new Garden Hoe can cover up to 150 sq. ft. per charge making it ideal for maintaining flower beds, harvesting small crops, and any additional gardening needs normally done manually. The 31″ shaft length and front handle provide users with easy, controlled operation while digging in or cultivating soil. Best of all, this Garden Hoe is part of the RYOBI™ 18V ONE+ System of over 280 cordless products that all work on the same battery. This tool is backed by the RYOBI™ 3-year manufacturer's warranty.
What we say:
Once you've prepped the ground for your garden with Ryobi's 40V rear-tine tiller, you can maintain it more conveniently with the 18V One+ Garden Hoe. It has a string trimmer-esque design on the top, with trigger controls and a forward D-handle to help with the ergonomics. At the soil level, the hoe uses an oscillating pull action to uproot weeds and clear debris between your plants. It's another smart way to turn a manual hand tool into one that uses a battery to do the hard work, and that Ryobi 18V One+ battery is compatible with more than 280 other products that can make your life easier.
Price: $199
For more information, click here.
---