Our 2023 Test and Measurement Awards go to those products that help the trades do what they do with a high level of precision. Innovation abounds with regard to connectivity, accuracy, functionality, and increased capabilities of the tools that utilize these technologies.
Whether for inspection, diagnostics, troubleshooting, or layout, the Test and Measurement Awards never cease to amaze us with how far technology drives innovation. The products below demonstrate innovative solutions to various trades that truly benefit from better optics, more efficient sensors, or even advanced software and integrations. In the end, it's the tradesman who benefits.
WINNER – Circuit/Wire Tracers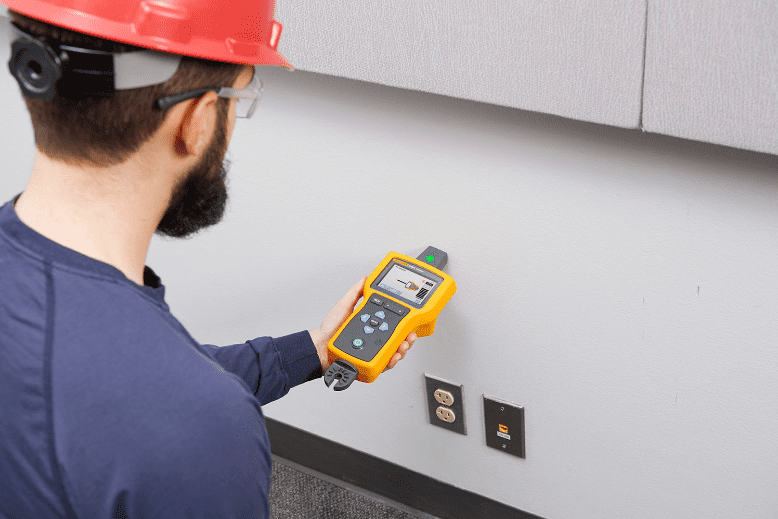 Fluke Advanced Pro Wire Tracer 2062
What they said:
The Fluke 2062 Advanced Pro Wire Tracers accurately and safely troubleshoot energized and de-energized wires in residential, commercial, and industrial environments up to CAT IV 600 V — the highest protection available on any wire tracer.
Electricians use a wire tracer to locate wires and identify circuits and breakers quickly and accurately. It consists of two parts: a transmitter, which generates a signal and sends it along the wire, and a receiver, which detects the signal in AC or DC current.
The Fluke Wire Tracers feature different modes and functions to give electricians the flexibility to troubleshoot a wide range of electrical wiring and circuitry problems. They are designed to protect electricians from the most dangerous levels of transient overvoltage — spikes up to 8,000 V — that can occur in industrial and utility environments like industrial plants, factories, and hospitals where critical equipment cannot be taken offline.
The patented Smart Sensor™ technology (available only on the Fluke 2062) makes wire tracing faster and easier. It locates and displays energized wires within walls, floors, and ceilings on a high-resolution 3.5-inch color display. While the tip sensor provides an audible tone when locating wires, Smart Sensor helps visualize and pinpoint the orientation of energized wires, eliminating guesswork.
Both wire tracers are available in kits that conveniently come with everything required to start tracing wires and circuits. The accessory kits include test leads, test probes, blade and round outlet adapters, and alligator clips to connect the transmitter to electrical systems. Connecting the transmitter to a bare conductor with the included alligator clips and test leads will always provide the most accurate results. However, in situations where a direct connection to a bare conductor is not available, the included i400 AC Current Clamp can be used with the "Loop" mode to induce a boosted 6 kHz signal through the insulation. The kit also includes batteries and a hard carrying case.
What we say:
Fluke's 2062 Advanced Pro Wire Tracer gives you a big advantage when you're tracing wires. With the ability to trace energized or de-energized wires, you can avoid disrupting other work that's going on in an occupied space. Multiple modes allow you to work in residential, commercial, and industrial structures without having to switch tools. Plus, the 2062 has a 3.5″ color screen that helps you visualize where the wire is running and avoids losing track of the run. It has everything you need to trace wires, find breaks, detect shorts, and identify breakers, all with the protection of a CAT IV 600V rating.
Price: $2899.99
For more information, click here.
---
WINNER – Inspection
Milwaukee Tool M12 M-Spector 360 4' Inspection Camera 2323-21
What they said:
The M12™ M-Spector™ 360 Inspection Camera's 4.3" LCD screen with 720p delivers crisp, clear images. The on-screen interface provides an improved user experience while navigating the camera and allows for a simple two-hand operation. The 10mm camera head allows for easy access and can fit within a patchable 3/8" hole in drywall. The smaller camera head improves navigation while 360° image rotation allows for easy adjustment by physical rotation of the screen or all-new digital rotation with the push of a button. Three levels of zoom allow for quick focus on points of interest, while a 5-mode brightness adjustment easily changes the LED output. Available with either a 4' cable or 10' cable, both M12™ M-Spector™ 360 Inspection Cameras feature a balance between flexibility and rigidity. The cables are optimized for multiple uses ranging from drain applications to behind-wall applications. The 32G micro SD card provides file exportability to save, transfer and share photos and videos easily and conveniently. Powered by REDLITHIUM™ battery technology, the new M12™ M-Spector™ 360 Inspection Camera is a cordless camera that joins the M12™ System* – the largest sub-compact system on the market, focused on delivering industry-leading durability and power in the tightest spaces. Currently, the M12™ System is made up of more than 125 solutions.
What we say:
The Milwaukee M12 M-Spector 360 cameras features a 720P 4.3-inch viewing screen with outstanding clarity and a 10mm camera head that only needs a 3/8-inch hole for access. The 360 in the name comes from the ability to rotate the image 360°. No matter which way you need to hold or set the unit, you can orient the display where it's easy to see, or you can digitally rotate the image around. Once inside, you have three zoom levels for closer inspection and five brightness levels for the light. And to wrap it all up, the unit runs on Milwaukee M12 batteries, so you won't have to worry about keeping spare alkalines on hand.
Price: $229
For more information, click here.
---
WINNER – Pipe/Cable Detection
Bosch 12V Max Wall/Floor Scanner with Radar D-TECT200C
What they said:
The Bosch wall and floor scanner is a multi-purpose tool that can seamlessly detect the following materials when on the jobsite: live and non-live cables, rebar, metal, plastic pipes and wooden studs, providing depth indication of the location of each object. Built with precise, accurate and reliable radar technology, the tool seamlessly detects and indicates the correct material that lies behind a wall or under a floor. The tool is also equipped for leakage detection, allowing for the fast discovery of a leak for workers or homeowners.
Its spot view delivers fast results and precise measurements even in small places to scan (such as corners), and the scanner provides about a 7-1/2 In. measuring depth to detect even deep objects. The 3.5 In. color display provides clear readability and is designed with an intuitive user interface, providing clear illustration of detected objects. The tool is powered by Bosch's 12V Max Li-ion batteries, providing outstanding runtime.
Additionally, the scanner's screenshot feature supports quick-and-easy documentation when on the jobsite. After a day's work, the captured images can be saved and transferred to a computer for further analysis, using the USB-C™ and SD card slots. The tool's software can also be updated remotely, ensuring that the scanner constantly functions at peak performance, increasing its longevity for the user.
What we say:
Bosch's D-TECT200C wall scanner is all about getting an accurate idea of what's behind the wall. Using radar technology, it's able to detect wires, rebar, metal, plastic, and wood and shows you exactly where they are on the screen. It can even be used to detect leaks. Making it even more versatile, it has a 7-1/2″ scan depth, ensuring you can avoid objects that aren't right up against the wall or floor. Wrapping up its impressive feature set, you can take screenshots to use later or share, remotely update the tool, and the unit is powered by a Bosch 12V lithium-ion battery.
Price: $1199
For more information, click here.
---
WINNER – Rotary Laser Levels
NWI Automatic Calibration Station – Rotary Lasers
What they said:
The two problems we tried to solve with the automatic calibration station for rotary lasers:
Users currently need to send away their unit to be calibrated, so it's a choice between having it away from them for up to 2 months in some extreme cases, or use it as is.
There's a severe lack of technicians in the market, manufacturers & distributors, big or small are all having issues filling those technical positions.
These 2 problems cause users to either choose to have an expensive piece of equipment away from the job site; or working with what they have, in whatever state it is in.
Our solution:
A retail based, automatic calibration station that has MINIMAL human touch points, so it can be effectively used by a retail staff versus a trained technician.
A staff member will put the laser on the platform, click go on the tablet, and everything is automatic at that point until the light turns green indicating the laser has been calibrated.
Hardware includes a solid metal / self-turning base, while utilizing our patented system of object recognition on the movement of the beams and our proprietary algorithm precisely calibrates the laser to stated specifications – bringing costs drastically down by having the software do the heavy lifting.
How does this help the users:
They no longer have to wait up to 2 months in some cases for their laser to be sent out and calibrated. It's done in less than 20 minutes. They can also calibrate the laser before bigger jobs as much as needed.
How does this help retailers:
By having a simple, retail-based calibration station where a retail personnel + the auto-cal station can calibrate the laser. Not only can they better service the products they sell, they can now have more foot traffic come into the store.
Our approach
We use this approach on all of our product lines, from accessories, LDM, cross / point lasers, rotaries and beyond:
Identify a deep-rooted problem in the market that's begging to be solved.
Utilize our expertise in having hardware + software hum in symphony to solve it in the most cost effective manner.
Have the solution to be mutual wins for both the distributors and the users.
V
What we say:
Rotary lasers are critical jobsite tools, but they require regular calibration. Frankly, sending it off is a pain and takes your laser out of service for as long as it's gone. What if you could take it to a local service center and have it back the same day? That's the idea behind NWI's Automatic Calibration Station for rotary lasers. You set up the laser on the station, start the tablet that runs the calibration software, and let the technology automatically get you back in service in about 20 minutes. It's a brilliant solution and a big value-add for rotary laser retailers.
H
Price: TBA
For more information, click here.
---
WINNER – Thermal Imaging
Teledyne FLIR E8 Pro
What they said:
The FLIR E8 Pro edition is a premium point-and-shoot camera for thermography inspection. Its main applications include industrial inspections of electrical and mechanical equipment, condition monitoring of degrading equipment before failure, and building inspection to ensure energy efficiencies, but can also be used in automotive under-the-hood inspections.
As part of an effective predictive maintenance and condition monitoring program, the E8 Pro offers inspectors an easy-to-use and cloud-connected handheld thermal camera that helps to quickly locate issues and effortlessly share that data with colleagues and clients for further analysis. Compared to the existing FLIR E8 camera, users can expect a familiar, yet superior, handheld thermal imaging camera that gets the job done quickly and efficiently with the new FLIR E8 Pro.
The handheld camera features a larger 3.5-inch touchscreen with FLIR Ignite Cloud connectivity within the same pistol-grip form factor as legacy E8 series thermal cameras. Through the touchscreen, users can share captured images with colleagues, partners, and clients over Wi-Fi, including with on-screen annotations to highlight findings. Images can then be loaded straight to the FLIR Ignite Cloud for improved efficiency and a smoother workflow. The larger touchscreen also features an improved 640 x 480 screen resolution.
The FLIR Ignite application (now available with an additional 10 GB storage for only $30 USD per year), is accessible from anywhere on mobile devices, a web browser, or a desktop, eliminating the need to carry extra USB flash drives, card storage, or cables. Images and videos shared via FLIR Ignite can then be accessed through FLIR Thermal Studio software so inspectors, colleagues, and clients can instantly review, edit, analyze, and report findings.
Inside, the FLIR E8 Pro offers crisp thermal and visual detail at an affordable price by pairing a 5MP digital camera with a powerful thermal camera via the FLIR patented Multi-Spectral Dynamic Imaging (MSX) capability, and includes a built-in LED lamp to capture critical details via MSX in low-light scenarios for improved decision support. MSX embosses key visible details from an onboard high-resolution digital visible camera onto the infrared image. MSX makes it much easier to see issues while preserving the full fidelity of the thermal image without sacrificing critical thermal data.
Built to handle the toughest of industrial and outdoor environments, the ruggedized FLIR E8 Pro is drop-tested up to two meters (6.5 feet), and features a 25G-shock and 2G vibration test rating along with built-in lens protection The camera offers up to four hours of continuous operation on one battery which can be quickly swapped and recharged for all-day use.
Each camera purchase also includes two removable and rechargeable batteries, a hard-carrying case, a battery charger, a USB cable power supply, and printed documentation.
What we say:
The FLIR E8 Pro Thermal Camera is packed with features that make inspection easier and more accurate. FLIR's MSX technology overlays the 320 x 240 thermal image with a 5MP standard image, drastically improving your ability to recognize details. The display is a 3.5″ touchscreen, which adds an economy of function over pressing buttons for every adjustment and focus point. You can even wirelessly share images and use the touchscreen to annotate them. Additional highlights such as an LED light for low-light situations, high drop, shock, and vibration ratings, and a swappable, rechargeable power source wrap up one of the most feature-rich handheld thermal cameras on the market.
Price: $3699
For more information, click here.
---