The 2023 Pro Tool Innovation Awards sparked a revival of woodworking innovation. Part of this came from a resurgence of battery-powered technology that delved further into what was once corded territory. Other product innovations, however, simply improved upon designs and products once thought tried and true.
From track saws, routers, miter saws, and biscuit joiners, the woodworking tool industry didn't stop in its pursuit of innovative power tools. We've really enjoyed watching battery-powered tools all but take over this segment of the market. Once relegated to handheld tools, battery-powered benchtop tool solutions increasingly see momentum.
What used to be the dawn of battery-powered benchtop tools now offers consumer choice in the industry. Even single manufacturers have brought multiple products to the market where before only one existed. Below you can see our 2023 Woodworking and Carpentry Awards winners and finalists!
WINNER – Clamps
MICROJIG MATCHFIT Ratchet Clamp DVC-700RAP
What they said:
The MATCHFIT Ratchet Clamp by MICROJIG is an improved clamp that combines innovative features with a fast-acting ratchet mechanism. It is designed to meet the needs of makers who want a versatile and easy-to-use clamp.
MICROJIG has incorporated its exclusive Anti-Pivot (AP) Spring into the Ratchet Clamp. This spring holds the clamp arm securely in place, even when the clamp is upside down. It saves time by eliminating the need to constantly readjust and reposition the clamp in the workshop.
Another star feature of the Ratchet Clamp is the ratchet mechanism. Users simply press the trigger, slide the clamp head to the workpiece, and pull the lever to tighten the clamp. With each click, the ratchet mechanism tightens the hold easily and securely. The positive lock ensures that the clamps never vibrate loose, making them ideal for sanding, grinding, and routing tasks. Releasing the clamps is as simple as pressing the trigger.
This clamp also features a ½"", 14-degree dovetail head that allows users to clamp almost anywhere they can create a dovetail groove. It offers flexibility for various projects, whether they are tough specialized jobs or everyday crafts.
In terms of safety, the ratchet mechanism ensures a secure hold on the workpiece. This reduces the risk of accidents or slips, especially when performing tasks such as routing, sanding, or grinding. The clamp's ability to maintain a tight grip, regardless of position or job, enhances user safety in the woodshop.
From an environmental perspective, the MATCHFIT Ratchet Clamp contributes to sustainability by promoting precision and accuracy in woodworking. With a secure hold provided by the clamp, there is less chance of errors or mistakes that could result in wasted materials. This can lead to a reduction in material waste, ultimately benefiting the environment.
By prioritizing safety and minimizing material waste, the MATCHFIT Ratchet Clamp offers environmental and safety benefits that contribute to a more efficient and sustainable woodworking process.
The MATCHFIT Ratchet Clamp is designed to positively impact the end user's business by reducing material costs, saving labor, providing access to new markets, and improving customer service. These benefits contribute to increased efficiency, profitability, and customer satisfaction.
The Ratchet Clamp with Dovetail and AP technology makes strong clamping a one-handed, set-it-and-forget-it task. Users will appreciate its simplicity and efficiency in the workshop. With this product, MICROJIG continues to innovate in the field of dovetail clamps, making it a strong contender for a Pro Tool Innovation Award.
What we say:
Micro Jig is taking the pain out of clamping with several innovation features to its dovetail ratchet clamp. It's incredibly easy to set—just slide it down on your workpiece, and pull the lever to clamp down. With its ratchet mechanism, each click makes for a slightly tighter hold until you get the holding strength you need. When you're clamping upside down, a pivot spring keeps the clamp arm from sliding back down when you let go of it. And once you have the clamp set, you don't have to worry about vibrations working it loose. It's an easy-to-use, secure design that reduces your frustration and the amount of rework you need to do.
Price: $42
For more information, click here.
---
WINNER – Cordless Jig Saws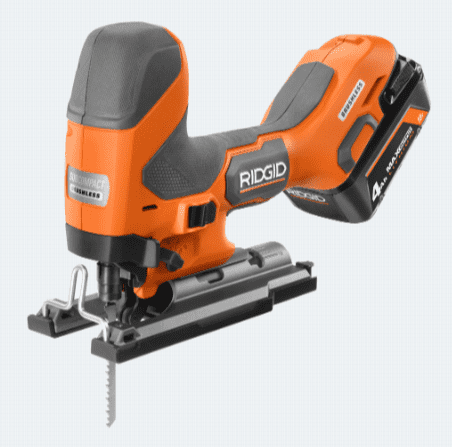 RIDGID 18V SubCompact Brushless Barrel Grip Jigsaw R86346
What they said:
This 18V SubCompact Brushless Barrel Grip Jig Saw features powerful, controlled cutting delivering up to 3,200 SPM, and cuts up to 150 linear feet with a 4.0Ah MAX Output battery. It's 20% more compact and 15% lighter weight than the full-size brushless unit (compared to R86344B). The enhanced ergonomic barrel grip design provides users with superior maneuverability. This jig saw also features a 7-mode speed selector that includes a load-sensing auto mode that provides ultimate user control. It also features a one touch blade insert/eject, a tool-free bevel adjustment of 45° maximum, and 4 orbital settings for aggressive wood cutting. With dust blowing capability and an LED light, a clean line of sight is maintained while using this tool. Additionally, the vacuum attachment compatibility, with 1-1/4 in. and 1-7/8 in. hoses, offers quick and easy worksite cleaning.
What we say:
Ridgid combines the control of a barrel grip style, the ease of a compact design, and the convenience of a cordless power source with the 18V SubCompact R86346. It's packed with just about every feature you'd hope to find on a jigsaw: adjustable speed, orbital action, lever action blade release, a dust port, dust blower, and tool-free bevel adjustments. Combined with a brushless motor and fast 3200 SPM stroke rate, it's a fantastically well-rounded jigsaw.
Price: $179
For more information, click here.
---
WINNER – Cordless Planers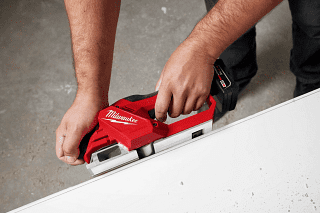 Milwaukee Tool M12 Brushless 2″ Planer 2524-20
What they said:
Designed for the finish carpenter and remodeler, the M12™ Brushless 2" Planer provides the power to plane and scribe in soft and hardwoods in a compact design. The M12™ Brushless 2″ Planer has the power to remove up to 5/64ths in a single pass. The dual-sided shavings port allows users to direct shavings to either side of the tool, improving ease of use and productivity. This lightweight and compact planer uses a 2″ wide shoe, which is optimized for common applications such as scribing and planing doors. With 14,500 RPMs and 2 blades on the cutter head, the M12™ Brushless 2" Planer delivers a smooth surface finish. With 21 depth settings ranging from 0 to 5/64ths, users have the ability to make precise, accurate cuts. The lockable kickstand allows users to store the kickstand away to avoid interference with the workpiece. The shavings collection attachment and universal hose adapter allows users to attach a vacuum to reduce clean-up time and maintain a clean jobsite. The battery-powered planer features an integrated battery fuel gauge and carries the industry-leading 5-year limited power tool warranty.
What we say:
Planing small width material is easier than ever thanks to the Milwaukee M12 Brushless 2″ Planer. Featuring an M12 battery power source, it uses a brushless motor to remove up to 5/64″ of material at a time with it 2-blade 14,500 RPM cutter head. Features such as the adjustable chip deflector, kickstand, and 21 depth setting dial ensure your finished workpiece has quality results. But what's really turning the heads of carpenters is the size. At 3.1 pounds and just under 11 inched long, it's a lightweight, compact tool that's easy to maneuver no matter what orientation your material is in.
Price: $199
For more information, click here.
---
WINNER – Cordless Routers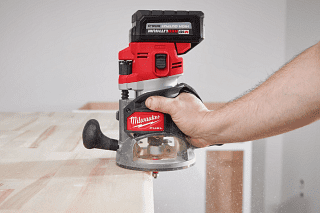 Milwaukee Tool M18 FUEL 1/2" Router​ 2838-20
What they said:
Milwaukee Tool® introduces a versatile and powerful mid-sized routing solution with their new M18 FUEL™ ½" Router. With the ability to generate 2.25 peak horsepower, the cordless router provides the user with the best control and comfort, and over 225 linear feet of run-time per charge.
The cordless M18 FUEL™ ½" Router is a complete replacement for a corded mid-sized router, delivering 2.25 peak horsepower. Generating up to 25,000 RPMs, the battery powered router delivers the fastest routing speeds with less bog down under load for clean, precise cuts and more material removed per pass. The body features BODYGRIP®, an ergonomic overmold pommel grip for one-handed use and the best control and comfort to enhance a user's productivity and reduce fatigue.
When paired with Milwaukee's M18™ REDLITHIUM™ HIGH OUTPUT™ XC6.0 battery pack, the mid-sized router provides best-in-class run-time with up to 225 linear feet per charge, when routing 5/8" roundovers in pine.
Meeting the demands of professional users, the M18 FUEL™ ½" Router features a variable speed dial to optimize cuts across a wide range of bits and materials. Equipped with a micro-adjust knob and macro-adjust button with over two inches of travel, the router provides users with fast, accurate depth adjustments. The dual-LED work light provides added visibility to the workpiece and a universal hose adapter and dust collection shroud cut down on clean up time. A spindle lock makes for quick, one-wrench bit changes and the modular console design is compatible with Milwaukee's ½" router plunge base.
Milwaukee is committed to improving productivity by providing performance-driven and trade-focused solutions so users can perform an entire day's work on one battery system. The M18 FUEL™ ½" Router is fully compatible with the entire Milwaukee M18™ line, now offering more than 250 power tool solutions.
What we say:
Milwaukee stepped up big time in the woodworking category with its M18 Fuel 1/2″ router. Sporting 2.25 peak horsepower and top speed of 25,000 RPM, it's a powerful cordless router that takes over where the M18 Fuel compact router leaves off. There's more than just muscle to this beast, though. The design team paid close attention to the ergonomics and adjustment speed along with the lighting and dust collection to ensure you have the best routing experience possible.
Price: $349
For more information, click here.
---
WINNER – Cordless Sanders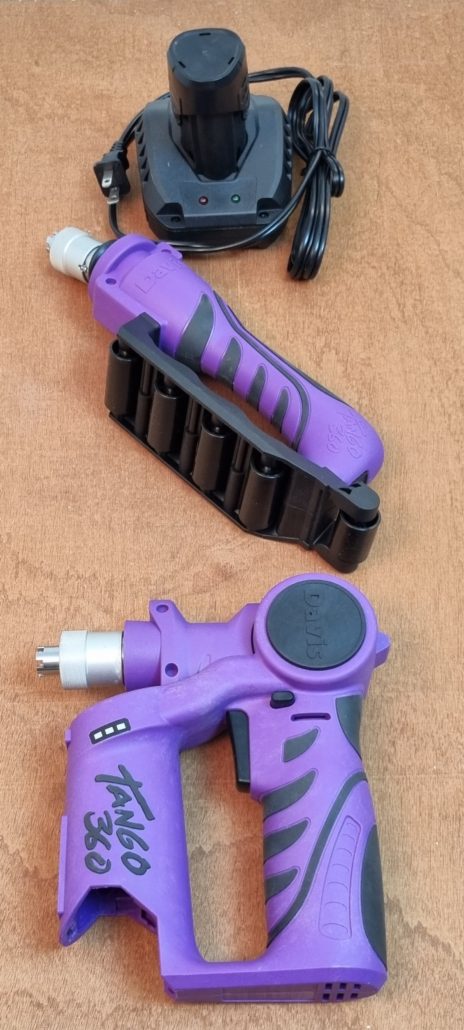 Davis Tool Systems DTS-T001 / TANGO 360
What they said:
The Davis Tool Systems® Tango 360® Reciprocating Power Tool and Damping Handle.
The Tango 360® Power Tool and Damping Handle presents doers and makers with a whole new approach to powered craftsmanship from Davis Tool Systems®. The 12-volt, 2.5-amp battery-driven Power Tool is a reciprocal-action device with vast possibilities. It is being introduced with a suite of optimized sanding and abrading accessories to demonstrate the platform's potential and versatility.
Using the Tango 360® with the DTS accessories opens new realms of possibilities for tackling otherwise fatiguing or frustrating jobs while extending the work area into three-dimensional space. This feat is achieved by holding the Power Tool in one hand, connected to a DTS accessory with the Damping Handle attached to the distal end of that accessory. The Damping Handle moderates the impact of the reciprocal motion from the Power Tool, a hefty 15mm stroke at up to 3,000 strokes per minute, allowing users to deftly guide the accessory to the right spot at the right pressure by leveraging both hands in concert.
In addition, the DAVIS Connector mounted on the Power Tool enables users to control the accessories in a fixed position in relation to the handle, or in free rotation for more fluid motions. This extends the natural agility of the hands through the tool to the accessory.
Special features of the variable-speed Power Tool include a pivoting head that allows the DAVIS Connector to operate at an in-line orientation with the unit handle (0 degrees), or with the press of a button it can operate at a 45 or 90-degree angle. This versatility, combined with the fixed position or free rotation option, does much to allow users to choose the right position to reduce fatigue, hand-arm vibration syndrome and the frustration that can come with not being able to place the tool in right position for the work.
To preserve interchangeability within the DTS platform, accessories connect to the Damping Handle with the same, patented DAVIS Connector featured on the Power Tool and the manually operated DTS Grip 360 utility handle (sold separately). On the Damping Handle, however, the DTS accessories always rotate freely, and at fluidly varying angles, to moderate the reciprocal action of the Power Tool.
In addition, the Damping Handle features an innovative roller sled attachment. When appropriate for the job, a rigid or semi-rigid accessory may be operated while connected only to Power Tool. The unattached Damping Handle can then be used independently to apply pressure on the accessory, directing it from different angles as needed with the sled rollers. The rollers dampen the Power Tool's reciprocal motion for smooth control. As part of the forward-thinking design of all DTS products, the roller sled can be detached from the Damping Handle for user convenience and at some future point swapped out with other, yet-to-be-produced attachments.
With all these carefully designed options, users will find it hard to not arrive at a comfortable and efficient position to remove material from almost any project.
All the products comprising the DTS platform are precision-made yet robustly built for dependable performance.
What we say:
The Davis Tool Systems sanding system is the sum of its parts. On its own, the DTS 12V power sander, offers a 3000 SPM, 15mm stroke. That's very different from the OPM measurements we see on most power sanders. That's because the sanding accessories are equally unusual, focusing on a form that gets into spaces no other sander can. The combination of the tool and accessories transforms what could only be done by hand before into a more efficient task today.
Price: $269
For more information, click here.
Finalist
---
WINNER – Sanding
Davis Tool Systems Grip 360
What they said:
Davis Tool Systems brings new dimensions and greater agility to woodworking projects with the ergonomically designed DTS Grip 360 manual utility handle featuring the revolutionary, patented DAVIS Connector.
With this connector, the user can access the DTS suite of sanding and abrading accessories which are precision-crafted to enable work in three-dimensional space with one or two hands. Added to this, the user can control the accessories in a fixed position in relation to the handle, or in free rotation for more fluid motions.
Users can quickly and easily alternate between the two working methods as the job demands with minimal work interruption.
Just as easily, users can choose between mono mode, working with the tool (handle and accessory) in one hand, and duo mode, using two hands with the accessory manipulated by handles at both ends.
Either way, the Grip 360 extends the natural dexterity and agility of the user's hands reducing the fatigue of repeated, one-way motion and the frustration that comes from not being able to position the tool for most effective work.
These innovations bring unparalleled value and utility to the Grip 360. In addition, the Grip 360 compliments the DTS Tango Power Tool and Damping Handle that also feature the same DAVIS Connector. Accessories can be used with the Grip 360 for a new approach to hand craftsmanship or the Tango 360 for jobs where battery-powered reciprocal action is appropriate.
The DAVIS Connector and all the products comprising the DTS platform are precision made but robustly built for dependable performance.
What we say:
The Davis Tool Systems sanding system focuses on sanding unusual and awkward areas that are typically a royal pain to access. When you have sections where even the DTS Tango 360 power sander is too much and you need to hand sand, the DTS Grip 360 comes into play. You can add the sanding accessories to the handle and reach those spots, or you can add a second one and be able to sand with control on both sides. Either way, hand sanding awkward areas becomes easier and faster.
Price: $49
For more information, click here.
---
WINNER – Table Saws Accessories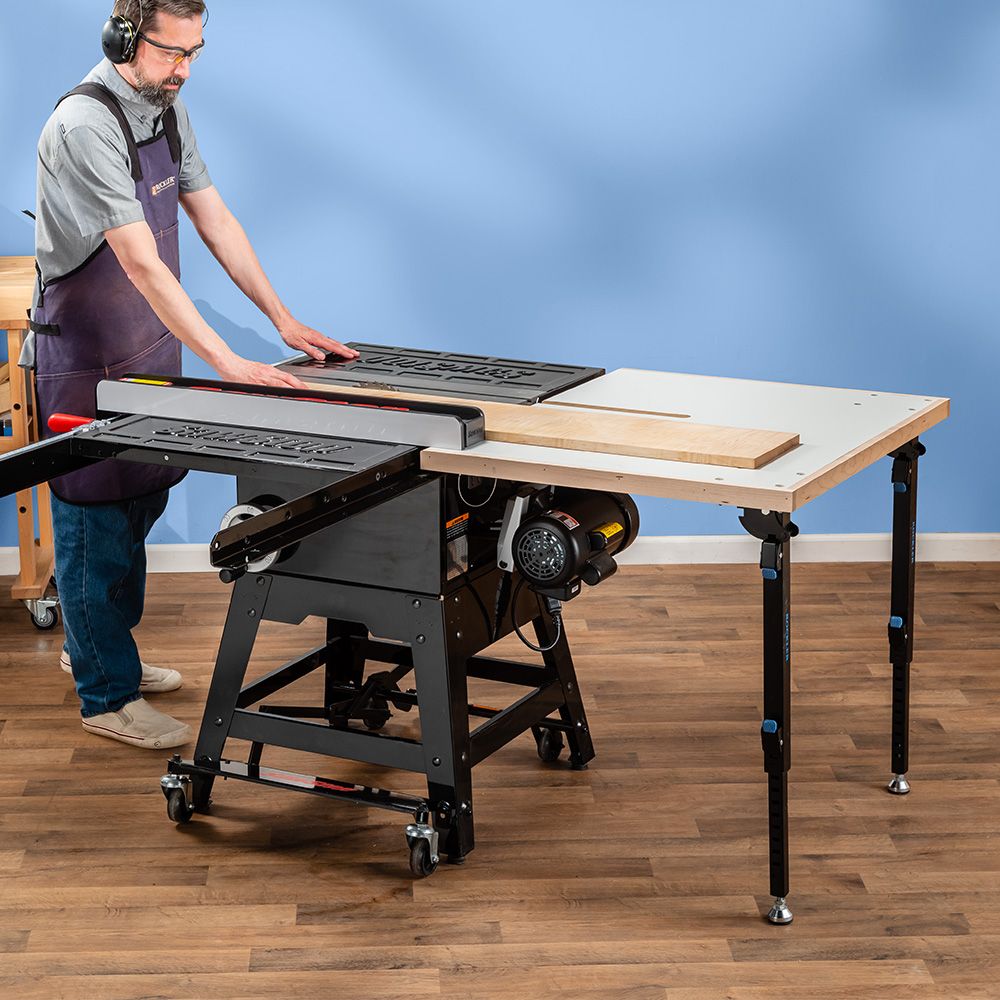 Rockler Rock-Steady Knock-Down Table Saw Outfeed Kit
What they said:
Spacious outfeed tables are a pleasure to work with, but not all shops have the space for a large outfeed table that's permanently attached to the table saw. Luckily, the quick-release hardware and folding legs on our Knock-Down Table Saw Outfeed Kit make it easy to remove the table and store it out of the way—great for small shops where you need all the space you can get. Even if you plan to leave it on most of the time, the ability to remove it when needed is a big plus. Not only are the legs foldable, they also adjust in height with a press of the large paddles. This lets you adjust the height as needed to adapt to uneven floors, and also allows the legs to fold up into a more compact package.
Rock-Steady Table Saw Outfeed Kit Details:
All the hardware needed to create an outfeed table that can be easily removed and folded for compact storage—you supply the top!
Works on most cabinet and contractor saws with a Biesemeyer-style T-square fence that secures at the front of the saw (not for use with jobsite saws)
Steel legs adjust from 22-5/8" to 37-5/8" in 1" increments with large, quick-release paddles
Legs lock in both open and closed positions for stability both in use and in storage
Table attaches to saw with interlocking brackets and removable locking pins
One set of brackets attaches to saw; another set attaches to underside of tabletop; removable locking pins hold them together
Saw-mount brackets have interchangeable bushings for different saws' mounting bolts
Bracket system provides adjustment for different saw table heights
1/2" levelers on legs allow fine-tuning of height
What we say:
Adding an outfeed table is a great way to get additional support for your table saw, but there's no one-size-fits-all solution available. Rockler's Rock-Steady Knock-Down Table Saw Outfeed Kit runs with that and gives you almost everything you need to build your own. The only thing that's not included is the top. You select the material and size that best fits the way you work and the space you have. It's a removable system that connects with pins and has locking, folding, adjustable length legs. It's secure when installed and stores easily, giving you a customizable outfeed option to meet your exact needs.
Price: $119.99
For more information, click here.
---
WINNER – Cordless Table Saws
Milwaukee Tool M18 FUEL 8-1/4″ Table Saw w/ One-Key 2736-20
What they said:
Unwavering in their dedication to delivering productivity-enhancing solutions that provide the right blend of power, run-time, and performance, Milwaukee Tool is proud to announce the next breakthrough in M18 FUEL™. The world's first 18V table saw, the M18 FUEL™ 8-1/4" Table Saw w/ ONE-KEY™ generates the power of a 15amp corded saw and, with a rip capacity of up to 24-1/2", can rip up to 600 linear feet per charge. Equipped with One-Key™, users can also easily track, manage, and secure the table saw through the One-Key™ app on their phone.
True to all M18 FUEL™ solutions, the new M18 FUEL™ 8-1/4" Table Saw w/ ONE-KEY™ combines three exclusive innovations – the POWERSTATE™ brushless motor, REDLITHIUM™ battery pack, and REDLINK PLUS™ intelligence. However, to deliver the first 18V table saw with the power of 15amp corded, Milwaukee® reengineered these critical cordless components to deliver the very best performance catered to this tool and its applications.
Milwaukee® created a brand-new POWERSTATE™ Brushless Motor for this table saw, which delivers 6300 RPM to rip through tough applications without bogging down. With a rip capacity up to 24-1/2" and a vertical capacity up to 2-1/2" to tackle 2x dimensional lumber, this saw boasts the impressive capacity that users have come to expect on a traditional corded table saw.
Milwaukee® also redesigned from the ground-up the REDLINK PLUS™ Intelligence featured in this tool, utilizing electronics never used before in power tools. This newly designed REDLINK PLUS™ Intelligence package ensures maximum performance of the tool under load and prevents against overload and overheat.
When equipped with Milwaukee's new M18™ REDLITHIUM™ HIGH OUTPUT™ HD12.0 Battery, the table saw can power through 600 linear feet of material on a single charge, eliminating the hassle of cords or constant switching-out of multiple battery packs, while exceeding the performance of higher voltage solutions in the industry. The new HIGH OUTPUT™ HD12.0 Battery provides 50% more power, runs 50% cooler, and delivers 33% more run-time than the M18™ REDLITHIUM™ HD9.0 Battery. In conjunction with REDLINK PLUS™ Intelligence and the POWERSTATE™ Brushless Motor, the HIGH OUTPUT™ Battery allows users to push the table saw hard and work all day – delivering more work-per-charge than any other professional power tool system.
Through One-Key™ users will be able to track, manage, and secure the table saw. The One-Key™ Integrated Tool Tracking functionality will allow users to identify where and when their table saw was last seen on the jobsite. Records and locations will update when any device with the One-Key™ app comes within 100ft of the saw, allowing the user to quickly pinpoint missing tools. Integrated Tool Security will provide an extra layer of protection to prevent theft and tampering. With Simplified Tool and Equipment Management, users will also have a central place to take inventory of their saw and all other tools and equipment, and keep detailed records of all inventory to easily build a budget and manage spend.
What we say:
Until recently, you couldn't rely on your 18V/20V Max platform if you really wanted to cut the cord with a table saw. Milwaukee's new High Output batteries and large frame brushless motors open the door for the M18 FUEL Table Saw. Milwaukee ONE-KEY is an added bonus. If you're wondering how well an 18V battery can actually power a table saw, you need to give this a try. It's surprisingly smooth and powerful!
Price: $499.00
For more information, click here.
Finalist
---
WINNER – Cordless Track Saws
Milwaukee Tool M18 FUEL 6-1/2" Plunge Track Saw 2831-21
What they said:
The M18 FUEL™ 6 ½" Plunge Track Saw is designed with the power to rip solid hardwood, cutting ¼" plywood to 2" thick oak or walnut without bogging down. With over 90% dust collection, users will have cleaner and safer work environments, allowing them to work inside a finished home or their workshop. The M18 FUEL™ 6 ½" Plunge Track Saw offers users portable precision while delivering on the performance expectations of even, finish-quality cuts. Milwaukee also introduces their new line of 6-½" Track Saw Blades for increased accuracy and finish quality cuts. Compatible with the M18 FUEL™ 6 ½" Plunge Track Saw, these blades will be available for general-purpose, finish, fine finish, fiber cement, and laminate. The anti-friction coating resists corrosion and gumming, and the laser cut technology reduces wobbling and warping. The 6-½" Track Saw blades are outfitted with cobalt-infused tungsten carbide, which has been engineered to extend the blade's life and maintain tip sharpness. In addition to the new blades, Milwaukee has engineered specific accessories for the track saw which will include 31", 55", and 108" guide rails, guide rail clamps and connectors, a guide rail bag, and replacement non-slip strips.
What we say:
Milwaukee's M18 Fuel Plunge Track Saw is one of the most-requested tools we've heard about and now it's finally here. Milwaukee's brushless motor and High Output batteries give the 2831 the power to rip 2-inch thick oak while tracks allow you to do it with extreme accuracy. With smooth plunging action, new dedicated blades, and excellent dust collection, it rivals anything else on the market, corded or cordless.
Price: $549
For more information, click here.
---